(Last Updated On: September 28, 2022)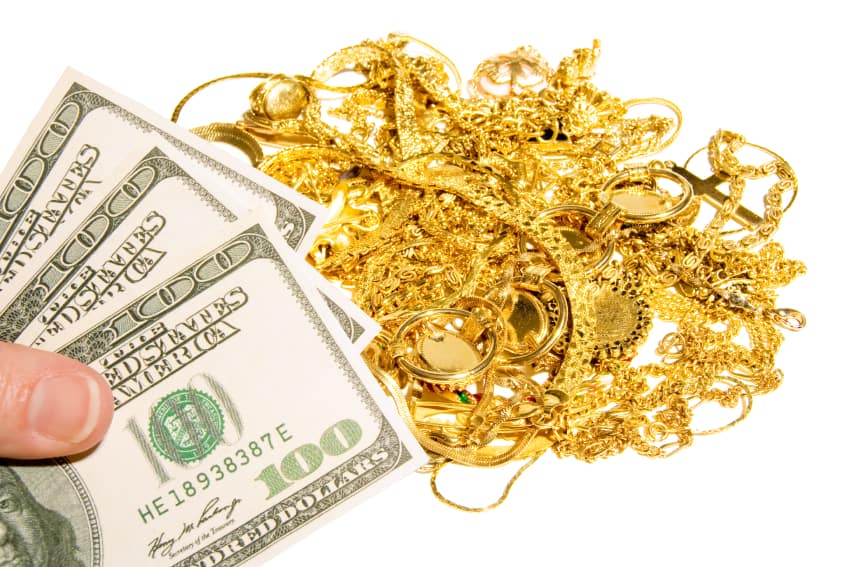 When the Great Recession first hit, people saw "cash for gold" signs everywhere they went. The concept seems like a strange business idea at first, but it's not. This is a business that involves buying gold at a discount, then reselling it for a higher price. If you've ever wondered what it takes to make this happen, then you should read up on the subject. 
To start a cash for gold business, you will need to get a business license, open a bank account, get a venue, get business insurance, and have a reserve of money ready. You will also need to advertise your company and source buyers for the gold you wish to resell. 
If you want to make money from selling gold, you should look into cash for gold businesses. These businesses are popular because of their ability to provide a valuable service. In addition to that, they are also a good opportunity for people who are looking to earn extra money. As long as you have the right equipment and know-how to start a cash for gold business, you'll be in business for quite some time.
If done correctly, a cash for gold business is one of the steadiest and most reliable ways to make money. This guide will help you understand what it takes to get it started, step by step.
1.Write Your Business Plan
The first thing you're going to have to do is figure out your business plan. Obviously, part of the plan involves buying gold at a discount. But, what happens after that? This is what you need to know…
Start Up Costs.

Every gold buying business will need to have startup costs. You will need to have at least $15,000 for a very small gold buying business. If you want to prep for a larger scale gold buying operation, you may need as much as $100,000 or more.

Operations Plan.

Are you going to be buying gold via mail? In front of people? How are you going to handle customer questions? These things matter.
Gold Types.

Are you going to be selling gold coins, bars, jewelry, or all of the above?
Exit Plan.

Who are you reselling the gold to, and how?
Marketing Plan.

How are you going to get people to sell their gold to you? Moreover, how are you going to set yourself apart from most other buyers?
What do you need to know in order to buy and sell gold well?
Part of being able to run your venue well is knowing how to properly value gold. This includes knowing what the current value of gold is, how to appraise antiques, and how to find gold buyers. This can take a while to learn, and may even require some coursework. 
2.Get A Business License
Getting a business license is a must, since it will help you get a business bank account and properly hire staff members. It also helps you pay your taxes with the IRS, which is vital if you want to legally run a business. 
Most gold buying businesses are going to be LLCs by default. If you want to have a joint partnership with a spouse, then you will need to consider a partnership. Either way, you will need to make sure that you get the right license. 
Being unique in your name is a must here, since your name is going to have to be at the spotlight. When choosing a name for your business, make sure that it's open on the following venues:
The IRS Website.

Yes, it needs to be capable of being registered. 

Domain Name.

A website is a must if you want to be successful here, so make sure the domain name is available. Buy the domain name immediately after you've registered the name. 
Social Media.

Instagram, Pinterest, and Facebook are all must-haves. Facebook, in particular, can be a good place to get sellers. 
eBay.

You should have an eBay handle that matches your business name. However, this isn't always necessary. 
Do you need a sales tax permit?

Many states require you to have a permit in order to charge sales tax. Since you will be reselling the gold, you will need to charge a sales tax too. To get a sales tax permit, you are going to have to look up the procedure specific to your state.
3.Get Business Insurance
In the vast majority of cases, you will have to purchase business insurance before you start buying off gold. This isn't just because of a worry about having potential thefts. This is also a legally mandated issue in most cases. You will need to pay several thousand dollars every year for this.
Do you need business insurance?
If you want to hire employees or contractors, or if you have a retail space, you should get business insurance. Because this type of company also has a high-stakes product, you may want to double down on theft insurance. 
How much business insurance should you buy?
Business insurance is a smart move, but not always due to the liability issues that would arise from most other companies. Rather, the issue here is the concern about loss that comes from stolen gold or cash.
If you intend on keeping cash inside your store, you need to ask your insurance agency about your options for anti-theft insurance. Moreover, having a serious level of security is a must. 
4.Get A Venue
You might not need to get a venue where people can walk in, but the truth is it helps. Walk-ins and a visible gold buying locale can make it easier to find sellers. A venue doesn't need much, nor do you even need to have a place for gold displays. However, it is still is a smart idea since most people want to meet the buyer. 
If you get a venue, then it's best to try to keep it in a safe neighborhood. This is the type of business that robbers are attracted to. Going into the wrong neighborhood can easily mean serious problems for would-be shopkeepers. So, a little research into the area is highly recommended.
What does a gold buying venue need?
While you don't need display cases if you're on a very tight budget, there are things that are considered to be mandatory for your safety, the safety of others, as well as accurate sales. These include:
A Scale.

You need to have a high accuracy scale to ensure that you get the best measurement for the weight of the gold. 

A Security System.

You are going to have gold and cash in this store. That's a robber's dream come true. A security system with a panic button is ideal. Moreover, multiple security cameras should be present.
A Magnifier.

Most gold pieces will have small numbers detailing the purity of the gold. You may need a magnifier to read them well. 
Storage.

You might not want to have the gold storage on-premises. 
Good Lighting.

You will need to have bright lights to inspect the gold.
A Gold Testing Kit.

There are people out there who pride themselves on passing fake gold as real. A gold testing kit will ensure that the gold you buy is real. 
Overall, you can usually get all the items you need for a gold valuation and sales business for $500.

How much space does a gold buying business need?
While there are some businesses that are run out of the home, most just need a very small office or retail store. Some even suffice with a kiosk, as long as storage is offsite. 
5.Get An Accounting System Set Up
As a gold seller, you are going to have to figure out how to track all the transactions that occur under your business name. Most of the time, an accountant can help. However, there's an easier way to ensure that you get accuracy with ease: an upscale point-of-sale terminal. 
POS terminals allow you to accept credit cards from buyers and also track all the transactions that you have. This includes payouts, too. Your POS can also act as a major part of your advertising. After all, you can use it to sell gold jewelry online while you're chatting up clients.
A decent POS terminal can cost between $100 to $200 per month. It's good to set aside money for that.
6.Source Buyers For The Gold
For many people, this is going to be the hardest part of trying to put together the business. You may need to use your own personal network to do it. Some also "flip" the gold via online sites like eBay, Farfetched, and even Etsy. 
If you do not see any places where you can sell gold wholesale, it may be a good idea to do a pawn shop-style flipping setup. There are several major sites that you can use to get the gold buyers that you want on a larger scale. 
Though having buyers is always a good idea, it's important to realize that many people tend to keep the gold until the price increases. This turns the gold into a business investment of sorts. However, it's up to you to determine your own strategy.
7.Hire Employees
While it is possible for someone to do this business all alone, the truth is that buying gold is something best done as a team. This is particularly true if you also have to do a lot of marketing, too. That's why most companies that have this type of business have one to three employees to set up shop and advertise. 
For the most part, the only real qualifications your employees need is to have decent people skills and to have a general understanding of gold valuation. After all, most of this industry is about negotiating good prices with both buyers and sellers. 
With that said, security is an issue. Though it is not a law by any means of the word, most gold buying companies have a policy against hiring people who have criminal records. The rationale is simple: people who were busted for theft and other offenses are more likely to reoffend. This makes them a liability to your company.
8.Advertise Your Buying Power
The final step of your business also happens to be the one that kickstarts your company's success: finding sellers. This is done via advertising, and this industry has several ways to make it happen…
Social Media.

While this is not the most common way to get customers, if you want to have an online interface via a website, it might pay off to do Instagram. Many buyers also find good stuff on Facebook marketplace. Targeted ads can help.

Websites.

A good website with SEO services is a must-have for organic traffic. In some cases, you can also use your site to sell the gold you bought. Flipping gold is a smart move.
Signs.

Though this doesn't work with most businesses, signs that show cash for gold actually work fairly well. This tends to be a local business, so having these types of ads will yield decent results. 
Foot Traffic.

If you are setting up shop in a big city, it makes sense to get a venue in an area where many people tend to stroll. Visibility is key, here.
Estate Sales.

Technically, this is not an advertising method, but it's still a method to get some people to sell gold to you. Many gold buyers will go to estate sales and auctions to find sources of gold others wouldn't be privy to. 
What should you watch out for when advertising cash for gold?

For the most part, there aren't really things you should watch out for. However, you might be wise to avoid making guarantees about the purchase price you offer. Some people might try to price match, or may try to falsify offers from other companies in order to get an abnormally high sales price. This alone isn't too bad, but guarantees can cause you to get brought to court if they are not upheld. 
All That Glitters Can Be Gold
If you want to make serious cash (and maybe get decked out with bling on a daily basis), then you definitely should take a look at having your own cash for gold business. While the startup costs and research might get intense, the potential earnings make this the choice of a lifetime.