(Last Updated On: March 28, 2023)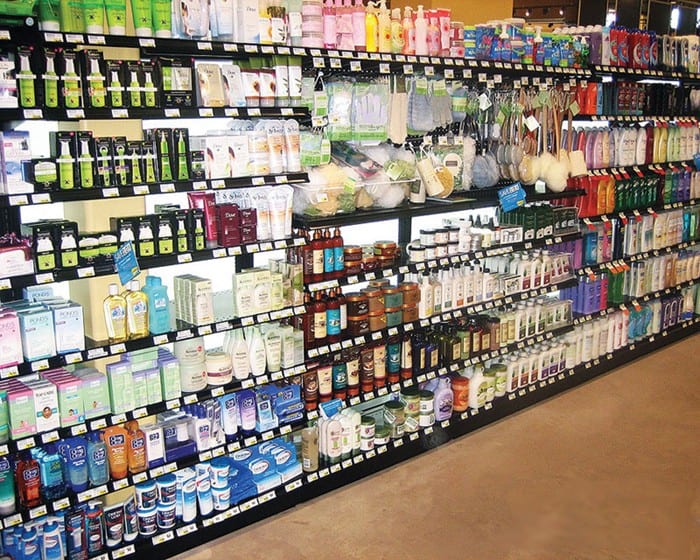 The beauty industry is growing and thriving, and there is room in the market for local beauty supply stores. Most women wear beauty products on a daily basis. Even though many items can be purchased online, many customers prefer to shop in-person for their beauty needs in order to match colors with their skin tone, test products, or get a second opinion from a local professional. 
Opening a beauty supply store will require setting up a legal entity, obtaining necessary licenses and insurances, setting up a retail location, investing in a Point of Sale (POS) system, and building an online presence. Though it may seem like an overwhelming task at first, opening up your own beauty supply store is possible when you break down the steps and stick to a plan. 
 Starting your own beauty supply business can be a successful long-term investment if you follow the right startup steps and grow your business. This article will walk you through the basic steps of opening up your own successful beauty supply store.
1. Create Your Name and Logo
The name and logo of your business are two of the most important things about your new beauty brand. Your name and logo will be the first things that your potential customers see as they drive or walk past your business for the first time; you want to make a great first impression and prompt them to come in your doors.
Create Your Name: The name of your business should represent your brand. You may want to consider using either "beauty" or "beauty supplies" in your name. Not all beauty supply brands do this, but this will help your business name be recognizable. After you come up with your name, search online to see if the name is available. 
Design Your Logo: Your logo should match your desired branding and resonate with your target audience. Ensure that the logo is attractive and easy to read. All lines and text should be clear and high quality. Since this logo will be the face of your band, you may want to consider getting professional assistance if you have no design experience. 
Pick A Color Scheme: Selecting a color scheme with a specific color pallet will help keep your branding and marketing uniform. Select colors that compliment each other and represent your brand, and use these colors in your physical store, marketing materials, and future products. While picking a color scheme may not be necessary for all businesses, this will help your business look professional.
2. Set Up Your Legal Business
While you may want to jump right into the fun stuff, there are some necessary business steps that have to be taken first. Before you can open your doors, you will need to:
Create a Legal Entity: In order to open your location, you will need to set up a legal business structure. Many new businesses choose to form an LLC (Limited Liability Company), but you can also form a partnership if you would like to open your business with partners or investors. 
Protect Your Digital Business Assets: Ensure that you have the legal rights to your business name, logo elements, and any slogans you would like to use. You should set up the necessary trademarks and copyrights for all digital assets associated with your business. 
Funding and Finances: Now that you are opening a business, your business finances and personal finances will be separate. While opening a beauty supply store is not the most expensive type of store to open, you may want to apply for loans or additional funding to get you through the launch phase. Once you are open and making money, you can work on paying back loans and recouping your startup costs.
3. Obtain Necessary Licensing and Insurances
After you create your legal entity and protect your digital assets, you will need to purchase the necessary insurance and licensing plans. These options include:
Certificate of Occupancy: This essential certificate will be necessary to open your doors to the public. It proves that you have passed all inspections and codes that are required in your area.
Liability Insurance: Protects your business against injury and property claims from customers. 
Commercial Property Insurance: Helps cover rebuilding and replacement costs if your property is damaged. 
Business Interruption Insurance: Helps cover financial losses if your business has to shut down due to unforeseen circumstances. Most plans will cover disasters, and select plans will also cover costs if your business is closed due to a pandemic.
In addition to the options above, your building codes and business restrictions will vary depending on your location. Research additional requirements from your local state, county, and town. 
Be sure to also check the restrictions regarding social distancing, displaying samples, and applying makeup to customers. Before you put samples out in your store, check the restrictions in your area. If your employees will be applying makeup to customers, you need to check if this is allowed in your area.
4. Pick The Perfect Spot
Once your legal paperwork is in order, it is time to secure your spot! Whether you are setting up in a mall or in an independent building space, there are a few important factors to consider. These factors include:
High Traffic Area: How many people will walk or drive past your store on a daily basis? While some customers will find your business online or through word of mouth, you need a location with high traffic to bring in shoppers that are passing by. 
High Visibility: How visible is your store from the main roads? If your store is in a mall, where is it located? You want to secure a spot that is easy to spot.
Easy Access: If someone wants to come to your store, is your location easy to get to? Ensure that your parking lot is well maintained and is an appropriate size. If your location is in a mall, how far is your store from the nearest mall entrance? Will your customers have to walk through a maze of turns in the mall to get to you? If your store is easy to access, your customers will be more included to keep coming back. 
Ample Space: While the storefront space may be an obvious need, you also need to ensure that there is enough space that is not visible to the public. You will need a secure location to install a safe or dropbox. You will also need a place to store your inventory; ensure that this space is dry since many beauty supply products need a dry storage area.
Competitor Analysis: Your location is important, but you also need to consider your competitors. How far away are your competitors? You do not want to open your store a few doors down for a major competitor, so research where your major competitors are located.
5. Set Up Your Retail Space
Once you have picked your spot, it is time to bring your new business to life. Some importance factors to consider:
General Organisation: Since your beauty store will have many different kinds of products, you need to decide on your organization and layout. Some stores are organized according to product types, while others are organized by brand name. 
Customer Base: Your color theme and atmosphere will depend on who you are selling to. Many beauty supply stores sell to a wide audience instead of targeting a specific niche. This is because beauty supplies can be used by men and women of all ages. If you would like to target a specific niche, consider what kind of decor and atmosphere will attract your niche customers.
Instagram Worthy: The beauty industry is full of influencers, both large and small. Many influencers post about the stores they go to and the products they buy. Consider creating a unique feature in your store where customers can snap a photo and share it on social media. This could include a unique painted wall, a sculpture design, or an area with neon lights. 
Checkout Area: Your checkout area should be clearly marked and should be near the exit of the store. Many beauty supply stores have products near their checkout area. While your customer is standing in line, their eyes will wonder and you may be able to increase your sales by placing impulse buys, interesting products, and helpful accessories near the checkout area. 
Security Measures: In order to protect your business, determine effective places to install security cameras. Motion detectors and alarms should also be placed on all doors. 
6. Carefully Curate Your Inventory and Vendors
Stocking your shelves with the right products will take time and effort. Carefully research the reputable brands and curate your collections. Shop around to find the best prices for wholesale items and investigate your potential suppliers. 
You may also want to consider white labeling some products or creating your own product lines. This will make your brand look more professional, and profit margins on your own crafted products may be higher.
7. Get an Effective POS System
While your physical inventory is important, the software that is associated with it is an essential and necessary investment. Investing in an efficient POS (Point of Sale) system can make or break your new business. A POS system will help run and grow your business. An effective POS system can:
Manage your inventory

Manage and accept payment methods such as gift cards and credit cards 

Generate helpful reports on your profits and profit margins 

Generate sales reports and other vital analytics 

Trigger a re-order prompt when an item is projected to go out of stock

Seamlessly integrate with your online sales 

Automate various other tasks
Investing in a good POS system will drastically increase your chances of success, enable you to grow your business, and help you manage your operations. 
8. Assemble An Experienced Team 
Since you can't clone yourself, you will need to hire a team of employees to run your store. These employees will be the face of your brand as customers interact with them on a daily basis. When hiring your employees, some factors to consider include:
Experience: Many customers go to a beauty supply store instead of shopping online because they have questions or want a second opinion. Try to hire employees that know a lot about your products and have previous experience so they can provide helpful insights to your customers. 
Personality: Find team members who are excited and motivated. This will create a positive atmosphere in your store and among your employees. 
Trustworthiness: Your employees will be handling money on a daily basis, along with your valuable inventory. While you may not be able to tell if someone is trustworthy during an initial interview, consider performing a background check or calling their references. 
9. Build Your Online Presence 
Creating an active online presence is an essential part of growing your business and expanding your customer base. When building your online presence, you may want to:
Create a Website: Create a website that displays your location, store hours, and contact information so you are easy to find online.
Build an Online Store: Even though your physical store will generate income, you may want to consider selling online in order to diversify your income and increase brand recognition. 
Create Engaging Social Media: Create social media accounts to engage with customers, advertise your brand, and increase your following. Social media is a great way to organically grow your customer base.
10. Partner with Beauty Influencers   
The beauty community has many influencers, both big and small. These beauty influencers each have an audience that enjoys their beauty-related content. Partnering with local influencers is an effective way to increase your brand exposure, promote your products, and bring in more sales.
The terms of each partnership will vary, but partnerships are usually mutually beneficial for you and the influencer. Partnerships usually involve giving the influencer free products in exchange for promotion and promotional content. Some large influencers may also charge additional fees. 
Are You Ready To Get Started?
Opening your own beauty supply store may seem like a hard task, but breaking it down into steps can make the tasks manageable. Over time, your store can grow into a successful business and establish itself as a reputable store in your local community. Opening your own store will require a lot of work and dedication, but it will pay off in the long term as your business grows and thrives.