(Last Updated On: June 28, 2023)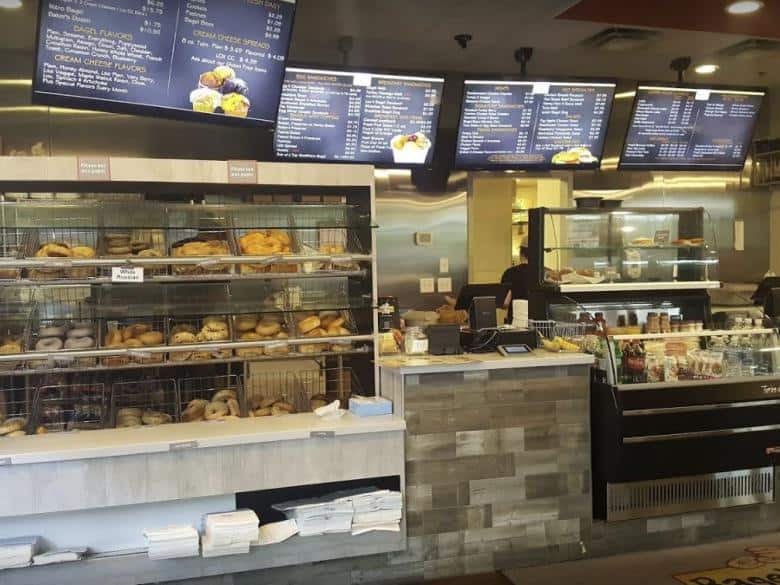 Ah, the deliciously comforting experience of sinking your teeth into a bagel…Is there anything better than that? If you love making bagels, then you'll be happy to know that there's always a demand for venues that make high-quality bagels and bagel sandwiches. The question is, how do you start one up?
Opening up a bagel shop requires a business plan, a business license, as well as multiple certifications. Once you have all those, you will need to open a bank account, get business insurance, find a venue for your shop, put together your accounting setup, create a menu, hire staff, and advertise your shop.
Starting your own bagel store is not exactly a typical business setup, especially if you've never run a restaurant or anything similar to that. Let's take a look at what you will need to do…
1.Write A Business Plan
Virtually any business you want to try out will involve a business plan in one form or another. This is a plan that you need to stick to as you work through your business. This will include:
Your Startup Costs.

The costs of starting up a bagel shop will vary greatly from place to place. On average, it'll cost a whopping $242,000 for a medium-scale bagel store. 

Your Marketing Plan.

How are you going to market your bagels? Will you do specials, online marketing, get a PR company to assist you? All of these things need to be mentioned, along with the costs that you want to incur. 
Your Target Audience.

Are you looking to provide bagels for people who are on the way to work? Or, are you more of a "craft bagel" type of place? What you want to do with your bagel shop is going to matter in the eyes of people who buy it.
Ingredients.

You will need to have a fair idea of ingredients that you will need, as well as bagel toppings and sodas. 
Prices + Break Even Goals.

How many bagels do you need to sell to break even? When you first start out, this is one of the most important things you can figure out. You also need to figure out how you'll price the bagels, and how much it'll cost to make/source them.
Funding Sources.

Is this going to be a business loan? Or, are you going to start with your own funds? If you don't have much cash, this should be included in your plan.
How much does it cost to start a bagel shop?

This depends on the size of the shop you want to start, as well as the location you want to open it in. It can cost anywhere from $100,000 to $500,000 for a bagel store. $100,000 will get you a very modest "bodega style" deli, while $500,000 will be enough for a large scale bakery. 
Is a bagel store a profitable venture?
It can be, but it's important to plan this well and to have experience in food service. Owning a bagel shop means you're dealing with lots of perishable goods. This decreases the profit margin from what you might see with a regular retail store. 
The good news is that bagels are in higher demand than most other types of business. So, there's a higher chance of you turning a good profit than say, trying to open up a french bakery.
Should you buy a bagel franchise?
While you don't have to get a bagel franchise, it definitely pays off. Franchises offer a turnkey opportunity when it comes to businesses. Everything is planned out for you, and corporate can help you manage it—to a point. 
It's important to realize that people tend to trust franchises because they recognize the name of the business. This makes marketing a cinch. However, most franchises will have stipulations you have to uphold if you want to keep your venue. 
The price of opening up a franchise can be prohibitive too. A typical bagel franchise will cost anywhere from $200,000 to $800,000 or more for the initial startup. This may or may not include the initial startup fee. That alone can run between $25,000 to $40,000, depending on which franchise you choose. 
A general rule of thumb is that you will need to pay more for a more well-known franchise. So, it's best to keep that in mind.
2.Get A Local Business License
Businesses all need to get a business license in order to operate in the United States. This means that you will need to register your business name as an LLC with the IRS. Sometimes, it may pay off to do an S-Corp, Sole Proprietorship, or Joint Partnership if you are working with a team. 
A business license, at the bare minimum, will cost between $75 to $150. Depending on where you live, you may also need to get an additional sales tax license. This can cost several hundred dollars more. However, you need it in order to charge your clients sales tax.
3.Obtain Proper Certifications
As the owner of a bagel shop, you're going to be handling a lot of foods. This means that you will need to make sure that you read up on your local health department's required certifications. Most states will require the following:
ServSafe.

This is a certification that shows that you are going to be qualified to handle food according to industry standards. Both you and your employees need this certification. 

Certificate of Occupancy.

This is something you will have to obtain for your venue, when you get it. It's a sign showing that you have a venue that passed all the building coeds. 
Food Service Licensure.

This is a must for any restaurant business in most states. However, the specifics can vary from state to state. It's important to take a look at your state's licensing requirements.
Sign Permit.

If you want to hang up a sign in front of your store, you will need a permit. Thankfully, these are typically affordable.
4.Open Up A Bank Account
Bank accounts are a must for any serious business, especially when it comes to something as large-scale as a bagel shop. Once you have an EIN from the IRS, you will be able to open up a bank account. This helps keep things separate, and makes tax time a lot easier. 
Do you need to open a business line of credit?
Most people who want to get into the world of food service absolutely do. A business line of credit makes tracking expenditures a cinch, and also can help you fund your bagel shop. Since bagel shops will take a lot of money to open, you really need to do it. 
How should you handle payroll at a bagel shop?
This is a good thing to discuss with the banker and accountant helping you set up your business. Most of the time, the best way to handle it is to go with a payroll service that will calculate taxes for your employees. The service will link a check system to your business bank account.
5.Get Business Insurance
In order to have any brick-and-mortar store operational, you will need to have business insurance. This is the insurance that covers things ranging from workplace accidents to sudden disasters, like a fire. It's a requirement in all 50 states. 
Getting business insurance isn't cheap. Most venues will charge between $5,000 to $6,000 for basic insurance. Sometimes, it can be even higher if you want to establish a bagel shop in a rough neighborhood. 
6.Finding A Bagel Shop Venue
Finding your venue is going to be tricky, but thankfully, it's not as hard as you might think it is. While some landlords get skittish about having new food shops in their retail areas, most are pretty happy for the business. Moreover, many sellers are fine with working with new bagel shop owners, since it's a tried-and-true business. 
Of course, there are certain things you need to look for when you're renting or buying a bagel store venue. These below are some of the more important things to consider when you're on the hunt:
Your location is going to be your number one source of advertising.

Most people learn about new bagel shops by walking or driving by. High foot traffic is a huge asset to your business!

When picking a location, try to avoid places that you'll need major renovations.

Ideally, your area will already have a kitchen. Otherwise, you will need to spend at least $10,000 to put your work area together. 
Before you sign on the dotted line, check the food storage area.

Ideally, you'll have professional-grade freezers and a secure pantry. Your storage space is crucial to success. 
Double-check the oven and toasting areas you have.

We're going to assume that you bake your own bagels here. If you don't, you will need to figure out how to get them ordered to your place.
Make sure that your targeted building is up to code and doesn't have a known pest problem.

This is absolutely vital if you want to start up a food business. If you rent or buy a venue that has pests, you will be immediately shut down until you solve that issue in most areas.
Avoid getting a bagel shop near other bagel shops.

Delis and bagel shops are pretty common, which can make this easier said than done. However, this is a must. If you're not an established chain, the competition will be too steep.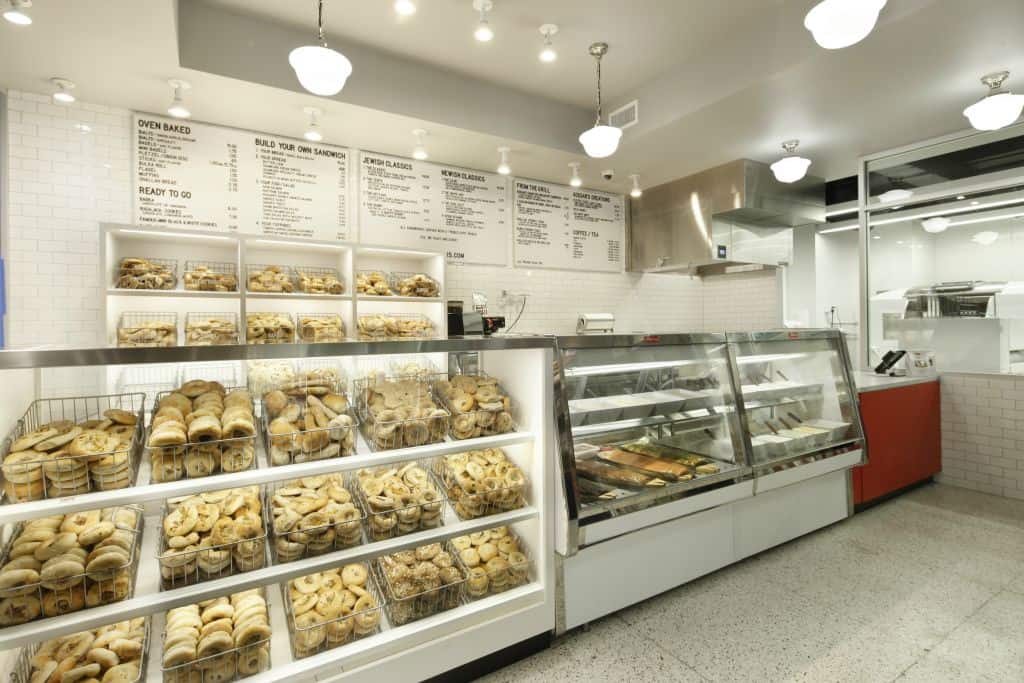 What should you do after you get a venue for your shop?
This is the fun part for most of us: decorating and getting touch-ups for your shop. You will need to get furniture, any additional fixtures your business needs, as well as any additional decorations you want to add. 
Even if your bagel shop is going to be a fairly basic place, you still should add a little character. Having a pretty shop helps you sell bagels at a premium price. It also helps people get confident in your wares.
What equipment will you need to install in your venue?
It's important to realize that bagel stores are fairly equipment-heavy stores. This means you will need to set aside money for the following, at the very least….
Bagel Dividers

Mixers

Refrigerators

An Industrial-Grade Oven

Bagel Kettles

Deep Fryers (Possibly!)

Bagel Racks

Shelves
You should set aside at least $30,000 to $50,000 for a remodeling job that will contain all the items you need to bake your own bagels. Most bagel shop owners will also need an additional $60,000 to cover the food and ingredients you want to get. 
7.Figuring Out Your Accounting And Marketing Software
One thing that you are going to have to do is figure out how you are going to track your business expenses, and how you're going to market your bagels. Thankfully, there's a really easy way to make sure you can kill two birds with one stone: get a high-end POS terminal. 
Your point of sale terminal can do it all. It can track your expenses, help you take orders online, and also give you a way to market your goods. If you get a premium terminal, you can also use it to keep track of inventory and watch your employees' hours. 
Investing in a good terminal is a must for any food service industry. This is doubly true if you're the type of manager who doesn't want to be stuck bean counting all day. With that said, you should set aside at least $100 to $200 per month for a POS terminal for your business. It's the only way you can accept debit and credit payments.

8.Create A Menu
Everyone loves a plain bagel, but there's a lot more that people want out of a bagel store than just regular bagels. You will need to get popular bagel topics, drinks, as well as bagel sandwich fillings. Hiring a food expert can help, but in most cases, you can just stick to the basics when you first begin. 
It's important to remember that bagel shops rarely just serve bagels. They often have other sides, such as BLTs, fries, or even fresh cut fruit. These are things you should think about adding to the menu. Oh, and don't forget the hot coffee!
9.Hire Staff
At this point, you have most of the store set up. The next thing you are going to have to do is hire people to run the store. Usually, you'll need at least three people to cover the baking and serving work your bagel store will need. However, you can't hire three random people off the street. 
You should look for people who have certification proving them to be responsible with food. Along with people who will be handling and cooking the food, you also should look into getting a cashier (if it's a busy area) and a manager for the shop. 
The good thing about hiring most of your staff is that it won't be that high-cost compared to other businesses. Most people who work in food service earn around minimum wage, or slightly above. Only managers and bakers get more in most cases.
Hiring Staff members for your Bagel shop is an essential section of your operations and is necessary to make sure the smooth running of your business. It's important to hire individuals who will be able to take care of the different sections that are involved in your business like the bakery, cafe, and delivery services. Hiring people who are competent in their respective fields will ensure that they deliver quality services and help your business grow.
It's important to note that this is not a business that can be run from home and you will need to get a space in a place where you are allowed to operate the business. A good research should be conducted on the area you intend to get your bagel shop located to ensure that it's suitable and that you can run it successfully.
The location you choose should be one that is easily accessible to your customers. It should also be a place that has enough parking spaces to accommodate your customers. The area should also have adequate security to keep your customers safe.
You will need to create a marketing plan for your bagel shop in order to attract people and ensure that they come back. Creating strategies that are unique and that will be able to boost your brand awareness is important to your success. You can use social media to do this as well as offering discounts and giveaways during your grand opening.
10.Go Online And Advertise Your Shop!
Advertising a bagel shop is a must, even if you have good foot traffic. It's a competitive world out there. This means that you will need to do the following in order to ensure you have a good online presence:
Buy a website with your business's name.

Ideally, it'll be the domain name or something close to it. 

Use an online ordering platform for delivery orders or pickup orders.

Your point of sale can make this happen, since most high-end units can link up with platforms like Shopify.
Start posting on social media.

Appetizing shots of your bagel and flattering storefront shots are a good way to get people coming to your doors from afar.
Make sure that you get your Google Places listed.

Most people use Google for quick eats like the ones you get in a bagel shop. This is particularly true if you are going to have a venue at a major roadside area.
Consider getting an online marketing person to help you out.

Actually, getting any type of advertising that is paid can help spread the word. This is something that you should set aside at least $4,000 for in most areas.
Advertising helps you to grow your business by increasing profits, attracting new customers and building your brand. It can be done through various channels like social media, website, TV or newspapers. Advertising is an essential part of any business and must be done on a regular basis to attract more customers.
The first step is to do some research about the market. This will help you understand the competition and the industry better. This will help you to develop the right niche for your bagel shop. Research should include competitors, prices, customer reviews and demographics. It is also a good idea to visit other bagel shops in the area to see how they are operating and what their niches are.
Once you have determined the location of your bagel shop, you must purchase necessary equipment and supplies. This includes kitchen equipment as well as restaurant technology for placing orders, allowing customers to pay online and keep track of inventory and sales.
Make sure your bagel shop is in a retail space with a lot of foot traffic. This will allow you to attract a large number of customers. It is also a good idea to consider locations that are close to schools or businesses.
In addition to making bagels, you will need employees to run your store. These should be people who are enthusiastic about your products and who have excellent customer service skills. You will also need to get a food establishment license and purchase insurance such as general liability, commercial property and workers' compensation.
Are You Ready To Get Baking?
Having a bagel shop is a great way to bring a little bit of New York culture to your home. This all-American breakfast (and lunch) food is one of the most popular in the world. People who are passionate about making a good lunch and being a cornerstone of their neighborhood are going to love living the bagel life. 
With the right equipment and the right work attitude, there's nothing stopping you from becoming the next big name in bagels. As they say, if you bake it, they will come.