(Last Updated On: October 4, 2022)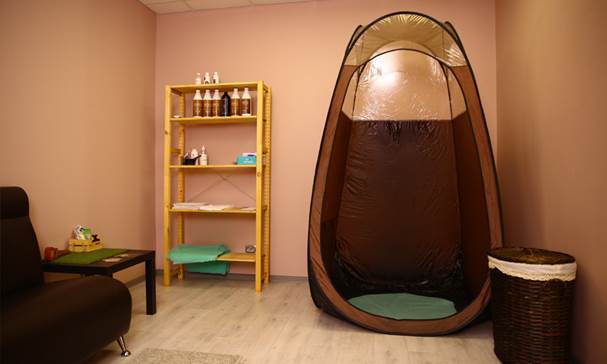 Though the days of Jersey Shore are long gone, tans never really went out of style. The look of sun-kissed skin is perennially popular, often because it's associated with good health. Though you won't see many orange people anymore, having a spray tan business can still be a profitable venture. 
Opening up a spray tan business will require a business plan, a venue/mobile unit, licensing, a new business bank account, a new accounting system, as well as a lot of equipment. Once the bare basics are put together, you can hire people and start to advertise your business.
A spray tan business is a rather intimidating business to start at first, but when you look at the basic steps, it's really not that bad. This guide will give you the basic gist of what you will need to do…
1.Write A Business Plan
There is more than one way to spray a person down. You will need to figure out how you want your business to operate: mobile or via a tanning salon. Both have their perks and pitfalls. From there, you will need to research and determine the following things:
Your Startup Costs.

This is a remarkably low-cost business, if you go for the mobile option. You should set aside around $500 to $1000 for a bare-bones mobile option. If you want to go for a brick-and-mortar spray tan store, it can cost as much as $50,000.

Business Type.

If you're going mobile, then who's driving? If you're stationary, how much money will you set aside for rent and equipment? Are you going to do UV-based tanning as well? 
Your Marketing Plan.

Many spray tan companies go through services like Groupon or through online startups like Instagram to get their clients. Having an online ordering and reservation platform can help.
Do you need a brick-and-mortar venue for your spray tan business?



Here's the cool thing about spray tanning: you don't need to have a brick and mortar area for it. It's possible to fit all the equipment you need for a professional-looking tan inside a small car. This is why there's been an influx of individuals doing solo work as freelance mobile spray tans. 
Do you need to pay a tan tax?
Federally speaking, the answer is a little complicated. The tan tax that was put into place by President Obama was there to dissuade people from partaking in risky behavior—namely, using a UV tanning bed. Tanning beds have been scientifically linked to higher rates of skin cancer, including melanoma. 
The tan tax does not apply to spray tans, because spray tans do not expose skin to harmful UV rays. If you want to have a brick and mortar venue that has UV tanning beds along the spray tan services you want to own, then you will need to pay an additional 10 percent tax.   
2.Getting The Right Licenses.
Not all states have the same requirements when it comes to spray tanning businesses. Regardless, you will need to get a lot of licenses and permits, including:
A Business License.

You will need to have an LLC registered with the IRS for this. It will give you a tax number too. 

A Spray Tan License.

Many states now require you to be a trained, certified technician to do this professionally. You will need to get your certification if you live in one of these states. This is something you may need to look into. 
Commercial Driving License.

If you want to get a larger vehicle for a mobile tanning business, then you may need a CDL. However, this is more the exception than the rule. 
Certificate of Occupancy.

This is a must if you want to have a brick-and-mortar store. It's a certificate that shows that you have a building that passed all the necessary inspections to be deemed safe for use. 

Resellers License/Sales Tax License.

Both of these are necessary if you want to sell tanning supplies or if you want to charge a sales tax.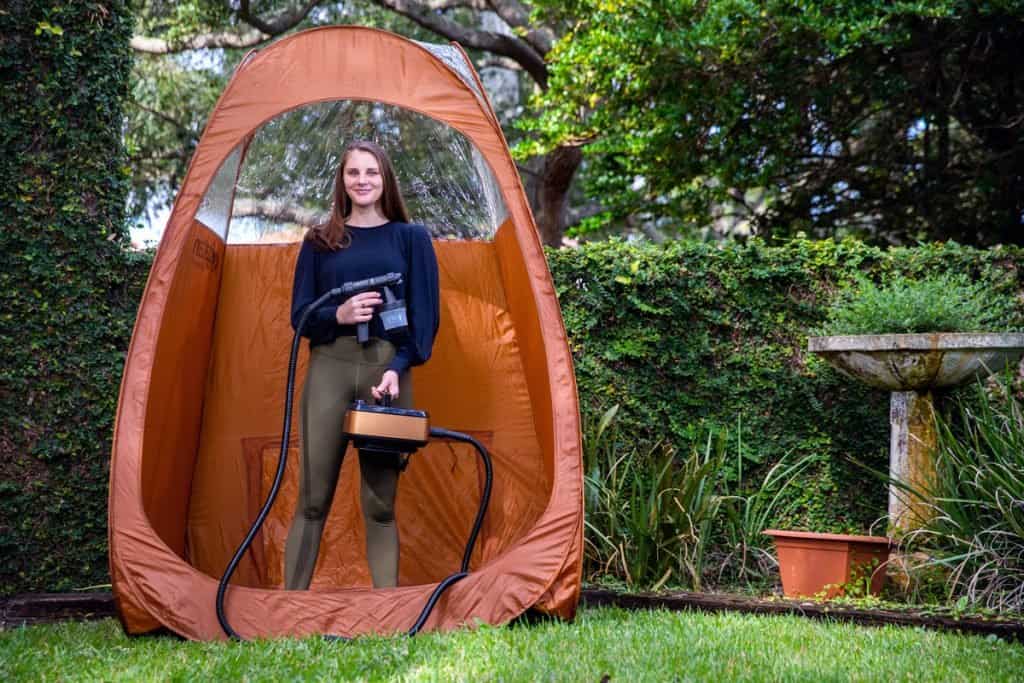 3.Open A Business Bank Account
Business bank accounts are a must if you want to have a legitimate business. This will be where your orders' money goes, and where your employees' paychecks come from—if you need to hire more people. 
Do you need a business line of credit?
Because a spray tan business is a typically low-budget business, you don't usually need to have a business line of credit. However, if you want a brick-and-mortar venue, you may need to get one.
Do you need money reserves for a spray tan business?
You should always try to have a money reserve if you want to have a brick-and-mortar store. This is the best way to make sure you'll have extra cash if you want to advertise your store more, if you have a slow month, or if you have unforeseen problems. 
4.Putting Together Your Accounting System + Marketing Software
Your accounting system is going to be how you track your expenses as a business. There are several ways to do it, and in many cases, hiring an accountant can help. However, there is one way to make sure that everything is streamlined: getting a high-tech POS. 
Most people recognize a POS as a way to accept credit and debit cards. While this is true, it's so much more than that. A good point-of-sale system can work wonders for a new business owner, especially when it comes to salon-like services such as tanning. 
Along with being able to track every order you get and calculate your sales tax, getting a good POS means that you might be able to get online bookings for your spray tan business and also advertise your business directly from the terminal.
The first step in starting a spray tan business is to prepare a business plan. This is an essential step for new business owners because they need to be realistic about their goals and have an understanding of the competition. A well-thought out plan will help you increase your chances of success.
The next step in starting a spray tan business is obtaining a business license. This will allow you to operate your business legally and protect your personal assets. To get a business license, you will need to fill out an application. The local licensing authority will then review it and determine whether you can apply for a license. You should consult an attorney if you have any questions about registering your business.
After deciding to become a spray tan business owner, you should set up a proper accounting system. This will help you keep track of your revenues and expenses. You'll also need to create receipts and record taxes. The best way to do this is to use a software program that is designed specifically for entrepreneurs.
To keep your clients satisfied, you must also consider marketing strategies. A good marketing strategy will help you sell your spray tan services to a target market. Consider the types of businesses in your area and try to find opportunities to cross-promote.
5.Buy Business Insurance
Business liability insurance is a must for any type of business that involves a brick-and-mortar store or a business that involves in-person interaction with your clients. Most states have their own minimums on how much you need to buy, but this is something you will need to obtain to legally do business. 
Business insurance is a really nifty thing, really. This is what will help you avoid liability if someone gets injured while you give tans, or if something happens involving your staff members.
6.Get A Venue
Getting a venue doesn't have to happen. If you decide to get a mobile spray tan business started, you can usually just use your car until you can get a more official-looking van with a car wrap. 
With that said, having a studio where you do this is important. If you want to get a brick-and-mortar venue, there's not much that you need to be aware of. However, there are things you should consider doing…
Get a venue that boasts good foot traffic.

While it's possible to have a major spray tan spot in a nook cloystered away from most of civilization, it's not easy. People tend to go to place that are in the way of places they're already going. That's why having a spray tan business near a strip mall is a good idea. 

Avoid getting a location that is close to other tanning centers.

In a place like New Jersey, this might be hard to do. However, you should try to get away from others because it's competition that you do not need.
If you want to hang a sign outside your store, you might need a sign permit.

These are obtainable through your local municipal offices.
What kind of furniture does a spray tan business need?
If you want to have a spray tan venue that's stationary, a little bit of furniture is going to be a good investment. As anyone who's had a tan in a regular salon will tell you that it is a procedure that's done while the client is standing up. However, there are still things you should consider getting for any brick-and-mortar store…
Chairs.

You will most likely have a waiting room at the front of the store. Having at least 10 chairs will ensure that you have enough places for people to sit down while they wait. 

A Desk.

A front desk is always a good investment. You're going to need to have a place for your terminal, after all. 
Shelves.

This will hold your spray tan gear when you're not using it, and can also showcase products you want to sell. 
Mirrors.

People love to check out how they look while they're freshly tanned.
7.Putting Together Your Accounting System
At the base of virtually all spray tan businesses is a good point-of-sale terminal, and rightfully so. POS terminals don't just calculate sales tax and accept credit cards anymore. They are full-service machines that make it possible to track your transactions with ease. Some even give you monthly transaction statements straight to your email!
When choosing a POS, make sure that it has software that allows you to accept reservations online, and that it has software that can help you manage your techs. It can get pretty hard to keep track of people otherwise. 
Regardless of whether you choose to have a retail store for your business or a mobile unit, you will need a POS. It's the best way to track income, and is the only way for you to accept credit cards reliably. 
8.Get Your Equipment!
Equipment is going to be a must-have for this business. Thankfully, this is not always going to be a big expense. If you are doing business as a single person, you'll be happy to know that there are spray tan kits on the market for as little as $300. 
However, the prices of equipment can skyrocket if you want to get premium-grade sprayers or if you want to get a tanning booth. A tanning booth that uses UV rays can cost as much as $1500 to $4000 apiece. 
Along with sprayers and spray, you will need to get exfoliating mitts. These tend to be disposable when they're meant for professional use. They can usually be bought in large batches for as little as $20. 
9.Advertise Your Spray Tans
Advertising your spray tans is going to cost money, simply because foot traffic alone rarely is enough to handle the cost of upkeep for a retail store. If you want to advertise them, there are several ways you can do this…
Get on social media.

Posting shots of your salon, of finished client looks, and memes regarding tanning can all help build up the hype. Instagram and Facebook are popular. 

Try Groupon.

Groupon and similar paid discount sites have become one of the most popular ways to get the word out about new salons. These sites work well for newbies because you get to see some of your advertising literally pay for itself. 
Establish your presence on Google Places and Yelp.

Both of these online services are designed to help pair people with the services they need. In this case, you will be able to get searched up by people who need a new spray tan. 
Make sure to buy a domain name and create a website dedicated to your business.

This is a must, and not just because you want to have online visibility either. If you have a good POS system, you can also use your site as a way for people to book appointments and order products online.
Are You Ready To Help Others Get Glamorous?

Getting a spray tan is increasingly popular now that we're aware of the risks that come with traditional tanning. If you have the gumption to get the word out and get certified in tanning, you can be a part of the change this industry desperately needs. 
With a little hard work and careful planning, there's no reason why you can't make serious cash helping others get bronzed. As long as you're willing to do what it takes, a spray tan business can be one of the best things you can do for yourself, and your tan-loving community.