(Last Updated On: September 28, 2021)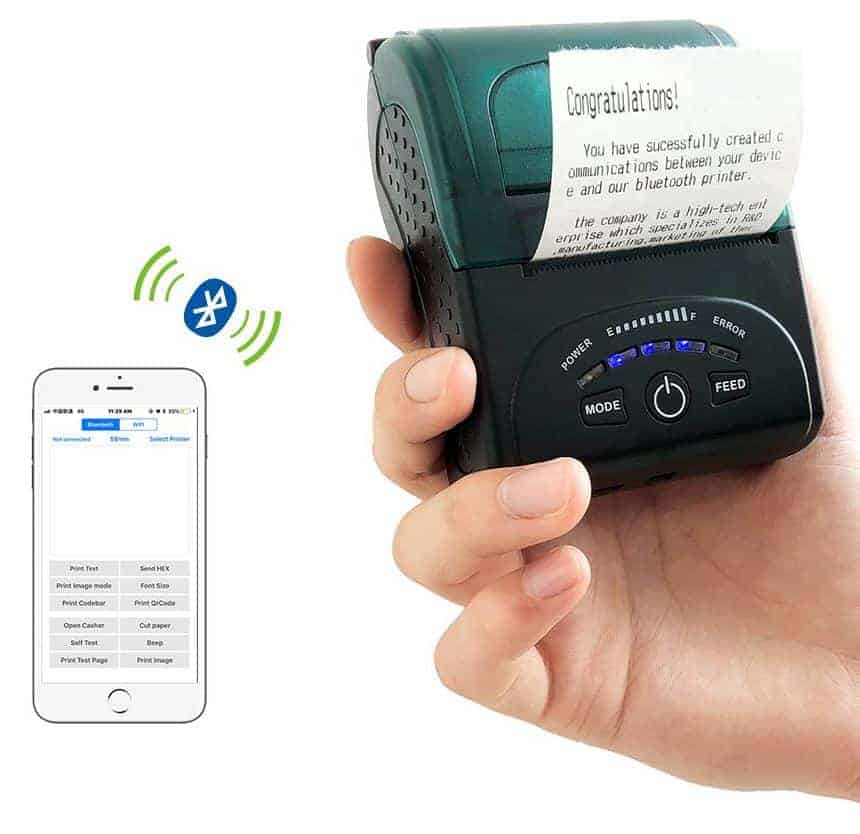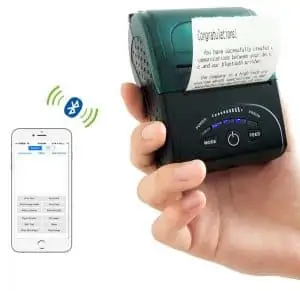 Bluetooth is one of the most common ways to exchange data between a fixed and mobile device. It's compatible with a variety of hardware items like personal computers, smartphones, and receipt printers.
In 2012, there were 3.5 billion Bluetooth enabled devices. In 16 years, the number has increased to 10 billion and will continue to rise. A business that integrates their point of sale systems with Bluetooth capabilities is always one step ahead of the game.
When building your technology infrastructure, consider these Bluetooth receipt printers as a smart addition.
Comparing the Top 5 Bluetooth Receipt Printers
1. Munbyn IMP001 Best Seller Mobile Bluetooth Thermal Printer – $73.00
This mini Bluetooth receipt printer was developed for the iOS system. It's portable and allows a business to print receipts anywhere. The printer is compatible with Loyverse POS software (retail, clothing, logo print) for Android, as well as the following POS platforms:
CasierStock (shopping and inventory management)
Kyte (mobile sales)
Pozool (restaurant and coffee shop)
Cash sale POS (restaurant)
ExpressExpense (express billing receipt) for android devices
The IMP001 comes with the DEMO APP "pos printer" or "RT printer" for basic text printing.
The printer is highly mobile and comes with a free Velcro belt to hang on your waist. The printer is green-friendly. There is no need for ink, toner, or cartridges— just thermal paper. Additional features include:
Print speed of 90 mm/sec
Reliability TPH life 100 km.
Print width 48 mm (384 dot)
Resolution 203DPI (8dot/min)
Supports barcode and logo printing
The IMP001 has BQB, CE, and MSDS certifications. It comes with an 18-month warranty and professional tech assistance.
It's important to note, there are many platforms this Bluetooth receipt printer does not support. That includes the popular POS platform Square, as well as any Mac applications. It's critical you call prior to purchasing to ensure the system will integrate properly.
2. Star Micronics TSP654II Thermal Printer – $340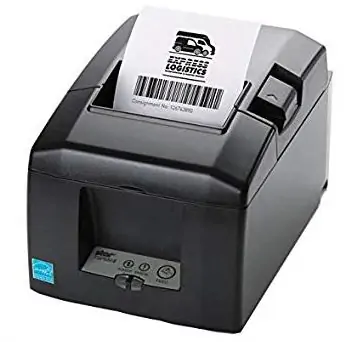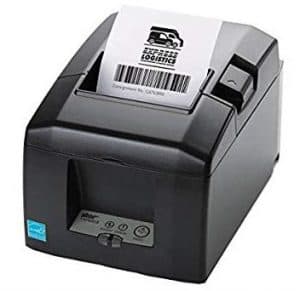 The TSP654II is a highly reliable thermal receipt printer with optimal performance and Bluetooth capabilities. It prints at a high speed of 60 receipts per minute (300 mm/s) with "drop-in and print" paper loading.
This high-end printer is designed to work best with mobile devices. It functions with a simple iPad, iPad Touch, and iPhone which makes it ideal for an on-the-go business like food trucks and farmer's markets.
The printer features a reliable guillotine cutter with a brushed stainless steel base that's 6" in depth and 3" wide.  The equipment is Apple MFi certified with operating system support for iOS, Android, and Windows. Interface options include:
Serial
Parallel
USB
Ethernet
Apple AirPrint communication protocol
The thermal receipt printer is designed to work with liner-free labeling applications and is available with the WebPRNT Browser app. It comes in white or gray with a small footprint to save on precious counter space. Other key features you can look forward to are:
Strong battery pack (it can run all day and night)
High reliability with MCBF: 60 million lines
Compatible with PromoPRNT and AllReceipts app
Print resolution 203 dpi
Splash-proof cover (optional)
Although this printer is on the costly side, the functionality far exceeds the price. It's built to last, so you won't need to replace it anytime soon.
3. Brother RJ2150 Mobile Label and Receipt Printer – $995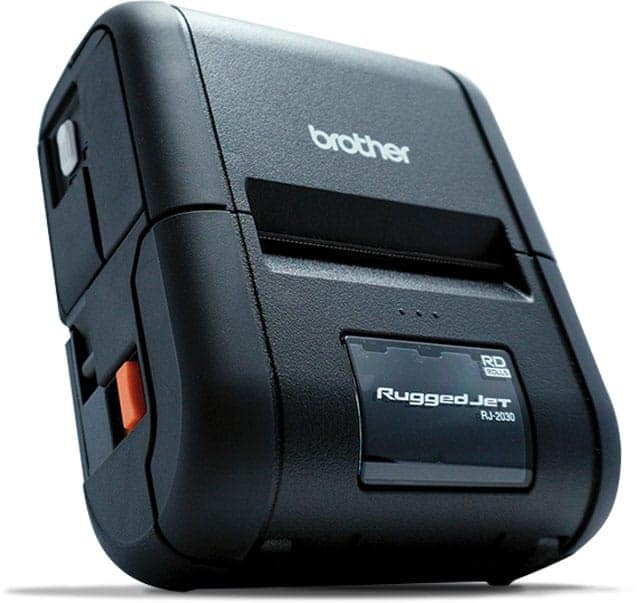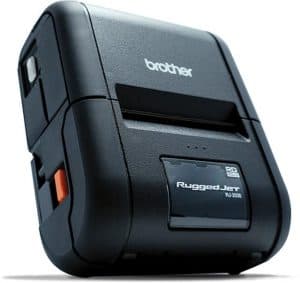 This 2" rugged mobile label and receipt printer has USB, wi-fi, and Bluetooth connectivity. The printer is a portable, direct thermal device with an LCD display, gap/bar media sensors, battery, and belt clip.
For a mobile printer, the RJ2150 is incredibly fast. It boasts a print speed up to 6 ips which means smoother transactions and less wasted time. This leads to higher productivity and increased customer satisfaction.
The Bluetooth receipt printer is built tough, with IP54 certification. This test involves dropping the printer from 8 feet and tumble testing. Its pelted with dust, water, and other elements to ensure the printer operates under every type of condition.
The printer is compatible with Windows Vista, 7, 8, and 10. It also works with Android v2.2 or later and iOS v6.0 or later. The printer dimensions include:
8″ x 5.9″ x 3.9″ (73mm x 150mm x 100mm)
2 lbs. (0.55kg) with battery 0.96 lbs. (0.44kg) without battery
The receipt printer comes in the color black with 12 MB of memory and 32MB of RAM. The media feed features a drop-in roll and adjustable roll holder. The battery lasts up to three hours with a life of 300 cycles. Other key features include:
Print resolution 203 dpi
Print width 2.13" (54 mm)
Up to 256 stored templates
Rechargeable Li-ion battery (PA-BT-003)
User interface: 3 Switches (power/back, menu, feed/OK) 1 LED (Power)LCD with backlight
Accessories can also run rather high with this printer. Premium receipt paper is $59 for a 12-roll case. So keep that in mind before committing.
4. Epson Mobilink P20 – $316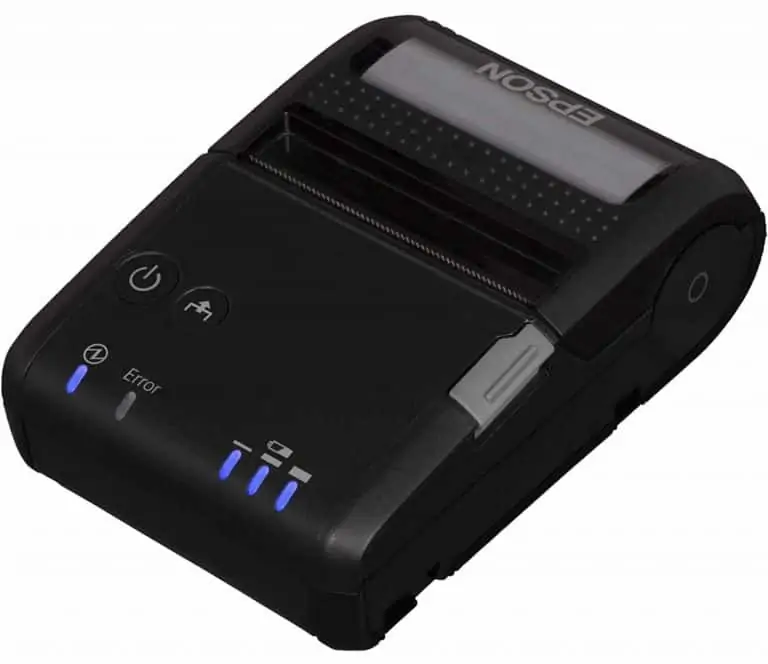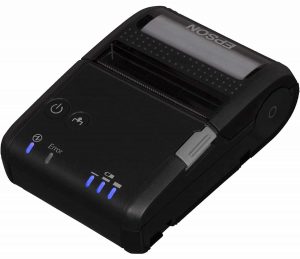 This 2" printer offers big performance with a small footprint. The ultra-lightweight equipment only weighs .5 pounds and can fit in the palm of your hand. It is easily one of the most convenient Bluetooth receipt printers on the market. It delivers all the features you need to print anytime from anywhere.
The Epson Mobilink P20 has the best battery life in its class and lasts up to 8 hours. It's NFC-pairing ready and supports all major mobile operating systems. This printer has an exceptional print speed of 100 mm/s so you can move lines along quickly.
There are paper-saving options of up to 23% for optimizing green efforts. The printer also supports 802.11a/b/g/n with 2.4GHz/5GHz compatibility and Bluetooth 3.0 (EDR). It corresponds with all of today's best-of-breed POS platforms and the latest standard wireless security protocols. Additional features include:
Print method: Thermal line printing
Paper width 58 mm
Reliability: 10 million printing lines
Custom Lithium-Ion battery pack, AC adapter (optional)
Standard 1-year limited warranty
The Bluetooth receipt printer features a durable design with a 6.5-foot drop rating. It is also IP54 ready with a padded case. Epson's unique ePOS-Print software allows you to print from any device running an Android, iOS, or Windows operating system. This is through a Bluetooth or wi-fi connection, using an HTML5 browser or native app. This makes the Mobilink a simple and smart solution for today's mobile receipt printing requirements.
5. Zebra ZQ630 – $950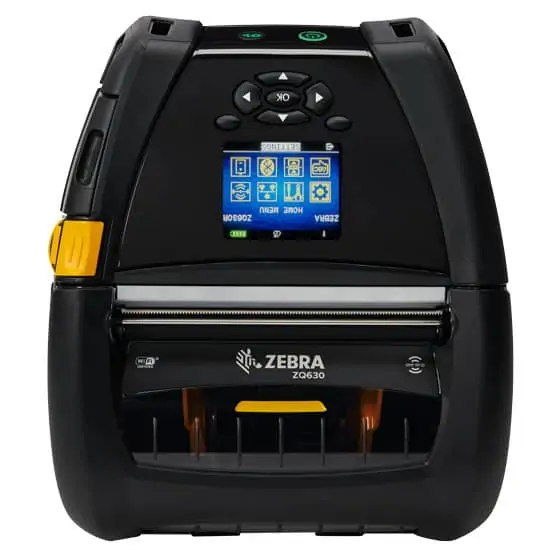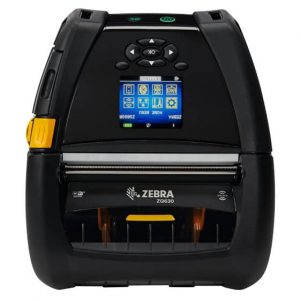 The Zebra ZQ630 is a Bluetooth receipt printer that helps to drive productivity and takes manageability to a new level. This type of POS equipment allows a business to minimize downtime and ensure your printer always functions (advanced battery technology). The printer boasts more battery capacity with instant wake-on status.
The ZQ630 has a large color display with clear icons that take the guesswork out of operations. The wireless connections are fast and dependable with 802.11 ac and Bluetooth 4.1. This unit is perfect for improving warehouse management and logistics. It's optimized for a high volume of printing and can be easily mounted anywhere (like a countertop or forklift).
The Bluetooth receipt printer works great in the transportation and manufacturing industries. To slow the learning curve, the equipment is based on Zebra's Link-OS menu system.
The printer is developed for mobility. It's lightweight and comfortable to wear all shift long. Other convenient features include a tempered glass display, over-molding, and a seamless one-piece design.
It's made from high-grade resin, one of the toughest plastics on earth. This makes the printer impact resistant and able to withstand high temperature and elevated pressure environments. Other key features include:
Large capacity 6800 mAH removable, rechargeable PowerPrecision+ Li-Ion battery
A print speed up to 4.5in./115 mm per second
Durability IP43-rated for dust and liquid protection (IP54 with a soft case)
Media roll diameter 2.6in./66 mm
Easily customized menu with sleep mode
The equipment can tolerate multiple drops from 6 feet to concrete. It only weighs 2.45 pounds and is a great investment for a busy mobile brand.
Bluetooth Printers: The Technology Explained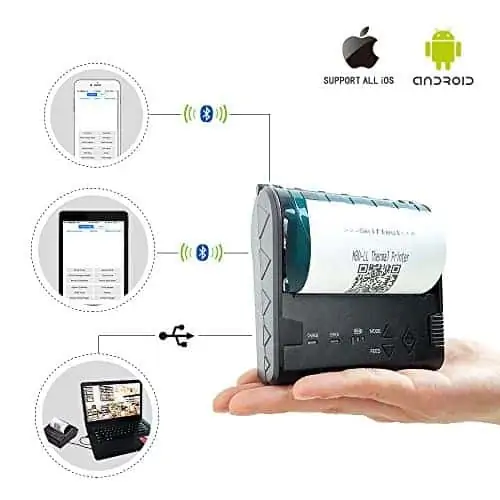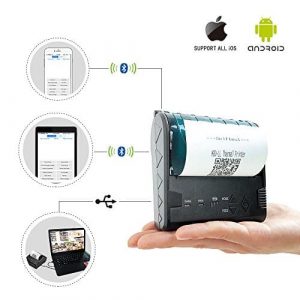 Bluetooth was originally conceived as a wireless alternative to RS-232 data cables. The technology is an essential feature for any business looking to run mobile transactions. It is designed for low power consumption, so a receipt printer with Bluetooth capabilities will also last longer than other wireless, battery-powered printers.
The effective range of your printer will depend on a variety of conditions like antenna configurations, material coverage, and battery. The setup you choose should always be defined by your immediate business needs.
Final Thoughts on Bluetooth Receipt Printers
Some receipt printers also print labels. This is a whole other ballgame that can add to the cost of a unit. If your company only needs to print receipts, consider cutting out this feature during your search.
However, if you need to produce all kinds of material, it's better to have it done through one machine. In this case, investing in a more expensive Bluetooth receipt printer may be the smartest choice.
Overall, what you purchase is only the first step. It's how you utilize the system to grow and expand that matters. If you're not sure where to start, consider a cheaper unit for now. You can always add on as the business reaches different levels of success.