(Last Updated On: September 28, 2021)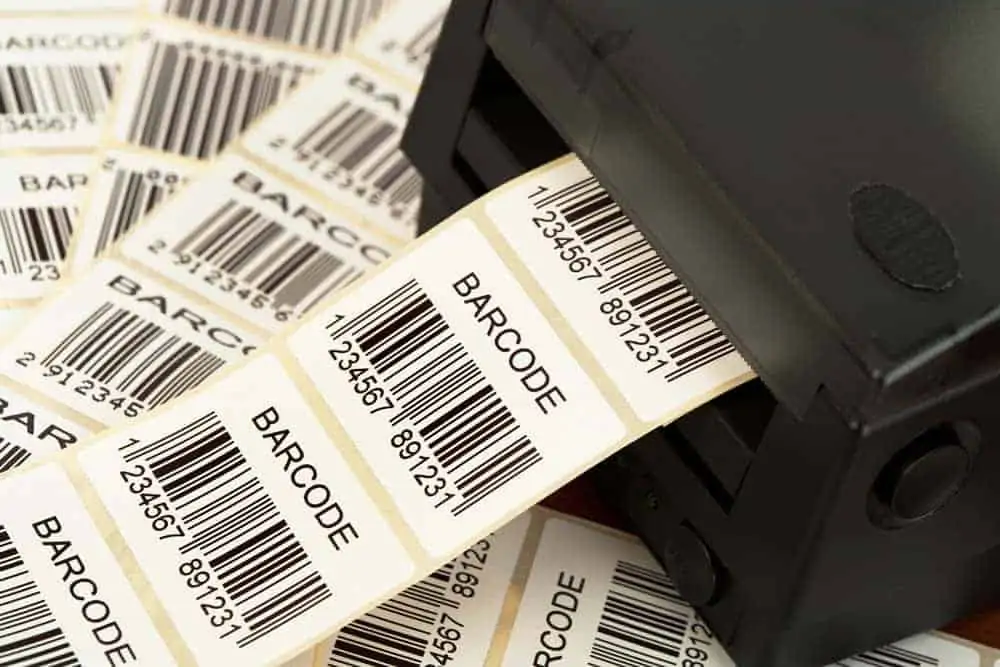 Roughly 53 percent of businesses say that expanding their point of sale (POS) capabilities is one of their main goals. This isn't surprising, given all of the tasks you expect your POS system to do: transactions, accounting, inventory, invoicing, reports, remarketing, and more.
With the sheer variety of functions and add-ons out there, it's essential that you start by focusing on basic functionality. One of these core components of a functioning POS system are barcode label printers.
Barcodes allow for faster transactions and much less room for error. This will speed up your checkout lines and improve the overall customer experience. After all, no one should be manually inputting inventory data when the technology to automate the process is out there.
Based on our extensive review, the best barcode label printer comes from Brother. Their bundle includes a 4" label printer, design and print software, label paper, Windows OS compatibility, a built-in auto-cutter, 300 dpi print resolution, and more.
However, there are many powerful and effective printers out there that should give you what you need. It's important to thoroughly review all the available products so that you get the maximum return on your investment.
Here is our comprehensive guide to walk you through the best barcode label printers out there. This should give you all the information you need to make a smart decision on the right system to fit your business needs.

What Is a Barcode Label Printer?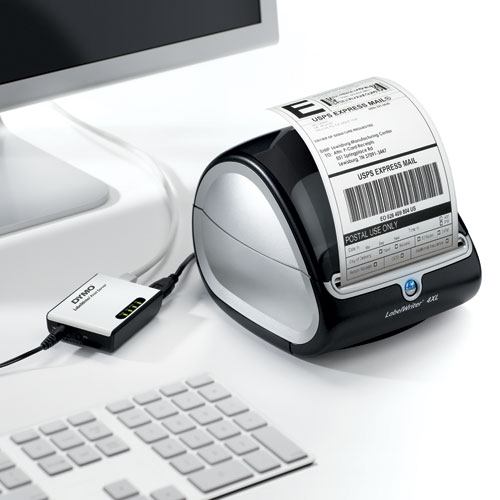 A barcode label printer is a standard piece of equipment that serves a high-value function.
Barcodes are a relatively inexpensive technology that have become a standard for uses across all industries. They help a business create unique identifiers that allow for easier tracking and processing.
Barcode labels are not hard to make. That's what a barcode label printer is for.
These are not your typical printers, but rather, specific technology designed to print labels or tags. These can be attached directly to products or to an ID tag.
Not every barcode printer is the same. The technology can differ by model. The basic types are:
Dot Matrix
Inkjet
Laser
Thermal
Thermal printing is generally the best option for barcode label printers. There are no extreme long-term maintenance costs and they save on a lot of paper.
How Does a Barcode Label Printer Work?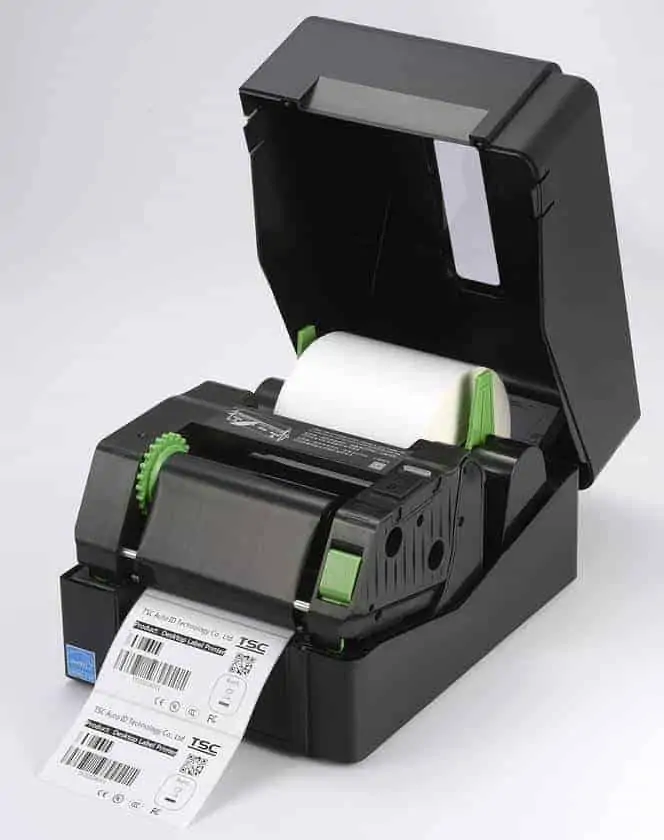 A barcode label printer is a computer peripheral for producing barcodes, labels, and tags. These can be attached to or printed directly on items for easier tracking.
The two most common types of barcodes are direct thermal printing and thermal transfer.
Direct Thermal
A direct thermal printer works through chemically treated paper that is blackened when heat is applied via the thermal print head.
These barcode printers don't use ink or a ribbon. Exposure to heat and light can fade these labels over time. However, direct thermal printers produce barcodes sufficient for shipping or receipts.
Thermal Transfer
Thermal transfer uses a thermal print head to apply heat to a ribbon. This, in turn, melts the ink to the surface of the label. These barcodes have excellent print quality and scanner readability.
They can last for long periods of time (think warehousing and retail). These printers also have the capability to print logos, color text, and other variations from a wide variety of material types.
How Much Do Barcode Label Printers Cost?
Since the types of barcode label printers vary, so does the cost. The price of the equipment depends on what you need. Factors to consider include:
Speed
Quality
Maintenance (ongoing costs)
Connectivity
Accessories
Depending on the size of your company, the price of a barcode label printer can range anywhere from $100-$2,000. The average price is in the $300-$400 range.
When considering cost, you should also look at the type of paper you will need to purchase. As barcodes are adhesive, the price of paper will be more than simple receipts. If you choose a thermal transfer printer, you will also have to include the cost of the ribbons and ongoing maintenance.
The Best Barcode Label Printers
When it comes to POS technology, you have a lot of options to choose from for a barcode label printer. Here are the top brands and their best models:
Brother
TD-4000 – $350-$400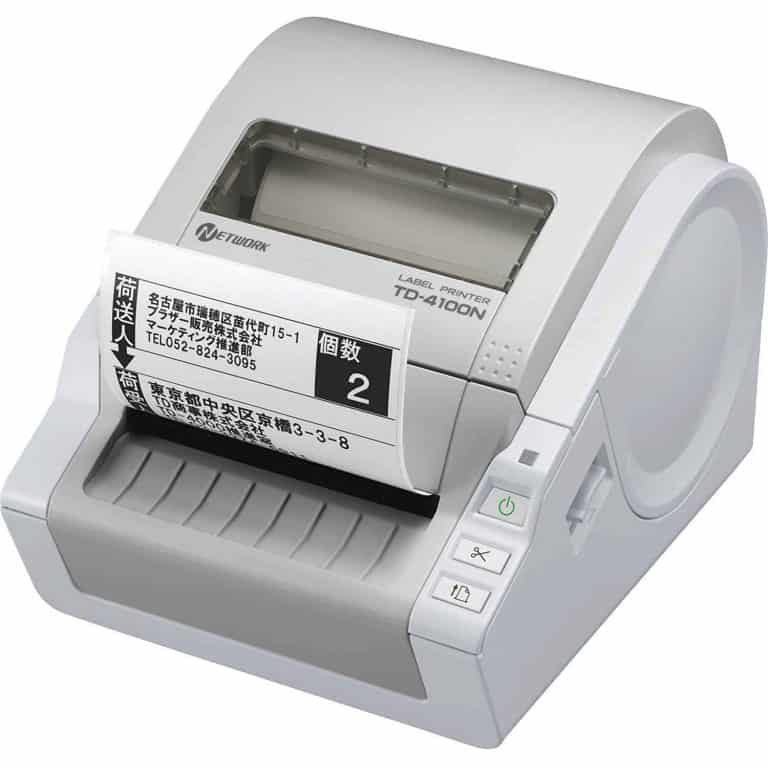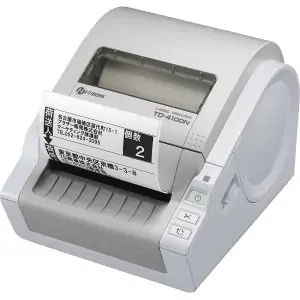 This barcode printer comes as a complete solution. It's an entire bundle to get you started that includes:
4″ label printer
Label design and print software
Label paper
The fast, host-based printer processes up to 4.3" per second with up to 4" printing of high-quality barcodes, labels, and tags. It has Windows OS compatibility with a reliable, built-in auto-cutter.
The clamshell cover has a drop-in roll design with no spindle. Other key features include:
300dpi print resolution
PT-Editor 5 professional barcode and label design/print software app
Download templates to print from a barcode scanner, keyboard, or another device
USB 2.0 and RS-232C serial interface connectivity
1-year select warranty
This is the best barcode printer for jewelry due to speed and packaging.
TD-4100N – $450-$500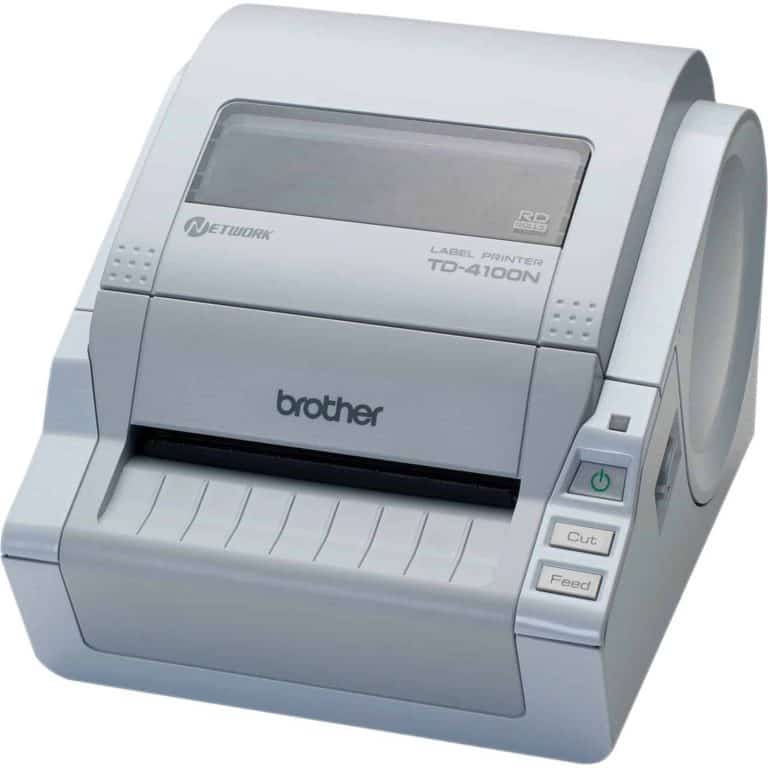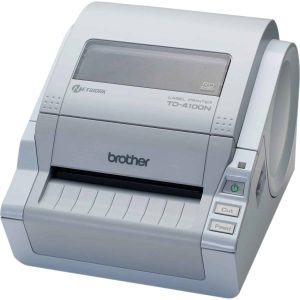 The TD-4100N is a network/desktop barcode and label printer for full-page mobile printing. This printer also comes as a complete solution and includes software and label paper.
The hardware features an additional Ethernet connectivity option for printing on-the-go. This makes it ideal if you run a pop-up shop or manage a food truck.
The printer comes with a 1-year select warranty and is Windows OS compatible. It prints up to 4" of high-quality barcodes and labels at a speed of up to 4.3" per second.
It has a built-in auto-cutter for easy label management and templates that print to a barcode scanner, keyboard, or other device. Other features include:
300dpi print resolution
Clamshell cover and no spindle
Drop-in roll design
10/100 Base TX Ethernet, USB 2.0, and RS-232C serial interface connectivity
Epson
TM-L90 – $350-$400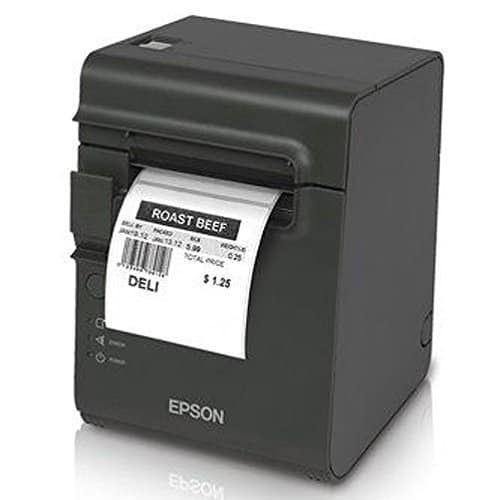 The Epson TM-L90 Plus prints high-quality labels and barcodes in a compact unit.
It prints fast, with speeds up to 150 mm/sec with a clear 203 x 203 dpi. It can handle a variety of print stock for receipts, labels, tickets, barcodes, etc.
The barcode printer offers continuous printing on liner labels and is compatible with leading business software applications (Windows drivers).
This includes the following operating systems:
Windows 2000/XP/Vista/7/8
Windows Embedded POS Ready 7/2009
Windows Server 2008/2012
The hardware comes in the color of Epson Dark Gray (EDG) and has easy drop-in paper loading. It can handle rolls up to 90 mm in diameter. The system comes with a 1-year limited warranty with additional features like:
Weight 4.18 lb (1.9 kg)
Dimensions 5.5″ x 5.8″ x 8.0″ (140 x 148 x 203 mm) (W x D x H)
High reliability with an MCBF of 70 million lines
Dual interfaces standard including built-in USB plus one UIB interface
Safety standards: UL, CSA, TÜV (EN60950)
There is also the option for a peeler version which will be available soon. This makes it a lot easier to attach printed barcodes to products.
Zebra
ZD410 – $350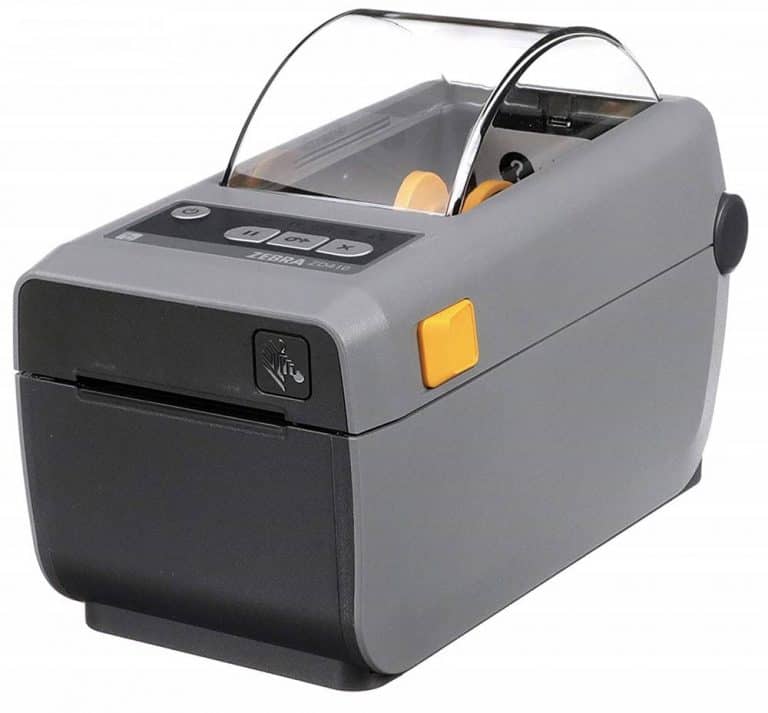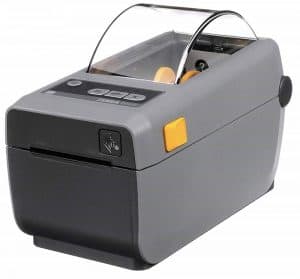 This ultra-compact, 2" printer is fast, dependable, and powerful. It's small enough to fit virtually anywhere and creates high-quality labels, receipts, barcodes, tags, and wristbands.
It's fast enough to keep employees busy but uses low-energy Bluetooth connectivity. This makes deployment and integration a breeze.
The ZD410 is easy to operate and troubleshoot, ensuring your printer is always functioning full force.
It has a strong warranty that covers everything from normal wear and tear to worn down print heads. If you seek cordless operation, there is an option for high-capacity batteries.
This makes the ZD410 ideal for mobile applications like flea markets and food trucks. The battery housing mounts securely to the base of the printer and connection is simple as snapping them in. The printer also features options for a cutter, peeler, and keyboard.

ZD420 – $375-$400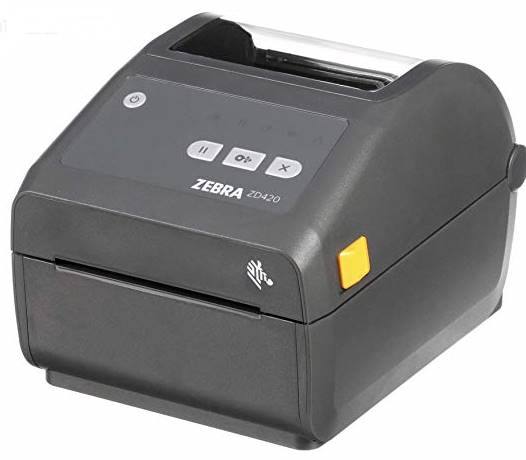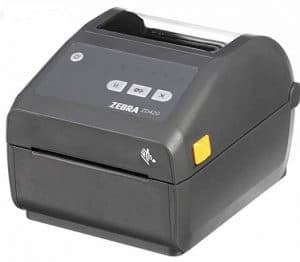 The ZD420 has an intuitive interface with a clamshell design. It's easy to use with very little training required.
These printers run on Link-OS and are supported by a robust suite of Print DNA applications, utilities, and developer tools.
The field-installable connectivity and media handling options mean you can purchase what you need today and buy the rest later on.
This leads to easier integration as you meet future needs. The ZD420 is available in both direct thermal and thermal transfer models. The three-button user interface has five LED status icons for easier manageability.
This enables a superior printing experience through improved performance. This is the best barcode printer for retail. Other industries that benefit from this printer include:
Manufacturing
Transportation
Healthcare
The ZD420 can be used to produce a variety of different barcodes and labels. Some of these are:
Shipping/Receiving labels and packing slips
Lab and specimen labels
Inventory tags
Agency labels/nameplates
Work-in-process
Computype
cab EOS Series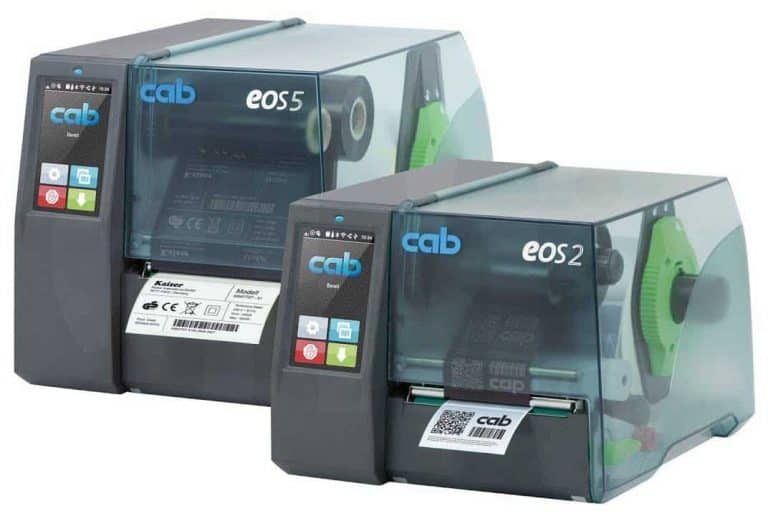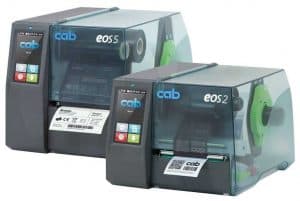 The cab EOS1 printer is a versatile thermal transfer printer that is made for a variety of different environments. It's compact in size at only 189 x 322 x 253mm.
This makes it useful for many industries including offices, industrial production lines, automotive, chemical, pharmaceutical, medical, and logistics.
Although the printer is compact, it can hold an 8-inch diameter roll of thermal transfer labels. This gives you a wide range of possibilities for applications.
You can also save any standard formats in the cab EOS printer's database if you want it to function as a standalone unit. Additional features include:
Customizable LCD display
Screen settings in 27 different languages
Easy-to-navigate for high-pressure environments
cab Mach 4S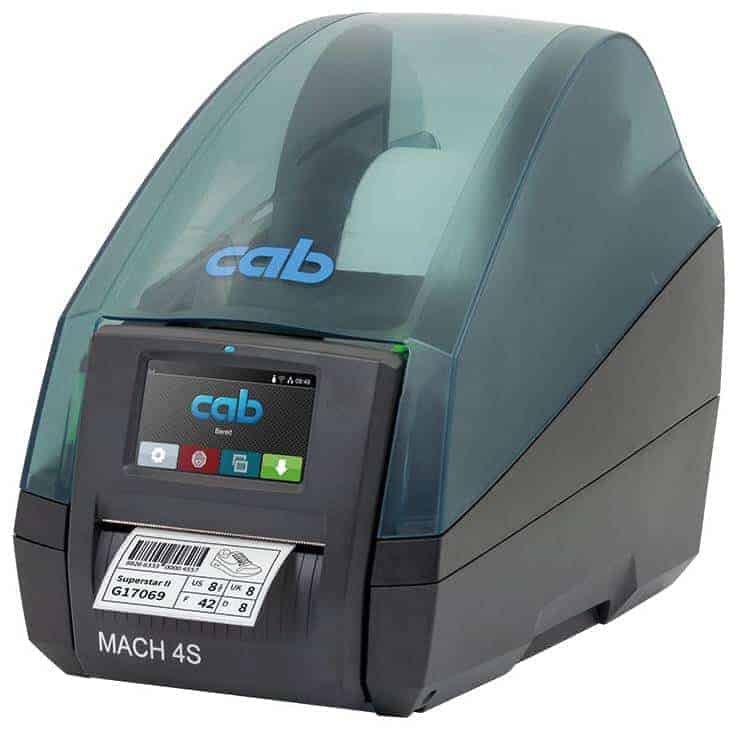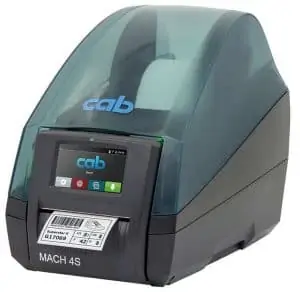 The cab Mach 4S runs at 8" per second in print speed and produces high-class print quality.
The barcode label printer also has RFID capabilities and uses thermal transfer technology.
There is a large, colored touch display with easy-to-use symbols for straightforward operation.
Labels and ribbons can be inserted from the front. The centered, material guide eliminates any need for adjustments. It automatically lines up.
The Mach 4S uses a high-tech electronic board that integrates all required interfaces as standard and ready for connection. Print resolution is up to 600 dpi and the chassis is made of quality and durable materials.
Additional features include:
Reliable and fast printing
Accurate imprint
Compact design
Easy operation
Small footprint
There are three different models of the Mach 4S:
Type B with tear-off edge
This is for printing on materials that are wound on rolls, reels, or fanfold.
Type P with peel-off function
This model is for printing on all materials. Additionally, the labels can be dispensed.
Type C with cutter
This is for printing on all materials. The labels can also be cut from 12 mm in height.
Dymo
LabelWriter 450 Turbo – $130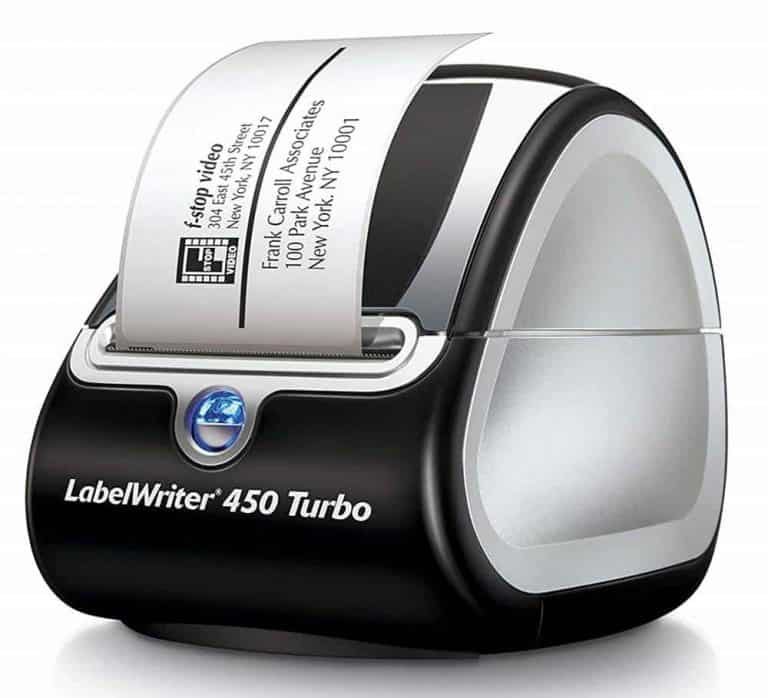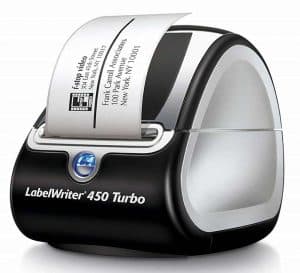 The LabelWriter 450 is an efficient barcode label printer for your PC or Mac. You can import data directly from Microsoft Word, Excel, and Google Contacts.
The printer is compatible with Windows 7 or later and Mac OS X v10.11 and on. The printer will produce items like:
Barcodes
File folder labels
Badges
Address labels
And more…
The LabelWriter 450 uses direct thermal printing technology which will save you the cost on ink or a ribbon. The printer is quick, producing up to 71 labels a minute with precise quantities. This eliminates the need for printing entire sheets. It also saves on paper waste.
The hardware comes with professional label templates that you can customize with your company logo or other graphics using the DYMO software platform. The printer has a 2-year limited warranty and a quick start guide. Other features you can expect are:
Dimensions (width, height, depth): 4 ⅞" x 5 ¾" x 7 ¼"
2 address label starter rolls
Power adapter
Power cable
USB cable
LabelWriter 4XL – $280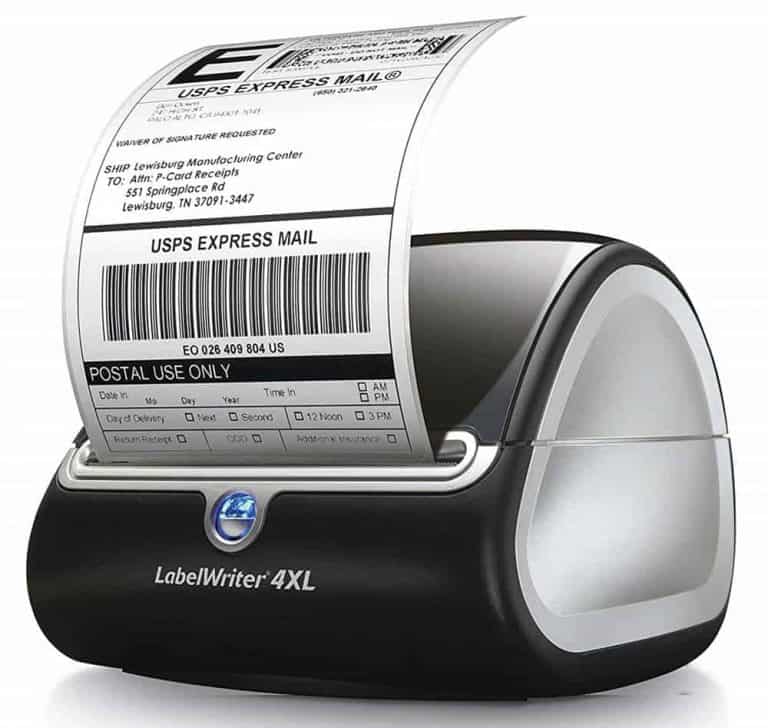 The LabelWriter 4XL saves time and money. You can connect it to your PC or Mac and import data directly from Microsoft platforms, Outlook, and Google Contacts.
Since it functions on direct thermal printing, ongoing maintenance costs are low.
This machine enables you to print shipping labels up to 4" x 6" directly from sites like:
eBay
DYMO Stamps
Amazon
Etsy
Iabol
The compact design comes with over 60 professional label templates that can be easily customized with your branding or graphics using the DYMO Label software. The printer comes with a 2-year limited warranty and runs on Windows 7 or later and Mac OS V10.10 or later. It comes with a quick start guide and has the following features:
Dimensions (width, height, depth): 7″ x 5 ½" x 7 ⅜"
Roll 104 mm x 159 mm oversized shipping labels
Power cable and adapter
USB Cable
Quick Start Guide
MobileLabeler – $60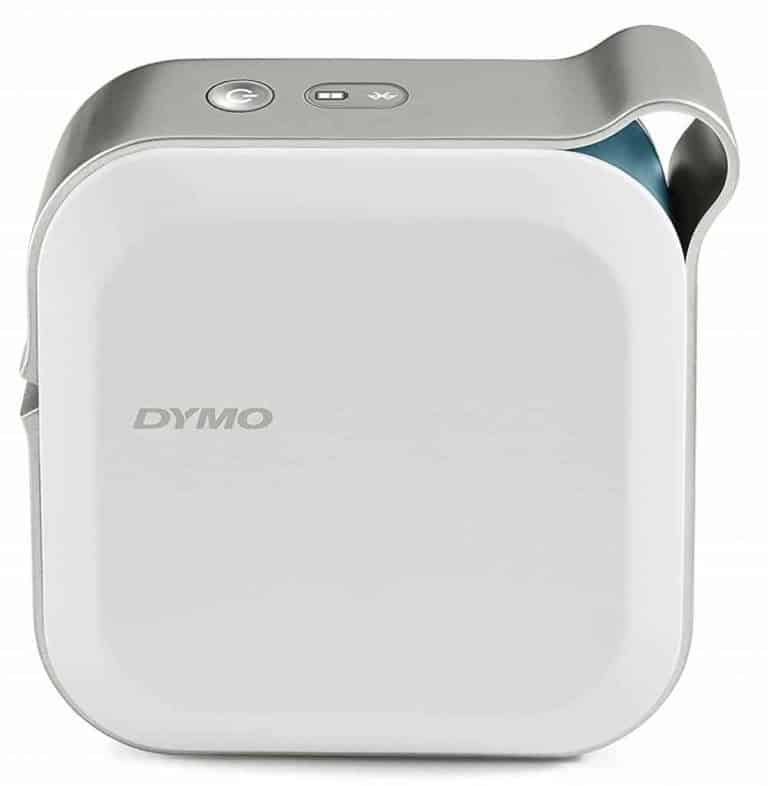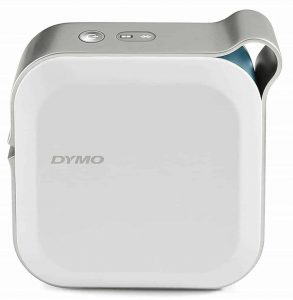 This is the DYMO version of a portable barcode label printer. It can be used with any smartphone to quickly create labels in a myriad of colors up to 1" in width. This makes it the best barcode printer for restaurants.
Bluetooth connectivity allows for fast access and quick printing. It comes with the DYMO Connect mobile app that's free and compatible with iOS and Android platforms.
The app also uses time-saving features like voice to text and spellcheck. Labels can be customized using Google and Apple font styles. The MobileLabeler also comes with a variety of templates and borders available in the app.
The DYMO MobileLabeler works with Mac OS or Windows utilizing DYMO Label software. This makes for a creative and intuitive labeling experience. Barcodes can be produced and applied directly on the store floor.
This system comes with a rechargeable battery, so there are no AA batteries required. It has an automatic cutter which makes multi-label printing effortless. Labels can be printed from ¼" up to 1" wide. It also comes with a quick start guide and a 2-year warranty.
Additional features that you can look forward to are:
D1 starter label cassette (1" x 10' black on white)
USB cable
Rechargeable lithium-ion battery
AC adapter
Top Barcode Label Printer Brands
When it comes to making a purchase, sometimes it's all about looking at the trusted brands. Here are some of the best barcode label printer producers on the market:
Brother


Brother Industries, Ltd. is a Japanese multinational electronics and electrical equipment company based in Japan.
They began as a sewing machine business in the early 1900s and have been producing equipment ever since. Today, Brother is best known for its label printers, sewing machines, and machine tools.
Epson


One of the most familiar names in electronics, Epson is a Japanese electronics company headquartered in Nagano, Japan.
The business has numerous subsidiaries worldwide and was founded in 1942. Epson now produces a variety of electronics that include laser printers, scanners, and barcode label printers.
Zebra


Zebra Technologies is a public company based in Lincolnshire, Illinois. They manufacture and sell various types of computer printing hardware.
Established in 1969 as Data Specialties Incorporated, the company has sales of over $4 billion worldwide. Today, Zebra produces all types of electronics, including thermal barcode label and receipt printers.
Computype


One of the leaders in barcode label manufacturing, Computype has been a family-owned business since 1975.
The company supplies label equipment to organizations across the globe and are acknowledged barcode experts worldwide. They are currently spearheading the development of technologies like RFID and next-gen automation.
Dymo


Dymo Corporation is an American company that manufactures handheld barcode label printers and thermal-transfer printing tape.
Established in 1958, they started by producing handheld tools that used embossing tape. The company also specializes in durable medical equipment and CD/DVD labelers.

The Bottom Line
Choosing a barcode label printer shouldn't be a difficult process. The price can vary greatly so it's important to do your research before spending a budget.
Consider aspects like mobility, functionality, and size. Once you find the right printer for your POS system, you can streamline operations and focus on driving sales.