(Last Updated On: October 5, 2022)

Working in the bar or restaurant business can be hectic. Every order is different, and special demands always seem to find their way to the kitchen. 
After an extensive Appetize POS review, we found that this POS system gained serious notoriety for its powerful management tools and friendly user-interface. With a strong digital ordering platform, you can improve the guest experience and your operation. 
An Appetize POS review is not a complete review if you don't know what the features are. While this system offers a number of retail POS features, such as unlimited SKU management and barcode scanning, its main selling point is its ability to speed up the checkout process. It is also known to optimize inventory levels. Pricing information for this system is not readily available on the official website. The cost of Appetize POS software depends on how much functionality you need.
The user-friendly product is an appealing feature, allowing customers to photograph items for sale. The reporting is not accurate, however, and it can take a long time to correct or change. Additionally, the costs are too high. I chose Appetize because it was easy to use, but I was disappointed with the amount of back-end reporting. Overall, this system is worth considering for restaurants but it's not perfect.
Prices: The price of the Appetize POS system is about average in the industry, with prices starting at about $40 a month. The company offers flexible plans and is ranked as a six on a 1 to 10 scale. Prices include hardware, upgrades, customization, and data migration. However, it doesn't provide demos. Therefore, a free trial may be required. If you're interested in the platform, contact the company's support team and request a free trial.
What separates Appetize POS from the rest is the exceptional industry-specific features, such as order forecasting and shortcut keys for easy menu building. The intuitive software layout provides a fast learning curve that's ideal for high-traffic restaurants. This means less time training and turning tables faster. 
Whether you own a retail business or a quick-service restaurant, this system can improve the checkout time, set promotions, combos, and make changes on the fly. Additionally, manage tables better by using the cloud-based floor plan layout. 
Finally, Appetize POS will help you communicate with your kitchen better. Get real-time updates on orders, sales, and activity around your business. 
But, believe us when we say Appetize POS does much more than that. Let's dive into the full review below and discover more features.

Appetize POS System Review – Company Overview
Appetize is one of the leading of providers of inventory management, point of sale and analytics solutions. Based in Playa Vista, CA, the provider is transforming the way some of the best enterprises processes and handle customer transactions at scale.
As a matter of fact, the suction is currently preferred by a considerable number of the largest and high-volume businesses. For enhanced simplicity, the provider offers its solution in three main modes for restaurants, quick service establishments, and retail businesses.
Seamless and Versatile POS Solutions
Appetize has been proven to be capable of running an array of business types. For instance, the providers offer the right POS tools for theme parks, education campuses, sports and entertainment properties, national chain businesses as well as track and leisure sites.
The provider is also renowned for offering versatile POS software and robust hardware components for an array of industries. For the service-based businesses, Appetize offers seamless front of house ordering and payment integrations.
With regards to hardware components, Appetize offers some of the best stationery, hand-held mobile, and self-service Kiosk POS station functionality. Additionally, it also offers robust kitchen display ad management solutions for restaurants and quick-service establishments.
Discussed below are some of the functionality that makes Appetize a preferred POS option for thousands of business owners and organizations
 Appetize POS System Benefits
Versatile and highly beneficial software functionality
Industry-specific capabilities
Supports barcode scanning and unlimited inventory SKUs
Features flexible table, menu, and coursing management tools
Intuitive kitchen and back of house management
Scalable to accommodate large and high-volume business.
Offers several industry-specific POS software modes
Capable of forecasting common orders and amounts of change
Features heat maps, displaying how well items sell in different locations.
Possible Drawbacks
Although POS pricing by this company is quote-based, third party sources reveal that you could end up paying up to $2,000 per device per year. This is relatively expensive, especially for small and medium-sized businesses.
Appetize POS Software Options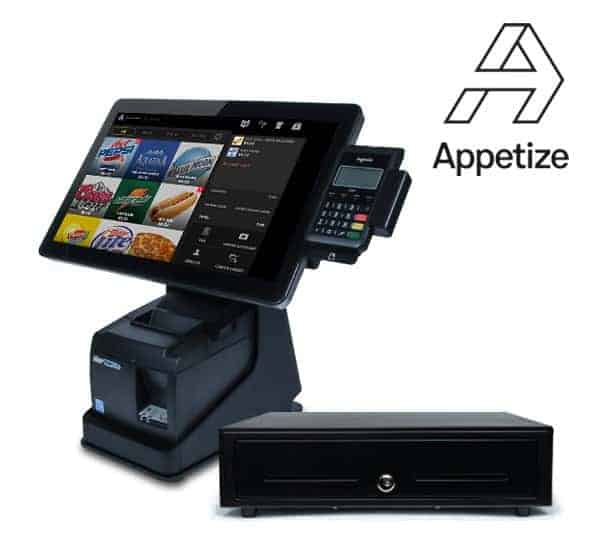 As mentioned earlier in this guide, Appetize offers several software options that are custom made to suit different types of business. Based on your business type, you need to choose the right industry-specific enterprise Solution by this provider, including:
Professional Services POS
This is a feature-packed POS software solution that is specifically designed for professional service providers. This software is suited for such services as healthcare facilities, convention centers, and business dining centers.
As you can attest, attraction sites have a hard time managing and streamlining operations. Appetize offers a POS solution with an array of capabilities for this type of business. The Appetizers POS for attractions venues has the capabilities you need to handle your restaurant, food, and beverages as well as merchandise needs.
POS for Educational Institutions
This POS software is tailor-made for such educational institutions as colleges and universities. Not only is this solution easy to use, but also has a range of capabilities to allow for the efficient running of campuses. Again, the software is also suited for dining center, athletic facility, and bookstore applications.
Sports and Entertainment Venue POS
Since it's the foundation, Appetize has been offering POS solutions to some of the largest stadiums, clubs and theatres. As you will come to learn, this provider offers innovative functionality for Sports and Entertainment enterprises, including merchandise capabilities, hawker tools, and concessions.
Appetize Restaurants POS System
The restaurant POS software by Appetizers is suited for all types of restaurants. Whether you own a fine dining or just a quick-serve restaurant, this system will equip you with all the tools you need to run the establishment more efficiently.
In this regard, you will get such capabilities as tableside ordering and payments as well as online and mobile reservations.
Appetize Retail POS System
It does not matter the type of merchandise you offer in your store, Appetize offers a range of beneficial retail POS capabilities just for you.  For instance, it features some of the best barcode scanning and unlimited SKU management capabilities.
The system has been proven to speed up the checkout process as well as help retailers optimize and maintain their inventories.
Appetize POS System Pricing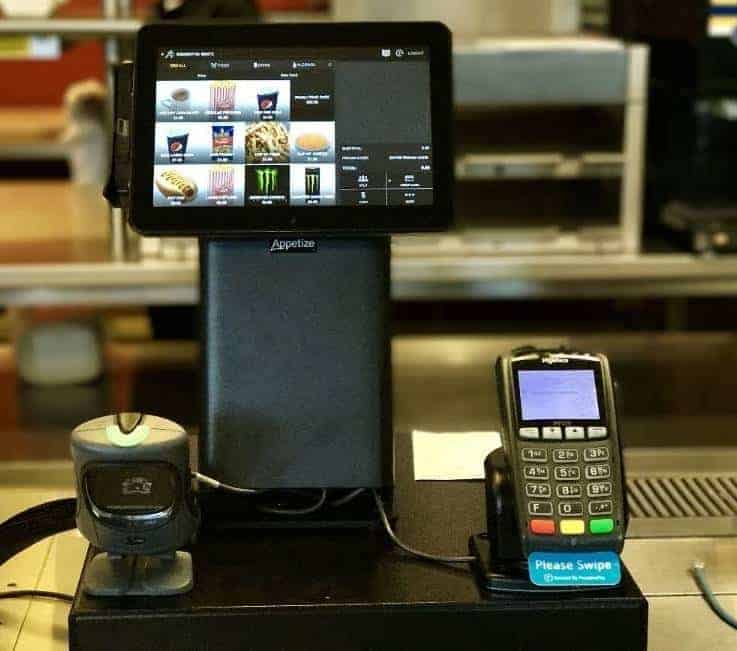 While it is known that the provider charges a subscription plan on its POS software, it does not display any pricing information on its official website. Basically, the much you will end up paying for the Appetize POS system will depend on what you need.
To get an accurate quote for the software and hardware solutions by this provider, you should contact Appetize directly through their website. However, the provider offers a free trial period for its software solutions.
Appetize POS Hardware Requirements
Although the Appetizers POS software and mobile solutions can run on iOS and Android devices, you should consider getting propriety hardware components by Appetize. Regardless of the POS system, you opt for, this provider will offer you a dynamic hardware configuration.
Depending on your business type, this provider will offer you hardware components that are best suited. Ranging from portable and fixed POS stations to handheld and Mobile solutions, Appetize hardware will meet your line bustling requirements.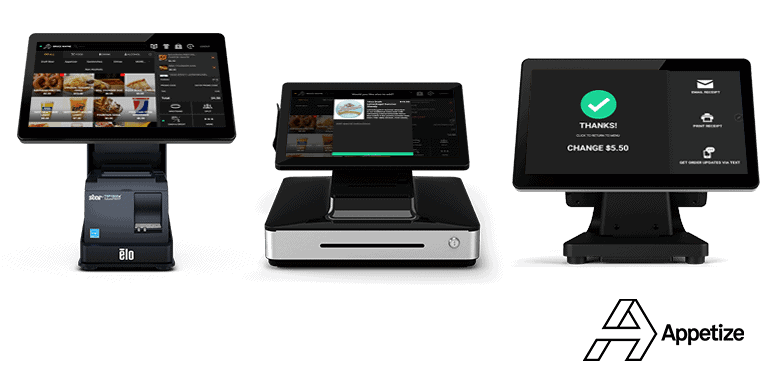 Some of the basic hardware solutions offered by Appetize include fixed and portable POS stations, kitchen display systems (KDS), Mobile POS devices, and Self-service Kiosks.
Appetize offers an assortment of peripheral support hardware components, such as printers, customer-facing displays, and barcode scanners. The provider offers an array of purchasing options as well. For instance, it allows you to purchase the equipment upfront or choose one of its leading plans.
Appetize POS System Features and Capabilities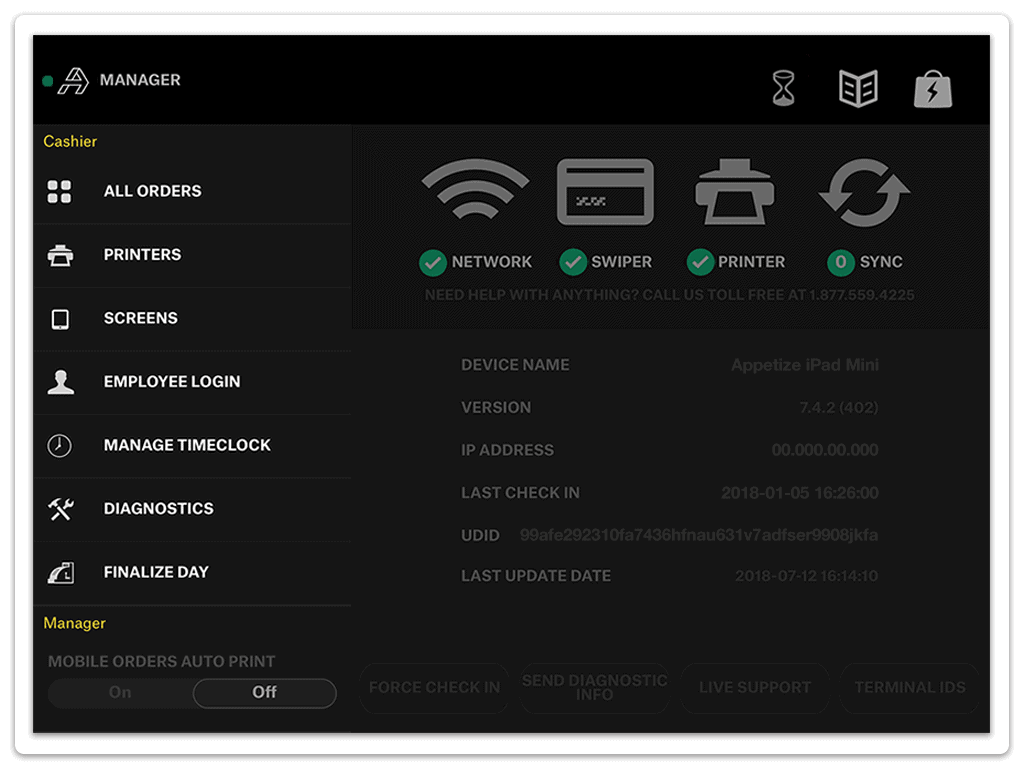 Being one of the best cloud-based, platform-agnostic POS solutions, Appetize has a horde of impressive capabilities to offer enterprises. With this provision, you will get robust and reliable POS hardware.
Additionally, the provider will offer you advanced back-office management, centralized data management, and staff tools.
Such capabilities have been helping thousands of business owners unlock new revenue streams, speed up the checkout process and boost business efficiency. With such a solution, you will be in a better position to monitor performance and gather business intelligence.
Discussed below are other capabilities that make the Appetizers POS system stand out from its competitors:
Appetize Connect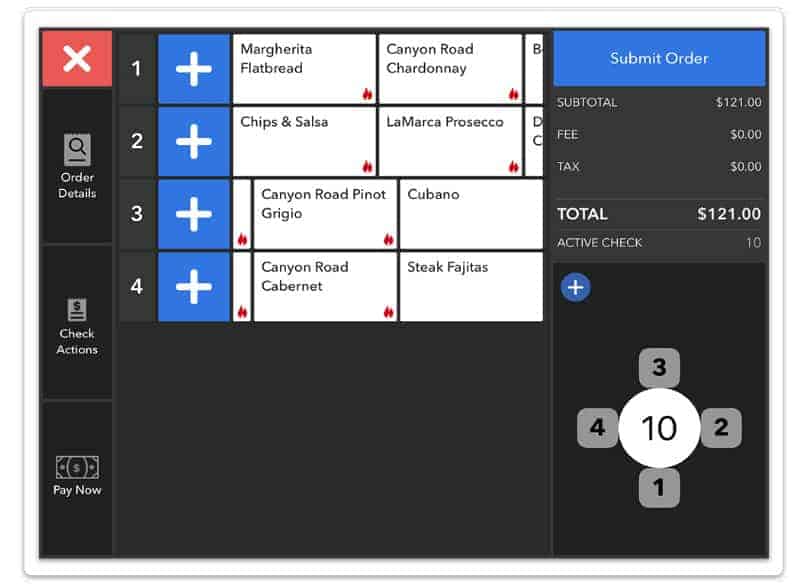 You may think of this as a comprehensive backend business management platform. In its functioning, the platform offers advanced cash room and inventory management functionality.
To begin with, the system will offer you accurate ingredient-level inventory management capability in real-time.
Again, the Appetize Connect platform is also renowned for its customizable assortment of cash room management tools. Such capabilities are meant to offer you enhanced control over all aspects of your business on-site and remotely.
Some of the capabilities business owners have come to love about this platform include:
The system features real-time reporting and analytics and inventory management tools. Such tools will allow for proactive and efficient management of business operations. The Live Inventory functionality offered on this platform will give you a proactive overview and accurate tracking of stock levels.
With inventory management tools that are tailored to your business type, Appetize will make it easier for you to manage and optimize your inventory. The system also supports the management of unlimited SKUs, ingredients, and recipes.
With this system in your business, you can choose to have day to day or event to event management reconciliation. You may also preconfigure the system to your preferred reconciliation schedule.
This capability is equipped with a range of tools to help you combat losses and audit revenue in your business. Thousands of business owners also love the dynamic pricing functionality of the software.  With this tool, you will be able to configure different prices for the same item based on event type, season or location.
Appetize will also make employee management easier for you. For instance, it will let you preconfigure staff permissions based on their roles and responsibilities. Again, the software integrates Clock in/out functionality into the POS system.
Real-time Reporting and Analytics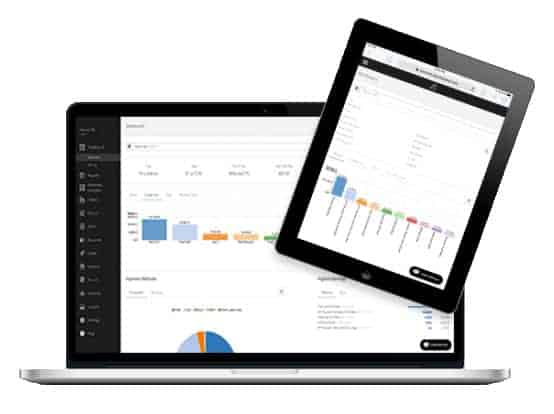 As the owner of an enterprise business, you will be required to make informed business decisions from time to time. In order to do that, you need o base your decision on comprehensive business data. Well, Appetize features a set of reporting and advanced analytic tools to save you the time wastage and hassle associated with the process.
With the POS system implemented in your business, you will be able to view popular menu items, sales, and stock levels in real-time wherever you are. You will also be able t push updates to all POS terminals in the business to communicate important information, such as sold-out items.
The various Appetizers POS auctions are capable of generating a myriad of in-depth reports on the important business processes. This type of reporting, when coupled with advanced analytic tools, allows you to make data-based business decisions on the fly. Additionally, it is also capable of importing the various reports to third-party services an any exportable format.
Kitchen Display Systems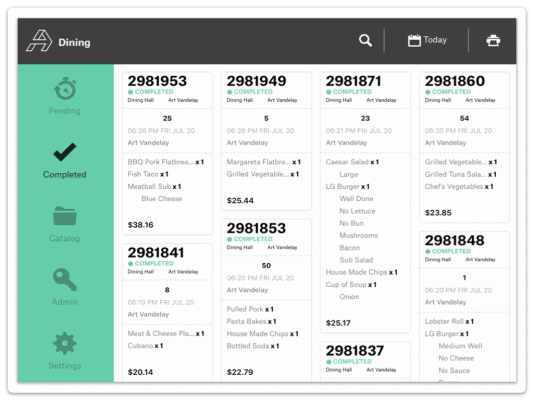 This system is specifically designed to streamline communication between front of house and back of house staff. It will also improve efficiency in your kitchen, speed up customer service and reduce errors. The system will also simplify operations in your kitchen as well as allow for real-time updates.
The Appetize KDS system also features a catalog of all menu items, along with their images and descriptions. In order to offer enhanced flexibility, the system allows you to use as many KDS equipment as you need in your business. Other capabilities you will come to like about the system include:
Appetize allows restaurants and quick service businesses to route menu items to different POS stations. Not only does this map to your kitchen layout, but also features multiple printer configurations. These are meant to optimize your kitchen operations.
Orders placed by your front of house staff will quickly sync to the Appetize kitchen display system. In this regard, the KDS system is designed to integrate with all Appetize hardware solutions. As such, it is capable of syncing with the fixed and portable, Kiosk, Mobile App and handheld POS alternatives by the provider.
Appetize Mobile Ordering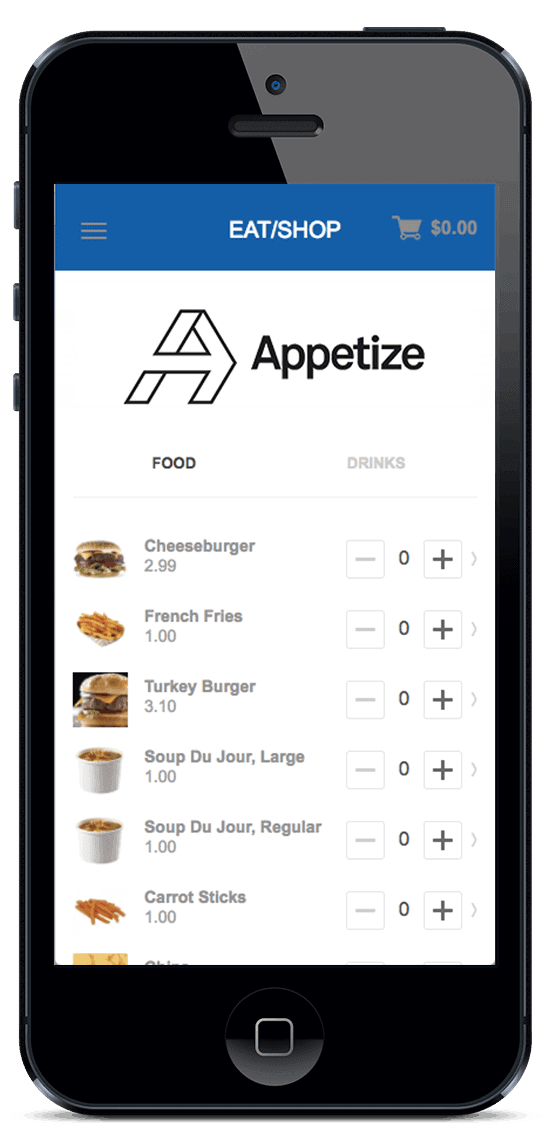 The mobile ordering solution by this provider is a relatively powerful ordering solution for all service-based businesses. The solution makes it easy and convenient for your customers to order beverage, food and retail items online for delivery or pickup.
Appetize is a mobile ordering app that is a great fit for athletic departments and sports events. Its Android and iOS-based platforms allow customers to place orders directly from their seats. The service also provides the ability to adjust menus and manage inventory. Customers can place orders while seated and pick up their items when alerted. The company has already partnered with four professional sports teams.
The Atlanta Hawks are one example of a sports venue that utilizes Appetize. The Hawks prioritize the experience of their fans and want to increase the conversion rate at their StateFarm Arena. The Sacramento Kings are another example of a sports venue that uses the app. Both these sports venues are looking to improve their mobile ordering experience for their customers.
The app reduces staff contact and speeds up service. The app also enables fans to purchase concessions directly from their phones without the use of keypads, touchscreens, or cash. The mobile ordering application is compatible with location-aware QR codes, enabling customers to easily find their favorite concessions.
Appetize supports complex menus, including multiple modifier levels. This feature makes it easy for users to create menus with many choices and make conversational ordering easier. The software is compatible with iOS and Android devices, and can be integrated with other web and mobile applications.
This ordering platform is specifically designed for enhanced ease of use, reduced wait times and enhanced customer satisfaction.  To allow for this, the solution is packed with an array of innovative tools, including:
To begin with, it will equip you with an assortment of guest ordering capabilities such as the ability to assign menu items by guest location. The mobile ordering solution will integrate with your current mobile application through the Appetize API. Again, the solution is capable of managing coursing and events.
Appetize POS System Integrations
The Appetize POS system is a great solution for different types of enterprise businesses. Unfortunately, it is not capable of integrating with several of the leading third-party apps like 7Shifts, Google Calendar, QuickBooks and Napier.

Customer Support
In addition to a great selection of capabilities, the provider offers timely customer support services. Headquartered in 6601 Center Dr. W Suite 700 Los Angeles, CA 90045, the provider offers two main customer support channels. For phone support, you can contact their support team at 1-877-559-4225.
Alternatively, you can send an email to the customer support team at Appetizers. In this case, the provider requires you to send your concerns to [email protected]
Alternatives to Appetize POS
Our Final Verdict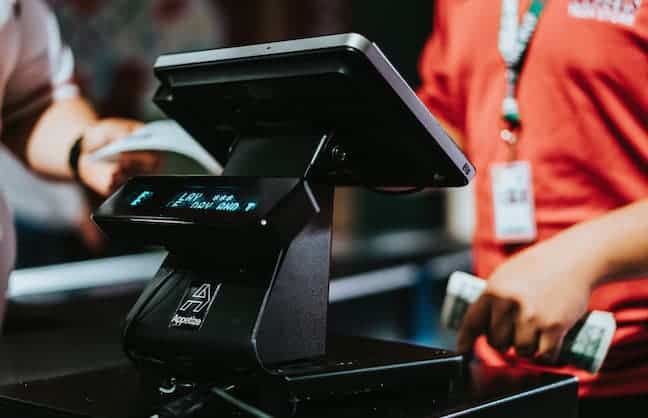 This restaurant POS provider will enable you to accept all forms of payment. In addition to unlimited custom tenders, this system supports EMV, NFC, RFID, cash and credit card payments.
As you have learned in this review, the system has a horde of flexible software and hardware solutions to offer your business. Such are the aspects that make Appetizers one of the best POS providers for large enterprises.