(Last Updated On: March 28, 2023)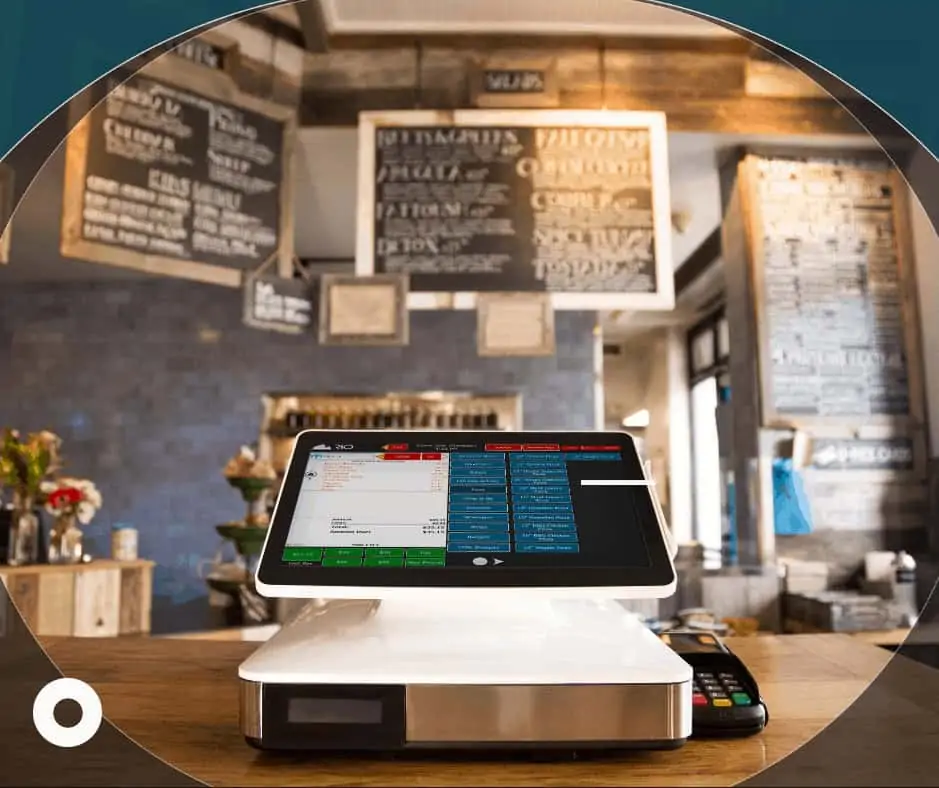 SpotOn is one of the most comprehensive restaurant POS systems, helping you increase sales and reducing costs. By offering delivery and take-out using the POS system, you'll be able to service more customers and reduce the time it takes to process phone orders.
Its one of the most comprehensive in the market, helps you save time and cut costs
SpotOn POS is a streamlined, cloud-based point of sale system that helps restaurants, bars, cafes, retail shops, and more to streamline their operations. It offers powerful back-office functions, a navigable user interface, insightful reporting capabilities, and seamless online ordering.
It's also a great choice for businesses in the health & beauty, automotive, and plumbing industries that need to streamline their business operations, improve cash flow, or increase customer engagement. Its intuitive and customizable software is designed by restaurateurs, for restaurateurs, and backed by a dedicated support team.
Get the features you need to grow your business
The best part about using SpotOn POS is that you can scale up as your business grows without the worry of additional fees. Its restaurant-specific POS system is loaded with hospitality features, and it allows you to connect your new locations to your current ones, without paying extra.
With the help of SpotOn's POS system, you can track your sales and inventory, manage your table layout, and handle employee shift rotations. It's also easy to create customized rewards programs and customer loyalty campaigns, which can increase repeat visits.
Scalability is a key feature of SpotOn's software, and it allows you to easily sync multiple locations — without extra charges — and manage employee hours and tips. You can even send notifications to your employees whenever a problem occurs, like when their mobile devices break down or a server is on break.
More than that, you'll be able to avoid order mistakes. With SpotOn, you have the ability to offer gift cards and use various other marketing tools to increase repeat visits to your restaurants.
Where SpotOn's point of sale solution really makes a difference (in comparison to competitors) is with its reservations system. Book reservations through Google, over the phone, and other third-party apps. Reduce crowding and no-shows by using SpotOn's real-time reservation module. Also, save on reservation fees that can easily add up to $800-$1,200 per month.
Depending on the type and size of your business, you may also opt to use the table management feature to avoid overbooking. Turn tables faster and reduce labor costs greatly. Tie that in with the guest analytics feature and find out where your customers are coming from (to increase repeat visits).
Customers will be able to order gift cards on your website. With studies showing that nearly 65% of gift card holders spend an additional 38% beyond the balance on their card, SpotOn believes gift cards should be a significant part of your marketing plan.
After comparing various SpotOn POS reviews, users found the system to be lightning fast compared with a number of other POS systems. With more than 2,000 new businesses signing up for SpotOn every month, their team helps any restaurant customize the software to their specific requirements.
By using compatible hardware at server stations and tableside, your front of house operation will become truly efficient. Finally, this POS system will help you automate payroll, inventory, and various other management tasks.
Want to learn more? Let's dive into our detailed review of SpotOn, examining its top features, pricing plans, hardware, and other reasons to equip your restaurant with this remarkable software.
Who is SpotOn POS?
SpotOn started as Central Payment in 2005 servicing over 100k organizations across the country. SpotOn came soon after as the culmination of a long-term vision to provide an end-to-end platform for merchants to operate and grow their business.
The goal was to create a positive social impact while building a successful solution for companies of all sizes. The end result was a work environment where employees are proud of what they do and work as part of an extended collaborative team to thrive in a competitive marketplace.

Key Features
Online ordering platform to increase sales, reduce costs, and grow revenue
Multi-location management with extensive menu configuration
Tableside ordering with pay-at-the-table options to reduce mistakes
Complete labor management toolset for scheduling and productivity
Elite reporting with comprehensive data and restaurant insights
Don't have time to read our full review?
Skip all the nitty-gritty details about this POS system. Easily customize a point-of-sale solution for your restaurant in just 60 seconds by
clicking here
. If you're not in a rush, read our comprehensive 5000+ word guide on the
top 20 restaurant POS systems
in the industry.
SpotOn POS Costs and Pricing
Unlike other systems, SpotOn has a variety of pricing options to meet the needs of any business. The pricing starts at $25 a month but to take advantage of the lowest pricing structure, you need to sign up for payment processing too.
If a business chooses to forego SpotOn's payment processing, you have to pay an extra $195 a month for rights to the software. This can be a sharp price hike for a business already dealing with a third-party platform, The two main plans are:
SpotOn with Payments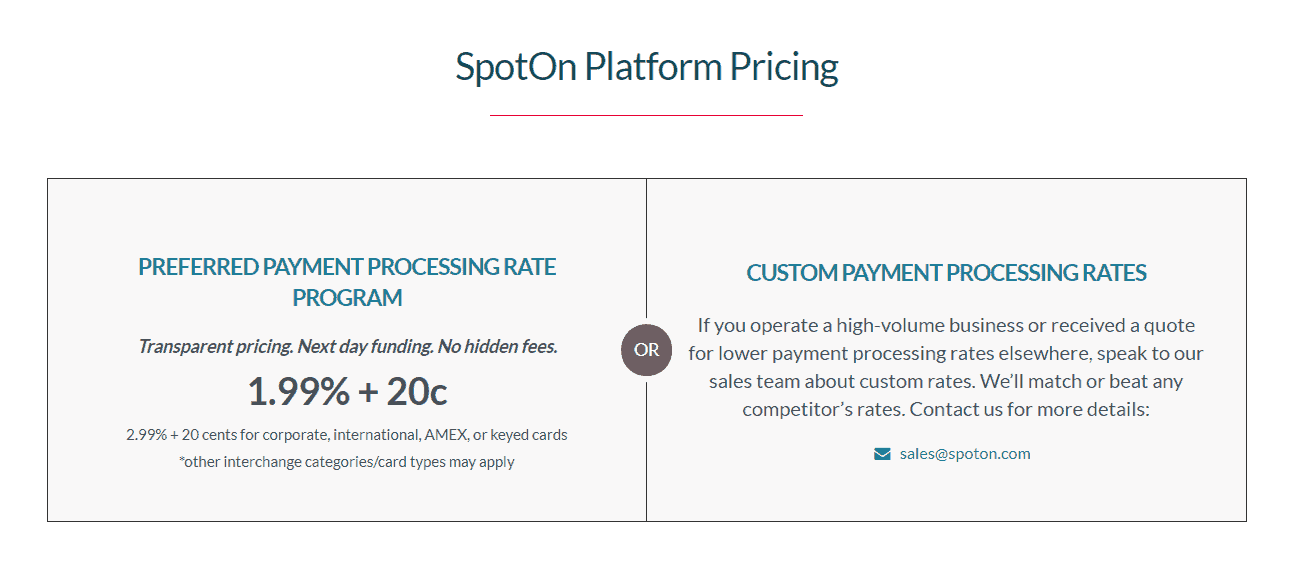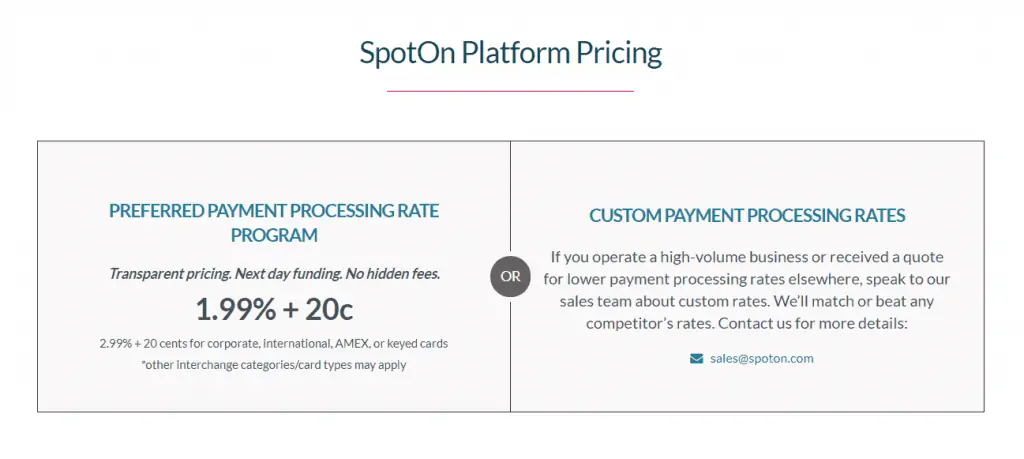 This plan is $25/month + 10 basis points (waived for the first year). This includes features like:
Payment analytics
Reviews
Marketing
Point of Sale
Appointments
If you want to add the loyalty program or a website, it's an additional $65 a month. If you require more than one user for appointment setting, that will also cost an extra $65 a month for two or more users with unlimited access.
SpotOn Software Only
This plan costs $195 per month and also includes the marketing and review features. However, this plan does not include payment analytics or a POS system. The loyalty, appointments, and website features are all included.
Point of Sale Pricing
The SpotOn POS system is priced out in a few different ways depending on the package and hardware.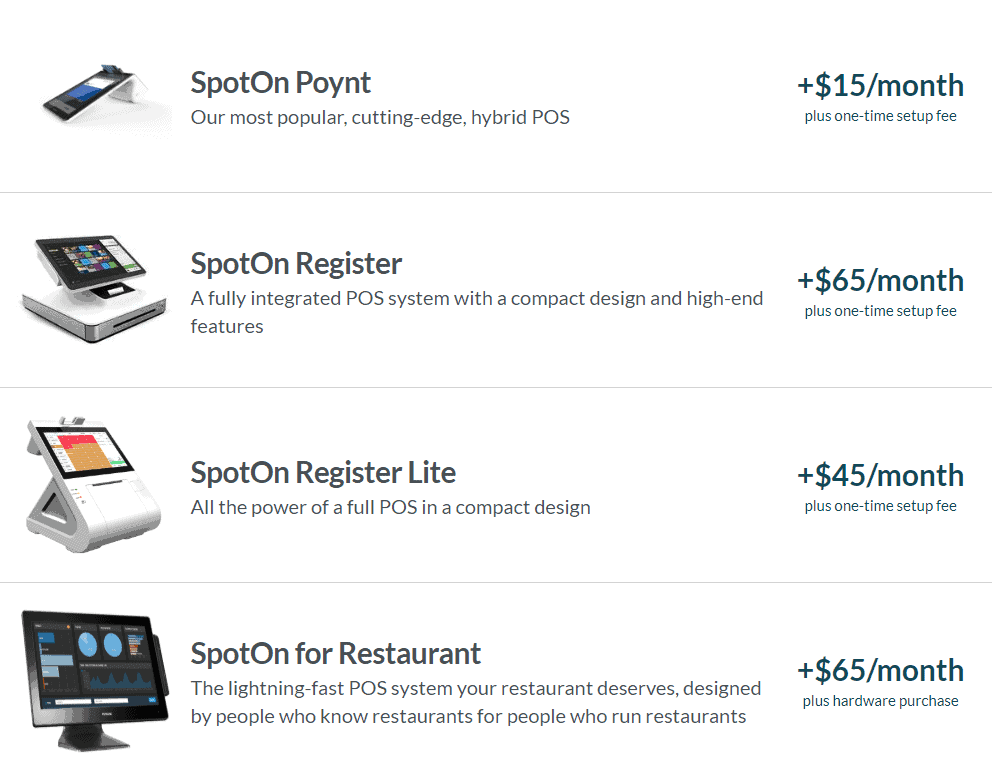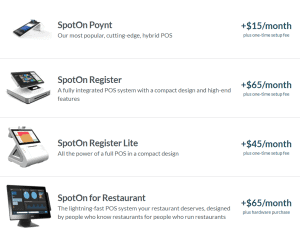 SpotOn Payment Processing
SpotOn payment processing is 1.99% + 20 cents per transaction. While the flat rate is rather high for the industry, the percentage commission is low. If you are a new business owner that sells high-priced items, this could be a fitting option for you.
Overall, SpotOn POS pricing is competitive. Opting to work with in-house processing is probably your most affordable option. Purchasing the product without processing can be very costly. Consider this is you want to keep your old payment solution.
System Requirements and Hardware
Although a restaurant can use its own hardware, SpotOn highly recommends purchasing what they offer for the highest amount of compatibility.
SpotOn Register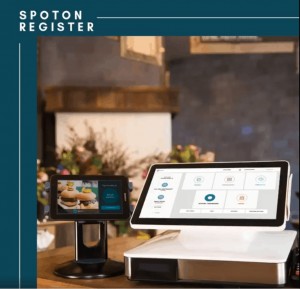 The flagship point of sale system that boasts best-in-class technology for dependable and fast performance, it won't take up too much counter real estate.
The system comes with a 2" thermal printer with tear bar and a 1D CCD barcode scanner. It also is equipped with a cash drawer (4 bill trays, 5 coins, mechanical lock) and other features like:
802.11 b/g/n/ac and Bluetooth 4.1 connectivity
13.3" diagonal, Active matrix TFT LCD (LED), with full HD 1920 x 1080 resolution
PAX SP30 pin pad to accept contactless and EMV payments
Qualcomm Snapdragon Octa Core 2.0GHz processor with 3GB of RAM and 32GB of storage
The SpotOn Register gives a business all the tools needed to boost efficiency and streamline processes. Simplify inventory management with automated notifications for reordering stock, options for inventory lists, and focused tracking tools. You can create user groups and control which staff members have access to certain features.
Manage and track employee hours with clock-in/out features that include exportable timesheets. A company can reinforce their brand with customizable receipt layouts and detailed sales reports. Easily search for transactions right on the register or remotely for convenience.
SpotOn Register Lite
A compact version of SpotOn Register, the Register Lite has all the power of a full-sized point of sale platform in a sleek little package. It's fast, easy to use, and boasts features like:
8" customer-facing touchscreen for fast checkouts
Deal and loyalty reward functionality
4.3" customer-facing display for order confirmation, signature capture, and tip options
Built-in EMV, Apple Pay, and Android Pay
Card reader with swiper for gift cards
Full product catalog with inventory management
Built-in receipt printer
The register also comes with robust back-office controls with comprehensive reporting and employee management tools. The entire system also fully integrates with SpotOn Loyalty and Marketing programs.

Point of Sale
SpotOn Register and Register Lite combine powerful hardware with intuitive software to help manage every aspect of your business at the point of sale. The platform allows you to collect customer contact information during the checkout process to stay in touch and improve retention.
In addition to accepting cash, card, and mobile payments, the system enables a business to:
Oversee multiple locations
Manage inventory with a full product catalog
Customize receipt options
Integrate with other SpotOn applications
SpotOn Poynt
This is a multi-tasking machine designed to run with advanced marketing and loyalty features. It accepts virtually any payment (cash, cards, mobile, gift), is easy to use, and comes in a sleek design. The flexible system enables a business to:
Show customers every transaction with dual screens
Use as a simple payment terminal or point of sale
Full integrations with SpotOn Appointments and other programs
Use SpotOn Poynt in "terminal mode" to quickly run transactions that don't require a product catalog. If you need a stronger solution, use it in "POS mode." This allows a business to add and modify hundreds of items for simplified customization.
Optimize the program with a unique hierarchy of Categories, Products, and Catalogs. Quickly add "Open Items" during the checkout process that are not included in the catalog itself. This includes assigning custom taxes, discounts, and convenience fees. Operate an optional cash drawer and/or external receipt printer.
Virtual Terminal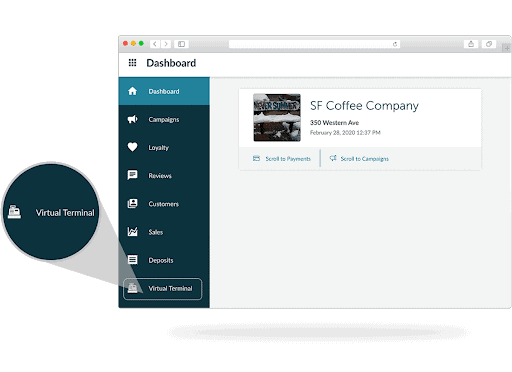 If you prefer to skip the hardware, a business can secure payments right through the computer. The built-in, virtual terminal makes running online payments a snap. Get paid fast with easy transactions and quickly give refunds or voids.
Save time by storing data for cards-on-file and email receipts directly to customers. View real-time transactions online or from your phone. SpotOn customer engagement tools also help to drive growth and build revenue.
The SpotOn Virtual Terminal is the perfect payment solution for a variety of industries and tasks. Whether you work in the back of the office, at home, or on occasion, there is never a hassle to log in and manage your point of sale system. People that benefit from this channel include:
Medical Professionals: Take payments at the reception without the need for a pin pad or POS system.
Professional Services: Process client payments right through the virtual terminal.
Contractors: Freelancers can accept payments and deposits over the phone.
Retail: Run transactions for email/phone/mail orders and keep records of shipping information.
Restaurants: Process delivery and catering orders without having to fire up an entire point of sale system.
Integrations and Add-ons
When thinking about SpotOn POS, you should also take into consideration the specific needs of the store. There are plenty of high-end integrations and add-ons available through the platform. Whether you need to improve staffing, manage inventory, take reservations, retain customers, etc., there is something for everyone. Some key brands include:
QuickBooks
Gusto
CTUIT
Optimum Control
Bevinco
Splick.it
A current list of integrations is available on the SpotOn website.
The Top Features of SpotOn POS
SpotOn offers a variety of features to assist a foodservice business of any size. This includes benefits like:
Online Ordering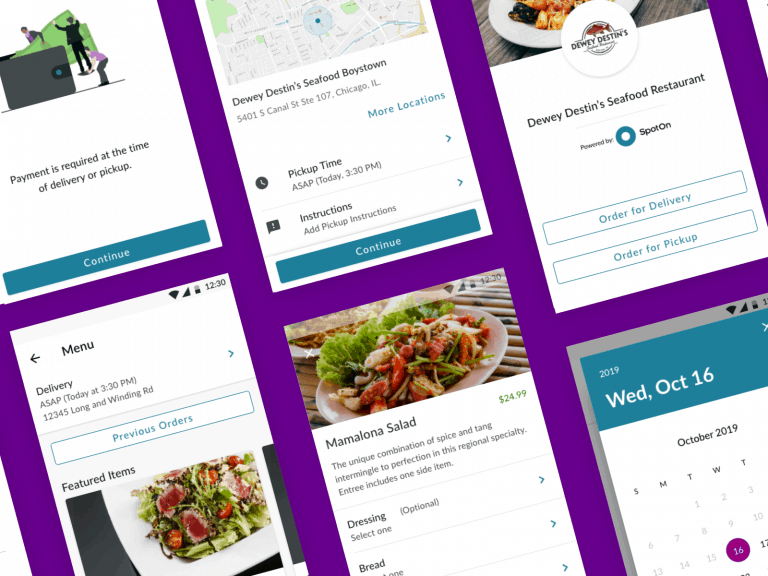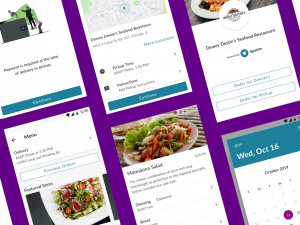 Get your business set up with commission-free online ordering and full POS integration. There are no setup costs or software fees involved. A business can increase sales by offering customers delivery and take-out via a website and free mobile app.
With online ordering, a restaurant can cut costs by reducing the time spent taking phone orders. It also helps to eliminate human error. Customers can easily reorder with integrated marketing tools designed to boost customer retention.
Cutting Labor Costs
SpotOn provides a variety of features that are designed to cut out labor costs and streamline operations. The intuitive, front of house system produces elite reporting on customers, employees, stations, and menu items. Synchronize the menu in house, online, and even across multiple locations.
SpotOn features automated integrations for payroll, inventory, gratuities, and more. The mobile manager app works perfectly for voids, remote manager approvals, and other supervised tasks. The kitchen display screens use multi-language tickets to boost efficiency throughout the entire store.
Customer Management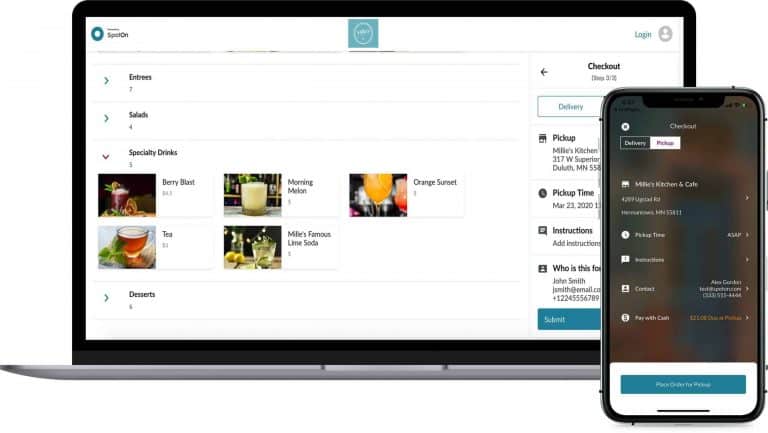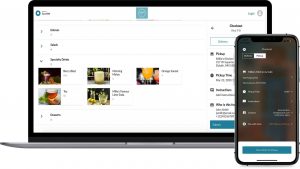 SpotOn is more than just a fast POS. It's an end-to-end solution that features time-saving customer engagement tools. This includes:
SpotOn Reviews – Manage sites like TripAdvisor, Yelp, and more from a single location.
SpotOn Marketing – Quickly send emails and post social media campaigns.
SpotOn Digital Loyalty – Boost repeat visits.
SpotOn Website – Facilitate online ordering with a branded page.
SpotOn Consumer Mobile App – Get easily found anywhere online and attract new customers.
Cloud-Based Platform
It is critical that every software and hardware platform you purchase should have the capacity to function while offline. SpotOn is a web-based service provider that stores data in the cloud.
With the cloud, you can access the system from any browser in the world and remotely run reports. This method also means you never lose data. If the hardware malfunctions, transactional information is already safe.
When a platform is based on the web, it's easy to push through software updates. Despite SpotOn being a cloud product, it can still be used on touchscreen devices like any other POS system.
Front of House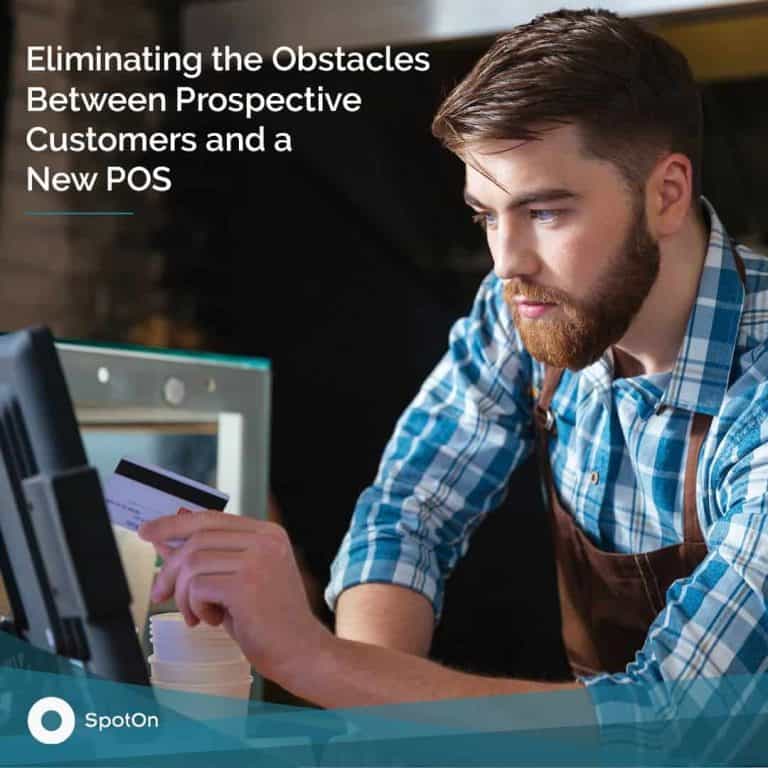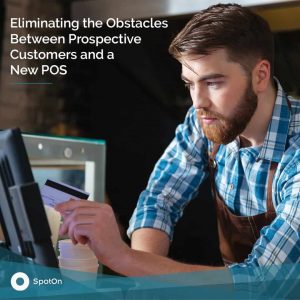 Run the front of house at full speed with a customizable menu and easy to use dashboard. Split orders on-the-fly and keep house accounts of your best customers.
The system features auto-coursing in the cloud with no single point of failure. All software updates are automatic with full feature modifiers and choice sets. The backup router is included so you're always online.
Back of House
SpotOn also lets your streamline the back of house operations with table layouts and full employee management. It features real-time menu updates and remote station monitoring for optimal communication. With mobile manager approvals and online capabilities, orders can be handled from anywhere in the world.
Data Reporting
To run an efficient restaurant, you must have access to the store's data. Most efficient POS systems provide you with extensive data reporting. SpotOn POS provides insights you won't find with legacy systems. You can examine aspects of the business like:
Inventory
Sales
Employee management
Productivity
Time-based trends
A business can even set up alerts that will notify you of specific issues. The reporting app allows a restaurant to access data from any mobile device on the planet.
Review Management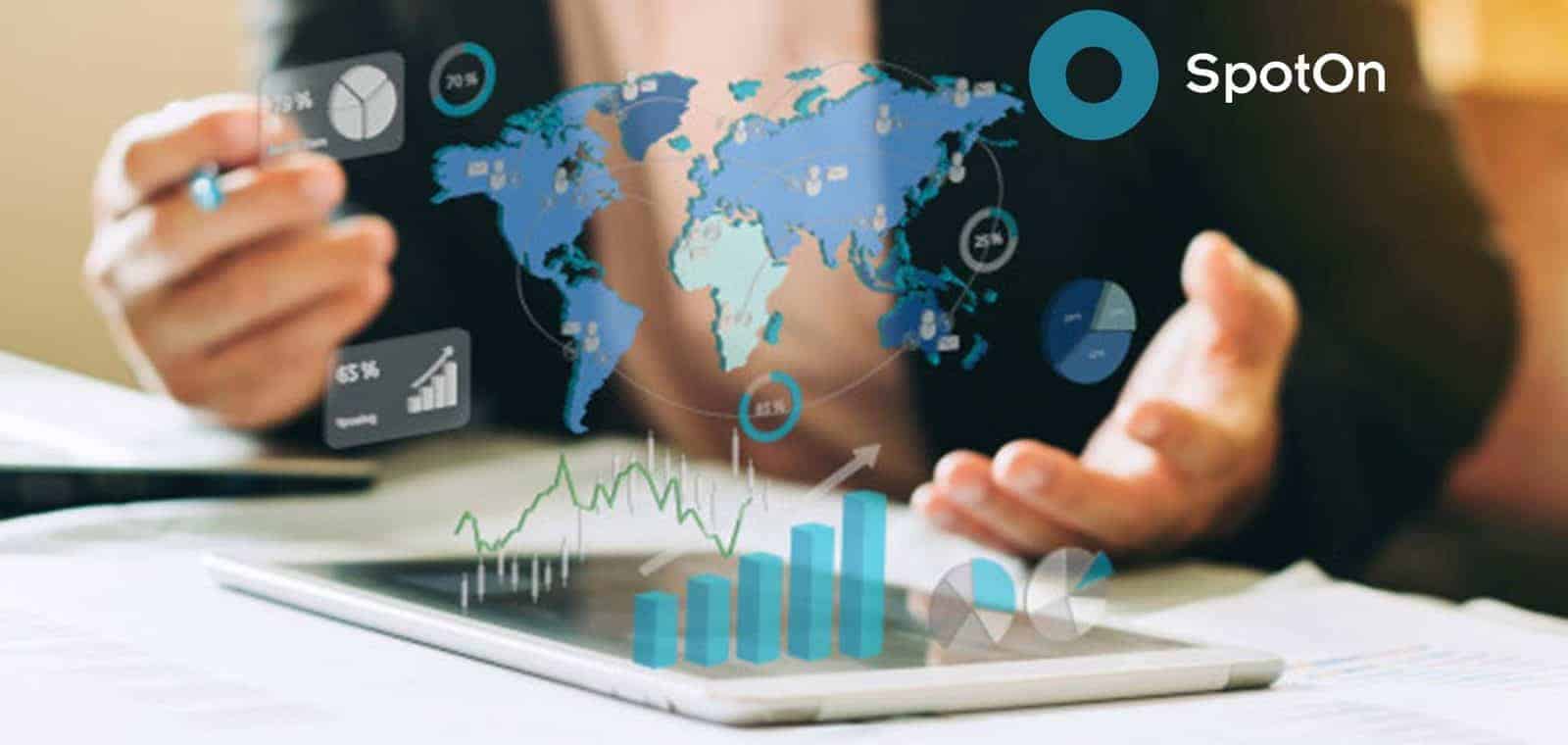 Too many negative reviews can mean the difference between a full or empty house. More than 90% of customers read online reviews before visiting a restaurant, so it's essential to monitor these as much as possible. You can't afford to leave it to chance.
SpotOn online review management helps to monitor what everyone is saying in one single dashboard. It also assigns a daily "metascore" which is an average from all sites. The built-in algorithm identifies top customers and prompts them to leave reviews.
Boost ratings with automated alerts that are sent out when new reviews are posted. As the number of appraisals grows, watch your business climb higher on the search rankings. This, inevitably, translates to more business both online and coming straight through the door.
In today's restaurant industry, there is nothing more powerful than a positive review posted for the world to see.
SpotOn Appointments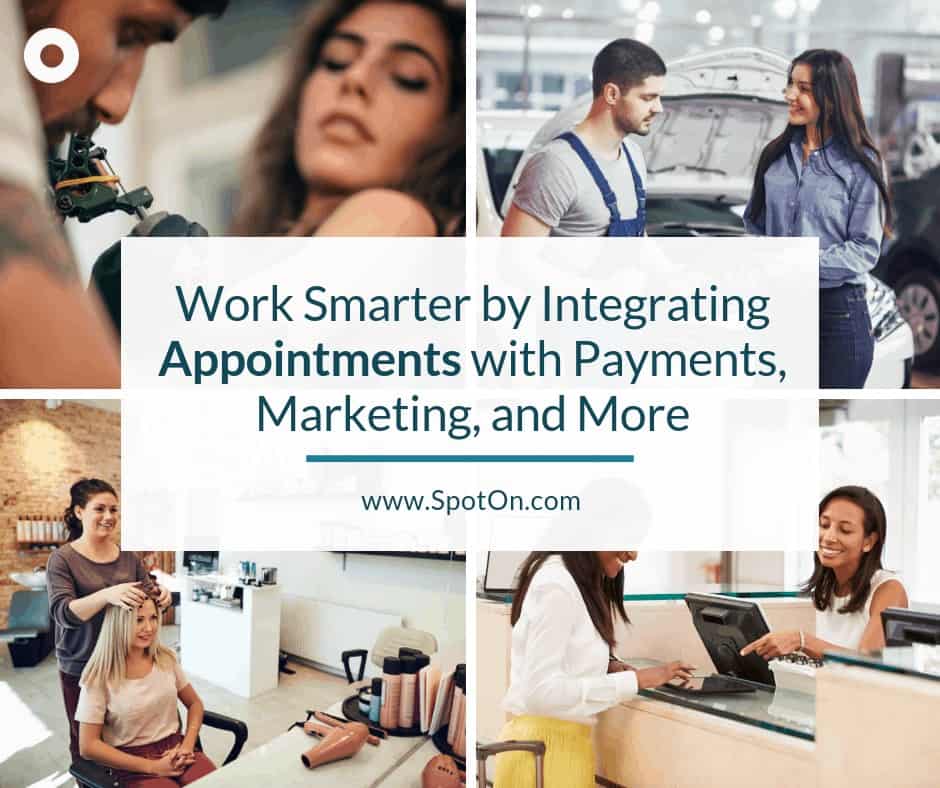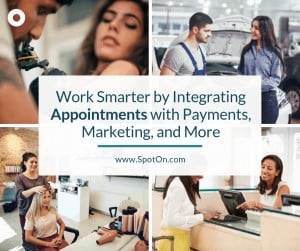 Work smarter with SpotOn's groundbreaking solution to integrating appointment-setting with your POS system. Simplify the booking and checkout process, as well as employee scheduling.
Encourage return visits using the interactive calendar and customizable service menu. View customer history/preferences and text message appointment reminders. Other key features include:
Checkout and payment integration
Marketing and loyalty program
Printable schedules and reports
Live customer chat capabilities
The first user of the program is free and included in the low monthly platform fee when you use SpotOn's payment processor. You can add two or more users with unlimited access for an additional monthly cost.
Other Key Features Include:
Branded gift cards with fraud protection
Multi-location management to standardize operations
Tableside ordering and pay-at-the-table handhelds
Labor management that includes scheduling and gratuities
Integrated digital loyalty program
SpotOn POS Consumer Resources
SpotOn provides robust, personalized service and support your business deserves. It starts with a custom POS build which includes:
In-person hardware installation with professional POS technicians
Face-to-face staff training with SpotOn specialists who stay on-site
Around-the-clock tech support 24/7/365 located in the United States
Ongoing virtual training for staff and management
The brand has served over 7 million customers with 300+ million campaigns. They help companies connect with customers and can be entrusted as your prime POS support team. They can be contacted via email or phone and have an A+ rating with the Better Business Bureau (BBB).
There are few complaints about SpotOn customer service. The only downside can be hidden fees. Always seek full clarity from SpotOn before signing any contract or making financial agreements.

Our Final Verdict
SpotOn has some of the most efficient restaurant POS features on the planet. No more using an outdated product. This is the type of platform that can transform your business overnight. Especially if your store is using an outdated system. If there is ever anything you can't find, a variety of integrations and add-ons are at your disposal.
Conclusion: SpotOn is a multi-location, multiple device solution that specializes in point of sale technology, ecommerce and mobile payment solutions for the restaurant and retail industries. Using the best of breed cloud based software and hardware, SpotOn offers an all-encompassing platform to a barebones front of the line experience delivering all of your business needs under one roof. In short, a streamlined operation is the name of the game and SpotOn's customer service, product and technology expertise is second to none. The award-winning SpotOn team is on a mission to improve customer satisfaction, enhance operational efficiency and drive revenue growth.
Just remember, the price of SpotOn is much more affordable when you use their processing platform. This means it's also more limiting. To use any third-party is going to cost you a pretty penny. The hardware can also be slightly restrictive.
Overall, if you are unsure, SpotOn always offers a free demo of their services. From multi-location management to labor reporting and tableside ordering, it's a comprehensive solution that spurs growth, bolsters productivity, and drives sales.