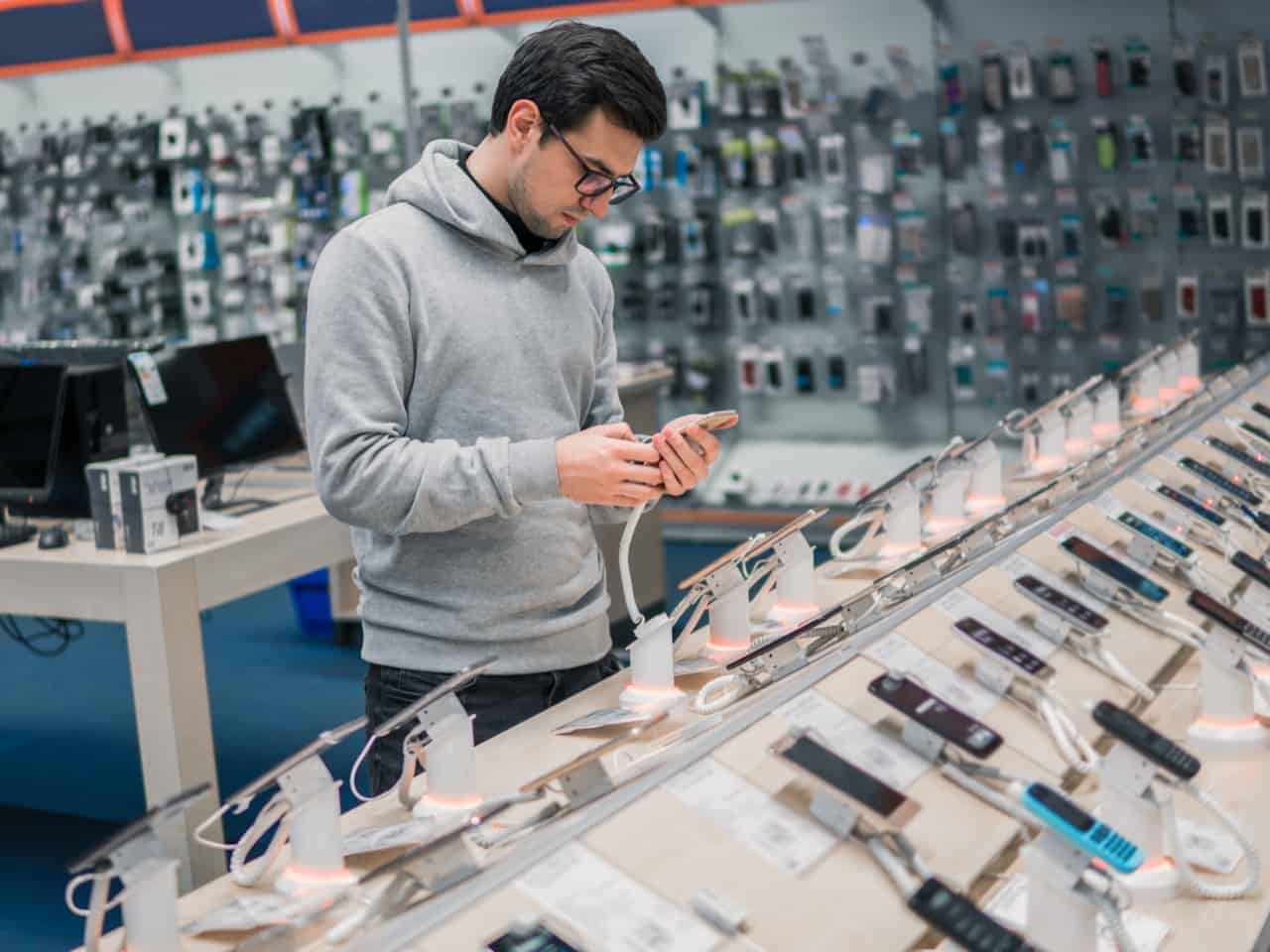 Cell phone stores have to be many things to many customers. These roles include retailer, repair shop, customer service support, and billing management.
A Cell phone store point of sale can reduce waiting time for customers by using a self-checkout kiosk or tablet. Additionally, cell phone store POS systems will help store owners manage repair orders, provide insight into popular selling items, and reduce the payroll reporting burden.
Want to skip right to the best POS system for a cell phone store? Take a look at Cellsmart POS. This system offers easy 911 fee compliance, easy bill pay management, and sales commission tracking.
What your business needs is a complete cell phone store management system. When running a tight ship, it's important to provide fast service. Boosting your margins is just as important. Let's review which POS systems can help you do that.
The Best Cell Phone Store POS Systems 
System
Starting Software Costs
Hardware Costs
Key Features

Standard packages start at $35/mo for a single register and user
$35/month for single register with software subscription.
$14.99/month for each additional register
Allow for split or partial payments so that you can meet the needs of your customers

Quote based
Basic POS hardware setup starts at $400
Batch analytic reporting available

Quote based
Quote based
Includes built-in functionality for SMS and mass email marketing

Starts at $59/month
Additional terminals are $34/month
Great back-end reporting and forecasting, a la carte pricing options available
1. Best POS System for Payment Processing: EvoSale POS

This dedicated POS system caters to features required by cell phone stores. Specifically, this means handling payments easily from nearly any provider, and offering payment options for a variety of services.
EvoSale does this by providing the tools you need to process payments through a variety of payment partners. This includes a seamless transition between different payment types and invoicing or receipt printing.
EvoSale also lets you process bill payments from customers. For a cell phone store, this is a must-have piece of functionality. Customers expect to be able to pay their bill at a store location, and your store should be no different.
Consider the following aspects of EvoSale POS  that might fit your cell phone store.
Payment Processing Partners and Cash Management
EvoSale POS makes payments easy. For starters, this system provides you with plenty of payment processors so you can find a rate and provider that work for you. Process credit cards right through the POS system. Also, allow for split or partial payments so that you can meet the needs of your customers.
This cell phone store POS also allows you to easily collect e911 fees from customers. This fee is used to finance 911 calling. You can collect this fee commensurate with up to 3 local state tax rates. This POS also integrates this kind of billing and payment for repair orders and used purchases
Lastly, keep track of cash used for things like opening and closing balances or petty cash. This functionality lets you keep cash on hand for buying or selling used phones, or emergency expenses. It also allows you to set float amounts so that you maintain a steady balance of cash at all times.
Bill Payments
EvoSale POS supports several payment options through its payment partners, and these services work with bill payment options as well. Use multiple tenders and split bill payment for your service providers. You can also use the "pay later" model to hold bill payment processing in case of offline processing providers, so you can process the payment later.
Whether a customer wants to buy or sell a phone or pay their bill, EvoSale POS fits that purpose.
EvoSale POS Limitations
EvoSale POS is simple to use but misses out on some of the more specialized functionality of other POS systems. If you are in the market for a simple POS that gives you plenty of payment options, however, then check out EvoSale.

Get A Free Quote
2. Best Cell Phone Store Software for Reporting and Sales: CellSmart POS

A cell phone store will probably use extensive reporting and commission structures to incentivize employees and drive sales. Therefore, that store should have a pos system that supports commission and reporting so your staff knows exactly how they are doing, and how they can improve.
CellSmart POS provides cell store owners with the tools they need to track success. With employee management and store promotion tracking built-in, you won't need to guess about earnings and sales. This POS covers all the reporting necessary to make customers happy and employees successful.
Consider the following about the CellSmart POS system:
Reporting
First off, CellSmart provides reporting for nearly any topic you might have. Track expenses against sales targets, follow your income across multiple locations, and follow employee success. You can even get reports through a variety of methods, including email or Excel spreadsheet.
These reports can get overwhelming, so CellSmart gives you the option to have all your reports done at once and delivered when you want. This batch reporting makes consuming data much easier. It also helps you set aside time to track reports in an easy-to-read digest.
Commission Tracking
If your employees work on commission, then you need a tool to track that commission. With CellSmart, you can follow the commission earned throughout your cell phone store easily. This functionality ties in with reporting so that you can have employee performance built into your reporting daily.
This functionality also lets you build your commission structure into the POS, so tracking is easy. Doesn't matter if you have a flat or tier commission system–CellSmart supports it. Even if your commission structure is across multiple products, you can get performance reports easily.
CellSmart POS System Downsides
While there are plenty of reporting options, custom reports are not one of them. If you are comfortable with stock reports that you can program, this should work fine. This POS also doesn't support the same fine-tuned billing as other POS systems.

Get A Free Quote
3. Most Ideal for Email Marketing and Repair Orders: Wireless Manager

Cell phone stores are entering a new digital phase in their operations, one where marketing is key. With Wireless Manager POS, you can develop your marketing efforts with smart business intelligence to sell smartphones and satisfy customers.
And once you've brought a customer in, you can provide them with the service they need. This includes specialty orders like repair services and including special promotions.
Here are some of the reasons your cell phone store could benefit from Wireless Manager as your cell store POS:
Email Marketing
Wireless Manager includes built-in functionality for SMS and mass email marketing. Send blast emails or texts to new or existing customers to promote sales or offers. Likewise, manage incoming correspondence from those customers so that you can address their needs and answer questions directly.
Repair Orders
Many cell phone stores offer repair services. These services increase the likelihood that customers will come into the store for more than buying a new phone. So, if your business uses items like repair tickets and progress tracking, Wireless Manager POS will work great for you.
This functionality works regardless of whether you employee a technician or use third-party repair support. It also lets you integrate customer notification, so your customer knows when their repairs are done.
Business Intelligence
Wireless Manager includes a small but robust center for tracking sales and profits that also forecasts gains or losses through smart algorithms. This functionality also works with your data to help you make decisions about where to focus your energy for sales. Also included is a CRM so that you can coordinate your strategies across all your customer base.
Limitations of the Wireless Manager POS System
This is a very robust POS for cell phone stores. While it isn't as "in depth" on things like reporting or bill pay, it covers a wide range of functions that will help you out. Just don't expect a very specific function to outshine most other POS systems.

Get A Free Quote
4. Most Retail Functions: Lightspeed Retail

Not all Retail POS systems are made for cell phone stores. These systems, however, can serve the needs of these stores by being great at a single particular aspect. Lightspeed falls into this category by providing great retail support and a huge list of features. While it might not have the specific functions of the other cell store POS systems, it more than fits the bill if you need to sell a lot of phones.
Inventory Management
Retail POS systems support inventory management. That's what they do, or they aren't really POS retail systems. Lightspeed provides the tools you need to manage your inventory easily. If you rely on physical unit sales for things like cell phones or accessories, then Lightspeed will fit the bill.
This functionality also helps when you need to do things like specialty orders, layaway, or work orders. While this functionality isn't specifically built for cell phone stores, it can be adapted to fit that model. That way, even things like repair orders are available to you with a few modifications.
Lightspeed is great for retail, so take your retail to the next level with this POS.
eCommerce
Get ahead of the competition by offering phones and accessories online with Lightspeed eCommerce options. With Lightspeed, you can create an online store to sell products and manage inventory across all your locations online and off.
When we say online store, we mean a fully functional eCommerce website. That includes optimized web navigation, mobile-responsive templates, and template editors. You don't need to be an expert, as this tool will allow you to launch an eCommerce site without coding.
Use your eCommerce store to push promotions and deals across multiple channels, including social media and your brick-and-mortar store. And use the built-in SEO tools to get your site and products ranking on Google.
Lightspeed POS System Downsides
Lightspeed is notoriously feature-rich, which means complex. While it can cover a ton of your needs, it also takes a bit of work to adapt to. If you are willing to learn, however, this is a POS system that rewards your patience.

Get A Free Quote
Before Choosing a Cell Phone Store POS System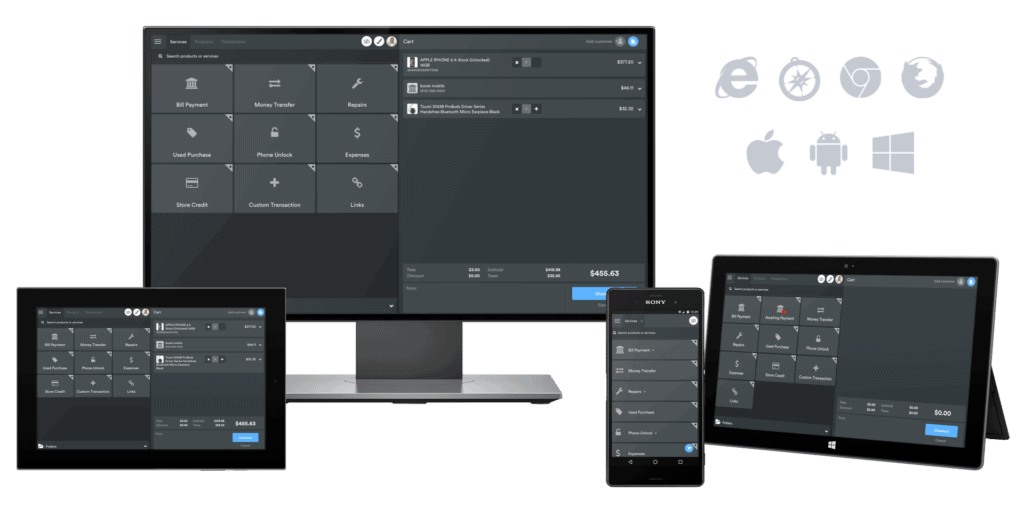 Cell phone stores are retailers in a special niche. What this means is that you don't just cell phones. You handle bill payments, repair orders, and more while selling phones and accessories. So, you'll need a POS that streamlines all those aspects of your business in one system.
When purchasing a cell phone store POS, make sure you've taken the following items into account:
Processing Multiple Forms of Payment
Payment is going to be an issue, as most people will want to either buy a phone, upgrade a phone, or pay their bills. That's not counting phone repair or exchanges either. Since you will most likely work with third-party cell phone providers, you need to be able to process payment for all those purposes.
Make sure to get a POS that can handle bill payments for a third party. Most cell phone POS systems do this, but other systems with that functionality might require upgrades or add-ons. Don't take it for granted that the functionality is there.
Reporting and Commission are a MUST
Sales are key, as your staff will primarily be salespeople. That means you have to understand how much money your store makes on sales, and how much to pay staff on commission. Don't forget that this includes special orders listed above.
A good POS in the cell phone market will let you customize and track commission structures across tiers and products. An even better POS will include business intelligence and reporting to promote growth through forecasting and monthly goal setting.
Inventory Management
Retail-heavy cell phone stores need a POS that handles inventory well. Tracking phone sales and availability is a must, so get a POS that lets you track items in your inventory based on makes and models.
If your POS has eCommerce functionality to track inventory across an online store and your physical location, all the better.
Repair Orders and Invoicing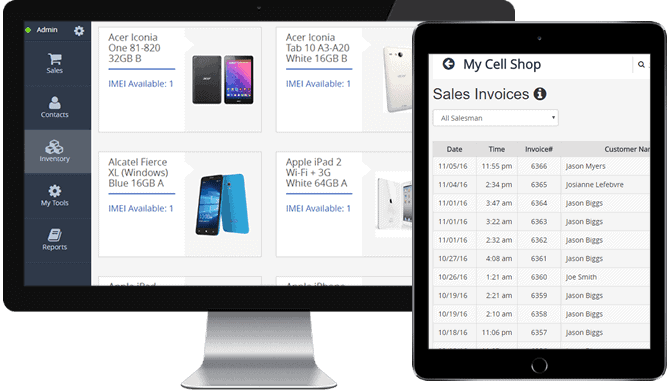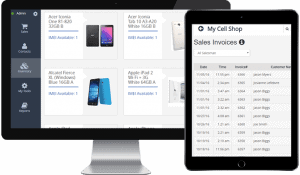 More third-party shops offer repair services for broken phones. These services involve more in-depth hardware repairs to simple screen glass replacements. In either case, get a POS that lets you create repair invoicing while providing customers with repair status updates.
These functions should work the same if you have a repairperson in-shop or work through a third-party. Similarly, this system can be used as Computer Repair POS.
Our Final Verdict
Cell phones ride the line between service and repair shop. That means that they need a flexible POS system that can handle a focus on sales, repair, and online markets.
While there are several custom-built POS platforms for cell phone stores, a few retail POS systems work well in this niche.
The POS systems listed here were selected because they meet the needs of a cell phone store pos software. They provide extensive specialty ordering, bill pay options, repair order invoicing, and more.
Such systems can support retail environments or high-intensity sales and commission shops. And they can all provide some form of reporting for inventory or customer management.
So, regardless of your specific shop, you should be able to get what you need with these cell phone POS platforms.