The POS industry has come a long way over the last few decades. Previously, retailers had to do many menial tasks by hand and incessantly update inventory counts manually and daily.
The continued of POS software and SaaS platforms has made it easy and affordable for entrepreneurs to compete in the marketplace.
As cloud computing and smart devices create a convergence of technologies for POS systems, the retail industry is changing how they process transactions and retain customer information. Every retailer can use real-time inventory and other advanced features to keep up and meet consumer expectations.
Choosing the right POS partner to build your retail business may be the most important decision you make. Choose correctly and your store will have the power of a robust technology tool, one that allows you to grow your business by leaps and bounds.
MicroBiz is an established POS provider that is at the forefront of ongoing innovation in the industry. Decades of experience with over 30,000 customers have given this dedicated team unique insight into the needs of all retailers. They remain committed to providing the most comprehensive POS solution available.
Let's dive into this detailed review of the true capabilities from MicroBiz POS.
MicroBiz POS Review – Company Overview
Founded in 1989, MicroBiz is one of the most experienced POS providers in the industry.  They were a pioneer in the early days of integrated credit card processing.  They continue to create new and exciting functionality in the industry 30 years later.
For the past 5 years, MicroBiz has been working diligently to leverage the power of the cloud and access anywhere availability of technology for retailers. Continued innovation and automation are still one of the company's highest priorities.
MicroBiz POS Solution for Retailers
Users will find that the POS solution from MicroBiz is a highly evolved product that is loaded with features. Because it is updated automatically on the cloud, the latest version is at your fingertips every single time you or your staff logs in.
Here are some descriptions of their top feature categories:
Top POS Features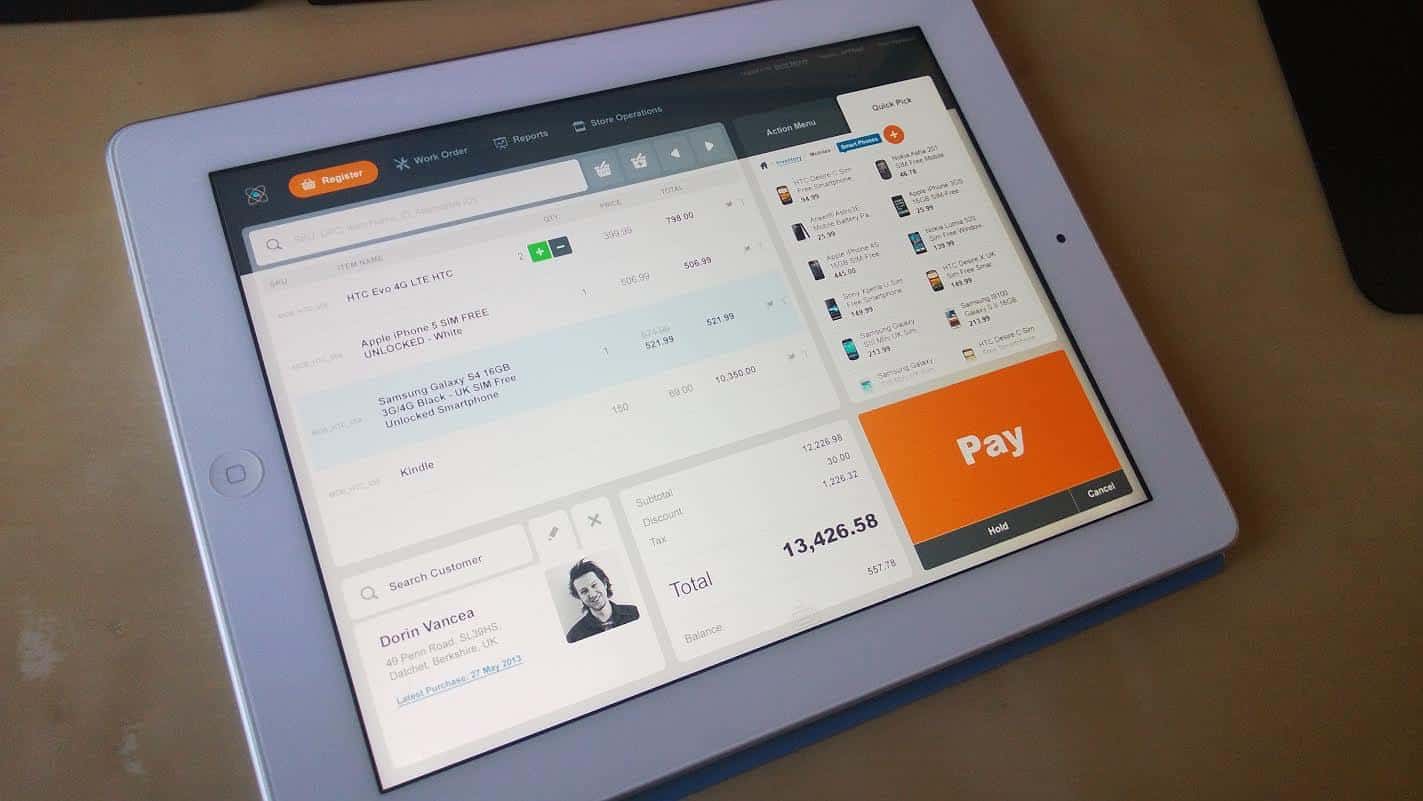 Completing transactions is fast and easy with MicroBiz POS. It is simple to add popular items to a sale with one key touch. The system can prompt you for any number of variations and allows custom organization to meet any need.
Scanning items is a breeze with any device connected to a computer, Mac, or iPad. When you are on the move at a trade show or a street fair you can still ring up sales and access all your POS functionality and data.
Customer receipts are also fully customizable in MicroBiz POS. Add your logo, website or other special custom messages. You can also give patrons the option to forego a printed receipt for a digital version sent via email.
Gift cards are done right in MicroBiz POS. Even in multi-store organizations, all gift card activity is updated in real-time. Create and redeem gift cards at any register using standard gift cards. Increase your brand recognition and make it easy for loyal customers to share the love with their friends and family.
Closing out reports and creating Z reports make doing till counts and reconciling deposits fast and easy. Reports break-down activities by associate and show all category totals.  The entire process is automated and fully integrated into all reporting functionality.
Adding or Importing Products
MicroBiz has flexible product catalog capabilities with loads of features. Build product matrices and apply pricing strategies based on quantities and customer. This is a foundation for a great retail business.
When you switch to MicroBiz you can import all your product and customer, and inventory data using a CSV or Excel data file. No manual data entry happens unless absolutely necessary. Access your vendor's product data and import it directly into MicroBiz POS.
Creating sales and promotions is infinitely flexible in MicroBiz. Offer a percentage off, specific dollar amount or a discount for a kit of items purchased. As the operator, you can set limits on what discounts employees can offer as exceptions. Track it all with transaction-level reporting by associate.
You also have the capability to establish variable pricing by location or customer type. Contractors could receive cost plus 10% while your most loyal customers always receive a 10% discount. Tiers can also be applied for buying quantities of any level.
Inventory Management & Purchase Orders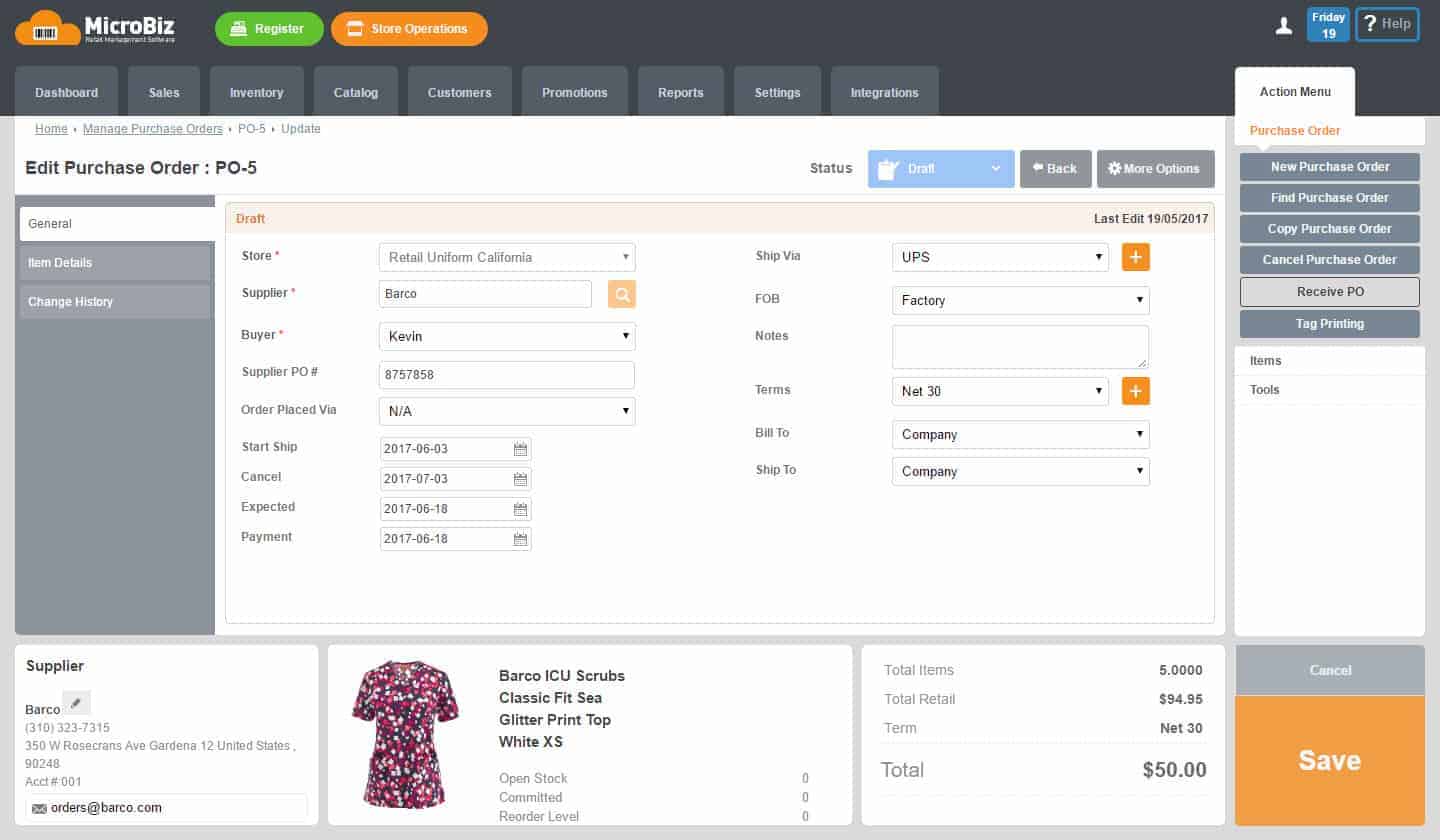 MicroBiz provides cloud-based real-time inventory management. Every register and your online store always have the most updated correct inventory levels available for a sale to your customers. Search alternate locations to find an item for a customer.
Generate new POs from existing orders to create new orders fast and easy. Customize forms with your logo and track all shipments and payments. Accepting orders and payments is just as easy. One-click gets the job done.
Printing price tags and barcodes can happen automatically when receiving the product. With MicroBiz you can also make sure you never run out of your best-selling items by setting automatic reordering points. Historical reports give you the data you need to make smart decisions.
Multi-Store Functionality
MicroBiz can handle any enterprise's organization:  Multiple stores, multi-store chains, and even down to multiple registers in each store. Everything can roll up in one report or be drilled down into a granular level.
Pricing can also be customized for online transactions or by location. Because you can see real-time inventory across your entire ecosystem you always know what is in the store, warehouse, or on order from a vendor.
Order Management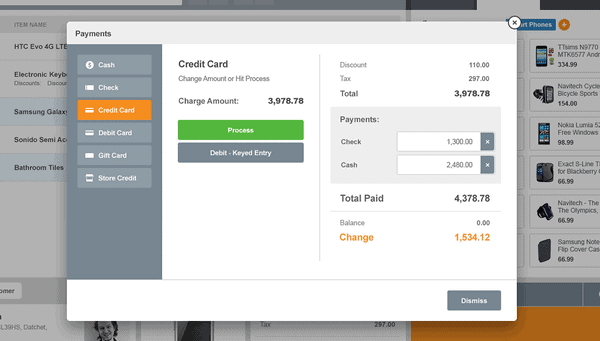 Many businesses need to be able to handle layaways or phone orders.  MicroBiz can allow you to create a new order, collect a deposit, and set other delivery or final payment options. Create all the rules to manage the process.
Phone and delivery orders also may be subject to delivery, store pickup, or third-party fulfillment. MicroBiz gives you the flexible to handle all of these scenarios. Take deposits and track the status of these transactions.
Customer Management
Your customers are the lifeblood of your business. Capture, sort and manage all your CRM information with MicroBiz. Integration with Mailchimp, Constant Contact and other marketing apps will allow you to communicate with customers and deliver value offers to them.
Pull up customer data and sales history while interacting with the customer at the register to improve service and increase sales. Quickly process reorders air make suggested up-sells.
Easily email receipts or pull up lost ones, issue and redeem gift cards, or any other transaction for your existing customers with an added layer of familiarity and appreciation. The better you know your patrons, the more they will spend with you.
Store Management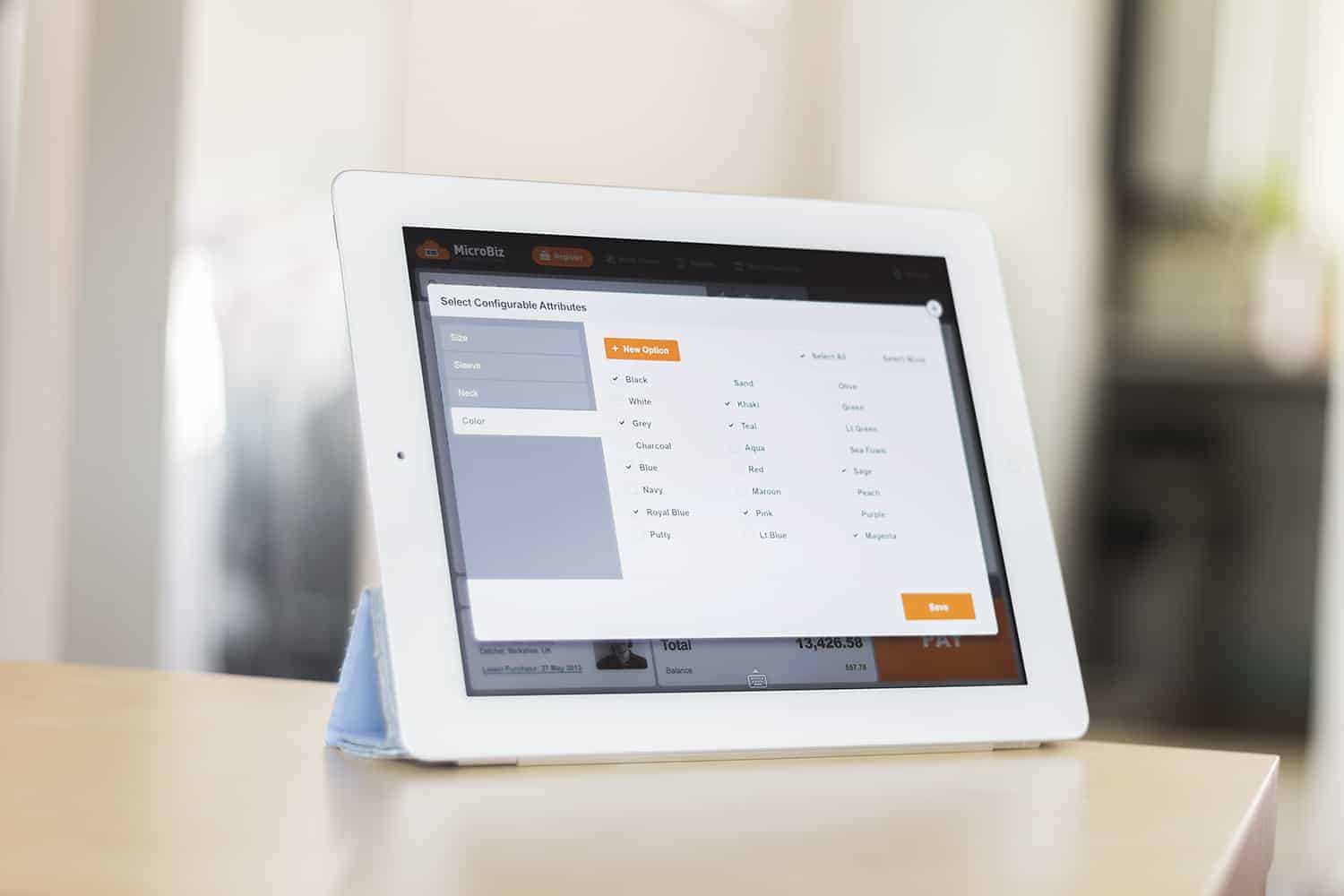 Automation and customization are the name of the game for MicroBiz's store management capabilities. Manage tax rules in multiple jurisdictions, support Value Added Taxes (VAT) and other luxury taxes. MicroBiz also supports multi-currency calculation and display.
Every aspect of transactions and changes to your system can also be audited. You will always know every step of the way who took what action within the system. MicroBiz also allows you to customize permission levels by employee as well as create approval prompts.
Service Department
Many retailers such as bike shops also have service and repairs departments. MicroBiz makes it easy for your staff to create work orders, add parts, and assign employees. Grow this highly profitable sector of your business to increase bottom-line profitability.
Scheduling and updating customers on order status can be automated also. Print quotes and invoices and have your technicians add notes along the way. Dashboards make it easy to oversee the entire workflow and keep customers up to date. Many Auto Parts Store uses the system as Auto Parts POS.
Generate Custom Reports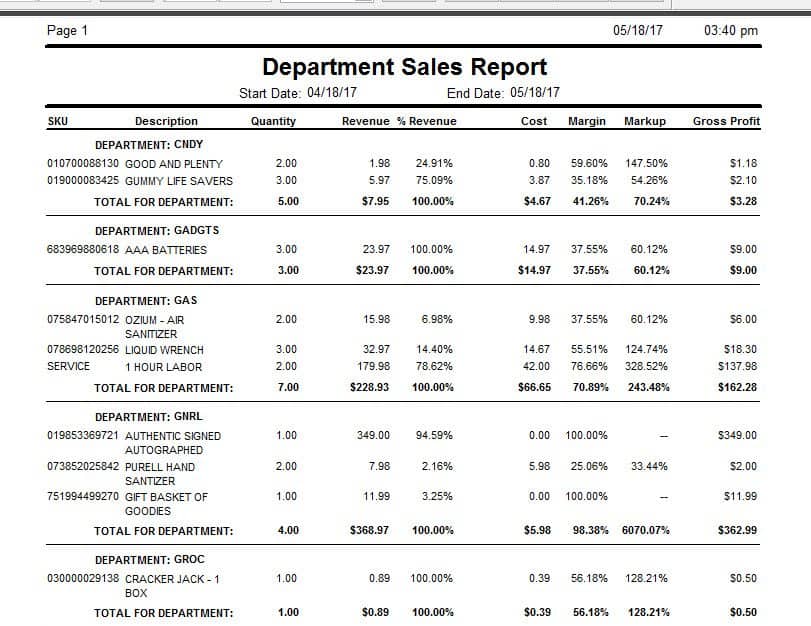 MicroBiz has a Management dashboard that gives you an overview of all the key metrics of your operation. Customize your view buy adding additional widgets and drill down to the transaction level. This actionable data will help you steer your store to greater success.
MicroBiz comes standard with all the expected reports pre-loaded so you can quickly make the decisions you need to grow your business. Customize reports as well if needed. Sort and filter all your data exactly the way you need it.  All of it can be exported as a CSV file or printed/viewed as a PDF.
Payment Processing
MicroBiz is compatible with EMV credit card processing. This eliminates the need for additional PCI compliance required when storing card data. Contactless payments such as Apple Pay, Android Pay, and Samsung pay are all supported.
Hardware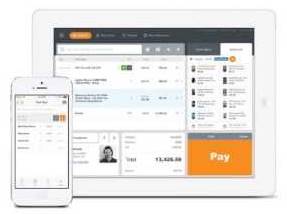 MicroBiz POS can be utilized with most popular POS hardware and peripheral accessories. They maintain an updated list of preferred hardware that includes products from Star Micronics, Motorola, Zebra, CipherLab, and others.
Top Benefits from MicroBiz
21-day free trial
EMV compliant payment processing
Multi Location Management
Work Order and Service department management
Seamlessly connect with popular add-on integrations
Layaways and invoice in progress
Real-time stock lookup/inventory management
Possible Drawbacks for MicroBiz
No employee time clock
No telephone support
Limited Magento integration
MicroBiz POS Pricing
Below pricing tiers include one terminal with additional terminals at $27.50/mo or $300/yr.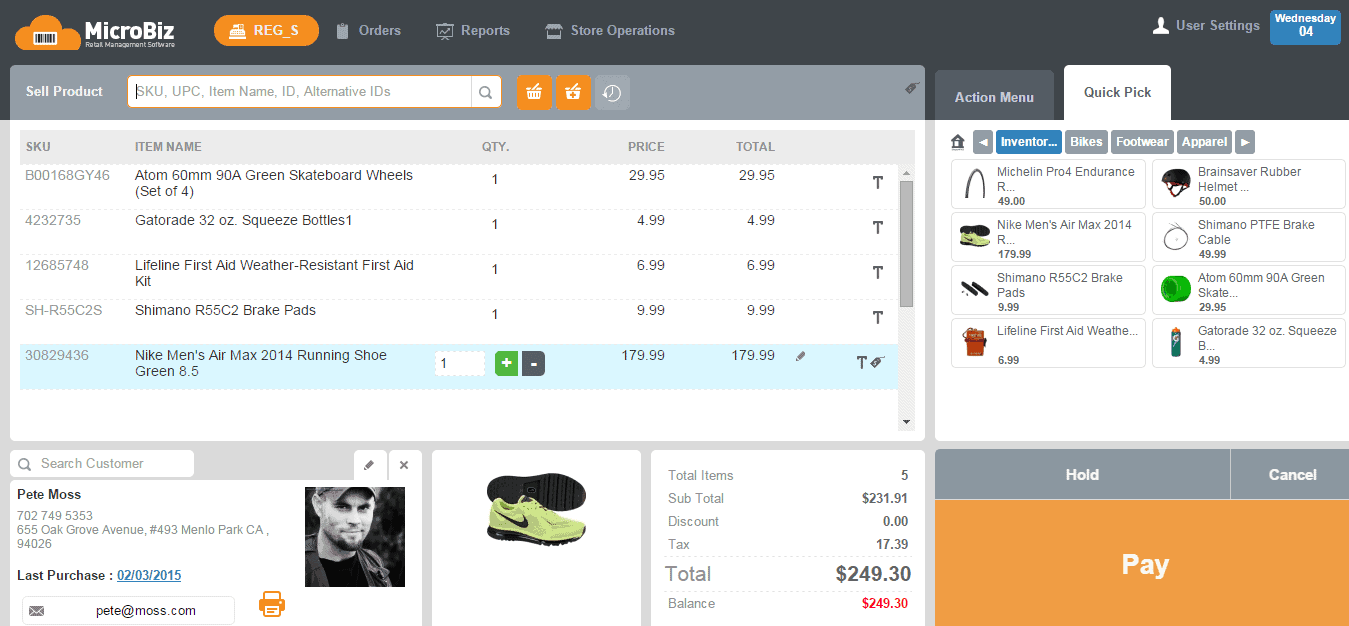 MicroBiz SIngle Store Monthly: $55
Unlimited Employees
Unlimited Users
Free QBO Sync
Free Updates
MicroBiz Multi Store Monthly: $80
Unlimited Employees
Unlimited Users
Free QBO Sync
Free Updates
MicroBiz Single Store Annual: $600
Multi-Store Features
Unlimited Employees
Unlimited Users
Free QBO Sync
Free Updates
MicroBiz Multi Store Annual: $900
Multi-Store Features
Unlimited Employees
Unlimited Users
Free QBO Sync
Free Updates
Our Final Verdict
The team at MicroBiz is one of the most experienced in the industry and offers a rock-solid POS solution that can be applied across many different verticals. They have a mature product that is efficient and reliable while leveraging the latest technology.
MicroBiz has been in the business of making retailers more successful all over the world for decades. They have also managed to stay current with the latest technology. They offer a great combination of experience and new technology to help retailers create success!
Reader Interactions