Founded in 1984, Squirrel is one of the pioneer developers of a restaurant point of sale (POS) system in the country. The developer was actually the very first to apply touch-screen POS technology in the hospitality industry. Over the years, it has managed to develop a flexible and innovative restaurant POS solution on a solid Microsoft SQL server platform. 
Its innovative feature suite makes the system suited for an array of venue styles, including nightclubs, table service restaurants, hotels,, cafeterias, sports stadiums, and fast-service restaurant businesses. According to industry experts, the recent growth in the restaurant industry may be attributed to the high consumer outlook, and expanding global economy. 
With this trend expected to continue in 2020, the probability of fast-casual restaurants expanding is high. As such, you should consider investing in an efficient, flexible and scalable POS solution like the Squirrel Restaurant POS system. 
Throughout this Squirrel POS Review, you will learn why thousands of restaurant owners are opting for the system. 
Squirrel POS System Alternatives
POS Name

Software Subscription Fees

Training Options Offered




Squirrel POS




Quote-Based

In Person
Live Online
Webinars
Documentation




OpenTable Restaurant




Quote-Based

Live Online
Webinars
Documentation




Deputy




Starting from $2.50/month per user

In Person
Live Online
Webinars
Documentation




OpenSimSim




Quote-Based

In Person
Live Online
Documentation
Squirrel POS System Benefits 
Features customer engagement, labor scheduling, and forecasting capabilities

Comes equipped with superior Enterprise management tools

Supports Kitchen Video Display systems integration

Offers exceptional table, and inventory management features

Features property management system interfaces 
Possible Downsides 
When compared to some of the best restaurant POS systems, Squirrel is comparatively slow. Again, the provider does not offer s free trial period for the software. 
Squirrel POS Pricing
As opposed to some of the leading restaurant POS providers, squirrel offers software subscription plans that are tailored specifically for each business. The provider offers quote-based pricing that varies depending on the type and size of your business, the number of terminals you need, as well as the features and capabilities you need. 
Regardless of the plan you settle for, the provider will offer you free training,24/7 support, and one of the best warranties in the industry. 
Squirrel POS Hardware and System Requirements
The Squirrel Restaurant POS system is compatible with such operating systems as Windows and Linux. For mobile POS, you will be able to run the solution on both iOS and Android mobile devices. Although the provider offers solutions that are tailored to the needs of your business, here are some possible scenarios:
 A 20-seat, Fast-Moving Counter Service 
If you own a fast-moving counter service restaurant with a seating capacity of 20 or less, you will probably have a data-hungry head office and a fairly large menu. In such a case, you will need one or two POS terminals and the simple out-of-the-box POS that is relatively easy to use.
Again, the provider will also offer you automated sales reporting capabilities directly to your head office. 
High-Pedigree Fine-Dining Establishment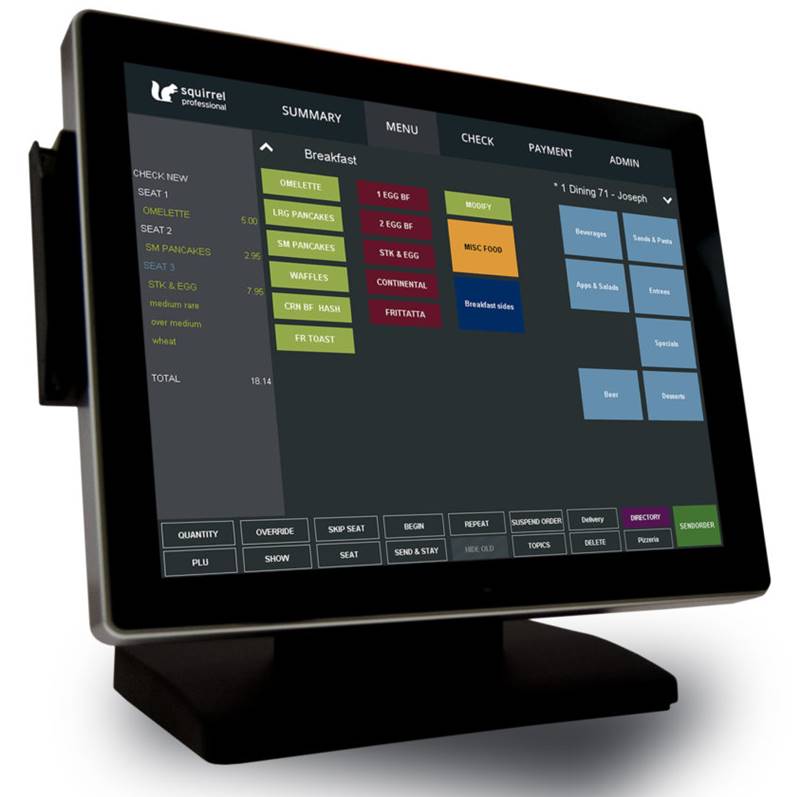 In the event that you need a POS solution for a fine dining restaurant that has a high pedigree, your hardware needs will be different. In such a case, a Michelin star or celebrity chef will need seamless communication with the kitchen staff, servers, and hostesses in the Establishment. 
If you will be running Squirrel in such a business, you will need about five POS terminals, three for the servers, one for the hostess area, and one for the bar. You will also need compatible Kitchen display systems. With Squirrel restaurant POS, you will also be able to see table status, as well as the waitlist and incoming reservations. 
Large Casino Resorts
If you have a large Casino resort employing more than 5,000 employees with a revenue of more than  $300M, Squirrel will tailor your POS system to your specific needs. In such a scenario, you will get a fully-integrated POS system for multiple revenue centers and outlets, including bars, restaurants, cashiers and room service.
Such a solution is capable of supporting more than 100 POS terminals and offer wireless and wired EMV payments. The solution will also include high-security measures for more than 500 staff members. 
Squirrel POS System Key Features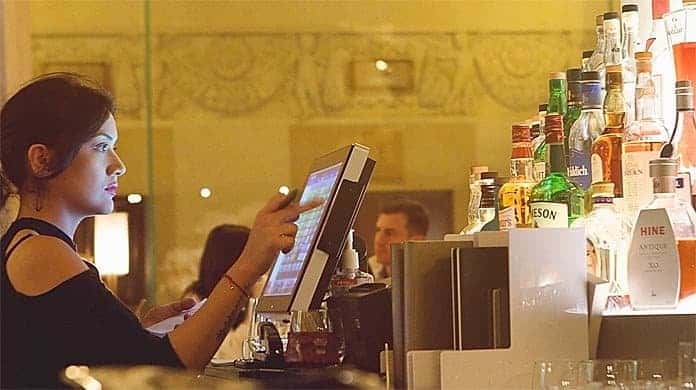 The processor-agnostic Squirrel POS software is specifically designed for the food and beverage industry.  Since the early 80s, the provider has been on the Frontline in offering innovative solutions that solve day-to-day challenges restaurant owners and managers face. 
Some of the industry-specific features and capabilities that make Squirrel stand out from other hospitality POS systems to include:
Labor and Scheduling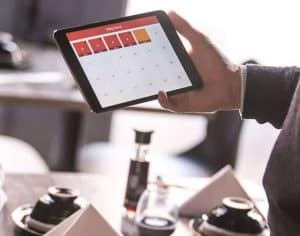 This feature has all the tools you need to reduce labor costs significantly as well as managing employee schedules with ease. It features an inbuilt clock, allowing you to monitor employee time and attendance accurately. This capability allows your employees to punch in and out using any Squirrel POS device.
Based on the data collected by the system, you will also able to generate labor reports and compare labor hours to sales activity. You may also export information to a payroll program for enhanced efficiency. The solution also has tools to help you balance staffing levels in your restaurant. 
Features optional Labor Cost and Productivity module that will ensure that you always have enough staff to offer exceptional service. You will be able to create employee schedules quickly and easily. This allows you to control when the employees can punch in or out relative to their scheduled time.
Table-Side Ordering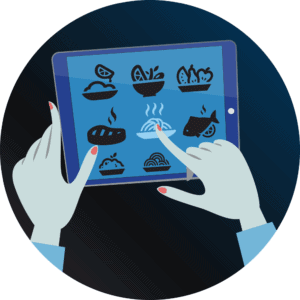 With support for a wide range of mobile devices, Squirrel makes it easier and more convenient for guests to place their orders and make payments from their tables. This capability allows restaurant owners to experience table turnover, higher revenue, and repeat business.
In its functioning, Squirrel table-side ordering saves your servers time, as they can fire orders to the kitchen right from the tables. In addition to taking orders, the solution allows you to edit menus on the fly, and manage promotions.
Your servers will not require additional training to use the table-side ordering system as the Squirrel POS interface is the same regardless of the device used.
Online Ordering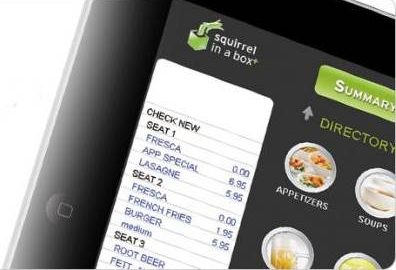 Allow your guests the convenience of placing their orders online and making payments from anywhere with the Squirrel Online Ordering solution. The orders placed online will be fired to the kitchen through the Squirrel POS system in your restaurant. 
With this solution, you will be able to accept payments online, through the processor configured within POS. Basically, the system will allow you to integrate multiple ordering channels, including Kiosk, mobile, suites, and catering, to your Squirrel POS system. 
Payment Processing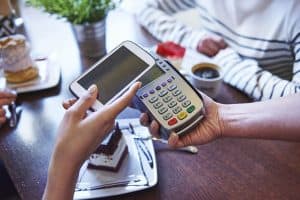 With Squirrel restaurant POS software, you will be able to reduce your liability and keep your customer data safe. This may be attributed to the EMV-driven payment options offered by the Squirrel POS system. With regard to flexibility, the provider allows you to shop for the best deal on payment processing.
While this is the case, you will also find the solution to be very secure. In this regard, it features a semi-integrated architecture that has been proven to reduce PCI scope. You will also get a broad range of payment devices that helps you choose the guest experience you want, with support for tethered devices to wireless payment terminals that support Apple Pay or Android Pay.
Final Verdict 
You may think of the Squirrel POS software as a revolutionary tool that has altered the way businesses in the hospitality industry work. The solution is offered in two main versions: Squirrel Professional and Squirrel in a Box+. 
Squirrel in a Box is a comprehensive POS solution that is meant for enterprises that operate on a limited budget, and feature small footprint operations. With this option, you will have the opportunity to configure the hardware for up to 4 terminals. 
The Squirrel Professional package, on the other hand, is a high-end version of the hospitality management system. It is suited for larger businesses with more complex processes. Regardless of your preferred option, Squirrel will present you with the tools you need to run your business efficiency.
The following two tabs change content below.
Reader Interactions