As you search for the best restaurant POS system for your business, look no further than Revel Systems and Toast. Both platforms can help you streamline your order taking, fulfill orders faster and more accurately, and keep your customers engaged and happy so your restaurant business can grow.
Revel Systems is an iPad-based POS system for restaurants, quick service, bars, pizzerias, coffee shops, etc. The platform allows you to split bills, hold bar tabs, and accept a variety of payment types. You can oversee employee performance, manage inventory items, and view insightful reports that show you the state of your restaurant operation.
Toast is a restaurant-specific POS system that enables tableside service, cloud-based menu management with item availability countdowns, various reporting tools to help you gauge performance across stores and menu items, and much more.
In our research for the Revel Systems vs. Toast comparison, we found that Toast wins out in terms of its user interface, integrations, online ordering, loyalty programs, and customer support. However, Revel Systems has the best reporting and analytics of the two.
Revel charges a flat subscription fee of $99 per month (for three-year contracts), as well as a flat transaction fee which is not disclosed on their website. Toast starts at $69 per month, with hardware bundles starting at $799.
Both of these providers do not charge a payment processing fee on each transaction. Rather, they charge a flat fee for their merchant services. While neither website provides specifics, flat merchant fees generally run somewhere between $15 and $50 per month.
While Toast scores higher than Revel, there are a number of factors to determine which platform is best for your business. Let's take a deep dive into each provider's features, pricing options, and support.
Revel Systems vs. Toast: Side-by-Side Comparison Summary
| | | |
| --- | --- | --- |
| Starting Price | $99 per month | $90 per month |
| Payment Processing Fees | Quote-based with flat fee processing | 2.49% + 15 cents per transaction |
| Free Trial | ✘ | ✘ |
| Cloud-Based | ✓ | ✓ |
| System Accessibility | iOS | iOS & web-based app |
| Customer Support | 24/7 Live Support | 24/7 Live Support |
| Online Ordering | ✓ | ✓ |
| Customer Loyalty Programs | ✓ | ✓ |
| Inventory Management | ✓ | ✓ |
Revel Systems vs. Toast: POS Software Comparison
As with any of our comparison articles, we compare two systems, highlight their strengths and weaknesses, and offer our opinions. But we always leave the final decision up to you.
User Interface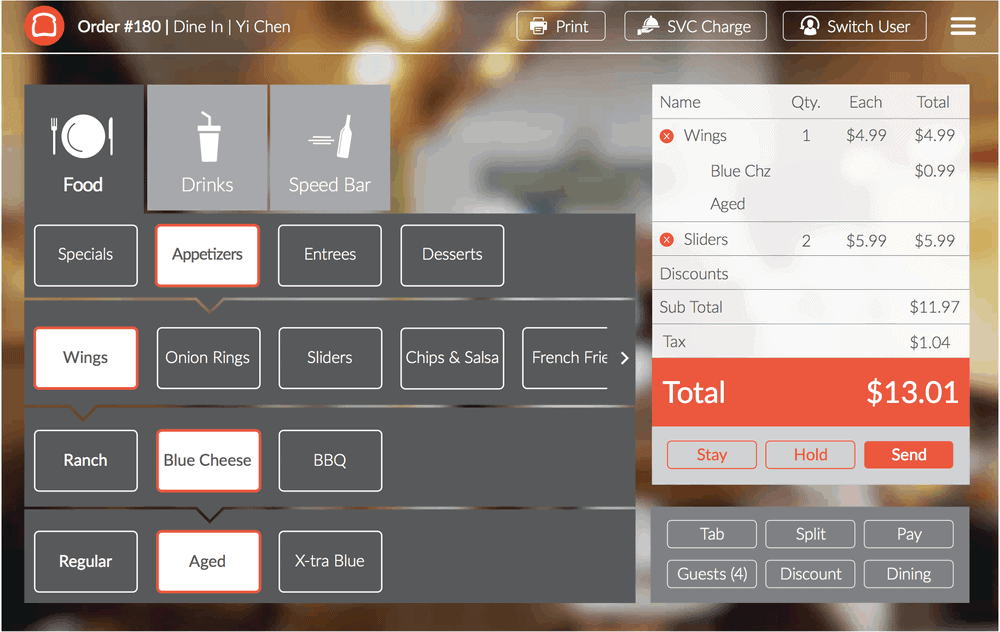 Revel Systems users have mixed feelings about the system's user interface. Many users love the interface and describe it as intuitive and easy to use. It's possible that those reviews came from tech-savvy or occasional system users.
Because we also read many reviews from users claiming the system was cumbersome, illogically organized, and difficult to navigate. Of course, we must take individual reviews with a grain of salt. But when we see patterns forming it indicates there is a real problem to address.
Toast users consistently report that the system has a very intuitive, user-friendly interface. This is a plus as it makes training new users a piece of cake.
In fact, we conducted deep research into both systems. During that research, we did not find a single user review that mentioned any difficulty using the Toast POS system.
WINNER: Toast
Integrations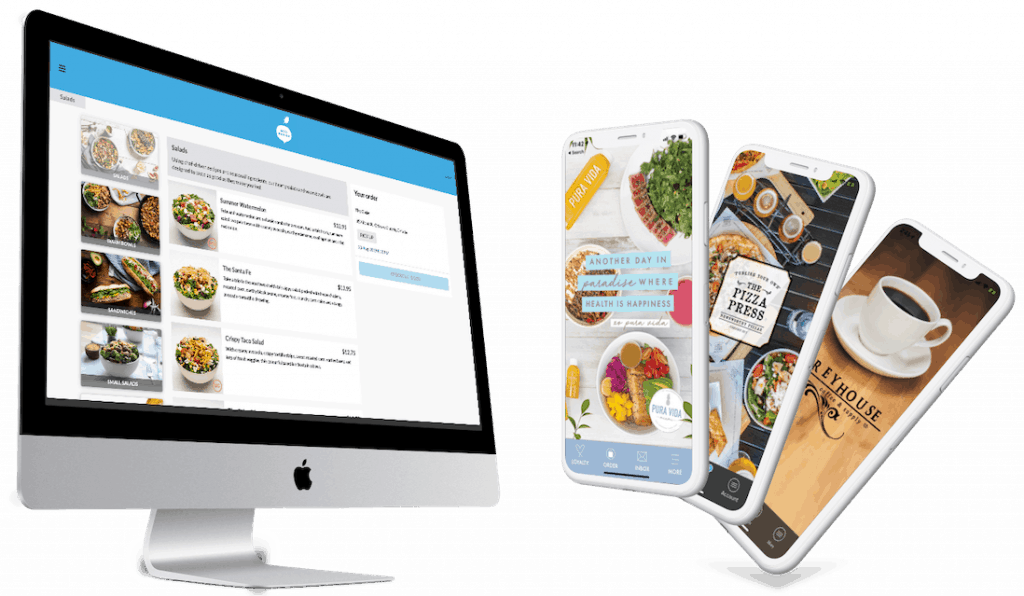 Revel Systems offers integrations with many different types of third-party apps. Those include online/mobile ordering, reporting, accounting, delivery management, commerce, marketing, data aggregators, loyalty programs, restaurant management, gift cards, and payroll.
On top of that, advanced integrations are available for CRM, payment processing, mobile payment processors, payment gateways, and security services apps. These seem to work with one glaring exception.
We found at least 15 or more user reviews that claim the system's integration with QuickBooks is a mess.
Toast offers users a ton of integration options—significantly more than Revel offers. Its application programming interface (API) allows you to integrate with third-party systems in multiple categories. These include labor, inventory, accounting, reservations, security, marketing, CRM, analytics, online ordering, loyalty programs, payroll, mobile pay, and gift cards.
With over 70 integrations with some of the most popular restaurant technology providers, Toast offers maximum flexibility. Users can configure the system to meet their unique needs. However, integrations aren't included in the starter package so you must pay for a higher tier package to use them.
WINNER: Toast, due to user satisfaction with its integration offerings
Online Ordering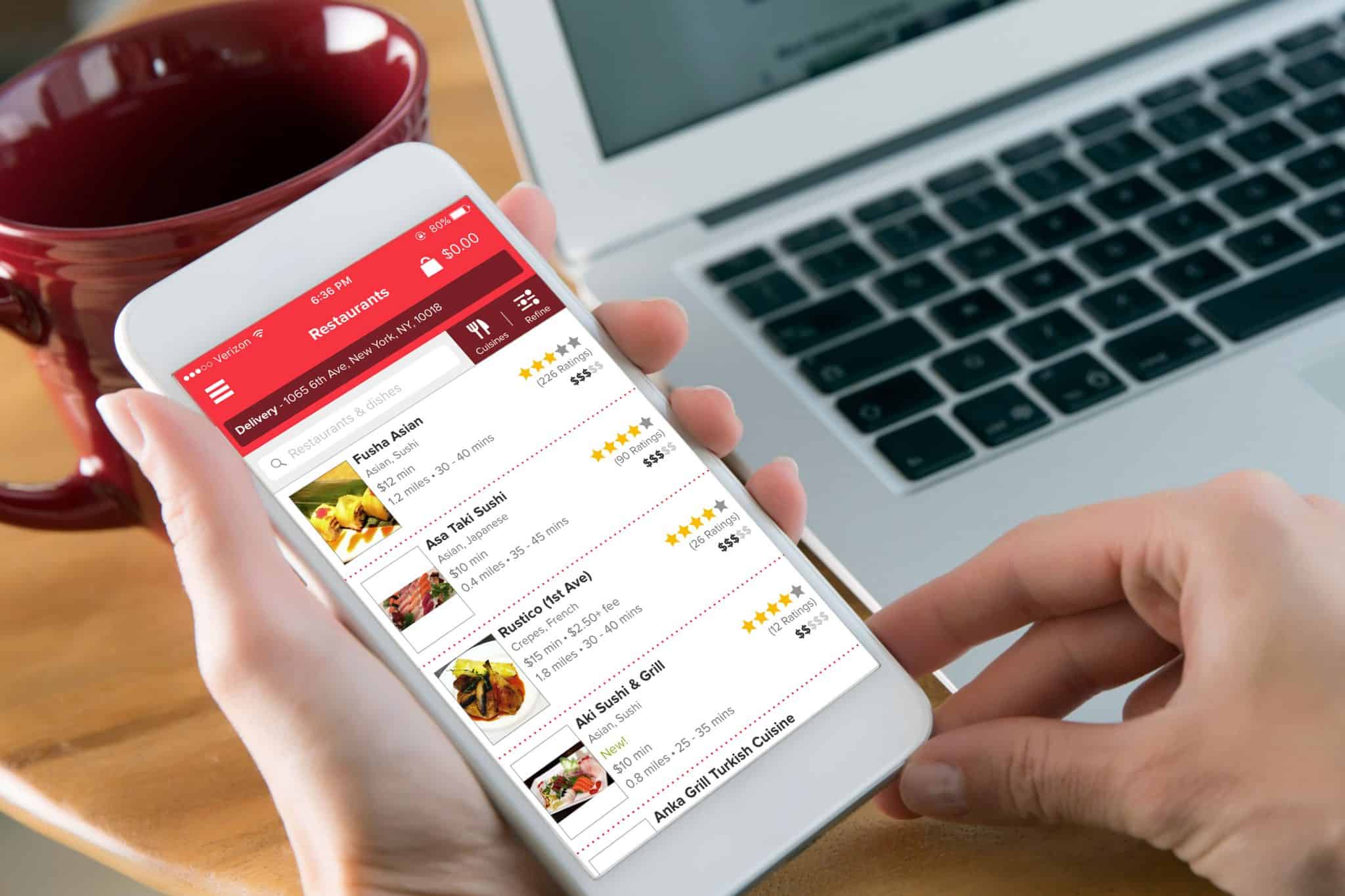 This is an important feature for nearly any restaurant that offers delivery or take out orders. Let's see how each system stacks up.
Revel Systems offers online ordering, but users report consistent problems with this feature. Some of which say they receive complaints from customers that their online ordering portal is not working properly.
Toast's online ordering capabilities are a strong selling point for the system. Many users cite online ordering as a major reason they moved to Toast from a previous provider. One user review we read went as far as saying, "Toast's online ordering is perfect."
WINNER: Toast
Reporting and Analytics
Reporting and analytics are important to any business type as they allow decision makers to make informed, data-driven decisions. In this day and age, businesses can't survive without some type of insight into performance results.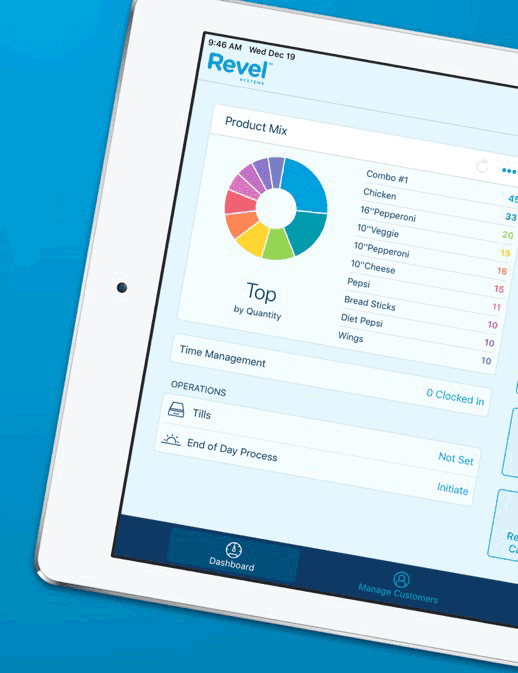 Revel Systems delivers strong reporting and analysis features that delight many customers. There are many reports to select from, including standard point of sale reports. The system also offers restaurant-specific reports that are considered icing on the cake.
The only negative aspect of Revel Systems reporting that we found was that it's configured for US users. A few users from other countries say Revel's reporting is useless to them. We're not sure if that's a question of language, tax calculation, or some other variable.
Toast offers relatively strong reporting features as well. However, we found that Revel outpaces Toast in the reporting space. Toast's reporting accommodates the needs of most users and they are generally satisfied.
However, we've heard reports that its enterprise reporting features often time out before completing. This is almost certainly because the system struggles to process the huge amounts of data captured and stored by enterprises. Other users claim Toast's reporting features are generic and lack the advanced capabilities many restaurants need.
WINNER: Revel Systems
Loyalty Programs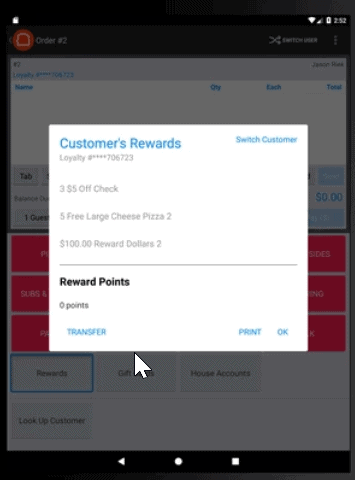 Both systems feature loyalty programs, which are incredibly useful for restaurants. When investigating loyalty programs for Revel Systems and Toast we found mixed reviews for each.
Some users are fully satisfied while others are not. Considering that, we'd call this a draw. However, the differentiating factor between Toast's and Revel's loyalty programs is that Toast includes theirs with their base package.
Revel Systems, on the other hand, charges users a fee and positions loyalty programs as an add-on feature. Since Toast is cheaper to being with, this penalizes Revel Systems and subtracts points from the solution in this category.
WINNER: Toast
Revel Systems vs. Toast: Company Operating Practices
A vendor's operating practices impact market perception. Things like customer support quality and sales practices can easily push customers to look for an alternative.
Customer Support
Revel Systems customer support seems to please many customers. The majority of users that speak about customer support say it is terrific. However, other users claim that it is horrible.
The latter group cites rude support reps and slow response times as pain points. There does not seem to be any middle ground—users either love or strongly dislike Revel's customer support.
Across various user review sites, we compiled users' average rating for customer support; Revel Systems scored 7.7 out of 10 points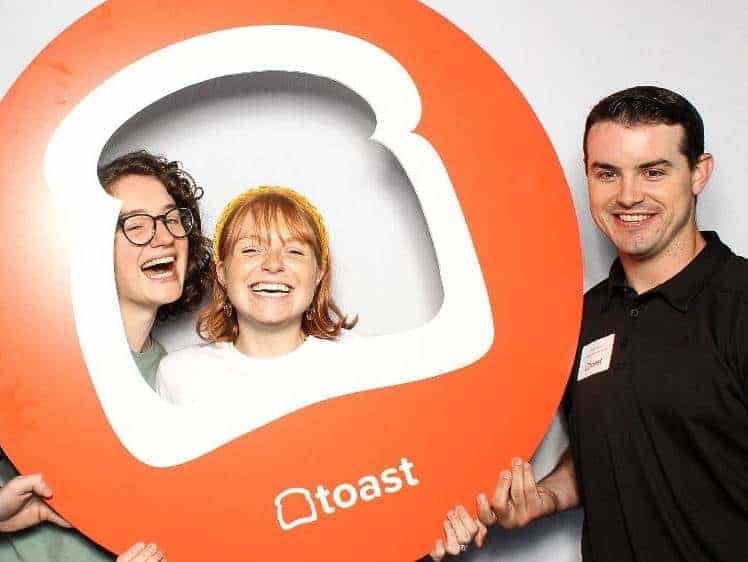 Toast's customer support receives similar ratings as Revel Systems. Some users love it, while others say it leaves much to be desired.
Satisfied users cite Toast's customer support team as being very professional in their approach to dealing with customers. Detractors claim the Toast support team can be difficult—at times, impossible—to reach when an issue arises.
Support ratings from those same sites, when compiled into a single average score, amount to 8.1 out of 10 points.
WINNER: Toast by half a length
Sales Practices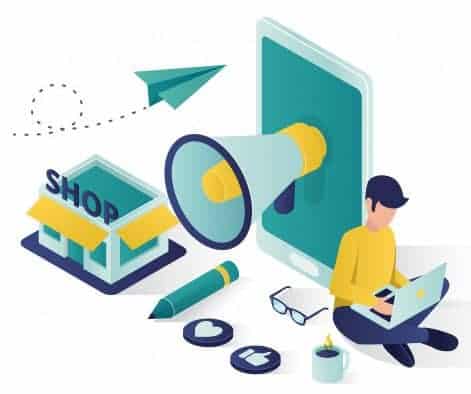 Revel Systems users, again, expressed mixed feelings about the company's sales reps and their approach to selling. We encountered many reviews claiming sales reps misled them during the sales process.
Specifically, they claim that a rep would guarantee a feature was included in the system a prospect was considering. The customer later finds out that it's a fee-based add-on. Now that's a poor customer experience. Some users went as far as to call Revel's sales team "LIARS" (in all caps to drive home their dissatisfaction).
Toast users don't seem to have much to say about the company's sales reps one way or the other. As the saying goes: "no news is good news." However, a few users report that the sales team can be difficult to reach when they have a question.
Oops, that's a definite case of a vendor dropping the ball. When someone calls a company's sales number or emails the team, they need a rapid response. That is, if you like to sell things and grow your business.
WINNER: Neither company's sales practices impressed us, so we call this a draw
Revel Systems vs. Toast: POS Hardware
Revel Systems POS hardware selection is broad; the company offers most POS hardware components that restaurants need.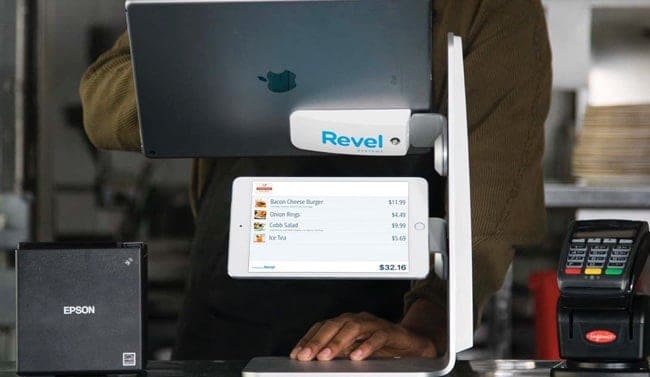 The only issue that likely turns customers off is the fact that Revel does not list any pricing on its hardware pages. To make matters more frustrating for potential customers, Revel even includes all of its hardware components on its pricing page. However, when you click through, you don't find prices.
Toast does include pricing for most of the software it sells. The majority of it comes in pre-set bundles with clearly listed prices.
The only downside is that you must pay for hardware as an upfront cost when becoming a new user. On the bright side, Toast does not require any contract and you can leave any time you want.
WINNER: Toast because we have no idea how much Revel charges
Is Revel Systems or Toast Your Best Bet?
Toast "toasted" Revel Systems in our reviews and comparisons above, winning six out of eight comparisons. Revel won one comparison and the eighth ended in a draw.
We could call Toast the clear winner and the better system for you. However, we're not in your shoes and don't run your business. Perhaps the items we covered matter less to you than system capabilities we did not cover.
Regardless, the review sites cited above list Toast as outscoring Revel Systems in every category measured by these sites. Those include everything from individual features to customer satisfaction and users' overall rating of the system.
To top it off, Toast can be used on either an Android or an Apple iOS device, while Revel is limited to iOS.
But you should not take information from one article and decide based on its opinion of a system. When you identify systems you like, you should dig deeper into their capabilities, terms, conditions, and pricing. Then, make your own decision.
You can start that today by checking out our comprehensive Toast POS review article as well as our review of Revel Systems.
Reader Interactions