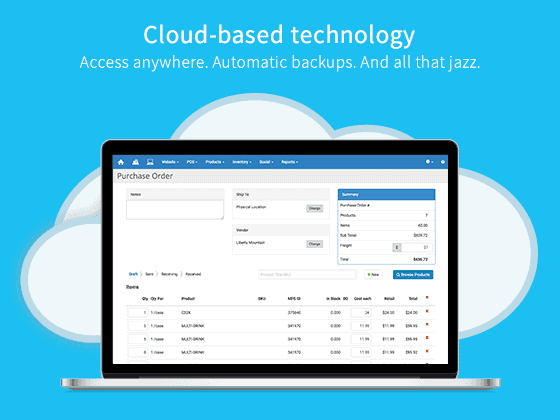 The retail industry is evolving rapidly, moving towards seamless integrations and omnichannel selling. And while the ultimate goal is simply increasing total sales, it's far from a simple process to get there. But investing in the right technology is a critical step. And Rain POS is built to do just that.
After a complete review, we found that Rain POS offers a versatile and complete solution for all retail business types, from pizza shops to convenience stores.
And, it stacks up well against some of the other premier retail point of sale solutions on the market, such as KORONA and Vend. With in-store retail, eCommerce, and shopper marketing, Rain covers all the major bases for retailers.
The retail POS features inventory management, supplier ordering, customer loyalty, sales tracking, intuitive reporting, and more. It's user-friendly without sacrificing any power or functionality, making it a great solution for various sizes of retail operations.
But it's Rain's marketing stack that stands out to us above the rest. With automated email marketing, SMS texts, Facebook and Google review integrations, and shopper notifications, Rain POS helps retailers drive more engagement with each shopper and facilitate more frequent visits.

Additionally, Rain comes with a seamless eCommerce integration. Retail owners can create simple custom online shops that automatically sync inventory with an existing database. Each shop comes with simple widgets and a responsive design for mobile users. Plus, built-in SEO helps sites rank well on Google.
We found the widget set particularly impressive. Businesses can add newsletter sign-ups, social media integrations, search bars, forms, and a whole lot more.
Rain POS software offers a versatile solution for retail businesses of all types. The comprehensive features make it a great fit for businesses looking for an omnichannel approach to selling and reporting.
Rain POS: Quick Overview
Based in Springville, Utah, Rain Retail Software is popular in retail POS solutions. Since its foundation in 2008, the company has been offering innovative and highly beneficial software solutions for small and medium-sized specialty retail businesses. RainPOS software is one of the best products by this provider.
RainPOS is essentially an all-in-one retail POS platform that offers superior repairs, events, rentals, classes, and sales management capabilities. This solution is suited for such specialty retail businesses as ski, snowboard, and scuba shops as well as music stores.
Innovative Feature-Suite for Specialty Retailers
In its functioning, the software integrates your web store to the Rain POS system in real-time through a single database. As such, it ensures that your in-store and online inventory levels are always in sync and accurate.
With an internet connection, the system will allow you and your staff to check and update the inventory, process rentals, make sales and process work orders remotely. Many of its current users also love the fact that the system is compliant with both DSS and PCI security requirements.
Discussed below are other reasons why you should consider implementing the Rain POS system in your business.
Rain POS Benefits
The POS software is platform agnostic
In-store and online inventory is always in sync
Offers cloud-based multi-store support
Supports unlimited users
Features innovative specialty retail tools
Allows for integrating with accounting services
Possible Downsides
While Retail POS offers a range of beneficial capabilities, its cash register does not work offline. As such, you will not be able to process payment whenever the internet is slow or out. Again, the system does not allow you to integrate email marketing with your business website.
Rain POS Pricing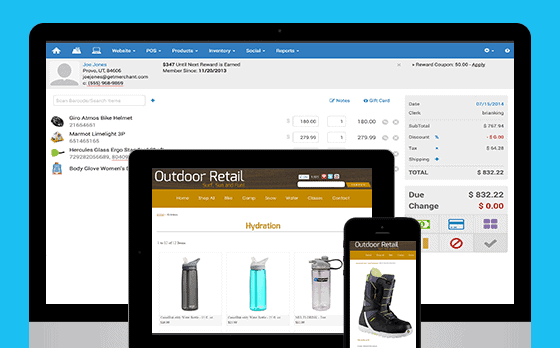 This POS provider does not display pricing details on its official website. Based on third-party sources and current users of the software, you should expect to pay about $99/month per user.
To get an accurate quote on the license pricing and hosting solutions, you should get in touch with the provider by filling the form on its official website.
Rain mainly offers such solutions as Sporting Goods POS, Tablet POS, tablet POS, Retail Management, CRM, Inventory Manager, Analytics Gift Shop POS, Florist POS, Clothing Store POS, and Mobile POS systems.
This being the case, you will be charged based on the tools and capabilities you need. All in all, this software is offered In a Software as a Service (SaaS) model. This means that the provider will charge you a monthly subscription fee per month.
Rain POS Hardware Requirements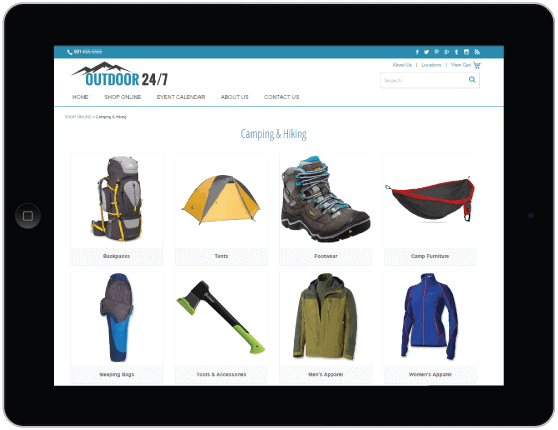 As you may have realized, Rain Retail Software does not require proprietary hardware. As a matter of fact, the provider does not have any hardware components to offer at the moment. While this may appear to be a bit inconveniencing for some retailers, it actually gives you the freedom to choose the components you desire.
If you are looking for affordable hardware options, you should consider buying bundled third-party hardware packaged that are compatible with RainPOS. One of the best providers of third-party bundled hardware components for this system is posportal. In this case, you will have two main bundle options to consider, including:
If you are looking forward to purchasing this bundled product upfront, you will be charged about $607. Alternatively, you may opt for the Portal advantage plan by this vendor. With the Portal Advantage plan, you will be paying about $25.30 per month.
The USB Starter Kit will offer you such POS components as Star Micronics printer a d cash drawer, Motorola hand-held barcode scanner, and a Dyno label printer.
Rain Retail Ethernet Bundle ($643.24)
Just as is the case with the above-described bundle, you may pay $643.24 upfront or pay $26.80/month through the Portal advantage plan. The Ethernet bundle offers you similar components to those offered by the USB starter kit. However, you will get an Ethernet receipt printer and cash drawer.
Additionally, the vendor will offer you all the connecting cables required for the two components as well as a barcode scanner.
Rain POS Features and Capabilities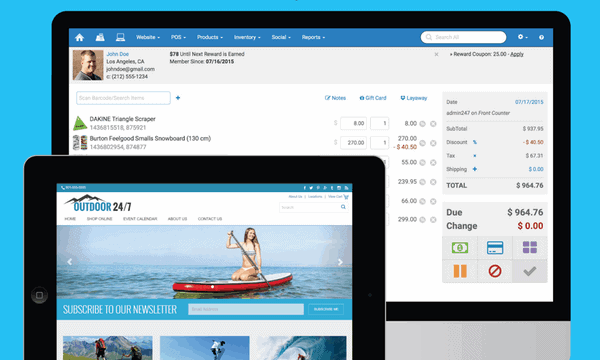 Being one of the best retail POS systems with multi-store support, Rain POS system is packed with an array of impressive tools and capabilities. For instance, the solution will offer you some of the best rewards programs, CRM, gift cards and coupon support capabilities for enhanced customer loyalty.
Additionally, the provider is renowned for it's DSS and PCI compliance. RainPOS will also offer you secure cloud backups as well as the ability to regulate employee access to the POS system. Discussed below are some of the features that make Rain a preferred PIS system among retailers:
Real-time Inventory Updates
Rain offers remarkable inventory management capabilities for players in the retail industry. To begin with, the software supports unlimited SKU management with its versatile inventory grid.  Additionally, the system has the right tools to help you manage services and keep track of repairs.
With this system in your business, you are going to have an easy time managing serialized inventories. The system will also make it relatively easy for you to generate and manage purchase orders. The provider will also offer you a free cloud backup solution.
The inventory manager is also designed to sync in real time for both in-store and online storefronts. As such, you can always access accurate stock information in real-time wherever you are.
Automated Marketing Integration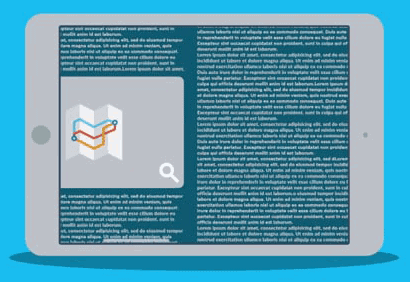 In addition to boosting customer loyalty, your preferred POS system should help you attract new customers to the store. In this regard, this solution will equip you with all the tools you need to grow foot traffic, boost sales and revenue. For instance, it integrates your website to the POS system automatically.
With such a solution, you only need to add product information on either end, and it will be reflected in-store and online simultaneously. Other marketing capabilities you will come to like about this solution include:
Automated Email Marketing
This feature allows you to send out periodic marketing emails to your customers. In a bid to increase sales in your business, the feature will send out emails on sale items, top sellers, new products and upcoming classes to your customers. If sent at the right time, such emails will encourage customers to buy from your store.
Again, timely notifications to the right customers at the right time have been proven to promote customer loyalty. With Rain's notifications, the system will automatically send reminders to your registrants reminding them of upcoming events in your business.
For instance, may be used to remind customers of upcoming classes they have registered or when it is time for maintenance. Automated service and class reminders will prevent no-show scenarios and boost revenue in your store.
Sending your customer coupons makes them feel valued by your business, hence more likely to shop from your store. This feature Will automatically analyze your customers' buying behavior to ascertain the right coupons to send to each one.
Again, the system supports birthday coupon, bounce back coupon and get 'em back coupon capabilities. Such tools will keep your customers coming back over and over again.
Repair and Service Tracking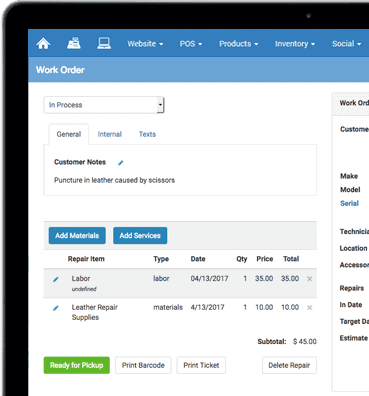 Offering maintenance and repair services for the items you sell I. Your store will serve as an additional income stream in your business. However, you will need the right set of tools and capabilities to manage such services effectively. With RainPOS, all the parts used for each service will be included in the Parts Used section of the respective claim ticket.
With such a capability, you will have a comprehensive overview of the status of each service being carried out in the store. Additionally, the system will automatically send your customers a text notification as soon as their repair/service is completed.
Rental Management Tools for Retailers
Get yourself a set of rental management tools that have been specifically designed for retail businesses. The rental management feature by Rain Retail allows you to create rental packages, including inventory items as well as the accessories that may be added to each item.
In other words, the system makes it easy for you to bundle the products and accessories that are commonly bought together. While at it, the software will allow you to configure variable rental periods, ranging from hourly to seasons.
With the Rain POS system, you will also be allowed to preconfigure the type of customer information you would like your rental manager software to collect. Again, it lets you customize deposit amounts required for different rental items as well as determine late fees.
Integrated eCommerce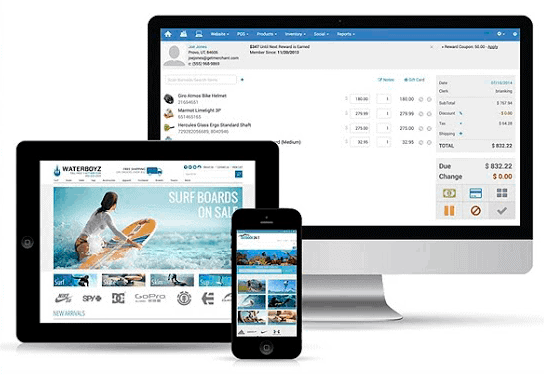 Integrating your business website with your POS system allows for real-time updating of the inventory after every in-store or online transaction. Additionally, the Rain eCommerce platform also integrates such services as WorldPay, Authorize.net, and PayPal to your online shopping cart.
The solution is also known to offer enhanced security for online transactions as an array of mobile-responsive website templates. The professionally designed web templates by this provider are great looking and specifically designed to optimize your website for mobile access.
The solution will also equip you with a range of intuitive content management widgets. You may use such widgets to keep your website interactive and up to date. The system will also integrate an event calendar and pages to your website for efficient planning.
Rain POS System Integrations
Despite being a feature-rich retail POS system, you may need to integrate Retail to different services for improved functionality. In such a case, you would love to know that Rain POS supports a myriad of third-party integrations, including:
This integration will allow you to add items to your Reverb store right from the POS system with ease. This solution will also adjust inventory levels on both storefronts automatically after every transaction. It will also make it possible for you to fulfill all online orders from a single point.
This is a smart iPaaS solution that allows you to connect other business apps to your Rain POS system seamlessly. This solution is mainly aimed at improving efficiency and streamlining operation in retail businesses using this POS system.
Customer Support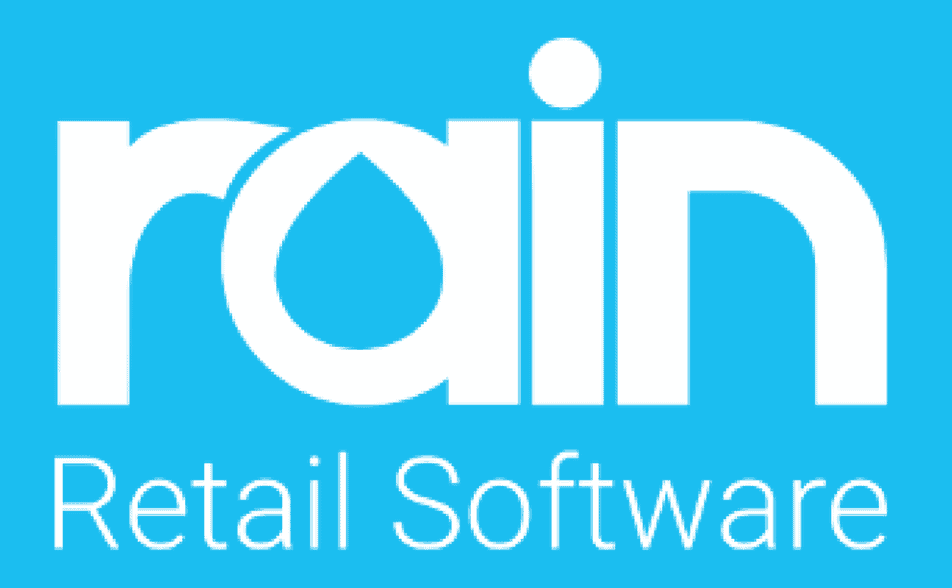 Whether you just want to learn how to use the POS system or would like to get technical support on how to resolve an issue, Rain Retail Software got your back. The provider is known to offer knowledgeable, reliable and timely customer support services through different channels.
To begin with, you will have access to the Rain Retail Learning Center—a comprehensive educational platform featuring training guides, videos, tips and an array of other resources.  Such materials contain answers to most of the issues you may be having with your POS system.
If this platform does not address your concern or need urgent support, you may also get in touch with the experienced technicians at Rain Retail through the phone or Fax. For phone support, you should call (385) 274-0564 between 7:00 AM and 6:00 PM (MST) from Monday to Friday.
You may also contact the customer support team at Rain Retail through fax or e-mail. For email support, you should send your concerns to [email protected] or [email protected]
Our Final Verdict
Managing a retail business for enhanced effectiveness, profitability, and increased loyalty can be problematic without the right POS solution. The Rain POS software features all the important capabilities you need to address the challenges in the retail industry.
As you have learned throughout this review, the solution will simplify your inventory, service/repair, customer accounts, and employee management. Again, it also offers superior eCommerce retail tools to optimize revenue generation in your shop.
Even without integrating it into any service, Rain POS system is rated as one of the leading retail software auctions.
Reader Interactions