Brick-and-mortar stores are closing at a high rate. In the last 2 years, retailers have shuttered 250 million square feet of space. There are 2,000 more on the chopping block this year alone.
All one needs to do is stroll through a local mall the see how things have changed.
That means, in order to compete, retail stores must strengthen their in-store technology and create a seamless experience between the offline and online world. The best way to do that is to use a retail POS system.
Consumers love doing business online and a smart POS system is the way to transfer that energy to real life. That is the mission of the POS brand Quetzal.
Quetzal POS System Review – Company Overview
Quetzal believes in giving a meaningful advantage to its customers. They seek to unclutter the usual noise an overloaded POS system offers.
Their focus is on supporting instinct through insight into the individual and collective consumer.
Quetzal POS has two offices, one in Ontario, Canada, and the other in Temecula, CA. They are a socially conscious brand that offers "one-world" pricing to customers. That means impoverished countries pay way less to use the product. Quetzal stands out by:
Knowing their customers.
Rewarding loyalty (both customer and employee).
Responding quickly to trends.
Sharing the love!
Quetzal POS Benefits
One set fee with no subscription fee or charge to run extra terminals.
A variety of hardware options with items bundled for affordability.
Offline and online capabilities for seamless transactions on-the-go.
Pre-set ecommerce integrations for smoother transitions.
Customer data management and real-time custom reporting.
Possible Drawback
One of the only customer complaints online is that installation can be somewhat involved. Although Quetzal sells their hardware in a bundle, each item must be fitted separately. Quetzal POS currently does not employ a team for installation or in-person setup.
Quetzal POS Pricing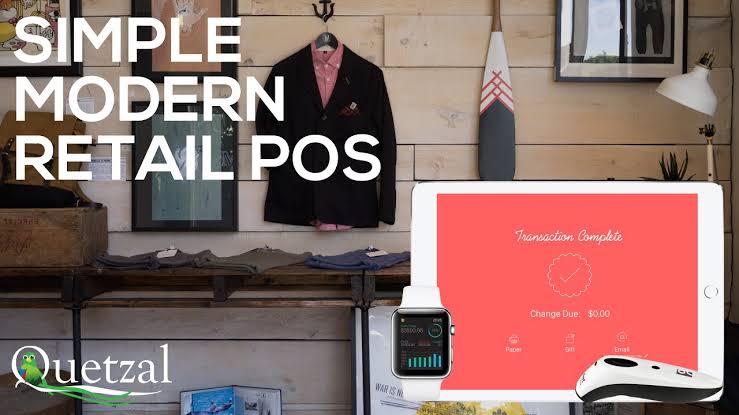 Quetzal believes in providing the best price for the best product. There is no contract or set up fee with the company. All support is free.
Everything you need, with everything included, is $75/location/month. You can choose to pay by the year and save. It's $720/year (avg. $60/month).
If the system is not working for your business, Quetzal POS will give customers a full refund within 30 days. The one payment per month gives access to unlimited registers, users, customers, items, and peace of mind.
Quetzal POS System Requirements and Capabilities
Quetzal is a hyper-focused brand that knows and understands their exact audience. It's user-friendly and provides a variety of features and options for an adaptable POS solution.
Hardware
Quetzal partners with Barcode for all of their hardware solutions. Barcodes sell everything down to receipt paper for Quetzal. Some of the options for equipment are:
Stationary
BCI QTZL-BUNDLE – $2,419.70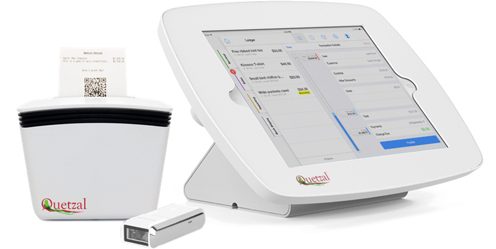 This is Quetzal's top package and best starter bundle. The bundle has a 3rd generation Apple iPad Pro 12.9″ 256GB, Star mPOP receipt printer/cash drawer combo unit, Zebra ZD410 direct thermal barcode label printer, Heckler tablet stand, and one roll of 2″ x 1″ paper labels. Items can be sold separately.
BCI QTZL-ValueBundle – $1,529.70
It includes an iPad 9.4″ 128GB, Star mPOP receipt printer/cash drawer combo unit, Zebra ZD410 direct thermal barcode label printer, Heckler tablet stand, and one roll of 2″ x 1″ paper labels. All items are also sold individually.
Star QTZL-POS-WORKSTATION – $451.40
This is the cheapest hardware for the Quetzal POS software. It has limited functionality but includes MPOP, an integrated 2″ printer and cash drawer, universal tablet stand, and an internal power supply.
Mobile
Apple QTZL-TABLET – $1,400.00
This is the unit that Quetzal offers for mobile capabilities It is a 12.9-inch iPad Pro Wi-Fi 256GB – Silver (3rd gen).
You can also purchase a stand for $149 and a pivot table for an additional $20.
Printers
The Quetzal software is fully functional with the following printers:
Epson QTZL-RECEIPT-PRINTER-TM-M10 Receipt Printer – $224.10
TM-m10, 2″ Thermal Receipt Printer, Auto-cutter, USB, Ethernet, ENERGY STAR.
Star QTZL-ETHERNET-RECEIPT-PRINTER Receipt Printer – $275.50
TSP100III, Thermal, Auto-cutter, Ethernet (LAN), Ethernet Cable, Internal Power supply.
Star QTZL-BLUETOOTH-RECEIPT-PRINTER Receipt Printer – $336.00
TSP100III Bluetooth, Thermal, Auto-cutter, Bluetooth iOS, Android, and Windows, Internal Power supply.
Other types of hardware available for purchase include:
Socket mobile cradle
POS cable
Barcode label
Features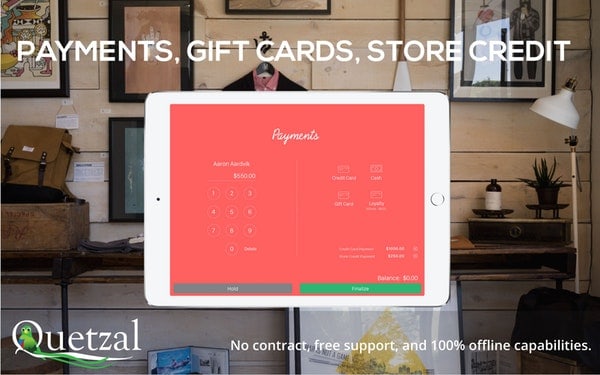 Quetzal focuses on exactly the features you need with very few updates or interruptions. They specialize in clothing, shoes, fashion, and specialty retail stores.
They pride themselves on providing the best POS system on the market for small boutiques. The product is mission-specific, with features like:
Offline Capabilities
Quetzal POS functions even without wi-fi. You can process a transaction on or off the grid with no limitations. This makes it ideal for clothing and specialty stores running a tent sale or pop-up shop. All data is saved and uploaded to the cloud when connected again.
Integrated eCommerce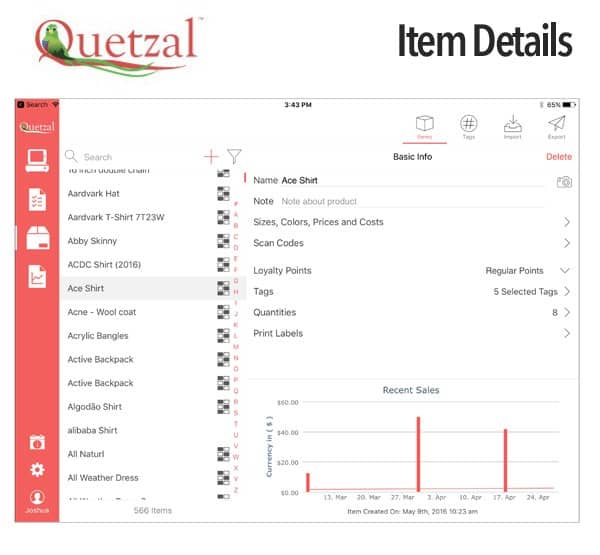 Quetzal integrates with the ecommerce platform Shopify to create a seamless customer experience. There is no need to transfer data or build another site.
The two platforms integrate perfectly. You can go on selling with Shopify and your new POS like nothing happened. Users will have no interruption.
Customer Focus
Quetzal iPad POS stores and manages customer information, in real-time, from all locations. You can then export this data to engage with people directly.
This is critical since today's economy requires you to market with purchasing intelligence to your customers.
Payment Processing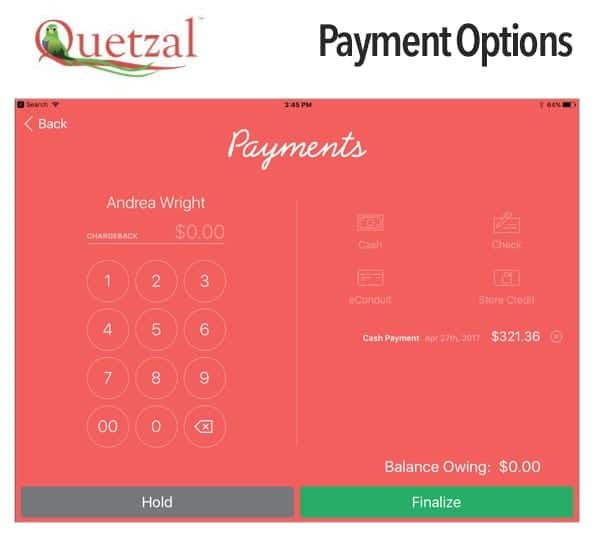 Quetzal is a great solution for mobile payments. The brand supports several leading payment processors and acquires businesses in North America and Europe. They practice PCI DSS compliant processing and are committed to data security through any form of payment. They feature the highest security available in the payments industry.
Quetzal easily integrates with a variety of modern pay devices that can:
Swipe/chip/tap
PIN
NFC
Debit
P2P/ACH
Additional Features
Although Quetzal POS likes to keep it simple, they still offer a range of features to help a business customize a solution. Some additional features include:
Employee management
Inventory management (multiple color and size matrices)
Print or email receipts with custom logo
Supports 10 languages and currencies
Built-in loyalty system
Since the company is based in two separate countries, they have a keen understanding of both banking systems. This facilitates business between Canada and the United States and strengthens business relationships.
Quetzal is great to their people and is a master motivator. The POS platform also features an employee leaderboard. Not only does this create friendly competition, but it also engages employees and shows them you're paying attention.
Quetzal POS  Customer Service & Support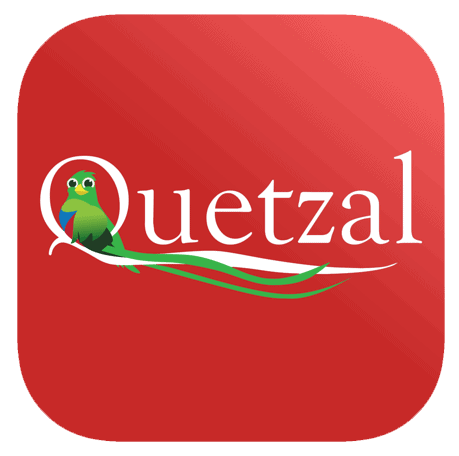 Quetzal offers a local (PST) number for calling sales and support. Therefore, if you are in different time zones, it may be difficult to reach the help line. There is also a blog and FAQ section for self-help.
A business can schedule a free demo at any time for a custom solution. Quetzal offers additional training and import support for those who need it.
The Final Say
Quetzal is rated rather well online (4-5 stars). People appreciate the total transparency, which can be difficult to gauge with modern POS systems. Many business owners might wonder "what's the catch?" to such simple pricing. The truth is the platform was developed by people who have worked in the retail industry and closely understand the needs of a business owner in this sector.
The brand seeks to drive business success by not overcomplicating things. There's no need to have a bunch of bells and whistles no one uses. Therefore, if you are a business of any size that wants to cut to the chase, Quetzal may be the best fit for you. This system is ideal as Ice cream shop POS.
The following two tabs change content below.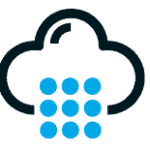 POS Quote Team
The staff at POSQuote.com is composed of industry professionals, experts, and current business owners. Through extensive research, we compile buyer's guides and review the best POS systems in the industry.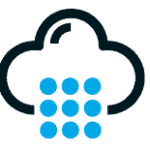 Latest posts by POS Quote Team (see all)
Reader Interactions