Happy guests mean fast tickets, quick turn times, and excellent customer service. The more you can control all of this in one space, the greater the experience.
That means knowing the proper tools to get you there and utilizing them accordingly.
OpenTable POS – Company Overview
OpenTable has served over 2,500 restaurants and finds establishments for more than 31 million diners each month via online reservations. Every 30 days, OpenTable diners write more than 1 million restaurant reviews and have spent more than $91 billion at partner restaurants.
Since 1998, OpenTable has been committed to empowering an experience for both restaurants and diners alike. From helping businesses of all sizes thrive to enabling diners to book the perfect table for every occasion, their story is one of human connection.
Now the OpenTable brand is growing globally like never before and continues to lead the conversation in the restaurant and tech space. They strive to produce products that anticipate the ever-changing needs of restaurants and diners alike. OpenTable has a passion for hospitality and takes pride in bringing people and communities together.
OpenTable POS Benefits
There are many benefits to the OpenTable POS system. This includes:
Multi-level pricing options for a business of any size.
Online reservation platform that translates to real-time.
The ability to collect in-depth guest data for marketing purposes.
Instant notifications for everything from reporting to seating alerts.
Masked credit card vaulting for ultimate security.
OpenTable POS Pricing
OpenTable has three levels of pricing. Each contains a standard set of features with additional ones benefits, the more you pay. In addition to reservation management, reputation management, and a profile on the OpenTable site, every package also includes:
Reservation availability on the OpenTable network
Customizable reservation widget for your website, apps and social
Automated text and email confirmations and reminders
Review aggregation, response, management, and benchmarking
Sentiment and keyword analysis
It also includes group bookings, branded dining surveys, and custom tags.
Basic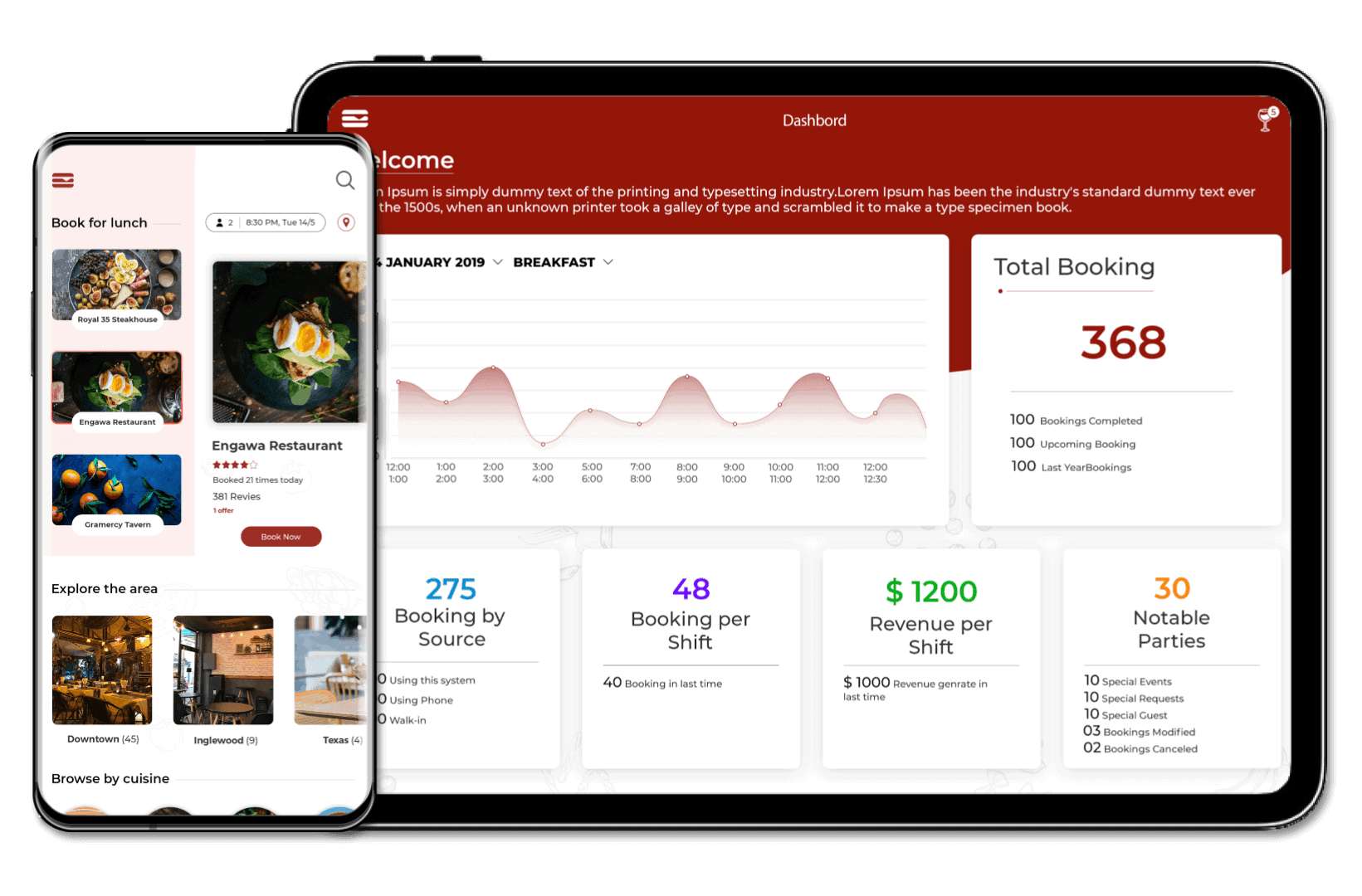 $29/mo ($39 month-to-month) + $1.50/network cover
The basic package comes with everything above as well as marketing, custom promotions, photo gallery, bonus points, and gifts.
Core
$249/mo + $1/network cover
In addition to the standard features, the Core package includes table and waitlist management, texting, ticketed experiences, and the following:
Advanced availability controls
Shift planning and management
PCI-compliant credit card holds
Searchable guest book
Automated table statusing
Pro
$449/mo + $1/network cover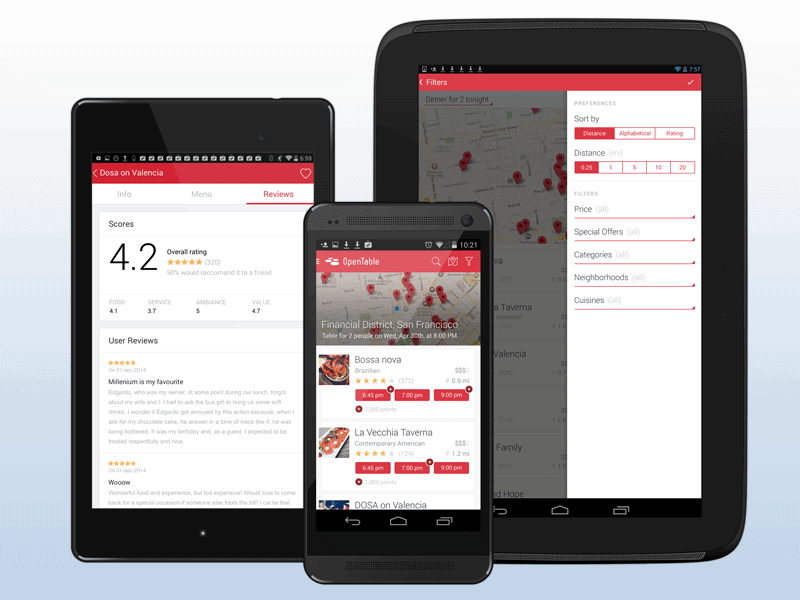 The Pro package includes everything in the Basic package, plus relationship management, staff scorecards, and the following:
Pre-shift reports with guest intel
Robust guest profiles and search
Automated guest codes and tags
Strategic marketing lists
Automated email campaigns
Features
One of the best aspects of the OpenTable program is the variety of features that they offer. Here are just a few that may fit the needs of your business:
Speed up Operations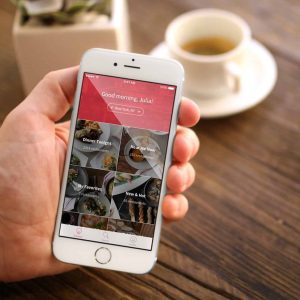 The GuestCenter integration of OpenTable automates the front of house by statusing tables. You can always keep the host updated about each table in real-time so you can decrease turn tines and improve the guest experience. Table statuses include:
Appetizer
Entrée
Dessert
Paid
Revenue
Keep tabs on your business on-the-go or dive into details. Boost revenue by listing out the bar, counter, patio, and high-top to fill extra seats. Reduce the risk of an empty shift with the ability to book online.
Interactive reports breakdown revenue and trace spend back to every reservation. See each shift's average spend per cover and party. Know how much additional revenue is being driven from your open table marketing campaigns and compare your shift revenue for a particular day to the average from the previous month. Always get a snapshot of how your restaurant is doing, anywhere, at any time.
Greater Controls
Enjoy greater control over your tables. A restaurant can manage which tables are bookable and customize availability by the time of day and table type. Automatically pre-assign guests based on the type of table they booked.
Know Guests Better
Know your guests on a deeper level so you can deliver better hospitality. Quickly view average and lifetime spend and personalize service using check details from current and past visits. This allows a business to spot high spenders and frequent visitors so you can recognize brand loyalty and keep them coming back.
OpenTable helps you understand guest preferences and feedback so you can deliver great service. Who's returning? Who's new? What did they order last? You'll receive an in-depth visit history and past check details.
Share guest data and view visit history across all locations. Communicate with guests after their dining experience by responding publicly or privately to their reviews. The system also allows a business to monitor their stream of referrals with concierge reporting.
Help your team deliver the best service and keep track of VIPs with guest and visit notes. Venga's Guest Management platform allows you to take your hospitality to the next level.
Easy Reservations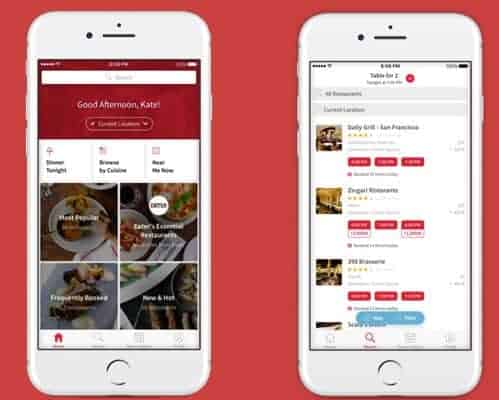 Keep your reservation book in your back pocket and make appointments on the fly. View all future reservations and make quicker confirmations. Have an eye on the waitlist with guest notes and tags.
Instant Notifications
Get instant notifications on your Apple Watch and iPhone to catch the events that interest you the most. Schedule new bookings, change reservations, make cancellations, and note when the VIP has arrived and been seated.
Streamlined Shifts
Be prepared for service whenever you have it. The system enables a business to review large parties and special events in advance. Quickly add notes to your staff and check the status of parties from your phone during service. Covers can be made online, walk-in, or by phone. A business can run reports on shift revenue, check averages, and week-over-week shift covers.
GuestCenter
OpenTable has partnered with the world's leading provider of online restaurant reservations. Using GuestCenter gives you access to millions of diners.
Over 31 million diners are seated each month via online reservations. No other restaurant management software can connect you with more people.
GuestCenter comes with over 600 integrations that are bookable everywhere, this includes Apple, Google, TripAdvisor, and Eater. All guests can view real-time availability and reserve a table directly on your website. You can also attract diners when you need them through the OpenTable marketing solutions.
Smooth Shifts
Consistently run smooth shifts with simple solutions and powerful integrations to set record-breaking shifts. GuestCenter allows you to maximize your bookings and manage the flow in your dining room using industry-leading availability controls.
GuestCenter enables a business to forecast and plan with your crew using printable shift summaries, cover trends, and shift stats reporting. You can communicate shift-specific booking rules or special events with pop-up shift notes. Use the Owner app to prepare pre-shift before ever stepping foot in the restaurant.
Smooth Service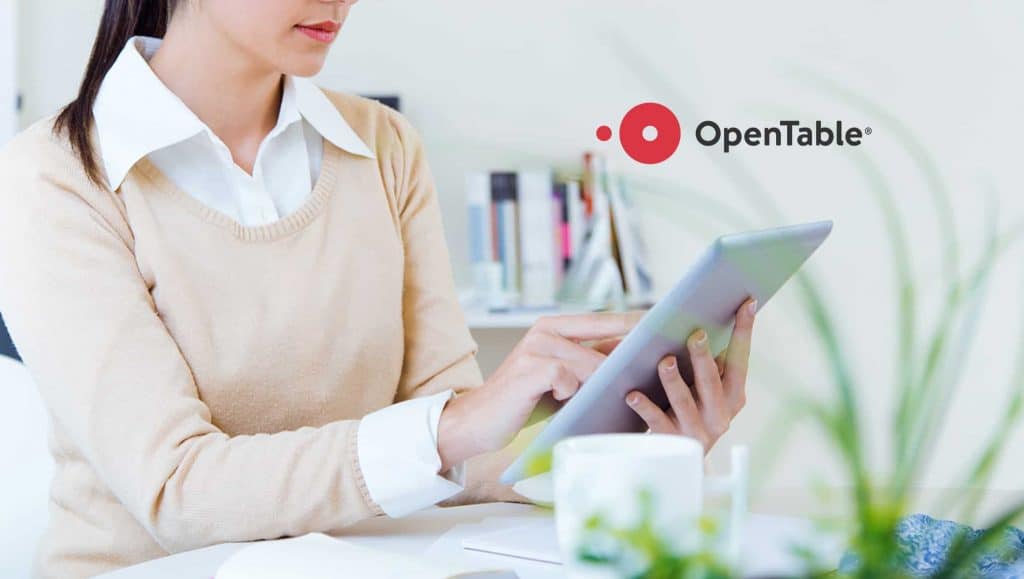 Keep the dining room buzzing and manage crowds with GuestCenter. It keeps the kitchen "in the know" and helps to set accurate timing expectations for guests.
The program is designed to be powerful yet approachable. That's because it's easy to use and simple to learn. This makes multitasking and running the floor a breeze.
The system also gives table assignment recommendations and seating prompts to maximize your space. This helps to optimize the kitchen and fit everything in snuggly. Robust server and section stats help streamline service and easily rotate seating.
Turn-time analysis reporting allows you to fine-tune your availability. Waitlist management provides guests with quotes on wait times and will text when the table is ready. Get automatic table statusing through POS integration which creates a faster turning at the front of the house.
Stay Secure and Accountable
OpenTable POS allows you to keep staff on track, security in check, and your account access controlled. A business can monitor who has access to what with specific permissions and user accounts. Ensure your team always follows the rules with passcode protection.
Credit card data is safe and secure with masked credit card vaulting. A brand can better protect their account with two-factor authentication at log-in. Always track user activity to help identify and resolve issues with reservations. This increases the accountability and performance of all staff.
Additionally, OpenTable's SOC2 certification means they regularly audit and evaluate compliance with processing and data storage.
OpenTable POS Customer Service and Support
OpenTable has an entire support network with a multitude of resources. The Guest Center is a full-service tool for table management, reservations, and data reporting. There is also a "Commonly Asked Questions" section and a "New and Noteworthy" as well.
Customer support is available via phone or email, with a diner support page as well.
The Final Say
OpenTable is an extensive platform that extends far beyond the point of sale service. With a multitude of features and integrations, it's the perfect system for any business in the foodservice industry that wants to drive sales and further engage with customers.
The following two tabs change content below.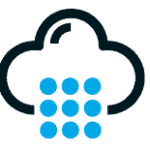 POS Quote Team
The staff at POSQuote.com is composed of industry professionals, experts, and current business owners. Through extensive research, we compile buyer's guides and review the best POS systems in the industry.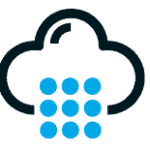 Latest posts by POS Quote Team (see all)
Reader Interactions