The mPower point of sale (POS) and inventory software is an intelligent liquor solution designed to offer you real-time and actionable business data. The software is specifically designed for liquor businesses, including wine, beer, and liquor retailers. 
It offers such features as business intelligence, inventory management, customer management, and customer loyalty programs. Statistical findings have revealed that the liquor industry has grown by about 3.1% this year alone. 
It is only an industry-specific POS system like mPower that will help you leverage this growth in your business. The solution will continually furnish you with valuable information you need to make sound decisions and remain competitive. 
Throughout this mPower POS review, you will learn why many liquor and wine business owners are intrigued by the solution. 
mPower POS System Alternatives 
| POS Name | Subscription Fees | Compatible Mobile Platform |
| --- | --- | --- |
| mPower POS | $2,200 upfront + at least $30/month | None |
| Cin7 | Starting from $299.00/month | iOS and Android |
| LightSpeed | Starting from $69.00/month | iOS |
| Booker | Starting from $129.00/month | iOS and Android |
mPower POS System Benefits 
Allows for easy employee management

Features I reheated gift cards and customer rewards

Supports barcode scanning 

Has age verification capabilities 

It is Touchscreen compatible

Allows you to search for items by category or description

Has automated promotions and discounting tools

Automates the ordering process 

The system is PA-DSS compliant

Supports Contactless and EMV Chip payments 

Equipped with Advanced reporting capabilities 

Allows you to sell and order for items by pack, case or individually

Makes it easier and faster to receive supplies with a scanner

Allows you to review sales history on purchase orders 

Easy Multi-Location POS scalability 

Offers Wholesale and phone order module options

Allows for easy warehouse management

Supports Website, QuickBooks, and App Integrations

Gives you convenient and secure access wherever you are 

Easy to customize printing and shelf labels 
Possible Drawbacks 
Completing transactions in this system is rather slow. Some users have also had problems integrating the mPower system to the VANTIV credit card processor. 
mPower POS Pricing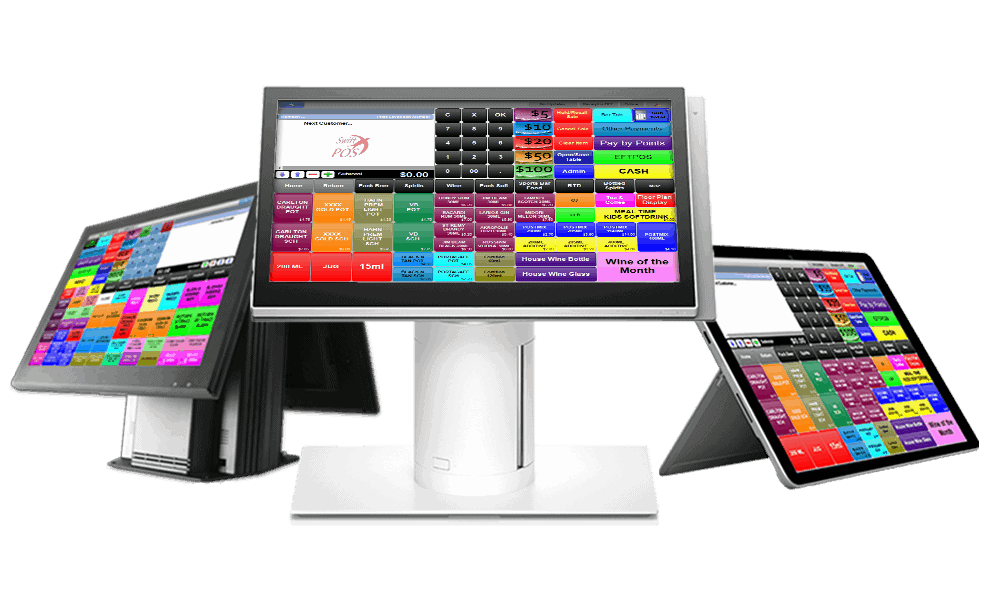 The mPower POS provider charges both upfront and ongoing subscription costs for its hardware and software products depending on different things. The licensing fee for the software is charged based on the number of registers in you store. 
As such, you may use the back-office features of the system on additional computers at no extra cost. Discussed below are the main mPower POS Pricing packages you should consider: 
Hardware Costs 
mPower is compatible with a wide range of both stationary and mobile hardware components. As such, you may decide to buy hardware components by the provider, a third-party manufacturer or just run it on the hardware you already have. 
Tis being the case, the much you will incur in hardware costs will depend on the hardware components you require.
Software Pricing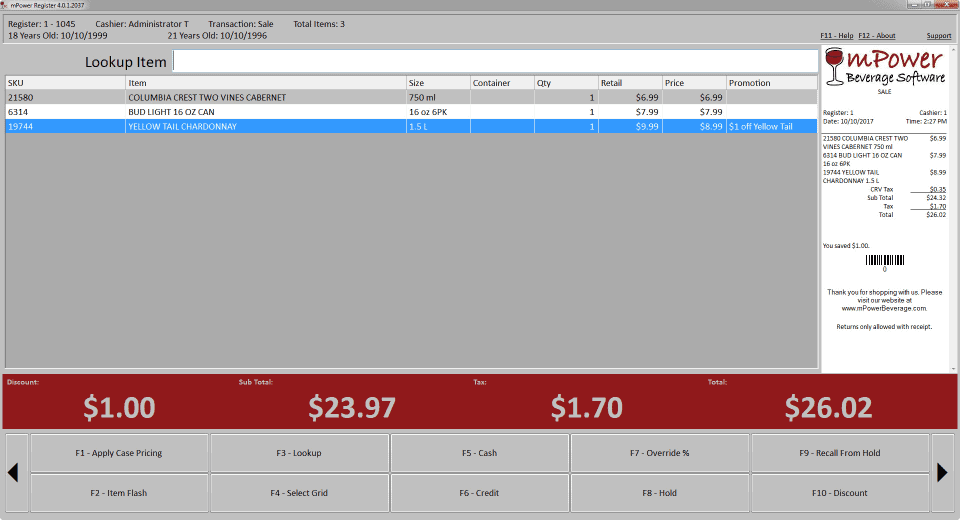 With the mPower liquor POS solution, software pricing starts at $1,000 upfront. You will be required to pay this amount upfront for each software license, per location. Thereafter, you will be required to pay an ongoing software subscription cost of at least $120 per month for each register.
Should you decide to add more registers, you will be required to pay $250 upfront for each additional station. This subscription includes a standard software renewal cost and cloud server hosting. To qualify for the subscription plan, you must use integrated processing with one of the mPower direct partners. 
mPower POS System Key Features 
Being one of the best liquor store POS systems, mPower comes with all the point-of-sale and I inventory features you need to run a successful business. Additionally, it is designed to furnish you with real-time, actionable data, ensuring that you always make intelligent business decisions. 
You may think it as a tool that will help you keep the business on track and running smoothly. Discussed below are other things that make mPower a preferred system among wine and liquor store owners today:
Intelligent Ordering and Transferring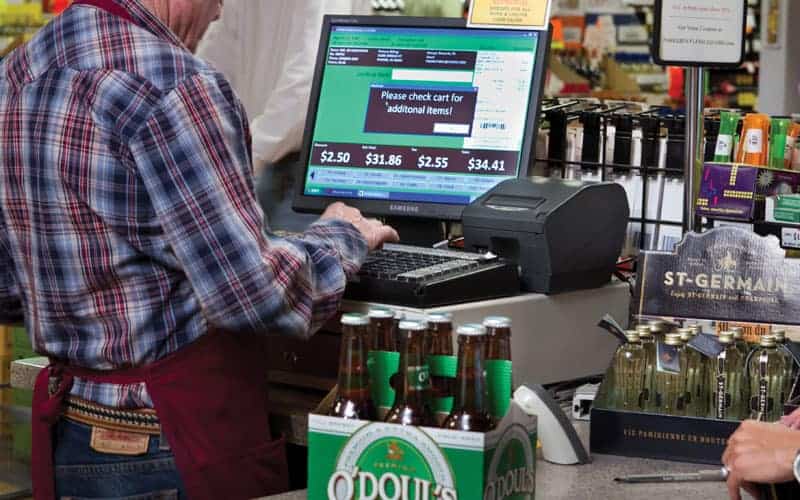 To begin with, the mPower liquor store POS system allows you to create ordering and transferring alerts based on business metrics. For instance, you can create weekly suggested transfer reports to get inflation on products that are in shortage in one location and in surplus at another location. 
Implementing transfers based on this intelligence will ensure that you do not miss sales due to having the right product in the wrong location. You may also use this capability to purchase the right products within a supplier deal. In this regard, mPower will let you know you how many cases of each size and flavor to purchase for each location. 
This is achieved using such metrics as the current selling velocity in each one of your locations and par counts or last year's sales.
Liquor Inventory Manager 
The liquor-specific inventory manager offers by this system makes it more convenient and easy to track stock levels in your business. With such a system, you will an easy time managing your cases, packs, singles, seasonal items, and vintages. 
The system allows you to track beverage specific attributes such as name, description, case pack quantity, bottle size, vintage, and varietal. You will also be able to track inventory levels by location, set up Min/Max par counts, and add isle/bin locations for each inventory item. 
Such beverage-specific attributes have been helping liquor retailers manage singles, 6-packs, and cases under one item; including seasonal items and vintages with ease. Other mPower inventory capabilities that make it stand out include:
Intelligent Ordering 
After you have created a purchase orders, you will find it rather easy to review the on-hand quantities and sales history on the same screen. By so doing, the system allows you to determine the actual quantities needed. 
This feature may also be used to create orders on the same list, with multiple vendors. In such a case, mPower will automatically create separate purchase orders for each vendor.
Easy Need-to-Order Reports 
It features need-to-order reports that have been proven to make the ordering process even easier. One such report is the Day Supply on Hand (DSOH), which allows you to review the items that you need to order based on the store selling velocity.
The Case Deal report, on the other hand, will help you ascertain the right mix of products to get the case deal pricing. This feature is particularly beneficial in cases where the vendors offer special pricing based on several cases. 
Customer Management and Rewards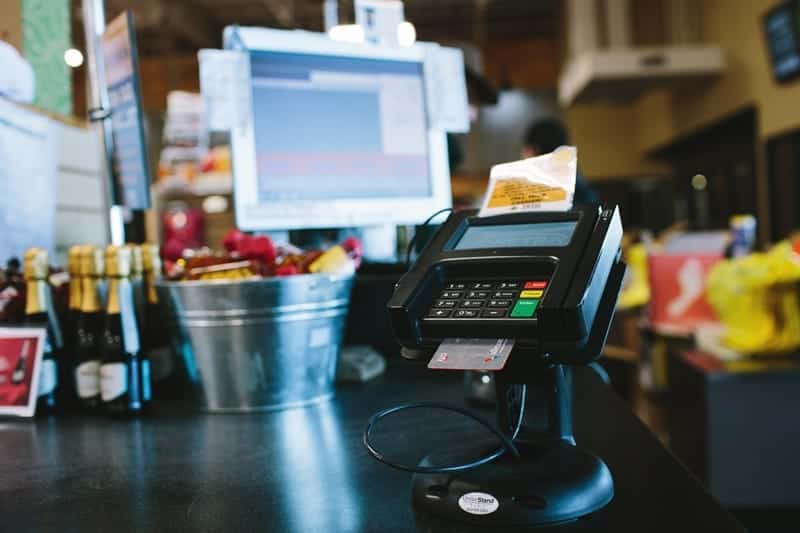 Effective customer management can provide you with valuable insight into their purchasing habits. mPower Beverage has a built-in customer relations tools, allowing you to manage customer promotions, rewards groups, and house accounts. 
In addition to tracking important customer information, the system is also capable of managing customer groups. As such, you may use the feature to create customer groups and use them to manage discounts, promotions, or house accounts. You can create as many customer groups as desired. 
mPower POS Integrations 
The provider has strategic integration partners in place to help you update information to your website, store apps, delivery apps, and electronic shelf tags. Some of the services you will b able to integrate with your mPower POS system include Fintech, QuickBooks, Pricer, Drizly, Drync, Bottlecaps, and Beverage Media.
Final Verdict 
The mPower beverages point-of-sale system is one of the best industry-specific, on-premise liquor store solutions. It is meant to help wine and liquor store owners manage the inventory, customers and pricing levels, among other things. 
It features advanced liquor-specific capabilities like case management (for single, six-pack-pack, and cases), pre-loaded beverage items, remote access, customer rewards and ordering/receiving custom-tailored to the beverage industry. 
These, along with its preloaded database of popular UPC codes, quantities and sizes, make mPower one of the best wine and liquor store POS systems.
The following two tabs change content below.
Reader Interactions