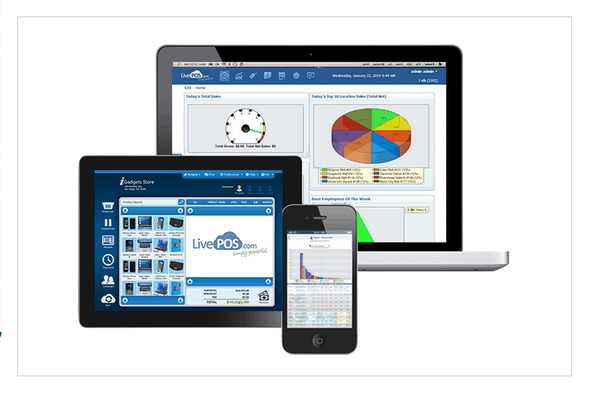 If you run a chain, a franchise, a multi-store, or any other retail store for that matter, consider LivePOS. This enterprise, cloud-based POS solution can help you manage inventory, customers, staff, and much more.
Use the various point of sale features like splitting a sale, applying coupons, sending SMS alerts, selling gift cards, and processing exchanges, to name a few. By using the inventory count feature, you'll be able to tell how many units are left in stock.
LivePOS also places special emphasis on customer retention and marketing. By using the customer lookup function, you can view purchases and add customer information. Track returning customers or add new ones with just a few clicks, and reward customers for repeat purchases.
After an extensive LivePOS review, we found it to be one of the best multi-store POS systems. With powerful and detailed reporting features, you can manage various locations from your headquarters. Sync all of your data to the other locations in real-time so you are always up to date. Finally, view extremely detailed sales data, down to the number of transactions per day or customers served.
Use state-of-the-art hardware like the barcode scanners to check-in inventory into your store. Manage your stock and purchase orders without limitations. By using a wireless barcode scanner, you can "shoot" items on the shelf and go back to your POS for a total inventory count.
With more features than we can possibly list here, let's examine how LivePOS can help your business increase sales and automate various tasks.
LivePOS System Review – Company Overview
LivePOS was established in 2006 and was the first ever cloud-based point of sale technology. The system is used by thousands of people across 25 countries, making it the biggest cloud POS provider in the world.
The company operates out of four offices, from La Jolla to the Philippines, China, and Israel. Privately owned, LivePOS employs over 100 people worldwide and continues to expand.
Top Benefits from LivePOS
Flexible pricing plans tailored to business size and payment preference.
Multi-store cloud-based management.
In-depth reporting for consistent health check.
Responsive and mobile hardware that is durable and reliable (offline/online).
Employee and customer management tools for smoother operations.
LivePOS Pricing
LivePOS is built for chains and franchises, so there are no frills to their pricing. It's very upfront with no monthly subscription required. They have two separate ways to pay, with three tiers each. There is even an option for a multi-year agreement for the highest amount of savings.
Option #1 – Yearly Agreement
The most cost-effective way to purchase the LivePOS solution is on a yearly (or multi-year) basis. These contracts include better pricing.
Single Outlet

$89/month with agreement
Additional checkout lane ($39/each)
Real-time dashboard
Customer relationship management
Sales and inventory reports
Inventory management
Growing Chain
$129/month with agreement
Additional checkout lane ($39/each)
Everything in the smaller plan, plus:
Employee payroll and commission
Analysis and franchise reporting
Vendors and purchase orders
Customized tenders
Work order and repair
This package also comes with chat/SMS alerts, custom access levels, and invoicing. Further discounts are available with certain requests.
Franchise
The pricing for yearly contracts for a franchise is quote-based. It is the most extensive package LivePOS offers. It includes everything the other tiers have, plus what's needed to manage the larger volume of a franchise.
That involves:
Boarding and data migration
Franchise dashboard
Extended support and free training
Marketing and 3rd party business intelligence
There is much deeper reporting at this level with multi-store management capabilities and silos built for large sets of data. Every feature is customizable to fully meet the needs of a larger operation.
Option #2 – Pay As You Go
If you don't want to lock yourself into a full year just yet, a business can also opt to "pay as you go." Pricing is a little more for these packages, as is to be expected.
Single Outlet

$99/month
Additional checkout lane ($39/each)
Real-time dashboard
Customer relationship management
Sales and inventory reports
Inventory management
Growing Chain
Everything in the smaller plan, plus:
Additional Checkout Lane ($39/each)
Vendors and purchase orders
Custom access levels
Chat and SMS alerts
Invoicing and account receivables
Analysis and franchise reporting
This tier of pricing also includes features for employee payroll and commission, customized tenders, and work order and repair. An additional discount is available for this package.
Franchise
Just like the yearly contract, the Franchise pricing tier is quote-based. Every franchise has different needs. Your best bet is to call a consultant to get exact rates for a big operation.
Live POS System Requirements and Capabilities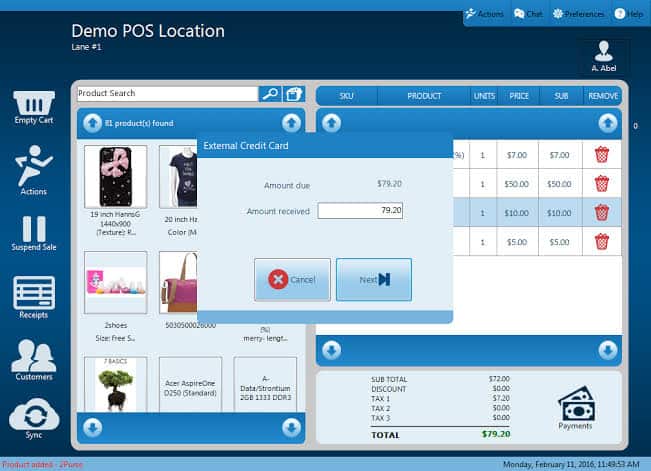 LivePOS has been around for a while, so they have had time to build a large repertoire of equipment and features to satisfy the needs of any business.
LivePOS services a variety of industries and types of business. There are some they have developed specific packages for. In addition to basic retail, some other platforms include:
Clothing and apparel
Fitness and health stores
Liquor stores and vape shops
Jewelry stores
Service and repair
The company also offers a self-service kiosk depending on your customer needs.
Hardware
LivePOS uses the 64-bit tablet LivePad II. In addition to mobility, features include:
Windows 8
Dual-core processor
Retail jacket
The hardware is priced at $600 with an option for a retail expansion dock.
Features
LivePOS is built with hundreds of features. The point of sale software has all the regular expected features of a POS, like cash and credit transactions.
A clerk can easily split a sale, process a refund/exchange, and request a digital signature.
The system will accept gift cards, coupons, and even work offline.  Employees can clock in and out, scan barcodes, and set minimum price restrictions.
If necessary, a sale can be suspended or cleared to iron out any in-store issues.
Other features of the system are:
Customer Relationship Management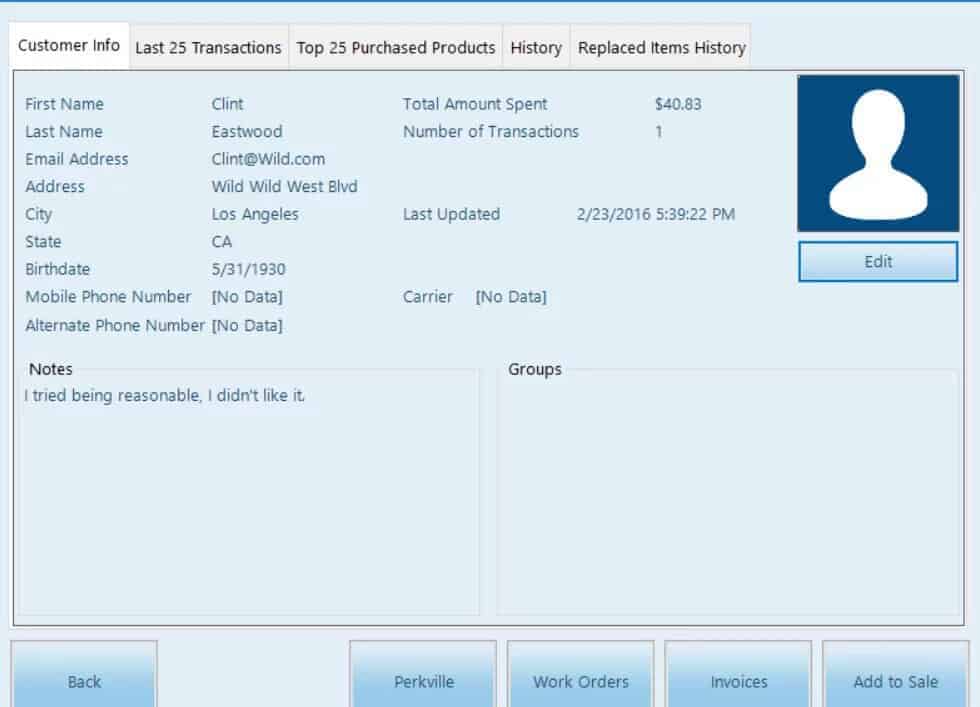 This LivePOS option ensures all of your customer data is stored and easily searchable. This includes purchase history via phone number or email.
The system uses POS ID and the invoice number to track repeat customers. You can also quickly add a customer to the system using the "quick add" button on the dashboard.
Smart Inventory
A cashier can use to platform to perform a demo exchange on products that were sampled. Missing and damaged items can be accounted for and deducted from inventory.
When receiving a purchase order, LivePOS confirms the number of requested units for every item. It also provides a request form for items that need to be replenished according to inventory count.
Deep Reporting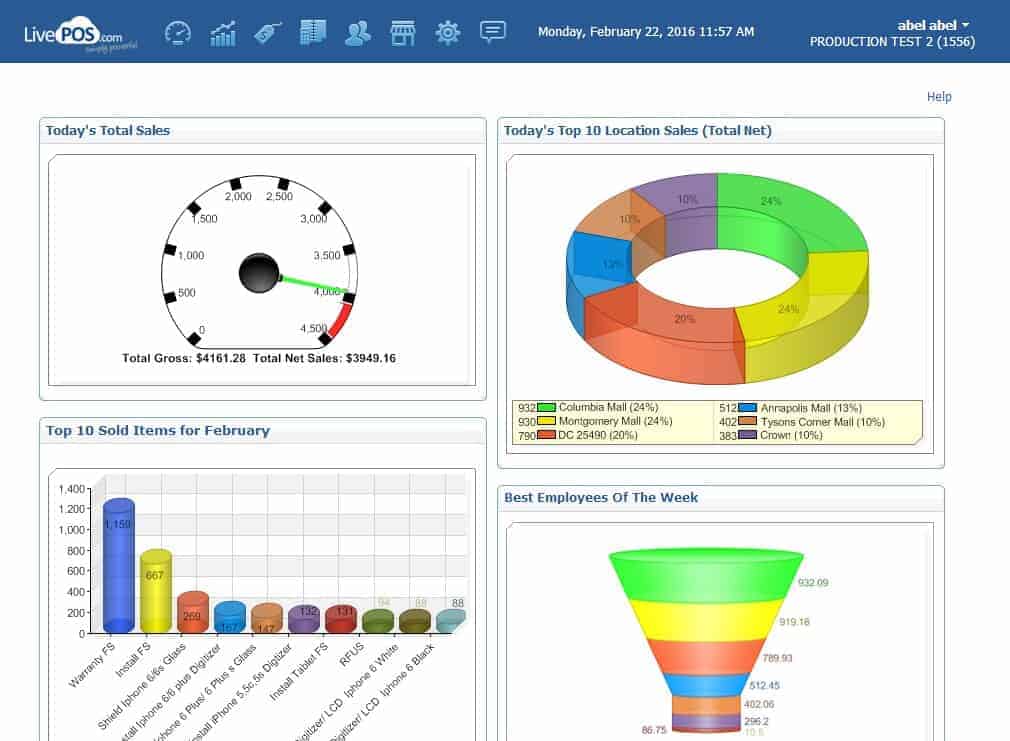 LivePOS offers a large volume of pre-set and customizable reports. During the day, the system will track the number of sales made by each employee.
Other reports you can run include:
Detailed Sales – Total summary of sales made in a certain timeframe.
Sales Summary – Total number of transactions by cash, credit, etc.
Sale Blitz – Run and view cross-company competitions.
The system will also allow you to manually input data if the scanner cannot read a barcode.
Additional Features
LivePOS has an extensive suite of tools that can benefit a business of any size and style.
Some other features to consider are:
Work orders and repairs
Multi-store management
Enterprise API
Social media management
LivePOS even allows a business to view security cameras across multiple locations. The brand offers so many features, you could get lost. If you have specific issues to solve, it may be quicker to call.
LivePOS Customer Service & Support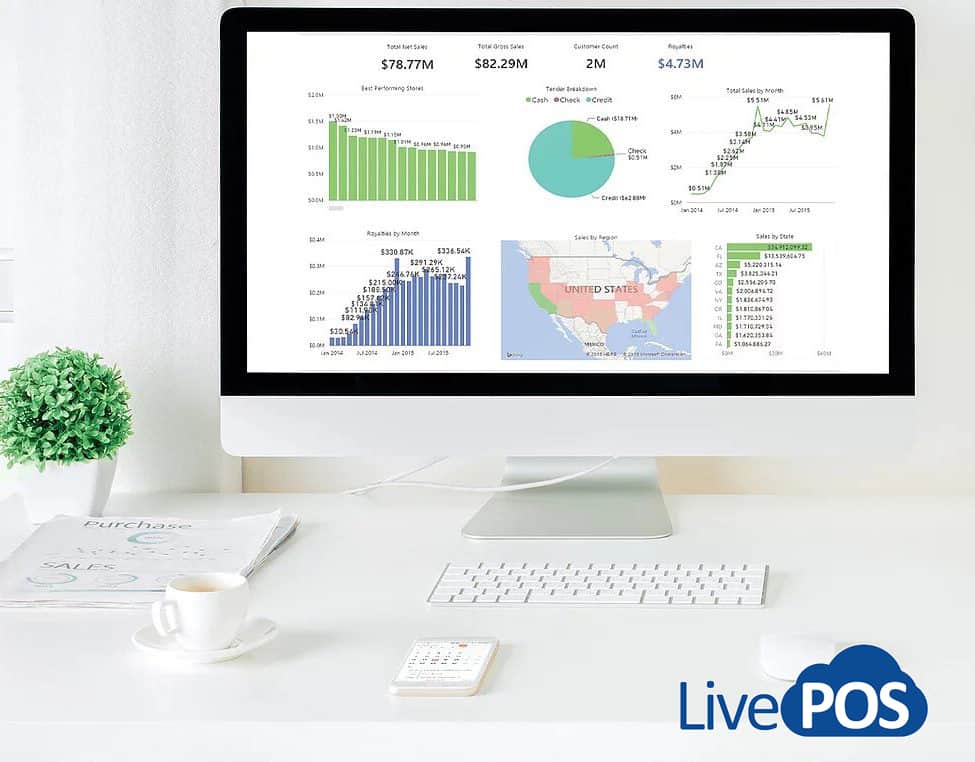 LivePOS provides free 24/7/365 support for all customers, regardless of business size. They have a variety of resources to suit any style of learning and training. Here are a few:
Remote hands support
LivePOS University
Dynamin videos and webinars
Service Health Dashboard
LivePOS Store
You can also book a meeting with one of their professionals at any time to help set up your system. They'll work with you to develop a successful launch program tailored to your business needs.
The Final Say
LivePOS was the first to consider making point of sale system that took advantage of cloud technology. This solved a major problem for the industry, where a system offline was a useless one. Therefore, if cloud capability is a strong sell for your business, this may be the perfect fit.
The flexibility of pricing and payment options, as well as hundreds of features, means a company can etch out a solution that works best for them. You don't need someone to do it for you, but they are there if you do (which is nice).
A POS system on this custom level is typically costly, but LivePOS offers affordable solutions to better a business big and small. They care about seeing you succeed.
Reader Interactions