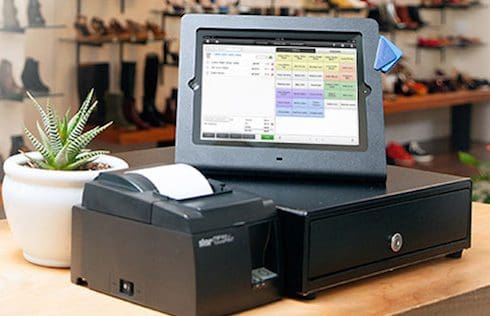 Most people probably know Lightspeed for their restaurant POS system, and Quickbooks for their accounting software. However, both are also retail POS giants, with systems that can help you automate orders, track inventory, and, ultimately, make your revenue generation more efficient.
Lightspeed POS offers eCommerce solutions, omnichannel marketing options, contactless payments, memberships & subscriptions, inventory management, multi-location management, detailed reports, and more. By fully integrating all of these features in a single platform, Lightspeed POS is a powerful tool for businesses of all sizes.
QuickBooks POS also features a suite of powerful features, including sales & transactions, inventory tracking, multiple hardware options from tablets to flip stands, eCommerce management, and a seamless integration with QuickBooks accounting software.
In our research for the Lightspeed and QuickBooks POS comparison, we found that QuickBooks is a better option for smaller businesses due to its streamlined, easy-to-use functionality and accounting integrations and automation. Lightspeed, on the other hand, is built to scale and is an excellent option for large and rapidly growing businesses.
In terms of pricing, Quickbooks POS charges a one-time license fee starting at $1,200 for the POS Basic package, as well as several options for payment processing fees. You can pay $0 per month and pay 2.7% per swipe (3.5% for keyed and 1% for PIN), or pay $20 per month and pay 2.3% per swipe (3.2% for keyed and 1% for PIN) as well as a $0.25 per transaction fee.
Lightspeed's pricing is structured with a more standard monthly license fee starting at $69 per month for the Basic package and going all the way up to $229 per month for pro. Their transaction fee is a flat 2.6% + $0.10.
Lightspeed and QuickBooks POS both offer safe and secure options for your business transactions, both in-person and online. Let's dive into each platform's features, pricing, and support options.
Lightspeed POS vs. QuickBooks POS: Side-by-Side Comparison
| | | |
| --- | --- | --- |
| Starting Software Price | $69 per month | $1,200 (paid once, not monthly) |
| Free Software Trial | ✓ | ✓ |
| Cloud-Based | ✓ | X |
| System Accessibility | Installed Mac, iOS & web-based mobile app | Windows installed |
| Customer Support | 24/7 Live Support | Monday through Friday, 6:00 am PST to 6:00 pm PST |
| Ideal Customer Size | Mid-sized to enterprise-level businesses | Small businesses |
Lightspeed vs. QuickBooks: Overviews
Each of the systems reviewed and compared in this article have quite different backgrounds. To provide context for what you'll find below, we'll start with company and system overviews.
Lightspeed POS Overview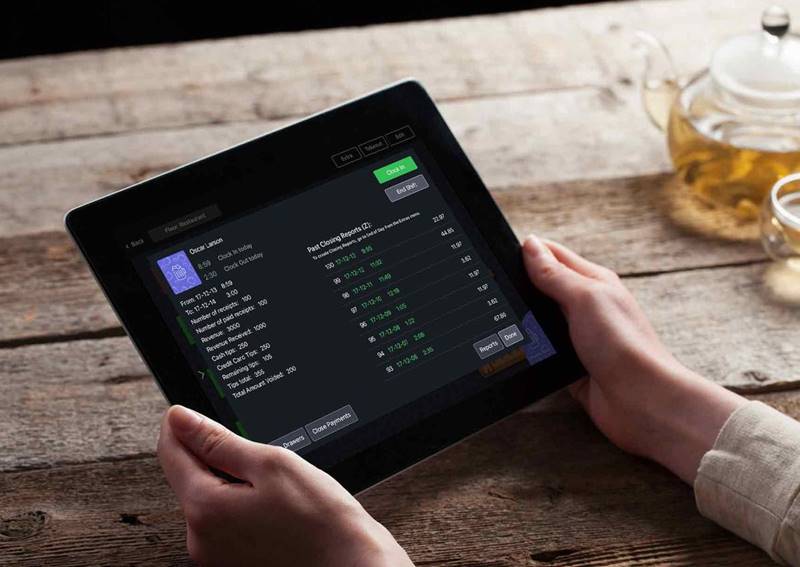 Lightspeed's Retail POS system is a good fit for large to enterprise-level businesses. Some smaller businesses say it's fairly complex and thus not a good fit for them.
Although, QuickBooks is also considered by users to be complex and challenging to learn and use.
Lightspeed offers a more powerful and expansive feature set than many other retail POS systems. Smaller retailers find they don't need many of the extra bells and whistles that come with Lightspeed.
They often end up going with a cheaper, simpler option, such as Square POS.  Regardless, plenty of smaller businesses do leverage Lightspeed and achieve great results in the process.
Lightspeed Retail POS is cloud-based and is typically used with an Apple iPad. It can also be used as a software as a service (SaaS) app on any device with a web browser.
QuickBooks POS Overview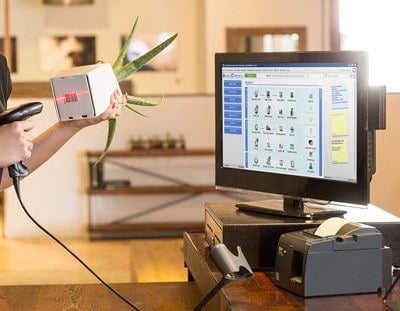 QuickBooks is produced by Intuit, a household name in the technology space that also makes TurboTax, Preconnect, and more. QuickBooks started out as an accounting solution. Since then, it has expanded in many directions and point of sale is one of them.
QuickBooks POS is designed for retail stores and is best suited for small businesses. Users report that the system doesn't scale very easily. This may be due to the fact that it's an installed software solution (as opposed to a SaaS solution).
This is a growing pain point for users because most POS systems sold today are SaaS, cloud-based solutions. This ties directly into accessibility, so we'll turn our attention there now.
Lightspeed vs. QuickBooks: System Attributes
Below, we cover aspects of each system that turn out to be either selling points or deal-breakers for consumers. We'll start with accessibility as mentioned above.
System Accessibility: Installed vs. Cloud-Based Software
Users' ability to access the system rapidly and without roadblocks is incredibly important. If you can't access your system when you need it, your ability to drive revenue growth diminishes significantly.
Lightspeed POS Accessibility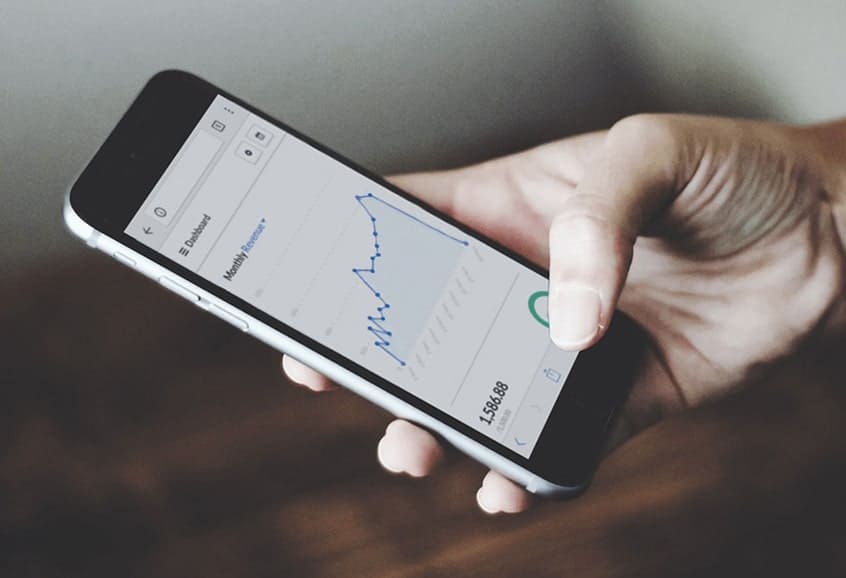 Lightspeed is a mobile POS system, meaning that it relies on the internet and mobile devices to function. This makes it easy to access the system any time of the day or night, from anywhere in the world. All you need is an internet connection or mobile data.
What does that mean? Mobile POS systems store all relevant data in off-site servers that are constantly backed up. This eliminates any concerns about losing your data. If your mobile device crashes, all you need to do is log back into Lightspeed and you're up and running again in no time.
In short, Lightspeed is very accessible and consumers increasingly want cloud-based software instead of antiquated, installed software.
QuickBooks POS Accessibility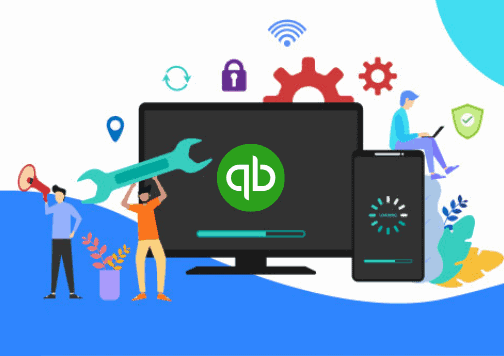 QuickBooks POS is not a mobile POS system. Instead, it is installed on a local computer, and data is stored on site in a local server.
If your system crashes and your database breaks down, you could lose your historical data forever.
Locally-installed software does deliver certain benefits. For example, if you lose internet access in your store, you can still use your system because it doesn't rely on a signal to operate. However, the disadvantages tend to outweigh the advantages.
WINNER
Lightspeed wins because locally installed software has almost entirely been replaced by SaaS solutions.
Billing Methods
Lightspeed, being a cloud-based system, requires you to log into the system to use it—much like modern email providers. Its users pay a monthly subscription fee to use the system.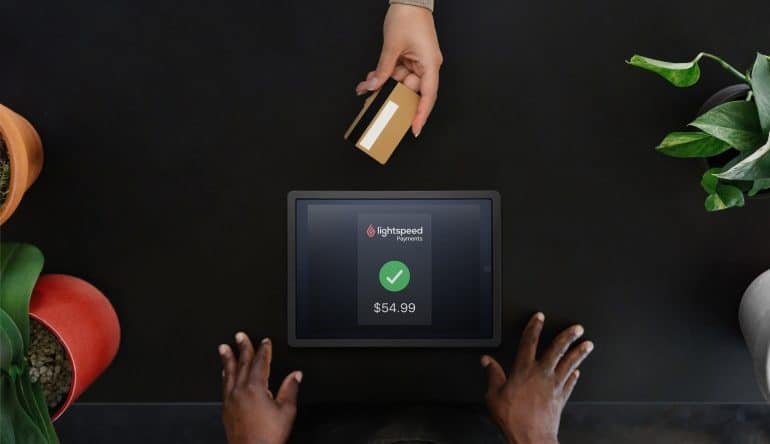 One great advantage of using subscription-based, SaaS solutions is that when an update comes out, your system is automatically updated. You don't pay for updates. You just see new features appear when you log in.
QuickBooks POS, being installed software, bills customers $1,200 to purchase the system. Users don't pay subscription fees. It's similar to the difference between buying and leasing a car.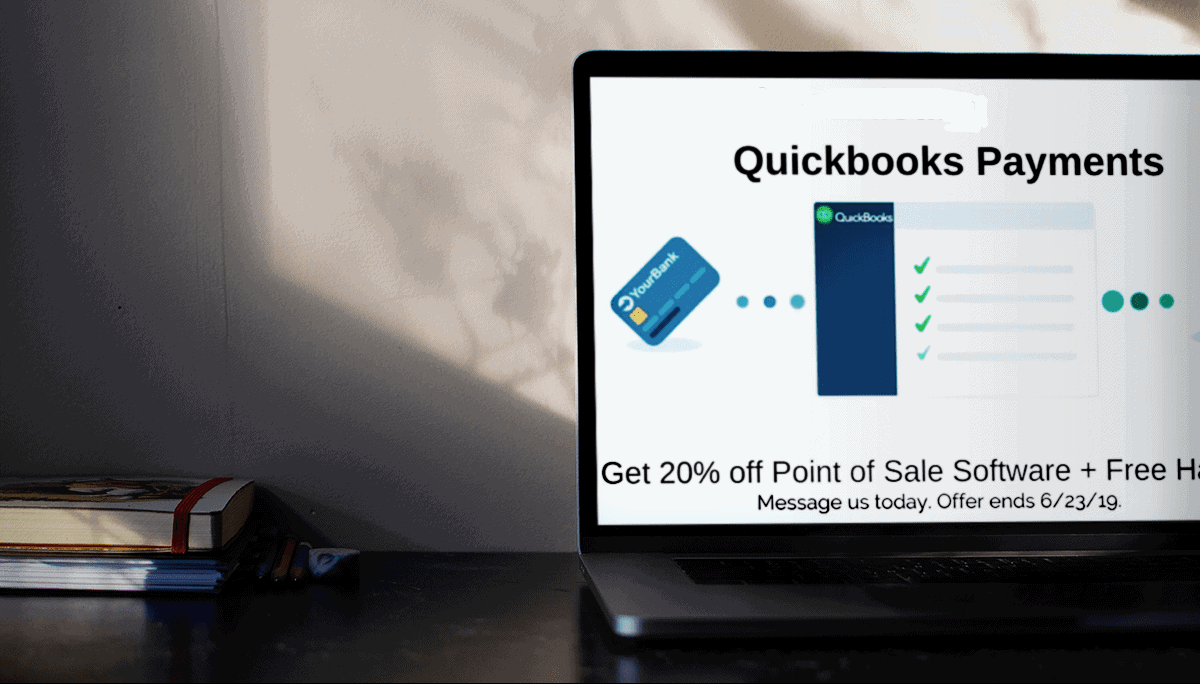 One major deal-breaker for QuickBooks is its "Sunset Policy." Every year Intuit releases a new version of QuickBooks POS with new features and bug fixes. To use it, you must pay for the upgrade and installation. Plus, each version is only good for three years and is then discontinued.
This doesn't mean you are forced to purchase the upgrade in order to keep using the system. But QuickBooks does stop supporting discontinued versions.
If you run into a problem, there's no one to call and you're left with a useless system. You can easily see why this would be a deal-breaker for many consumers.
WINNER
Lightspeed wins, for obvious reasons.
POS Software Features
Let's take a look at how each system compares to the other in terms of features and functionality.
Lightspeed POS Software Features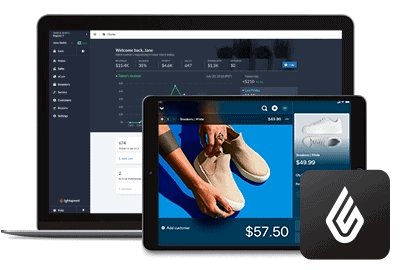 Lightspeed provides such a large number of features that we can't list them all in this article. Instead, we'll list out some of the most important features potential buyers want and look for in a POS system.
Marketing Tools: Lightspeed lets you automate and customize targeted marketing campaigns based on collected customer data.
Reporting and Analysis: Lightspeed shines here with powerful metrics tracking, reporting, and analysis. Plus, you can easily access reports through a built-in dashboard.
Inventory Management Capabilities: With the ability to automatically track virtually everything and easily report on it, Lightspeed is a leader in this area.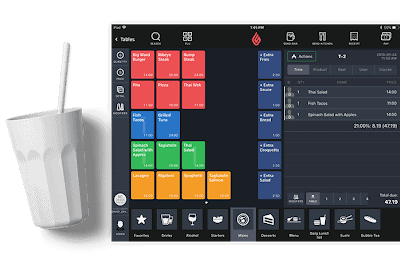 Integrations: Lightspeed POS delivers integration capabilities that allow you to sync third-party applications with your POS system. This lets users customize the system to meet their unique needs.
Built-in eCommerce Stores: With Lightspeed, you can build your own eCommerce store with secure payment processing capabilities.
SEO Optimization Tools: Built-in search engine optimization (SEO) tools make it easy to optimize your online store's site for higher search result rankings.
Customer Loyalty Programs: Lightspeed makes it easy to reward your best customers with discounts, gifts, etc., through its built-in loyalty programs.
QuickBooks POS Software Features
QuickBooks POS also offers many POS software features. Just note that some of the features below are not included in the $1,200 base package. Rather, you must pay for a higher-tier plan to gain access to them.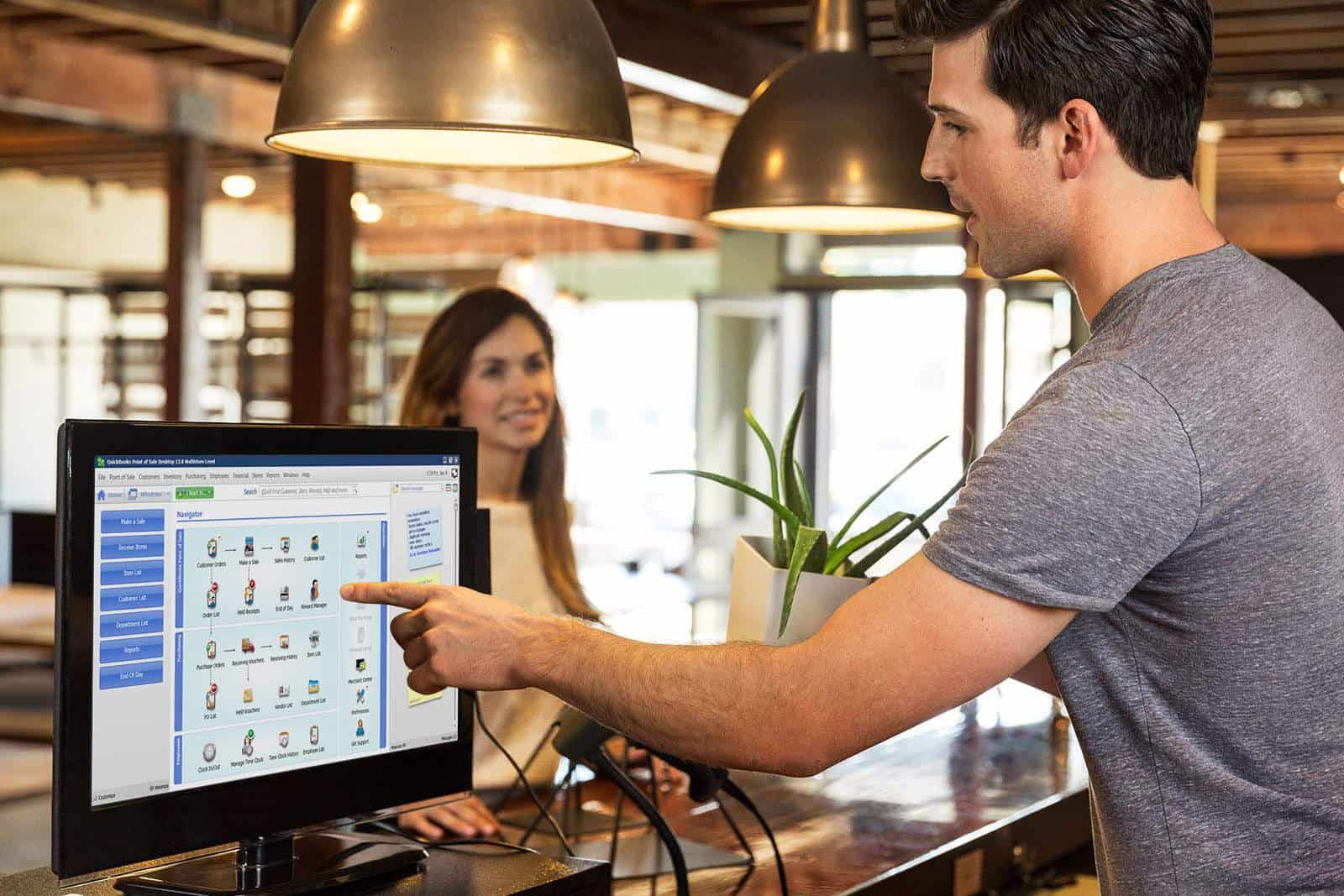 Integrations: QuickBooks POS is great when it comes to integrating with other Intuit products. Other integrations offered are reported to be cumbersome and error-prone.
Reporting and Analysis: QuickBooks features powerful reporting that is on par with Lighthouse's reporting and analysis features.
Employee and Payroll Management: QuickBooks POS tracks hours worked, employee shift scheduling, payment due, and more.
Inventory Management: QuickBooks POS delivers decent inventory tracking and management features. The only potential downside is that multiple users claim it's not possible to automate the entry of inventory in the system. Instead, it is either done manually, or through a paid integration with QuickBooks Finance.
Payment Processing: QuickBooks gives customers multiple payment options. These include automated check splitting and card readers that can read and process all types of credit and debit cards.
WINNER
Lightspeed wins due to faults in QuickBooks' inventory features and troublesome third-party integrations.
POS Hardware
POS hardware is an essential element of a complete POS system. Let's see what each system offers.
Lightspeed POS Hardware

Lightspeed doesn't manufacture POS hardware. But the company sells plenty of third-party components. They publish a list of third-party components that are compatible with Lightspeed POS, giving customers confidence when they purchase third-party hardware for Lightspeed.
QuickBooks POS Hardware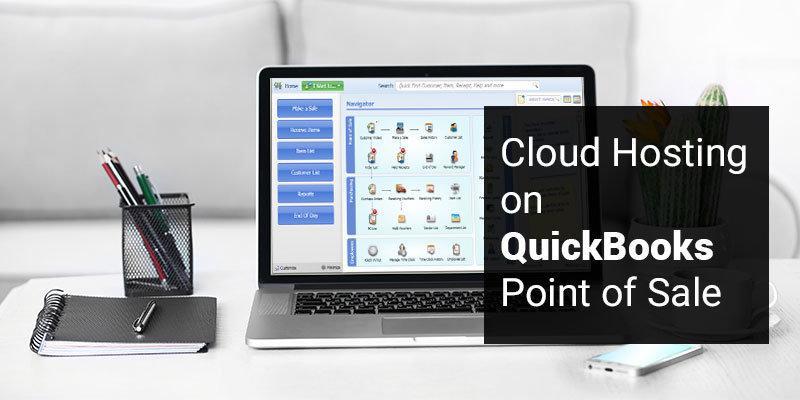 Just like Lightspeed, QuickBooks does not manufacture POS hardware components. Instead, you can buy hardware from QuickBooks that's manufactured by third-party vendors. The QuickBooks' website lists all compatible hardware. The company does not sell hardware bundles, only individual components.
WINNER
We call it a draw.
Which System Would Best Serve Your Unique Needs?
QuickBooks POS is a good fit for smaller retail businesses that already use other Intuit products. In that scenario, QuickBooks POS slides right into the business's existing software ecosystem.
For larger retailers that are not using QuickBooks' other products, Lightspeed seems like the obvious choice. This is backed up by our reviews and comparisons above.
From nearly every angle, Lightspeed seems to be a more modern, powerful system and certainly receives better user reviews than QuickBooks POS.
As you evaluate systems, the best thing you can do is conduct deep research into the systems that catch your attention. Make a shortlist and ask for a demo or a free trial before purchasing.
If you already shortlisted Lightspeed POS and QuickBooks POS, we can guide your next steps. You can start by reading our full Lightspeed POS review, and our comprehensive QuickBooks POS review.
Reader Interactions