If you run a restaurant, you know how hectic life is in the food and beverage industry. It's intense and that intensity intensifies when you add deliveries to the mix.
Finding a software solution that meets the needs of restaurants that process a high volume of deliveries can be tough.
That search becomes even tougher when you want a point of sale (POS) solution that includes those features. Many systems simply automate online ordering and delivery but don't include POS features.
One solution that does include everything is HungerRush (previously called Revention). It covers all the bases and it does so well.
Today, we're going to see how the competition stands up to HungerRush. Below, we compare it to six systems to uncover weaknesses and strengths in each solution.
Before we jump right in, we'll start with some high-level system comparisons.
High-Level Side-by-Side System Comparisons
POS System

Operating System

Customer Support

Free Trial?

Quote-based

iOS, Android, and web-based app

24/7 Support

X

$99 /month + $199 setup fee (Per location w/ 2-year contract)

* Prices increase the shorter the contract

iOS, Android, ChowNow tablet, and Mac installed

24/7 Support

X

$89 /month
+ $199 setup fee (Per location)

Web-based app

24/7 Support

X




Quote-based




Windows installed




24/7 Support




✓

Quote-based

Windows installed & web-based app

24/7 Support

X

Quote-based

Windows installed

24/7 Support

X

Quote-based

Windows installed & web-based app

24/7 Support

X
Our Methodology

Because we'll be comparing one system (HungerRush) to multiple competitors, we can't cover every aspect of every system. Nor can we cover even a few aspects of each system.
Instead, we selected one strong selling point or dealbreaker for each of the compared systems. Below we'll explain how HungerRush stacks up in each of those respective areas.
The majority of these systems excel in online ordering and delivery services. However, most of the systems below deliver features that fill the needs of all types of restaurants. These companies' offerings include quick service POS, full service POS pizzeria POS, and more.
Because of that, any feature or system aspect is fair game as HungerRush goes head to head with six of the leading restaurant management systems on the market.
Let's kick things off by taking a slightly deeper look at HungerRush and some of its core features and system attributes. Then we'll follow with a quick comparison of HungerRush and each of its competitors.
HungerRush Overview: Baseline for Comparison

HungerRush, previously known as Revention, only recently changed its name and branding. Founded in 2003, the system has had plenty of time to evolve into a powerful vendor.
HungerRush delivers comprehensive restaurant management systems for pizza, delivery, takeout, quick service, bars, and full service restaurants. It particularly excels at streamlining operations for pizzerias.
The cloud-based solution delivers solid front-of-house, back-of-house, and back-office functionality. Key features include online and mobile ordering, customer loyalty programs, and a business management and reporting console.
HungerRush's flexible feature set makes it very easy to manage a single location or multiple locations.
All that, combined with high customer support user ratings, make HungerRush an impressive system. It can seemingly do it all when it comes to restaurant management. But how does it stack up to the competition?
ChowNow

ChowNow is an online ordering application, not a full-on POS system. It lets users take commission-free orders from various channels, including Facebook and even Google.
Plus, it includes a few additional features like menu management and marketing.
The Differentiator: Selling Point or Deal-Breaker?
With a two-year contract, ChowNow costs $99/month plus $199 for installation.
Paying monthly with no contract costs $149/month plus $399 for installation.
Despite those prices, you must pay additional monthly fees for some crucial features.
Deal-Breaker: Ridiculous Delivery Service Fees
ChowNow doesn't include delivery features, but the company will send someone to pick up and deliver the order.
You'll pay $6.75 for the first mile and $1.00 for each subsequent mile. Boom, you just lost 50% of the money your business earned from that order.
HungerRush provides delivery capabilities that track a delivery's location in real-time, provide directions, and streamline the entire process. Plus, you use your own drivers and pay them by the hour, not by the mile.
WINNER
HungerRush wins for not charging exorbitant fees for add-on features and services.
Orders2Me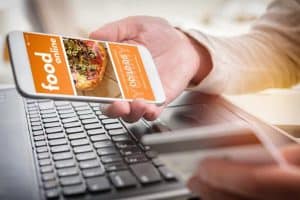 Orders2Me is another commission-free online ordering management platform. It includes most standard features for this class of software. It also lacks a few.
It does not let customers order from social media or Google. It does include delivery tracking and management features at no additional charge.
Its reporting isn't the most robust. But the system is incredibly easy to use and includes value-added features like email marketing and unlimited orders.
The Differentiators: Selling Points or Deal-Breakers?
Two aspects of the system differentiate it from HungerRush.
Deal-Breaker: Fee-based Integrations
Orders2Me gives you the option to integrate with a POS system. It costs $50/month to do so.
The worst part? You can only integrate with two POS systems: MICROS 3700 and Aldelo.
HungerRush doesn't charge for integrations.
Additional Points Subtracted from Orders2Me: Feel like wasting more money? For $500/month they will create 30 social posts, one animated post, and one newsletter for you.
Selling Point: Great Customer Support
Simply put, Orders2Me delivers awesome customer support, and users back this up in reviews.
HungerRush has excellent customer support, but it's not 4.9-stars-out-of-5 customer support.
WINNER
Overall, we call this a draw.
Microworks Prism

Microworks Prism offers a restaurant POS and a pizzeria POS system. Both of those systems provide sufficient features to manage your restaurant or pizzeria from end to end.
Prism also offers a number of other offerings—add-on modules that integrate with your Prism POS system.
But there's a glaring issue lying just under the surface.
The Differentiator: Selling Point or Deal-Breaker?
That glaring issue? Neither of the two Prism POS systems include essential features necessary to run a restaurant or pizzeria.
Deal-Breaker: Nickels and Dimes
You must pay extra to use essential features that are absolutely necessary to run a restaurant or pizzeria.
Those fee-based features include reporting, delivery management, and even online ordering. Why does a pizzeria POS provider charge you for delivery and online ordering features? The jury is still out on that.
What we do know is that this nickeling and diming certainly turns away many potential customers.
WINNER
HungerRush wins.
MICROS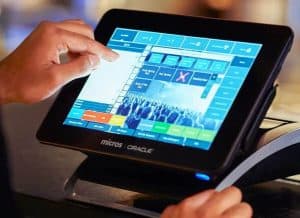 MICROS is owned by Oracle, the multinational technology goliath that specializes in database and cloud-based software.
Plus, MICROS was among the first POS systems ever produced, starting in 1977 with rudimentary restaurant and retail POS systems.
When Oracle acquired MICROS and started driving the evolution of its POS systems, competitors cringed.
The Differentiator: Selling Point or Deal-Breaker?
MICROS POS can complete all the same functions as HungerRush. But MICROS is so powerful in one area that there's really no competing with it.
Selling Point: Superman Reporting
This is more than a selling point. MICROS's powerful reporting is second to none in the POS space. Why? Oracle.
Oracle generated nearly $40 billion in revenue last year (Source). The data storage and processing giant eats reporting for breakfast. As mentioned above, there's really no equal in the POS space. Not even HungerRush.
WINNER
The Oracle + MICROS tag team wins by a long shot. It wasn't even a fair match-up.
SpeedLine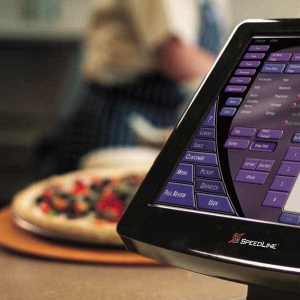 Speedline develops a few different restaurant POS systems, including its quick service POS,  full-service POS, and enterprise POS.
However, Speedline's true specialty is tossing pies. Its pizza POS system is an impressive solution. It includes standard features like reporting, discounts, marketing capabilities, delivery, and inventory management.
But there's something special about SpeedLine's love for pizza.
The Differentiator: Selling Point or Deal-Breaker?
The company has devoted loads of energy to pushing the pizza POS space forward.
Selling Point: Trademarked Pizza POS Tools
Speedline has developed and trademarked pizza POS-specific tools that send pies flying out the door.
These include SpeedLine LiveMaps™ visual delivery dispatch, SpeedDine® online ordering, and SpeedLine Menu Designer™ Topping Matrix—among others.
That's how you go the extra mile to please your users—ATTN: pizza tossers, please take notes.
HungerRush sells a pizza POS but the company isn't inventing and trademarking new tools to push the industry forward.
WINNER
SpeedLine wins.
NCR Aloha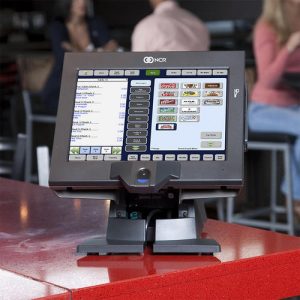 Aloha is manufactured by NCR Corporation, a giant in the POS industry. NCR was founded in 1881 and has been accumulating collective expertise ever since.
Its latest brainchild, Aloha POS, is a restaurant POS system that you'd expect to break ground considering its noble heritage.
Aloha serves restaurants of all types and sizes, delivering all the restaurant POS features you'd expect to see. But something is missing.
The Differentiator: Selling Point or Deal-Breaker?
The problem is that Aloha tries to be all things to all food and beverage businesses. It delivers tons of features but doesn't specialize in any one area.
Deal-Breaker: The "Meh" Factor
Although Aloha has lots of potential, it falls short by stretching itself too thin. It should narrow its focus and do fewer things really well as opposed to many things at a mediocre quality.
It lacks that "Wow" factor, but certainly has that "Meh" factor going for it. It's just another fish in a massive sea until it zeros in on its area of specialization.
WINNER
HungerRush wins.
Which Restaurant POS System Best Meets Your Needs?
As far as restaurant POS systems with a focus on delivery and online ordering go, HungerRush holds its own.
It is certainly outpaced by some competitors in specific areas, while it overtakes other competitors in other areas.
Each system above has its strong points, even Aloha as it easily caters to enterprise-level chain restaurants.
The system that impressed us the most was SpeedLine due to its dedication to its industry. Not many POS providers are innovating in the way SpeedLine is.
Ultimately, any of the above systems could be a good fit for your business. It all depends on your business requirements, needs, and business model.
Keep evaluating and you'll find the right system to meet all your unique needs and drive revenue growth like you've never seen before. A great way to continue your evaluation of restaurant POS systems is to check out article on the top restaurant POS systems.
Reader Interactions