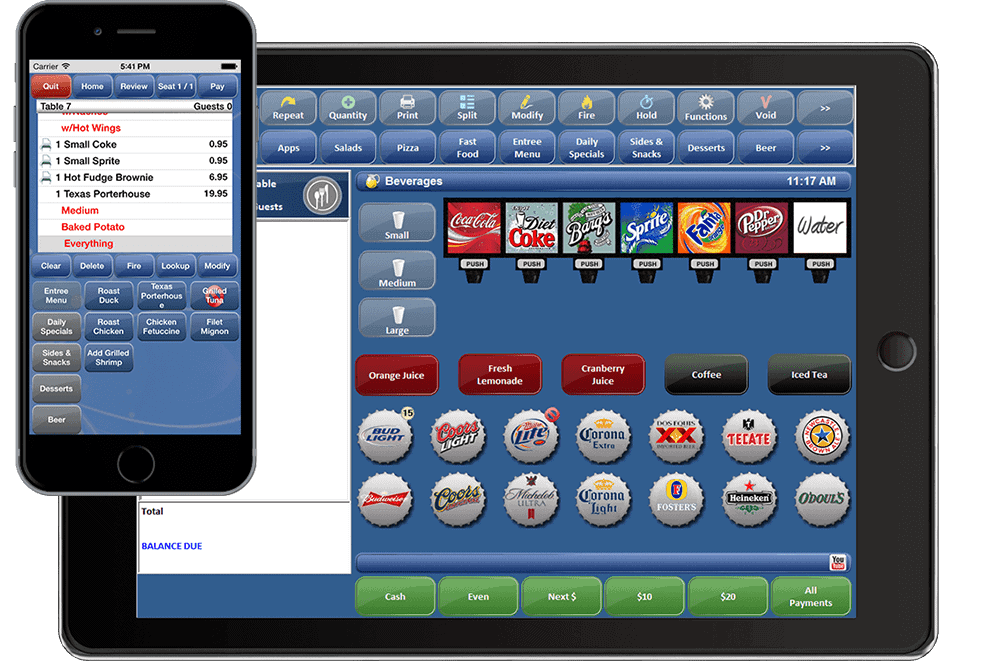 If you're looking for a serious restaurant POS software and management system, look no further than Focus POS. Streamline your process by controlling your inventory, labor costs, and other tasks around the restaurant.
Whether you manage a bar, a quick-service restaurant, or even a frozen yogurt business, Focus POS cuts down the time it takes to process a transaction. No more waiting at a stationary terminal to enter an order or processs a payment. By using an iPad device or another tablet, you can take tableside orders and offer exceptional service.
After comparing various Focus POS reviews by users, we found the best feature to be the Focus Dashboard, which provides a top-level view of your restaurant's operations. Generate detailed reports, view employee time cards, track your best-selling dishes on the menu, and schedule employees quickly and easily.
With the online ordering integration, customers can order food on your website and these orders will be synced with your POS system. The orders will fire off the kitchen in real-time, helping your kitchen staff stay on top of the orders and ensuring timely delivery.
And, by using the multi-check dashboard, your staff can do their job faster and more accurately. This dashboard reduces the number of touches it takes to enter an order from start to finish. This way, servers can focus on up-selling, cross-selling, and tending improving the customer's experience.
To learn how Focus POS can help you improve service and provide greater insight into your business, let's take a look at the key features the software provides.
Who's Focus POS?
Since 1990, Focus POS has been providing restaurants and other hospitality businesses one of the most complete POS solutions in the industry.
Well-known organizations like Top Golf, Smoothie King, Arby's, Cold Stone Creamery have chosen Focus POS to run their operations.
Their solutions are tried and true and give their customers a competitive edge in the restaurant and hospitality industry. Focus offers a feature-rich platform and excellent customer support. Focus POS is one of the top choices in the hospitality industry.
Key Features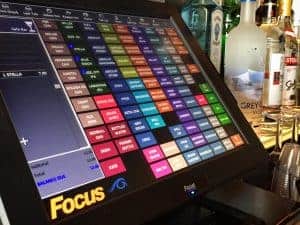 Easy to use: All interactions with the system happen on a highly intuitive touchscreen.  Customizable workflows make it easy to train new employees and keep everyone productive.
Reliable: Focus POS is a glitch-free software solution that has continued to evolve over almost 30 years. No service interruptions or downtime mean that your team can seamlessly take orders, process payments, and focus on customer service.
Fast, Accurate Ordering: Workers can use a mobile terminal or take orders at the counter. Focus POS allows you to customize screens that use rich, graphic displays.
Solutions
Mobile POS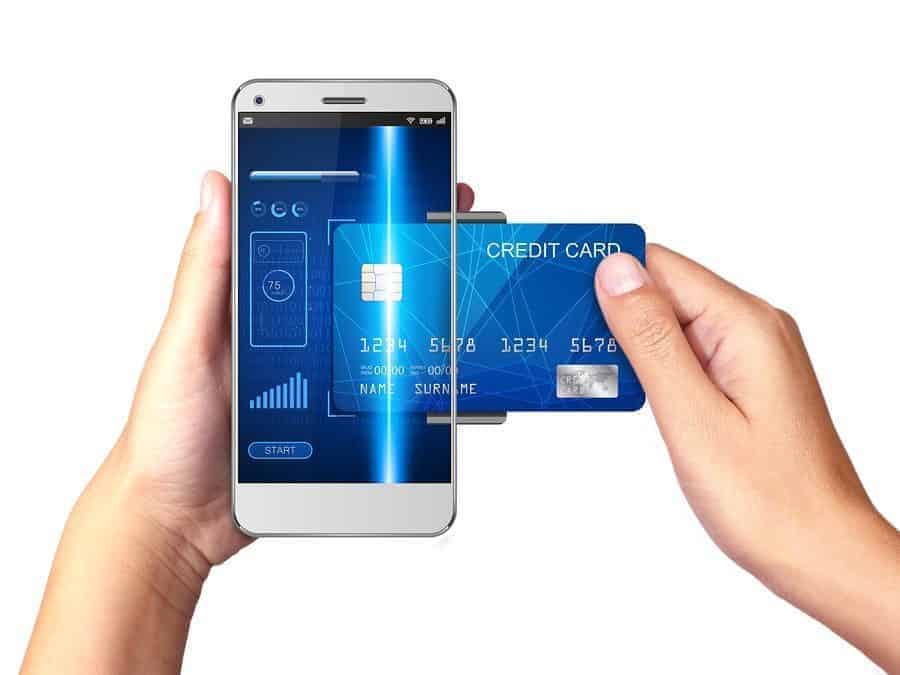 The ability to use a smartphone or tablet gives your staff maximum flexibility to serve your customers anywhere they encounter them. These can be used at festivals, on food trucks, or on open air patios. Mobile capabilities keep your staff moving and your customers satisfied.
Features
Easy for your employees to learn with virtually no training required
Compatible with both tablets and smartphones
Notifications for your staff to upsell high-margin items
Intuitive navigation to take orders quickly
Easy touchscreen entering of menu modifiers
Quickly split and close checks
Inventory and sales reports
Labor scheduling
IPad POS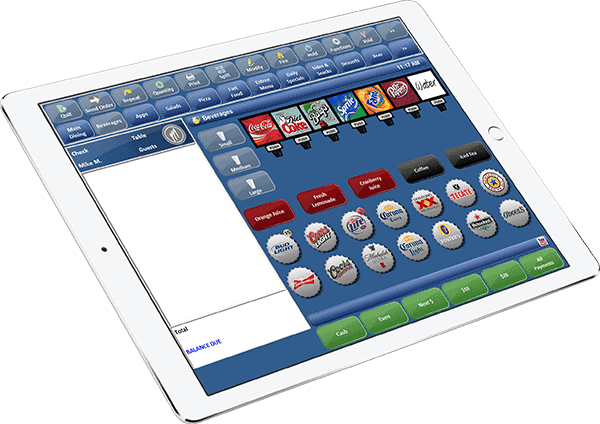 The Focus iPad POS is completely integrated within the familiar iOS platform from Apple. This feature can be used as your primary, stationary terminal or be used on the move wherever needed. The slim and elegant hardware frees up valuable counter space.
Features
Apple's familiar interface allows for effortless training
Customizable menu layouts
Packaged commands for quick order entry
Notifications for suggestive selling of additional items
Compatible with hardware peripherals including receipt printers
Fast and secure credit card processing
Streamlined Employee scheduling and hour management
Click-of-a-button enterprise reporting
Multi-Check Dashboard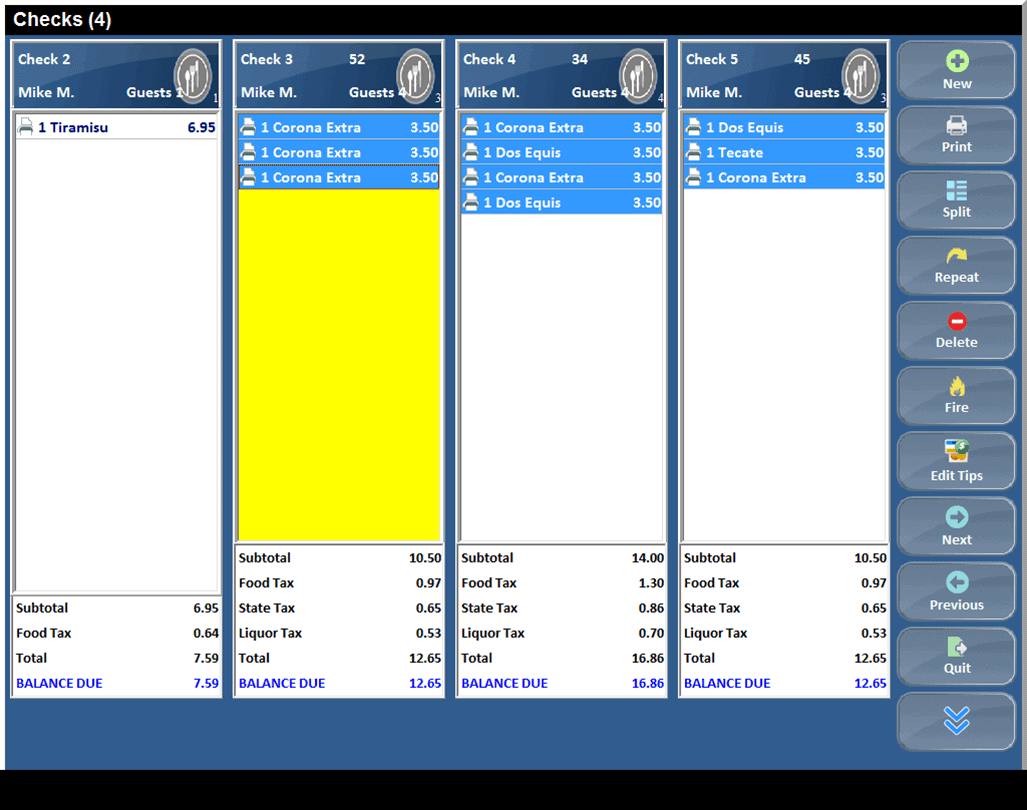 Servers spend significant time managing their open checks and closing them. Focus POS offers a full screen multi-check dashboard allowing staff to quickly navigate and move on. Display configurations are customizable to match your operational needs.
Features
Simultaneously manage all checks and tables
Easily split, print, and close checks
Add menu items to checks
Create up to 30 customizable commands
Apply special or promotional discounts
Configure carryout and delivery separately from in-house orders
Complete transactions with high-speed payment card processing
Restaurant Online Ordering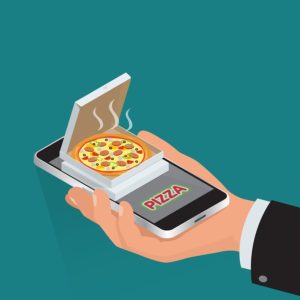 Customers want convenience. Focus online ordering features allow customers to place delivery, take-out, and dine-in orders from the comfort of their smartphone or other device. Online orders transmit directly to the kitchen.  This reduces errors and increases staff productivity.
Features
Order directly from a mobile device
Pay online with security and convenience
Upsell the most profitable menu items
Make updates to menu items and prices instantaneously
Streamline workflows as orders are sent directly to the kitchen without additional staff intervention
nFocus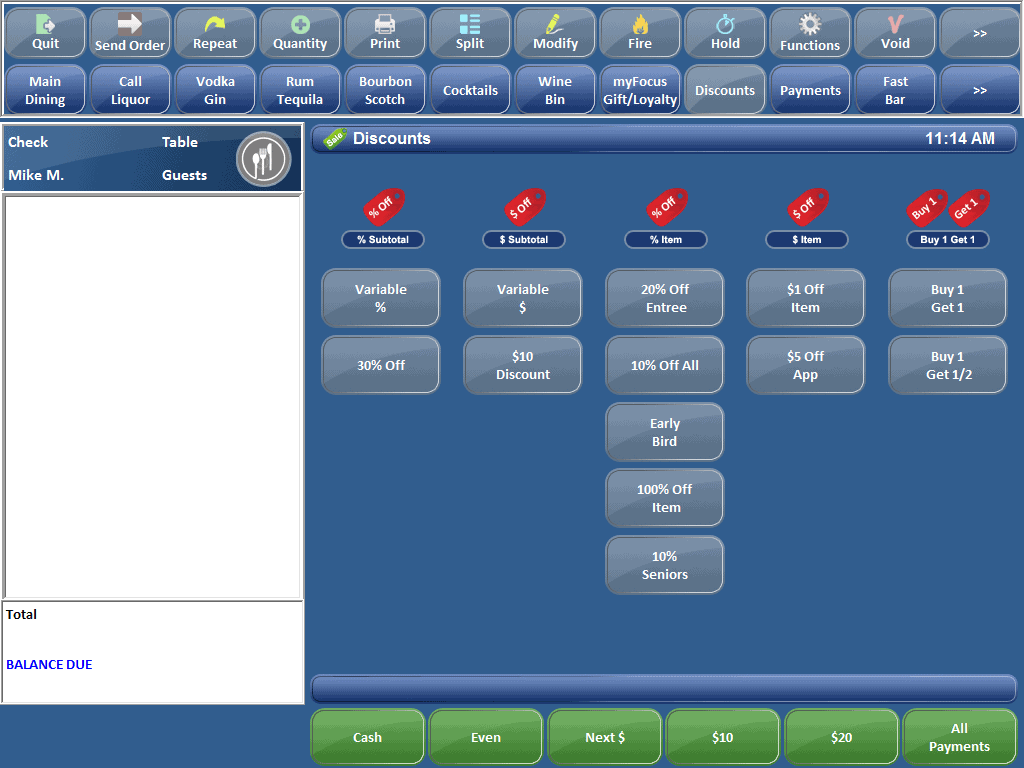 The nFocus dashboard is the brains of your operation. All reporting and data is fully integrated. This allows operators to drill down into any area of the business for the information they need. Owners will save time with all features at their fingertips in one place.
Reporting Categories
Summary Data
Net sales
Labor costs
Check averages
Sales by period
Tracking items
Sales by order type
Labor Information
Overtime warnings
Individual warnings
Employees on the clock
Employees by job
Individual employees
Systems Alerts
Current date
Business date
Last batch information
Printer status
Credit card status
VIP pricing status
Tablet POS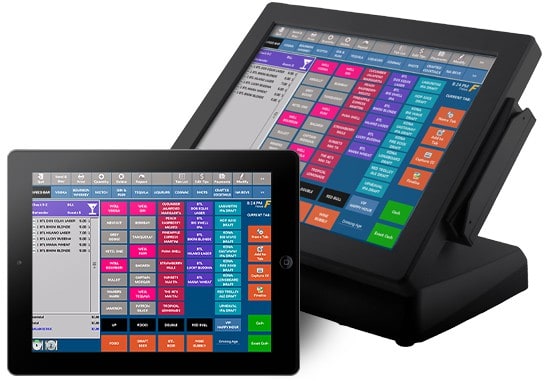 This version of Focus looks exactly like the interface on the primary software interface. This means your employees will not have to get used to a different system while taking advantage of the flexibility of a tablet.
Features
Seamless integration with Focus POS system
Minimal employee training
Customize your menu layout for optimal efficiency
Service customers quickly with packaged command entry
Prompts to remind your staff to suggest add-on menu items
High-speed credit card processing
Inventory and sales reports
Efficient employee time-tracking and reusable schedules
Email and text message alerts for better business visibility
Focus as a Subscription (FaaS)
With less upfront costs, FaaS allows a business to budget and purchase exactly the level of service they need for their operation at the time. This flexibility can allow an owner to quickly scale up or ad features as the business grows. FaaS has all the features of the complete licensed version of Focus POS.
MYFOCUS
Office Cloud POS

This feature allows owners to access all on-site features from anywhere at any time. Even when Internet connectivity is lost, Focus POS still continues to operate. This is a great feature for multi-store operators as well as single location businesses with owners on the go.
Features
Edit timecards from anywhere
Make menu changes from your home office
Manage single store locations and large multi-unit chains
Remotely manage labor
Pull labor and sales reports
Create and edit employees
Mobile Management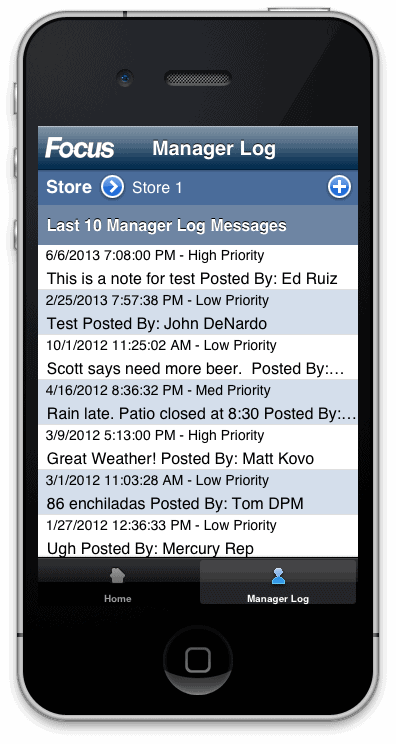 Using a smartphone, users can now maintain oversight of your entire operation wherever you are located. Mobile alerts keep you up-to-date on critical metrics and reminders and allow you to monitor the following:
Data Reporting
Net sales
Labor costs
Check averages
Sales by period
Tracking items
Sales by order type
Labor Reporting
Overtime warnings
Employees on the clock
Employees by job
Individual employees
Central Cloud-Based Reporting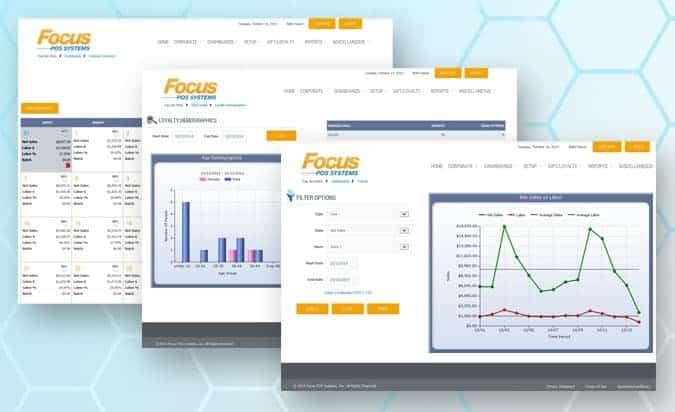 myFocus Central is the key reporting area for myFocus Cloud Solutions. This dashboard captures all your data from all your locations allowing you to get a complete view of your operations.
Enterprise Dashboard Features
Region filters
Date range spans
Store averages
Graphical analysis
Store alerts
System status
Single Store Dashboard Features
Drill-down details
Graphical data
Store alerts
Last batch information
Employees on the clock
Tracking items
Customer Loyalty Program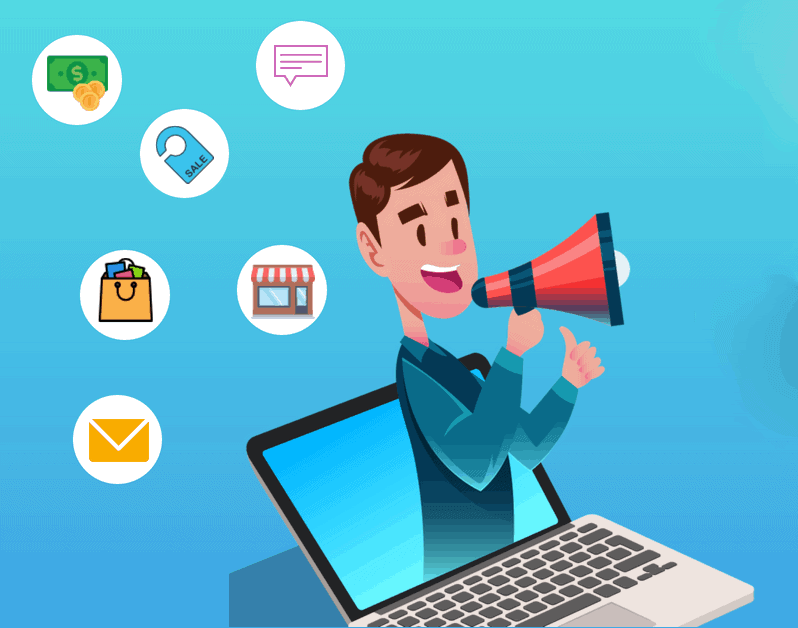 myFocus provides a complete loyalty program that reaches your customers across all the channels that you utilize. With a Facebook plugin and email/text capabilities, you can directly market your services and offerings to your most loyal customers.
This feature contains a variety of loyalty programs you can utilize to engage and delight your patrons.
Loyalty Features
myFocus cloud storage
Multistore processing
Social media integration
iPhone app for customers
Unlimited plans
Promotional coupons
Marketing list generation
Email blasts
Text message blasts (additional charges may apply)
Gift Card Program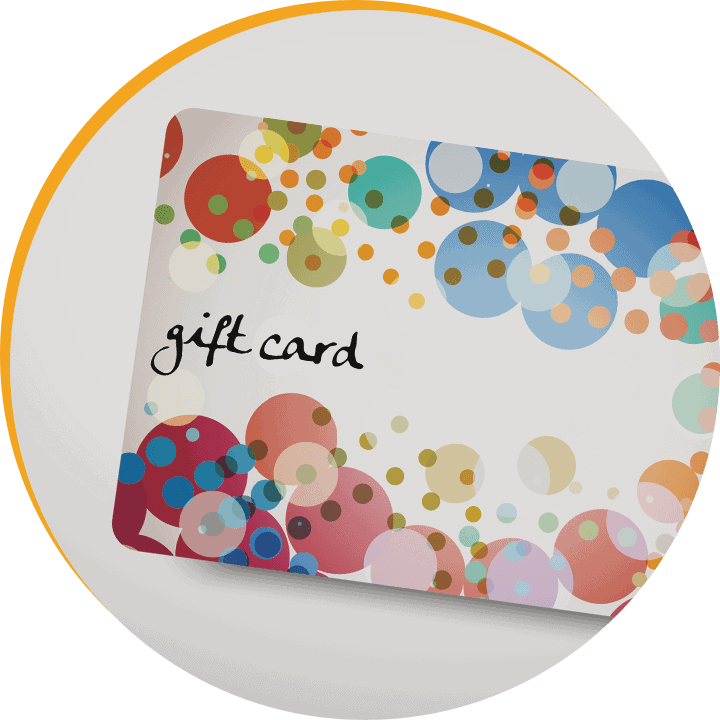 Everyone loves to get a gift card from their favorite restaurant. myFocus gift cards make it easy for customers to purchase, redeem, and check balances in real time. Mobile apps even allow the ability to use their smartphones. Customers can manage the balances of their gift card and loyalty program points.
Features
Single location or restaurant chain processing
Reloadable cards
High-speed authorizations
Easy access to balance and usage history
Industries
Focus POS has developed solutions specific to the category of the hospitality industry your business operates. Each of these customized modules is designed with the workflows and needs unique to those types of businesses. Get all the features you need for your specific business operation.
Focus POS specializes in these categories:
Payments
Fully PCI-compliant, Focus POS connects with a wide variety of payment gateways and credit card processors. Focus POS integrates with all major accounting software programs. This allows your management team to complete all financial transactions and requirements.
Focus POS Pricing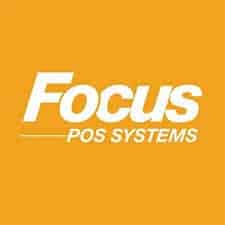 Focus utilizes a network of resellers to work with their local customers to help them configure the right solution. They also handle deployment and installations on the customer site. Training for management and staff and is also provided.
Pricing can vary widely from $1,000/terminal for an on-premise license of a complete system. Costs start as low as $50/month for a cloud-based SaaS solution for a single store with one terminal. Focus gives businesses the flexibility to build the appropriate solution for any budget.
Our Final Verdict
Focus POS is a highly capable turn-key system that is easy for new businesses to implement. It is also scalable for the largest chain enterprise. Focus' full suite of features is capable of meeting the needs of any type of restaurant or other hospitality operation.