There are a few misconceptions in the florist industry. For instance, flowers aren't just popular during special occasions and holidays. They're accessible all year round.
While certain days are busier than others, florists operate in a highly competitive industry. Having a florist POS system dedicated entirely to helping you run your flower shop is essential to differentiating you from your competition.
Floranext offers the ability to revolutionize flower shops with its all-in-one technological solutions. Floranext was designed by florists for florists, allowing flower shops to operate at their maximum potential without sacrificing efficiency.
Who's Floranext POS?
Floranext was founded in 1969 as O'Shea's Flowers and Gifts. O'Shea's started as a small family business but eventually grew to national acclaim. As O'Shea's grew increasingly popular, they eventually changed their name to Floranext.
When Floranext first designed its POS system, it was primarily used to improve employee workflow. Eventually, Floranext began developing software for the florist industry as a whole, and their POS system became increasingly popular amongst flower shops across the country.
Today, the Floranext POS system is among the most competitive in the florist industry and has gained a well-earned reputation. With its many features and affordable pricing, the Floranext POS has become a top choice for flower shops across the United States.
Noteworthy Features of the Floranext POS System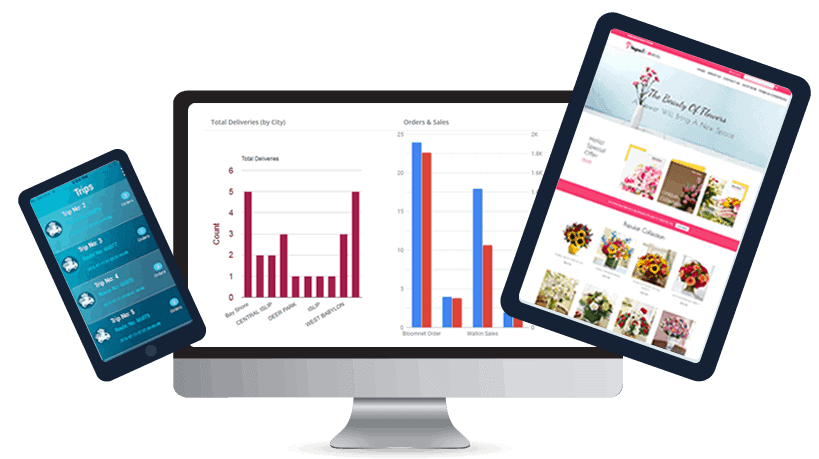 For most flower shops, keeping track of deliveries can be difficult during special occasions and holidays. With the Floranext POS system, florists can keep organized with delivery tracking and order management.
Flower shops will also benefit from the automated card printing feature found on the system. Flowers are often coupled with cards during weddings, funerals, and birthday parties. With the ability to print cards, florists can provide a more streamlined service.
Other noteworthy features include production tracking, stem counting, and customer account profiles. Floranext is an all-in-one point of sale system that serves as the perfect platform for flower shops that strive to stand out from their competition.
Floranext POS Benefits
Takes orders quickly, allowing florists to improve customer wait times.
You can keep your personal credit card terminal, or switch to the credit card processing hardware offered by Floranext.
Stay on top of your branding by printing statements and cards on professional letterheads.
You can add an extra register by simply adding another computer.
An optional florist website add-on allows you to keep your POS orders grouped together, providing an all-in-one system that keeps your business flowing smoothly.
Utilize built-in reporting and house account management software to process your monthly taxes.
Floranext POS Drawbacks
Reports of long hold times when trying to get in touch with customer service.
Minimal customizable options.
Floranext POS Pricing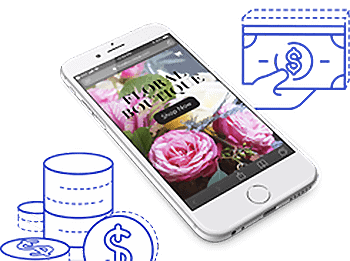 Floranext makes it clear where they stand on their pricing policy: "No hidden fees. No contract." Customers will pay month to month. If you hate the service, you can pull out at any time with zero consequences.
Because Floranext offers a range of technological solutions that are closely tied together, we will focus on the pricing of all of their services.
POS for Physical Florist Shops
1-2 PCs will cost $99.99 per month. 3 – 4 PCs will cost $149.99 per month. For 5 and above will require a quote.
Features include:
Ticket printing
Fast orders
Quickbooks
iPad App
House Accounts
Route florist deliveries
Ticket printing
Clear credit cards
Packages For Florist Websites
Basic package – $24.99
Limited themes
Wedding video
Products/Photos
Wedding Event proposals
30 minutes phone/setup support
SEO
Basic Plus – $59.99 per month 
All basic features minus wedding video
Email/phone support
Shopping cart
Advanced – $89.99 per month
All themes
Marketing
Advanced SEO
All basic plus features
Exclusive – $109.99
All features
2 phone consultations per year
Wedding and event proposals – $9.99 per month
Terms/contracts
Images and logo
Email and print
Proposals
Payment management
Website/POS/Wedding and event proposals combo – $149.99 per month
Wedding/Event proposals
Website and shopping
POS
While each of the above services are priced reasonably well individually, the $149.99 packaged deal is practically a steal, especially when you consider you'll be getting everything Floranext has to offer (including their POS system).
Floranext OS and Hardware Requirements
Integrating the right hardware with the Floranext POS will optimize workflows and keep your business operating smoothly. You'll find that the hardware requirements are minimal, so you won't have to spend too much out of pocket to get this system up and running.
Let's take a look at the specific hardware requirements for the Floranext POS.
Hardware
The Floranext POS is compatible with PCs, Macs, and iPads. Furthermore, you can use any device to access settings from the online browser version of your POS system. Remote login is simple to use, and it allows you to access customer information no matter where you are.
Cash drawers and receipt printers
Floranext POS only supports APG cash drawers in the Vasario series. The Vasario 1416 and the Vasario 1616 are typically recommended for this system.
When it comes to printing, the following setup is recommended:
Work Orders: letter paper
Tickets: ticket stationery by John Henry Co
Receipts: receipt paper
Reports: letter paper
House Account Statements and Invoices: statement paper from John Henry Co
For the most part, if your printer is compatible with your operating system, then it should work with the Floranext POS. With that being said, customers have recommended the single tray HP Officejet Pro 8210, the dual tray HP Officejet Pro 8740 and the Star TSP100 (receipt printer).
Floranext Features and Capabilities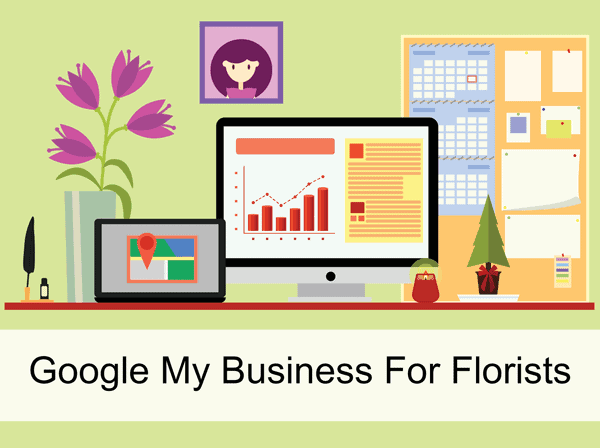 While we've touched lightly on the features and capabilities that make the Floranext POS a top choice for flower shops around the country, this section will give more in-depth details.
Easy to use reporting and management features
Sales reports – Sales reports allow you to identify trends, letting you know if your sales are increasing or declining.
House accounts – Floranext makes it easier than ever to cultivate close relationships with your most faithful customers by allowing you to offer house accounts.
Wedding-event proposal manager – Keeping track of wedding event proposals can be tedious work, but with Floranext, it's easy and efficient.
Florist ticket printing – Floranext includes optional perforated stationary that includes card messages, eliminating the need for handwritten envelopes and cards.
Customer management – An easy to use dashboard makes it easier than ever to manage customer's accounts in just a few quick seconds.
Inventory management – You would think that keeping inventory in a flower shop is simple, but it can be time-intensive. The Floranext POS makes inventory management pain free.
Features that improve functionality
Multi-platform – Floranext POS can be used across multiple platforms that include iPad, Mac, and PC.
Flexible credit card processing – With Floranext, you can use your own credit card provider, or use theirs.
Remote access – No matter where you are, you can access your POS system remotely.
Easily transferable – With access to top of the line customer service, you will have all the assistance you need to transfer over your customer base and set up your printers and computers. The best part is that it's all free of charge.
Cloud-based storage –With the Floranext POS, you can synch your files with the cloud, eliminating the need for physical storage drives.
Integrates flawlessly with website features – If you opt for the website/POS package, you can rest assured that your POS features will synch flawlessly with your website.
Even more features from Floranext
Birthday/holiday reminders – Birthdays and holidays are where many flower shops make most of their bread and butter. Floranext POS always ensures you're prepared with reminders for special occasions.
Delivery routing – Flower shops often include delivery options with their orders. The Floranext POS utilizes Google maps to help with delivery routing, ensuring you always reach your destination without fear of getting turned around.
Our Final Verdict
The Floranext POS system seems to be the perfect fit for any flower shop in need of a robust sales and inventory management solution.
Its many robust features, along with its easy to use interface cuts down any significant learning curve. Plus, you can't beat the competitive pricing with its packaged deal.
The fact that the Floranext POS was designed by florists for florists makes it a highly specialized POS system. While other businesses could probably integrate this system into their day to day operations, the Floranext POS is best left to the florist industry.
Customers rant and rave over this system. After perusing many review sites, there were very few negative reviews. The vast majority were overwhelmingly positive.
If you're a flower shop in need of a reliable POS system that comes packaged with additional floral technological solutions, the Floranext POS system is likely the system for you.
The following two tabs change content below.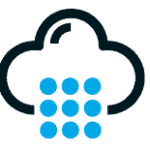 POS Quote Team
The staff at POSQuote.com is composed of industry professionals, experts, and current business owners. Through extensive research, we compile buyer's guides and review the best POS systems in the industry.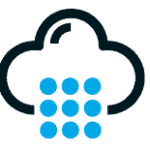 Latest posts by POS Quote Team (see all)