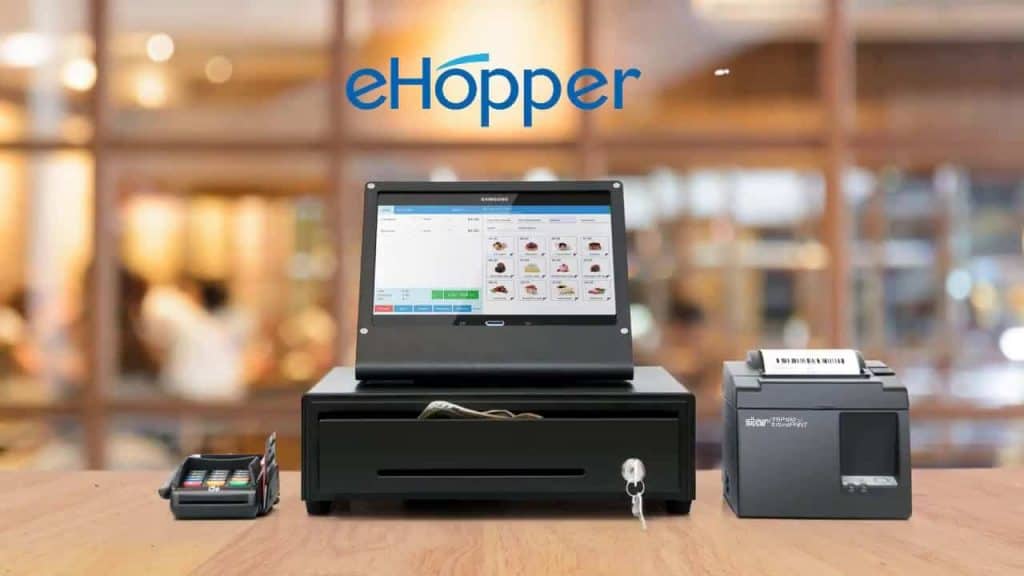 A common pain point for retail businesses is finding the retail management system to better facilitate operations. Finding a solution with the right hardware, features, pricing, and integrations can be a major headache. eHopper, though, brings users a custom solution with the flexibility that so many businesses crave.
Unlike some popular iPad-based systems like Vend and Square, eHopper offers its users an array of hardware and operating system options. Access the software with iPads, Android tablets, PCs, and mobile checkouts.
eHopper's most interesting offer is its free processing and software subscription. During the research process of our eHopper POS review, we discovered that they're now offering to push the software licensing and merchant service costs onto the customer. US-based retailers can now legally implement credit surcharge or cash discount purchases.
Feature-wise, eHopper brings users a simple POS experience with all of the basics. Inventory management lets users know exactly what they have in the store at all times. You can manage departments, categories, prices, and quantities.
Retailers can also take care of their staff through eHopper's employee management. Control specific staff access to various features, manage roles, and track employee data. And for businesses that accept tips, the software automatically breaks down shift closeouts and reports.
With multi-store management, various apps and integrations, online ordering, and in-depth reporting, eCommerce checks all the necessary boxes for your average retail operation. The custom features and pricing options make it a versatile option for businesses of all types.
eHopper POS Review – Company Overview
eHopper isn't new to the POS market. The eHopper team has developed POS solutions geared for small businesses for nearly 15 years. Their primary market is the mobile market, and their website states that they specialize in "web-based and desktop POS software that is secure, reliable, and user-friendly."
What does that mean for the small business owner that wants to check out eHopper? First, it means that you can count on eHopper working across several hardware contexts (mobile and POS terminals).
Second, it means that they have spent over a decade developing intuitive interfaces that make eHopper easy to use. Third, they market their software specifically for small businesses, so (as they say) they design eHopper for growth and efficiency.
With all the features that we will discuss here, they also offer full support, including a huge knowledge base, which can be a lifesaver for many clients and business owners.
eHopper POS Benefits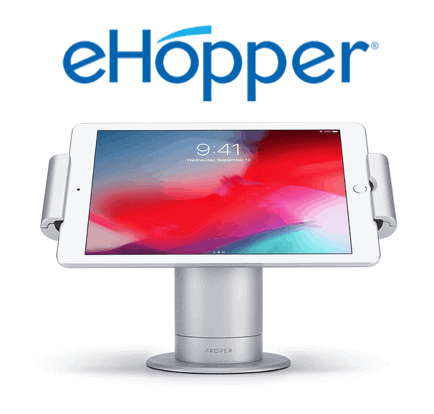 eHopper is first and foremost built with small businesses in mind. That is evident in some of the key benefits it provides.
The price point is very small-business friendly. In fact, the lowest tier is absolutely free for a single terminal.
eHopper doesn't require special hardware and works with most desktops and tablets.
The basic free package includes all the functions you need to run a POS station.
As for additional features, it mainly depends on what you want and what package you need to get it. Other tiers include features like advanced payment options for EBT, advanced loyalty management tools, more robust support services, and more.
The highest package also includes a deep eCommerce platform that lets you launch responsive online storefronts. While there is an extra monthly cost for this kind of feature, having a digital storefront is increasingly a necessity.
eHopper POS Limitations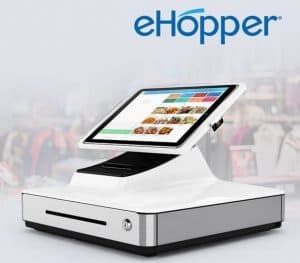 There are very few negative reviews of eHopper out on the Internet, which speaks to its quality. Those that have had issues with it typically remark on the following two aspects:
The software itself has a few glitches here and there, especially after updates. Some customers expressed a desire to have these issues fixed sooner.
eHopper, while fully featured, doesn't support some of the more advanced versions of these features as other POS systems. Some users expressed that reporting was fine, but not as robust as they liked.
These issues are seemingly minor. Your perspective on reporting will depend on what your reporting needs.
eHopper Pricing & Plans
Pricing is perhaps the most exciting part of the eHopper experience. That's because eHopper's scaling pricing tiers include a ton of features without coming close to breaking the bank.
Pricing tiers include:
Essential Package – FREE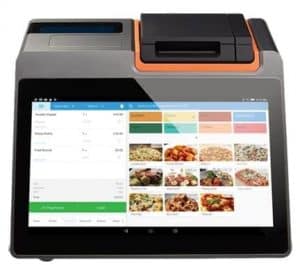 That's right–the eHopper introductory package is completely free. With the Essential package, you get a single POS station (mobile or desktop) and a full slate of features. We're talking inventory management, reporting, access to online documentation, and the freedom to use your hardware.
No monthly fees, no hidden costs. If you are running a small shop with a single location and a single register, then this is an amazing deal. You essentially pay for your own hardware and get a POS solution at no cost.
Freedom Package – $49.99/mo per POS station
The next tier of service includes everything that you get with the Essential package plus a ton of expanded feat These features include EBT support, employee clock management, exchanges, advanced inventory management and more.
You also get access to unlimited phone and chat support as part of your deal, as well as the Loyalty program platform. If you need more than one POS station, especially if you have several locations, then you want the Freedom package.
OmniChannel Package – $79.99/mo per POS station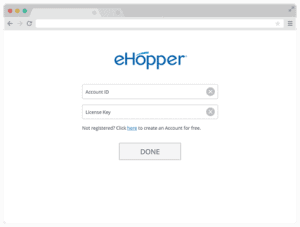 The OmniChannel package isn't going to give you a lot of features on top of the Freedom package, but what you do get is great. With OmniChannel, you get access to eCommerce functions and built-in Loyalty program.
If you're running an online shop, then this is a must. When they say that they support small businesses, they mean it.
Hardware and System Requirements
One of the advantages of eHopper is that it is purpose-built for multiple platforms. What this means is that you can use your hardware, if it is supported, or buy custom hardware through eHopper.
Note that you can only buy hardware through the eHopper portal if you are a current eHopper client.
Hardware Sold by eHopper
eHopper sells numerous devices, primarily touch screen POS terminals.
The HP Engage One Prime – $867
This standalone tablet is Android-enabled and supports impressive specs to help you run a smooth POS.

Android Operating System 8.1
2 GHz Processor
4 GB RAM
32 GB hard disk

Lenovo Tab 4 10.1" Android Tablet – $229

2 GB RAM
16 GB hard drive

Samsung Galaxy Tab A 10.1 – $299

6 GHz Processor
2 GB RAM
16 GB hard disk

The Elo PayPoint Plus for iPad — $899
This iPad POS station is sleek and tough, with an integrated 2D barcode scanner, 2" printer, cash drawer, and connection points for additional peripherals. Supports the following iPad models (iPad not included):

iPad Pro 10.5"
iPad Pro 9.7"
iPad Air
iPad Air 2
iPad 5 (2017 model)

eHopper All-in-One POS Stations – $650 — $999
eHopper also offers their own custom stand-alone POS terminals, including a mini version, an all-in-one stand, and a stand with a customer-facing display.
eHopper POS Features and Capabilities
Device Agnostic Operation
While eHopper sells its own hardware peripherals and stations, you are not required to use them. eHopper POS works on iPads, iPad minis, Android tablets, Windows PCs and tablets, and Poynt terminals.
If you run a small business, this is a huge boost. With this kind of freedom, you aren't required to invest in expensive POS terminals unless you want them or want to upgrade.
This is doubly nice if you use a single POS station with existing hardware. Just sign up for the Essentials package and you essentially have a free POS solution.
Custom Receipts
Receipts are components of any business that can provide that extra information or touch of character that makes your business stand out. Get custom receipts, print receipts at multiple places (like kitchens), and let customers select from print or email receipts.
Inventory Management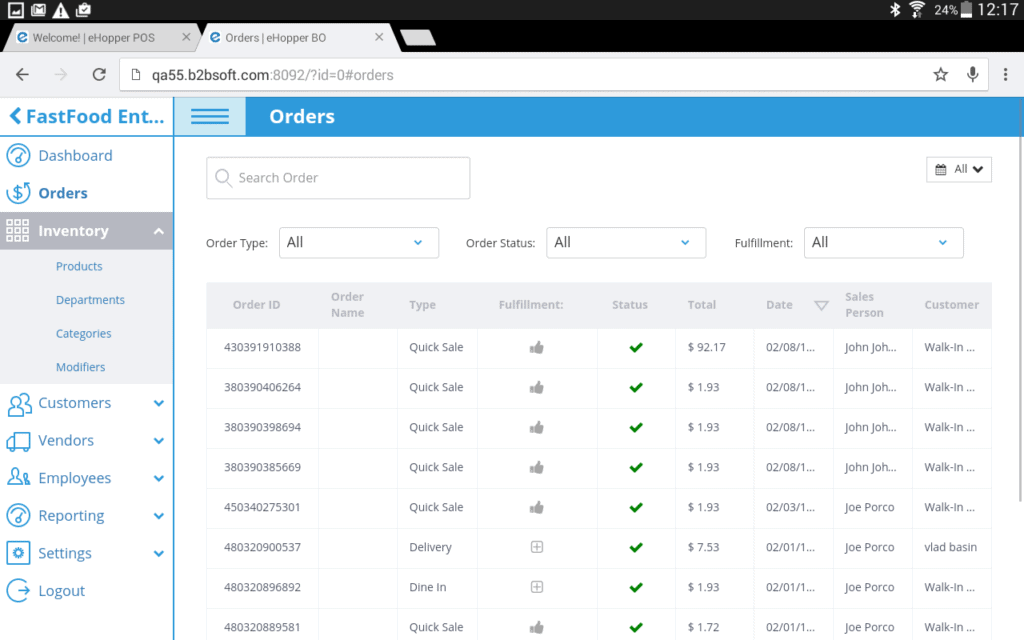 Small businesses need inventory management that's easy and intuitive. eHopper provides plenty of features out of the box that can give you proper inventory management. Depending on your package, you can get several features:
Manage received orders and update inventory.
Build menus for specific inventory types, like food and drink.
Create modifiers and modifier groups to mass-edit prices.
Use product matrices to manage products with several criteria (color, model, size).
Even with the free version, you can get the basics of a solid inventory management package.
Customer Management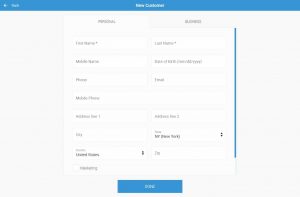 Small businesses need to connect with their customers. With eHopper, you get plenty of tools to do just that.
First, you get the option to create personalized customer profiles to track behaviors and shopping histories. Track customers and make special offers based on their previous purchases. Better yet, create a database of customers to promote special offers.
Second, you can use these customer lists across multiple platforms. eHopper makes it easy to import and export customer lists for things like building email lists or managing through an external CRM software package.
Reporting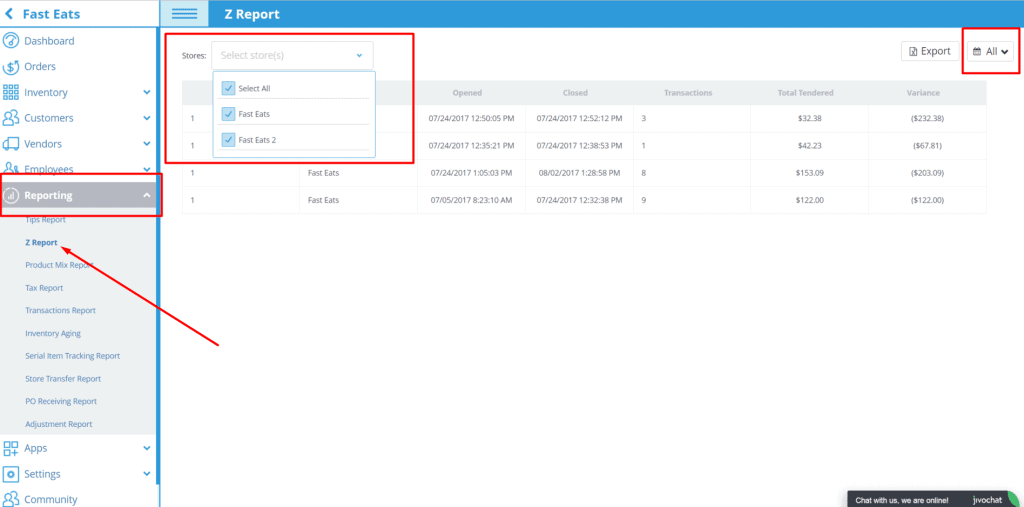 eHopper also provides great tools for reporting across inventory, sales, and more. Track your sales with Z reporting following total transactions and sales over any period of time. You can also filter these sales reports by station, employee, customer, or promotion.
Also track your inventory with advanced reporting that covers current inventory, orders, and incoming receivable inventory.
Finally, if you purchase the Freedom package or above, you can integrate your time clock into eHopper's reporting to track staff hours, sales tied to time period, and monitor shift coverage.
Payments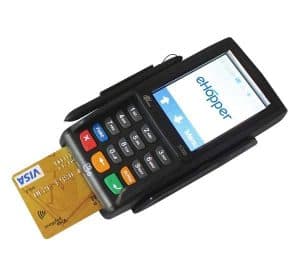 With the number of POS terminals supported by eHopper, it might seem like accepting regular payments might be tricky. However, eHopper makes accepting payments super easy. All cash payments can be processed offline. Built-in tip calculations support tracking tips for your staff when people pay cash.
Credit and digital payment are also simple. eHopper supports card swiping or manual credit or debit card entry. It also allows you to integrate "touch" pay systems like Apple Pay, Samsung Pay, and Google Pay.
eHopper also supports users who use EBT cards or other assistance programs. If you are a local grocer or cafe, this can open up an entire customer base for you while helping you serve underserved customers.
Finally, eHopper works with your existing payment processor, without the need to adopt an external processor partner.
eCommerce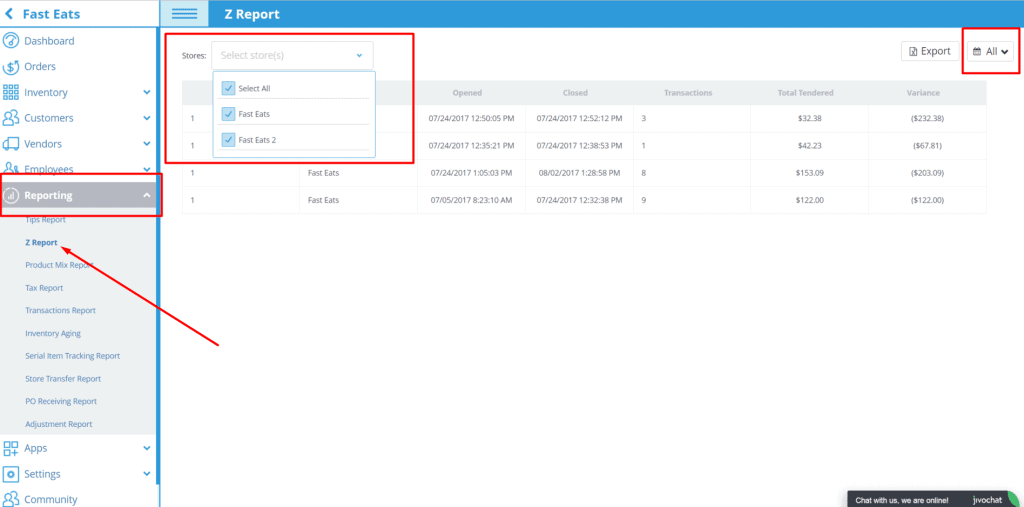 If you decide to go with the OmniChannel package, you get access to eHopper's eCommerce platform. This package starts with a fully integrated eCommerce store that works seamlessly with your in-store POS. This online store is optimized for desktop and mobile users so you can reach the largest base of customers online and off.
What does this mean for your business?
Easy online ordering. This solution fits restaurants, retailers, and any digital store that ships merchandise.
Inventory syncing between online orders ad in-store purchases.
Easy payments with 24/7 credit or debit payments, PayPal payments, and to-store shipping.
Separate reports for online and offline sales.
As far as your online store goes, eHopper provides an SEO-optimized site where you can customize your logo, integrate with Google My Business, and more. Link your social media accounts for promotions and outreach.
The eCommerce platform is not free, however. If you sign up for OmniChannel, you can purchase a subscription to the eCommerce platform for an additional $49.99/mo.
Loyalty Program Tools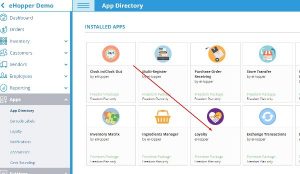 If you subscribe to the Freedom or OmniChannel packages, you also get access to eHopper's set of loyalty program management tools. This system, fully integrated into the POS, allows you to mobilize several types of loyalty programs:
Manage program members through mobile phones, apps, or physical reward cards.
Customize rewards, including points-based tracking systems.
Customize tracking to tailor the program for specific uses.
Utilize distinct reporting separate from sales and inventory.
Alternatives to eHopper POS
Let eHopper Support Your Small Business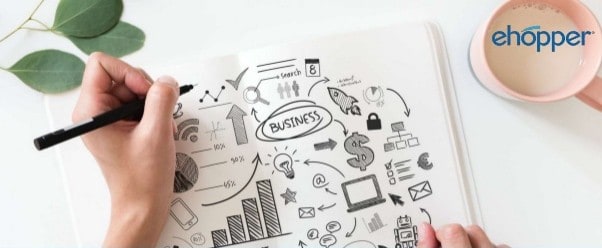 The eHopper POS system is built with small businesses in mind.
From functionality to add-ons to pricing, this POS has been thoughtfully marketed to small companies that want to start without breaking their budget and with options to grow.
eHopper supports a great range of industries, including retail, food service, online stores, and any mix of those.
Entrepreneurs running a small grocer and cafe combination will find just as much here as will a small boutique retailer.
Best of all, the price simply can't be beat. A single monthly terminal is absolutely free, outside of hardware costs.
With a simple iPad and register setup, you can have a POS up and running quickly, inexpensively, and without a recurring monthly cost.
If you are a small business owner that needs a POS system that works out of the box right now (and leaves room to grow), then look no further. eHopper POS starts small with you and grows with you.
Reader Interactions