ECRS presents you with the Catapult retail point of sale (POS) system, a solution built to help you outpace your competitors. The ECRS CATAPULT solution goes beyond Omnichannel capabilities, to offer retailers a unified commerce platform.
It is designed to connect the critical parts of your business seamlessly, including  reporting and analytics, inventory, and supply chain as well as loyalty and marketing. Additionally, the provider offers a secure and affordable POS payment processor.
All these features work in unison to boost sales, streamline operations, and simplify management in retail businesses. Industry experts have predicted moderation in consumer spending in 2020, as compared to the previous year. On average, total sales in the retail industry are expected to grow by about 2.0%, and e-commerce sales by about 12.8%.
Throughout this ECRS Catapult review, you will learn the various things that make it appealing to thousands of retailers in the country.
ECRS Catapult Alternatives
POS Name

Software Subscription Fees

Customer Support Options 

ECRS Catapult

Quote-Based

Business Hours
Online

Booker

Starting from $129.00/month

Business Hours
Online

Shopify

Starting from $29.00/month

24/7 (Live Rep)

LightSpeed

Starting from $69.00/month

24/7 (Live Rep)
Business Hours
Online
ECRS Catapult POS System Benefits

Offers professional onboarding support to get you started

Features secure and versatile payment processor

Equipped with powerful reporting, analytics and back-office management tools

Offers some of the best inventory, and Supply Chain capabilities

Comes with intuitive, rugged, durable and affordable hardware options
Possible Downsides
You may find the installation and configuration of this solution to be complex and time-consuming. Again, the provider does not offer a mobile POS application to compliment the retail POS software. 
ECRS Catapult Pricing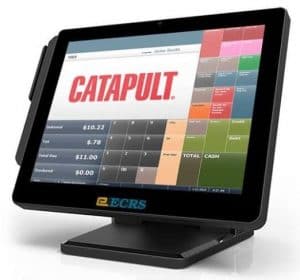 Being one of the most customizable and scalable retail POS systems in the industry, ECRS pricing varies from one application to another. The provider charges a quote-based monthly subscription fee for the retail software and e-commerce platform. 
The much you will end up paying on your ECRS Catapult system will depend on the size and type of your business. To get an accurate quote, you should contact the provider directly through its official website. 
ECRS Catapult POS Hardware and System Requirements
Since every retail business operates on a unique business model, POS hardware needs vary from one business to another. The ECRS provider will equip you with the appropriate hardware solutions to meet and overcome operational obstacles, regardless of your industry.
The provider offers a wide range of hardware solutions to suit different needs and budgets. For instance, you can get sleek, yet powerful POS terminals, Advanced Omnichannel Touchpoints, Self-Checkout Solutions and hardware peripherals from the provider. 
ECRS Catapult POS System Key Features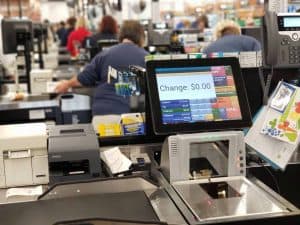 Powered by a single, powerful Unified transaction Logic platform, the Catapult retail software presents you with multiple ways of interacting with customers. The provider offers well-designed, streamlined cabinetry and hardware to for its point of sale software. 
As such your system will look just as good as it runs. Ranging from traditional POS lanes to M-Commerce, you will get whatever you need to meet your customers' preferences. Additionally, the retail point-of-sale  software is packed with a myriad of beneficial capabilities, including: 
Enterprise Management
As a retail Enterprise executive, it is imperative for you to be able to centrally execute tasks across all store locations. CATAPULT will help you reduce overhead and operational complexity, whether your retail chain has three stores or three hundred stores. 
The CATAPULT Multi-store Demand Fulfillment (MDF) feature is designed to optimize your inventory in accordance with customer demand. It will also help synchronize processes, and streamlining tasks across the enterprise. Some of the enterprise management capabilities that are unique to this system include:
Powerful Situational Awareness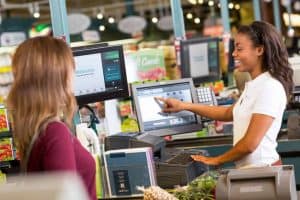 The MDF feature offers powerful Situational Awareness, allowing for improved order and control for all parties involved in supply chain processes. In addition to what each store has requested, buyers will also have objectively-calculated forecast data for each item in the store at their fingertips.
With that solution, you will also get timely buyer alerts, critical supply data. It will also allow you to accurately keep track of requests. 
Bi-directional Data Synchronization
The Catapult POS system comes ready to plug and play right from the box, capable of synchronizing data bi-directionally a Ross your retail enterprise. The system is capable of synchronizing transactional data, point of sale and self-checkout configuration, pricing, and promotions all automatically between headquarters, stores, and warehouses.
The system will take care of your data moving needs, transferring the required data where and when it is required. 
Warehouse Inventory Optimization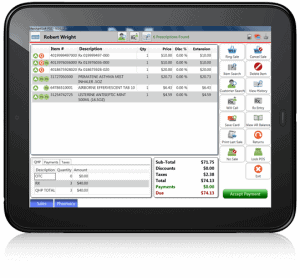 With the ECRS Catapult, you shall never have to buy more stock than you need. In addition to keeping a close track of inventory items, the system is capable of generating optimized picking routes. The MDF feature of the system facilitates a simple, but powerful warehouse environment designed for heavy lifters, not IT staff.
It will also optimize order processing, and keep things organized in the business. 
Supercharged Supply Chain
Using ECRS Gateway, you will have bi-directional electronic communication between your stores and your suppliers. In it's functioning, this feature allows for efficient and precise movement of items through the supply chain. 
It will also furnish you with real-time information, ensuring that your Warehouse is ready to receive, and pick items as soon as they arrive. This will keep your store shipment tasks running smoothly at all times. You will also be able to skip steps and save a considerable amount of time with direct store delivery. 
Reporting and Analytics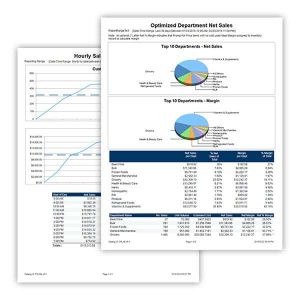 This feature is packed with a myriad of tools to help store owners make informed business decisions that affect the bottom line in their businesses. It will present you with actionable intelligence when you need it.  With this system, you can eliminate fear, uncertainty, and doubt. 
It furnished you with real-time data and insights into the important business processes, giving you the confidence you need to make critical decisions. The provider will also offer you a Web Office that allows you to see everything regarding the business. In total, the system is capable of generating more than 300 types of customizable reports. 
Some of the desirable attributes of this feature include:
Briefcase™
The Briefcase™ – OLAP Cube is a high–speed decision support system that will quickly provide you with insight into the business operations. It will keep you informed on the who, what, when, where, and whys behind product sales, profit margins, customer habits, store performance, supplier performance, and employee efficiency.
This tool allows for dynamic connection to Excel and ensures that data is ready when you need it. It has also been proven to free up IT personnel in retail businesses. 
Dash™ Business Intelligence
The ECRS Catapult POS system features the Dash™, a built-in visualization intelligence tool. The tool uses graphical widgets, allowing executives to see their most important data in graphic form. It features powerful Live Dashboards that present you with a comparative drill-down of data. 
In addition to the intuitive widgets, it presents you with real-time intelligence and a range of customizable dashboards. 
Final Verdict
Running an efficient, and profitable retail enterprise requires a manager capable of performing a careful balancing act. By optimizing the back-office efficiency in your business, Catapult ensures that you achieve more with little effort while maintaining quality and service. 
The powerful Catapult Web Office reporting and management tools, striking that balance easier than ever before. The web-based back-office offered by ECRS offers you an efficient enterprise management hub with all the tools you need to run up to 1,000 business locations. 
Enterprise executives can access inventory functions within the CATAPULT suite from any back-office workstation for smarter stock management, optimized ordering, and smooth sales floor operations. You can perform multi-store and warehouse inventory functions, including direct store delivery (DSD) from a single back-office workstation as well. 
The following two tabs change content below.
Reader Interactions