Cova is one of the best cannabis dispensary points of sale (POS) systems, featuring a touchscreen interface, powerful reporting, and inventory management capabilities. The ability of this software to run mobile devices allows it to be used throughout the store and behind the counter. 
Through its intuitive user interface, the system gives you easy access to such details as product descriptions, promotions information, and available stock. Based on research findings, about two-thirds of Americans favor marijuana legalization, which shows a considerable increase in public support. 
Cova equips you with the Inventory management tools you need to consolidate your stock information from multiple channels. Additionally, it allows you to track inventory items by weight as well as identify popular products with ease. Throughout this Cova POS review, you will learn what makes the solution so popular among cannabis retailers.
Cova POS System Benefits 
Capable of computing product equivalencies automatically

Ensures that you comply with hours of service 

Uses a barcode scanner to verify customer age prior to each sale 

Loaded with a variety of cannabis retail compliance features 

Features an offline mode 
Cova POS Alternatives 
POS System
Software Subscription Pricing 
Top Features
Cova POS
Starting from $449/month
Inventory tracking 

Customer Relationship Management

Accepts Multi-tender Payments
IndicaOnline 
Starting from $249/month
METRC Reporting

Real-Time Syncing
BIOTRACKTHC 
Quote-Based 
Cumulative Price Points

Customizable Fields

Customizable Fields
MJ Freeway 
Quote-Based 
Customizable Item Pricing

Solid Loyalty programs

Custom Product Labels
Possible Downsides  
As compared to another cannabis dispensary POS Systems, Cova is comparatively costlier to implement. 
Cova POS Pricing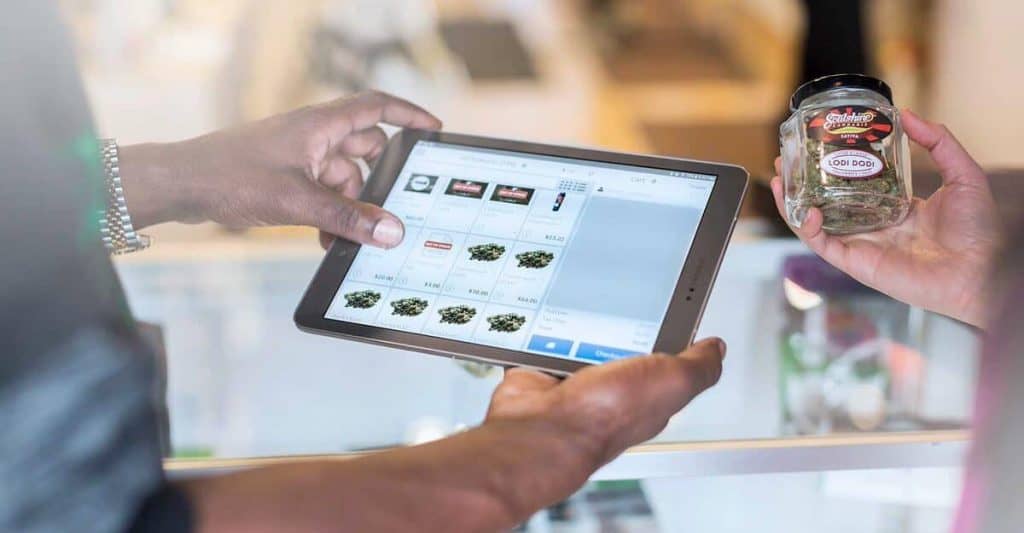 The Cova POS provider offers both hardware and software solutions for cannabis dispensaries.
With regards to POS solutions, the provider offers sales and inventory management capabilities as well as the transactional data required by the government to demonstrate compliance.
Depending on your business requirements, you should expect to spend between $1,000 and $3,000 for the required hardware components. The Cova cannabis POS software is offered in a software as a service (SaaS) model. As such, you will be required to pay a monthly subscription fee for the software, which starts at $449/month. 
Cova POS System Key Features 
The Cova cannabis POS system is meant to offer you the required compliance features. It is designed to make it easy for both the budtenders and retail owners to monitor purchase limits and equivalences for each transaction.
In addition to being one of the best compliance-driven cannabis dispensary POS systems, Cova also offers inventory tracking, touchscreen menus, and digital signage capabilities. Discussed below are several other capabilities that make Cova stand out from its competition.  
Cannabis Business Reporting and Insights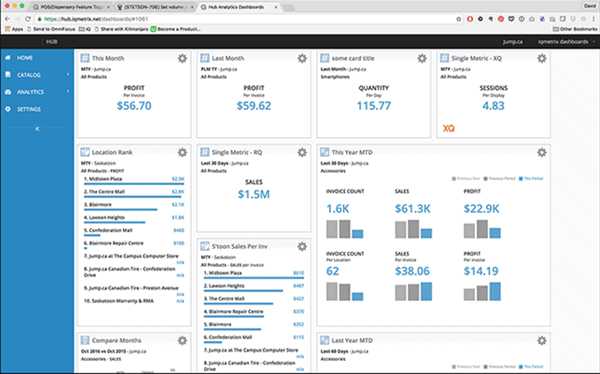 The Cova cannabis POS reporting feature will ensure that you always have access to correct and real-time data to influence your decision making.
To begin with, it will present you with quick and detailed business reports. The feature is designed to offer business owners access to key business metrics anytime and anywhere.
This is made possible by its mobile and web-based reporting dashboards. The detailed reports make it easy for you to rule out such things as the best-selling items for each location. You may also customize the reports to view just the metrics you are interested in. 
With this feature, you will also benefit from:
Insights In the Go
It features an intuitive and entirely customizable mobile Dashboard to suit an array of business needs. With such a feature, you will never lose sight of any business metric in your business. You will be able to access reports and insights on the important business processes from anywhere in real-time.
Detailed Reports 
Access key business metrics and download reports critical to retail success using our cannabis POS software. This has been proven to boost the bottom line in most cannabis retail businesses. 
Theft and Fraud Prevention
Just as is the case in many other retail businesses, internal theft and fraud can lead to losses or even cripple the business. Such practices are prevalent in cannabis dispensaries when certain operational procedures are missing.  
With Cova POS, you will be able to detect discrepancies using an assortment of employee permissions and cash management tools.
Enhanced Customer Experience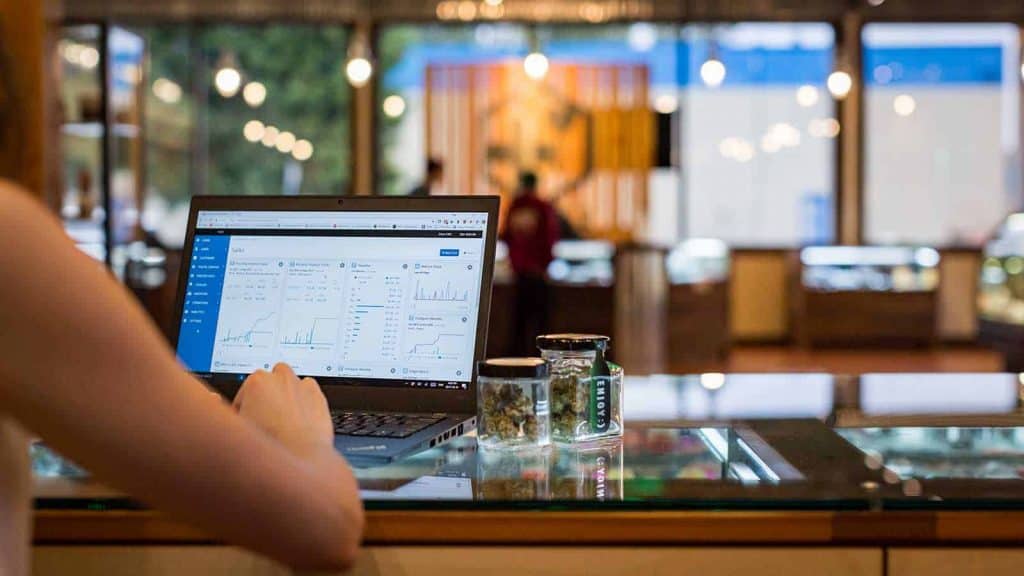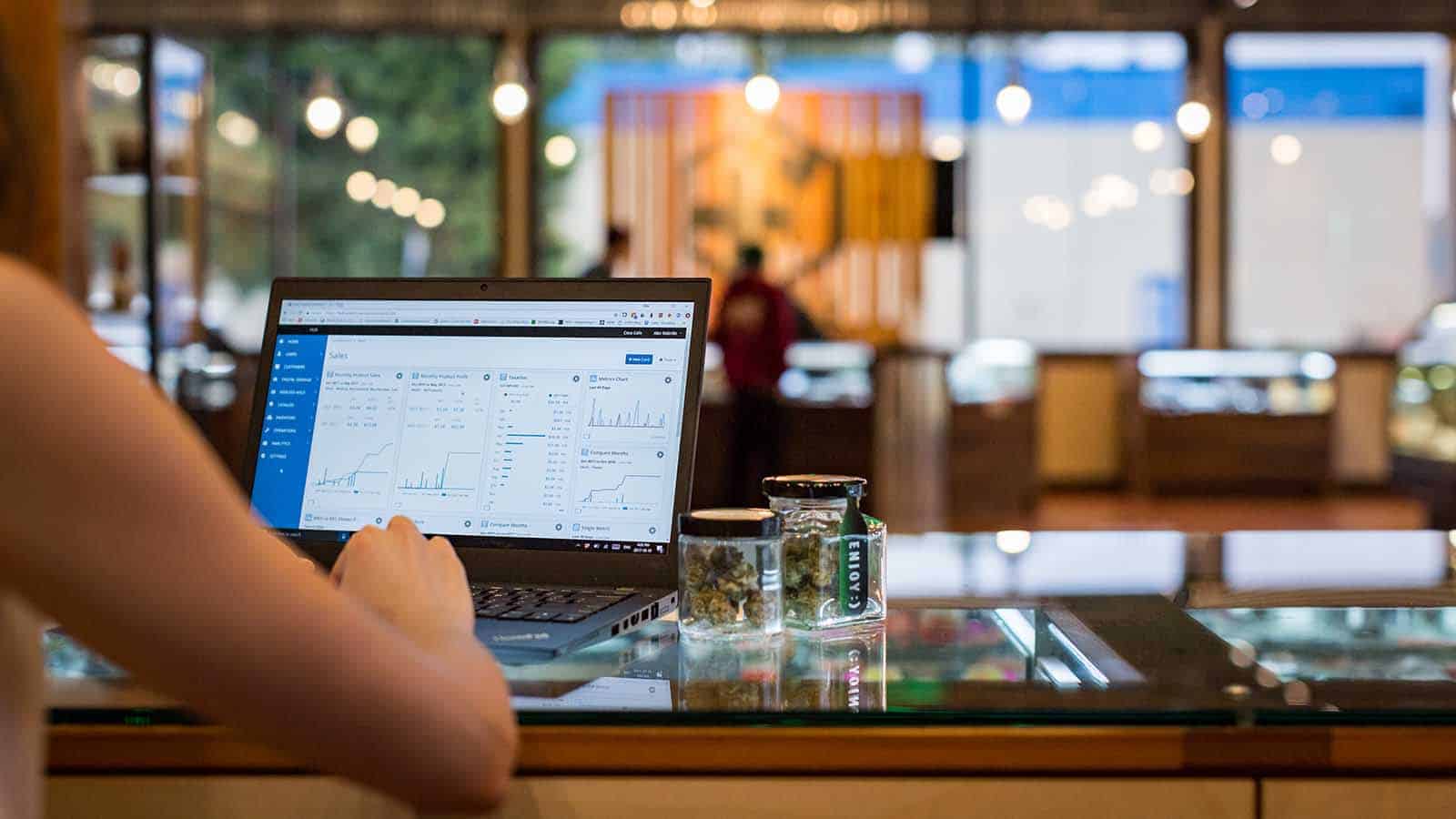 Cova is an easy-to-use and agile marijuana POS software that comes with all the tools you need to delight new and existing customers.
It will ensure that there is no more taking numbers or managing long lines. With its built-in queue capability, your customers can sign in, sit back and relax until the next sales team member is available.
It will also ensure that you have a smooth and fast end-to-end experience. By ensuring that every cannabis retail transaction is completed in under 1.4 seconds, this solution is sure to leave your customers impressed. In addition to this speedy and seamless shopping experience, the system will allow you to sell with confidence from day one.
On average, you will be able to learn and use the Cova POS system in under five minutes. This is made even easier by the onboarding assistance offered by the provider. It will also make it easier for you to connect with your customers and build trust on the sales floor. Cova ensures that you offer VIP treatment by freeing our team from behind the counter, allowing them to showcase inventory and built trust on the sales floor.
Offline Mode 
As opposed to some of the leading cannabis dispensary POS systems, Cova features an offline mode. This mode allows you to continue processing transactions through the POS system, even when the internet is down. 
With the Cova POS Offline Mode, you can keep the lines moving so no one has to wait or leave your store empty-handed.
Cova Integrations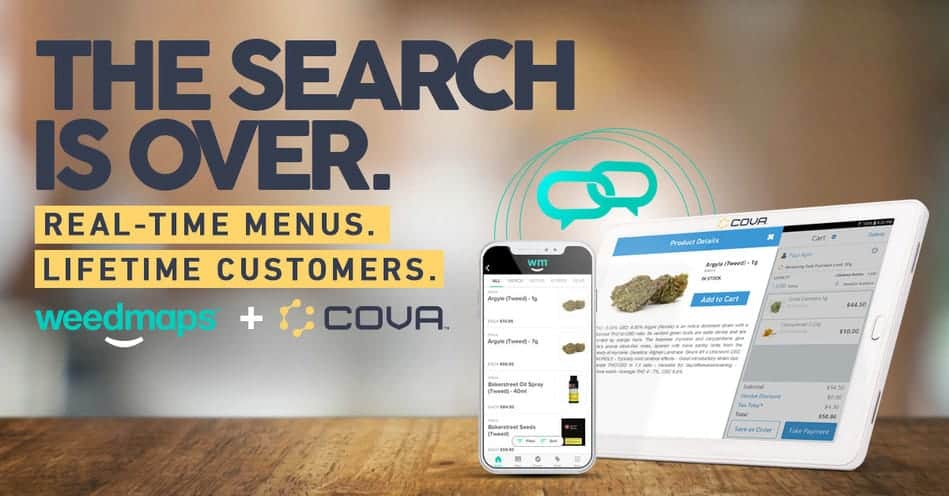 You will find the Cova POS system relatively easier to scale to your business needs as they change.
If you are experiencing business growth, the platform with manage all your locations. Oversee stock between stores, bulk-edit product information, and compare store performance in real-time. 
The system will streamline your operations and expand your sales channels and tools. Some of the strategic partners offer by this provider include Spring Big, GreenRush, I Heart Jane, APOP Media, and Baker. Additionally, the software features an Open API that allows you to integrate your own applications to the Cova POS system. 
According to most of its current users, the system helps you remain agile and scale with ease. It brings the agility and entrepreneurial spirit of a startup, but still has the people, resources, and financial backing of a successful enterprise company. 
State Traceability Integration 
Cova is a seed-to-sale compliant POS that is fully integrated with such statewide traceability systems as Leaf Data Systems,  BioTrackTHC, and Metrc. This allows retailers to automatically report data required by government regulations.
Comprehensive Compliance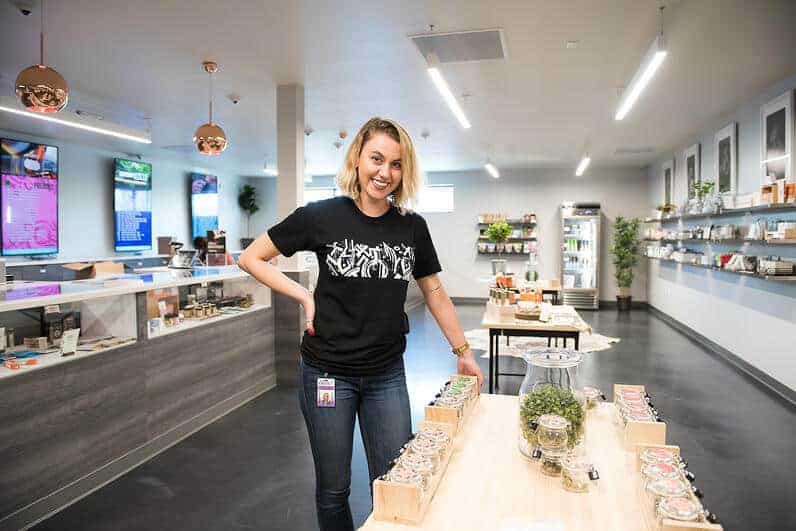 To many marijuana retailers, various compliance requirements are a burden. However, the Cova marijuana retail POS system is built to turn them a competitive advantage for your business. The software will prevent your staff from breaking the rules or just operational missteps that could seriously cost you the retail license.
Some of the compliance capabilities you will come to like about this system include: 
Purchase Limit Alerts 
The system will work out product equivalencies for the various items on each transaction automatically. It will then alert you or your staff when the limits allowed by the law have been exceeded. 
Age Verification 
The sale of marijuana products to underage persons is prohibited by law. To ensure that you are always on the safe side, Cova always scans the customer's ID using a barcode scanner for each transaction. This will help prevent underage sales in your dispensary.
Hours of Operation Compliance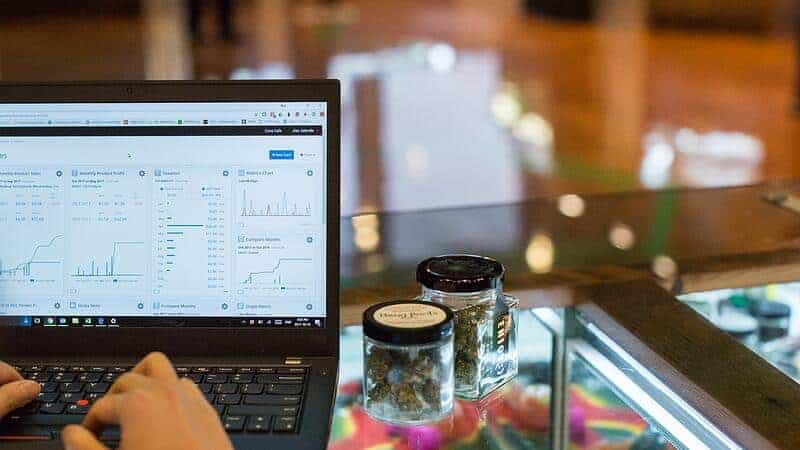 This will ensure that you only operate within the authorized hours of operation or risk a hefty fine or loss of license.
Reporting for Canadian Compliance 
Cannabis retailers in Canada are required to submit compliance reports to their provincial government: AGLC (Alberta), AGCO (Ontario), SLGA (Saskatchewan), LCRB (BC), and LGCA (Manitoba) every month. You will find this to be relatively easier with Cova. 
With Cova, you only need to select a report and the system will automatically export all the required data. You may then upload this export file through your provincial online portal. This capability is meant to reduce human error and save you a considerable amount of time. 
Bottom Line Boosting Tools 
Drive revenue with time-saving features, digital technology, and strategic partner API. For instance, the system will help you save time with accurate and real-time records. It will make it possible for you to maintain accurate customer records. 
With Cova, you will have an easy time adding new customers and locating repeat shoppers. Here are several Cova capabilities that will simplify operations and boost the bottom line in your business:
Customer Rewards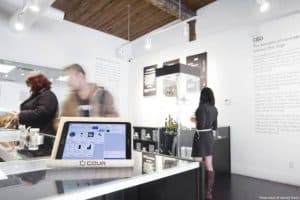 Building a loyal customer base at your cannabis dispensary can be a multifaceted effort. Cova will help you identify your best customers with accessible shopping. This way, you can turn repeat shoppers into brand ambassadors. 
Again, it will help you ascertain the best-selling products in your business using the real-time inventory reporting capability.
This tool makes it easy for you to predict consumer demands and navigate internal buying decisions. With such a tool, you will never miss a sale. 
Improved Mobility 
The mobile cannabis POS system will free your staff from behind the counter. This gives them more time to engage with customers on a personal level, even when internet connectivity is weak. 
If you are attending a social event or just a weekend market, you may also bring your Cova cannabis POS system with you, provided it is legal in your state. You may then use the mobile solution to process sales at the event. 
Automated Discounting 
Create a seamless sales transaction and keep the lines moving by implementing automated discounting. The Cova discounting feature is flexible and easy to set up. Preset the discount or manually apply it at checkout, depending on your own preferences. 
Targeted Marketing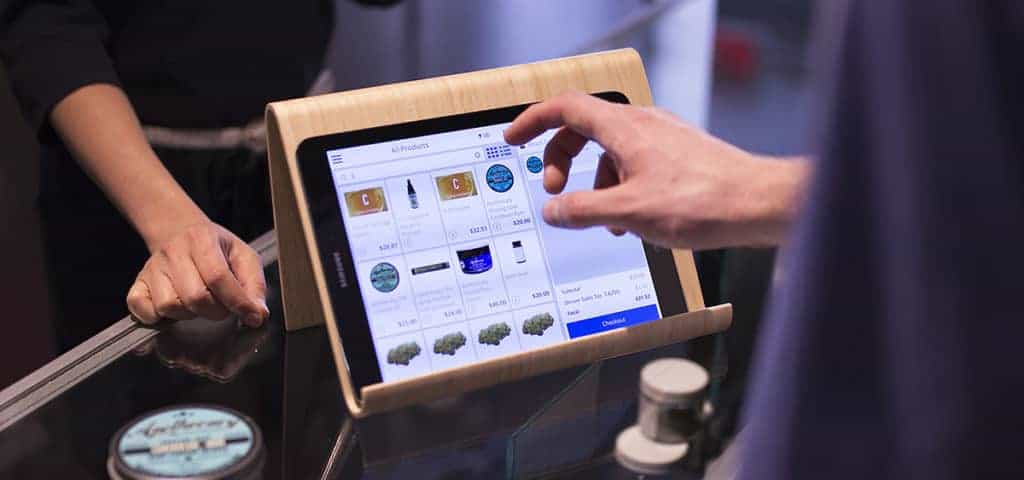 The Cova cannabis dispensary POS system tracks customers' preferences. This, in turn, allows you to directly target select portions of your customer base with the right messaging
Touchscreen Menus
You can enhance the shopping experience in your dispensary by giving customers the freedom to shop at their own pace. This has been made possible on the Cova system by the cannabis touchscreen menus and express checkout. 
Support for Sales Channels 
The Cova cannabis dispensary POS solution integrates with leading websites and e-commerce partners, such as GreenRush and I Heart Jane. With these seamless integrations, the system can automatically sync with your online cannabis retail store. 
Our Final Verdict 
With the Cova marijuana POS platform, you have access to a centralized intelligence hub for your cannabis retail business. The all-in-one platform makes it easy for you to manage such things as customer profiles, finances, employees, inventory, and online ordering.
The provider also offers plug and play hardware integrations to allow for easy and seamless POS setup. These, coupled with the advanced reporting and marketing capabilities, make Cova one of the best cannabis dispensary POS systems. 
The following two tabs change content below.
Reader Interactions