Some retailers out there still just need a simple system. No frills, no bells and whistles. But that doesn't mean you want to sacrifice a modern and sleek POS solution. That's where Cashier Live comes in.
The retail point of sale brings all of the basics in an easy-to-use system. Unlike some of the more robust retail POS solutions on the market, like Lightspeed and KORONA POS, Cashier Live comes with less of a learning curve without sacrificing any of the essentials.
The software is also integrated with BigCommerce so businesses can make the online selling experience fast and easy, too. All inventory between brick and mortar and eCommerce shops is automatically synced and transferred with a click of a button.
Unlike a lot of other retail solutions, Cashier Live offers its users a flat rate for each store. For retailers that have multiple registers that price stays at $75/store, no matter how many. And while the hardware must be purchased, we haven't seen a deal quite like this anywhere in the industry.
Why Should Business Owners Choose CashierLive?
Cashier Live covers all the bases on store management and reporting, too. Track inventory in real-time, create purchase orders, and manage your cashiers. And, at the end of the day, create custom reports that break down your sales in a digestible format.
Each subscription comes with premium support, too. Cashier Live helps with the initial set up, inventory imports, hardware installation, card processing, and will keep checking in throughout the duration of each subscription.
Users are required to use their processing solution through their integrated solution. It does keep transaction times at a minimum and rates stay at a flat 2.7% for each transaction, so businesses know exactly what they'll pay.
Overall, Cashier Live brings retailers a simple solution that lets them worry about the bigger stuff. It's a great fit for small to medium-sized businesses that require all the basics. Want to learn more? let's dive into our full review of CashierLive POS.
Key Features
Features barcode scanning and customer account profile capabilities

Supports multi-store management

The software is compatible with an array of devices

Features an integrated card processor

Allows you to search inventory items by UPC, supplier, description or reorder number.
Possible Downsides
The system does not run smoothly on Mac machines. If installed, it will have glitches every now and then. Again, the software lacks offline capabilities. 
CashierLive POS System Alternatives 
| POS System  | Software Subscription Fee  | Compatible Platforms  |
| --- | --- | --- |
| CashierLive POS  | Starting from $75.00/month | Cloud and Windows |
| LightSpeed  | Starting from $69.00/month | Cloud and iPad-Based |
| Shopify POS  | Starting from $29.00/month | iPad-Based |
| Booker  | Starting from $129.00/month | Cloud-Based |
CashierLive POS Pricing 
CashierLive is very transparent as far as software and hardware pricing is concerned. To begin with, the provider will offer you a 14-day free trial to try the software first-hand.
The free trial dies not to require a credit card to sign up and you may cancel it at any time you want. 
After this free trial, you will be required to pay a monthly subscription fee to continue using the software.
In this regard, the provider only offers one software subscription cost, priced at $75/month per store. This plan is iPad, PC and iPhone compatible. 
CashierLive Hardware Pricing 
In addition to POS software, Cashier Live also offers a range of hardware options. The provider offers both complete POS workstations and individual accessories, which can be purchased from its official website. 
Some of the hardware options offered by this provider include: 
PayPoint Package ($2,599)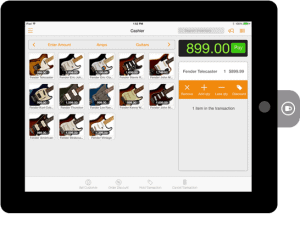 The PayPoint is the updated all-in-one CashierLive integrated point-of-sale hardware package.
The complete workstation incorporates elegance and simplicity to your point of sale system. It features a modern style and comes with all the peripherals you need to run the CashierLive POS software.
This Z6 Workstation is a multifunction device that completes encrypted transactions using PIN entry, magnetic stripe, chip, and contactless smart card. With this package, you will get everything you need to get up and running.
PayPoint Register ($2,099)
This is another innovative and powerful POS workstation solution by Cashier Live. It is a comprehensive, all-in-one POS system hardware package that comes with all the required accessories. 
This package is priced at $2,099 and includes a touchscreen computer, a cash drawer, receipt printer, customer display, receipt printer, and a barcode scanner. 
Complete Point-Of-Sale System ($1,900)
This is one of the most affordable complete POS hardware packages by this provider. Priced at $1,900, the package includes full setup support through a phone call. Additionally, it features a Core i5-6400 computer with 128 GB of a solid-state drive and 8GB RAM memory. 
Additionally, you will get a 19″ LCD display, Star TSP100, Cash Drawer, and a barcode scanner. The system has been proven to be very reliable and to deliver high-speed performance. 
CashierLive POS System Key Features 
The Cashier Live PO solution is suited for small to medium-sized pharmacies and retail stores. Despite being one of the most affordable retail POS systems, CashierLive has a range of beneficial capabilities to offer retailers. 
Whether you are tracking the inventory, ringing up sales or just viewing reports and sales data, CashierLive makes it easier for you to run the business. Some of the aspect retailers have come to like about the CashierLive POS system include: 
Register Features 
Ringing up sales and processing payments at the register is fast, convenient and affordable with CashierLive POS.
The system combines a great design with extensive usability testing, making it quick and easy for you to complete transactions from almost any device. 
With this solution, ringing up a sale is as simple as scanning, clicking and swiping the card.
You will also love the fact that the solution allows you to ring up sales in-store as well as online. In this regard, it allows for seamless integration with Big commerce—a renowned e-commerce platform. 
This allows you to create an online store as well as sync the menu and I inventory in no time. Some of the features and capabilities you will come to like about the CashierLive register include: 
Accepts all Payment Types 
The software is flexible and is designed to accept any form of payment. With such a solution, you will be able to accept such payment methods as cash, check and charge. You may also set up house accounts and have the customer pay at the end of the month. 
Splitting Payments 
With Cashier Live, the customers can pay with any method they want, even more than one. The register has the tools you need to split payments and have a customer use different payment methods for a single transaction. 
Barcode Scanning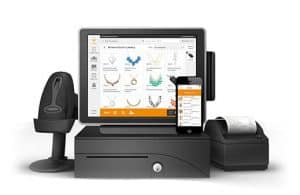 By allowing you to use a barcode scanner while ringing up sales, the system makes it faster and easier for you to process transactions.
In this regard, it allows you to use an attached scanner that connects to the USB port on the computer.
You may also connect the right scanner via Bluetooth if you are using an iPad to scan barcodes. With CashierLive, you may also use the camera on an iPhone or iPad to scan items while processing transactions. 
Simplified Returns 
CashierLive makes processing returns simple and straightforward. All you need to do is enter the transaction number from the receipt, and search for the transaction. Alternatively, you may enter the items being returned by hand.
Discounting Transactions 
Depending on how your store offers coupons and discounts, sometimes you will need to provide special pricing for specific items or an entire transaction. CashierLive POS features simple discount tools, making such options easily available to your cashiers.  
Holding Transactions 
Holding transactions and retrieving them at a later time or date is a necessary feature in any retail business. With this feature, Cashier Live allows you to quickly complete the transaction when the customer returns. Even so, it makes it possible for you to, continue ringing up other customers in the meantime.
Management Tools 
One of the things that set Cashier Live apart from other POS systems is the fact that it allows you to manage your store remotely in real-time. It offers store owners and managers complete access to all retail management tools away from the store. 
Some of the tasks you will be able to accomplish remotely with this system include:
Tracking Item Quantities 
Managing your retail store inventory is hard, you may have a hard time monitoring the items and product coming in and going out. Cashierlive features simple import tools that may be used to bring your inventory into the system. 
Once you have created the inventory database, the retail POS system will automatically monitor its levels based on sales and returns.
It will keep you informed on inventory levels at all times and send you alerts when a certain threshold is reached for you to replenish the stock. 
Generating Purchase Orders 
With cashier live, generating Purchase Orders is easy and may be carried out in the store as well as remotely over the cloud. The system has options to create PO's based on what has been sold or with re-stock levels. 
Cashier Management 
This system couples an intuitive employee time-clock to cashier-level transaction reports. Such a solution presents you with a comprehensive look at how your cashiers are performing in real-time from anywhere. 
POS Reporting 
The CashierLive POS system is designed to collect data automatically as you run your normal store operations. This data is securely stored and later used to generate reports on important business processes. This comprehensive reporting system allows you to pull out any of the information you need. 
The solution offers a Dashboard view of the important details at a glance and allows you to generate a wide range of reports. 
Final Verdict
Cashier Live makes it possible for retailers to monitor and run their stores more efficiently. To begin with, it allows them to accept payments from any device and reduces transaction time considerably. 
The system allows you to search the inventory using supplier description, UPC codes or reorder numbers. The system is also loaded with a range of management features that allow you to run your store remotely in real-time. 
Cashier Live provides all the training, setup, and equipment hook-up you need to get started. Pricing is per store per month basis. Customer support is provided via phone and email.
Reader Interactions