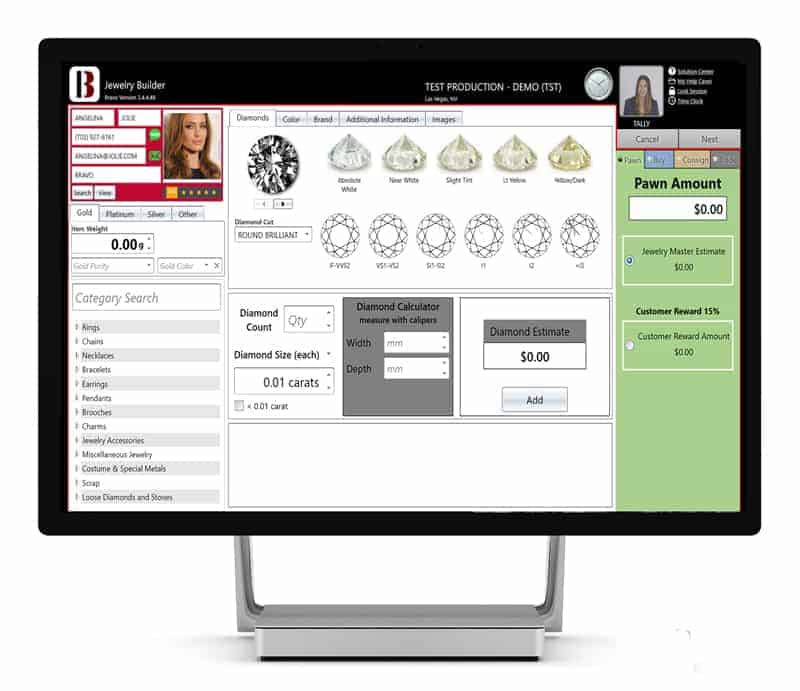 If you own a pawn shop and need a POS system that offers safe integrated payments, layaways, gift cards, and more, look no further than Bravo Pawn Systems.
This software can help you manage day-to-day operations, so you can go back to helping your customers. With Bravo, you can track every single transaction by employee. To keep a tab on your inventory, check which items have been sitting and who are your best-sellers.
If two or more salespeople worked with the same customer, you have the ability to split commissions, so everyone gets the credit. Also, split payments for customers, create custom orders, schedule repairs, sell gift cards, and more.
After an extensive review of Bravo Pawn Systems, our favorite feature was our ability to manage all your inventory in one dashboard. The built-in estimator module can assess what an item is worth. Also, the software will display the average price sold, profit margin, and return rate of a specific item.
Can't find an item by keyword? Look it up by UPC, receipt, loan ticket, or model. If you sell jewelry items, you can use the Jewelry Master feature to get a precise price based of the weight of stones and other metrics.
What's more, Bravo offers a powerful suite of management tools. Get reminders about tasks that need to be done, view your calendar, and transfer items between your stores (if you have multiple locations). This way, you'll be able to track any overages or shortages in your store.
With powerful, real-time reporting, let's dig deeper into how Bravo can help your pawnshop succeed.
Key Features
The POS software is platform agnostic 

Features commission, discount and returns management capabilities 

Comes equipped with customer account profiles functionality

Supports electronic signature 

Allows for e-commerce integration  
Possible Downsides 
The Pawn POS system has a rather steep learning curve. 
Bravo Pawn Systems Pricing 
The Bravo Pawn Systems point of sale solution is quote-based. The pricing will mainly depend on the size of your Pawnshop and your POS requirements. To get an accurate quote, you should contact the provider directly through its official website.
Bravo Pawn Systems Requirements 

Bravo systems run best when installed on the right hardware and paired with the recommended accessories. For a stationary Workstation, you will need a computer that runs on Windows 7 or higher. 
If you will be using such accessories as ID scanners, fingerprint or signature pads, you should consider using a 64-bit operating system. The software best runs on Core i5 @ 2.4 GHz processor. 
The computer needs to have 6 to 8 GBs of ram and at least 100 GB disc space. 
Bravo Pawn Systems Key Features 
Integrating the Bravo Pawn Systems software to InstaPawn—a mobile App by the provider—allows your customers to conveniently access Layaways and loans. Additionally, they can view due dates, and make payments remotely at any given time through this POS system.
In addition to these, the Bravo POS software is loaded with a myriad of pawnshop-specific features and capabilities, including: 
Register Features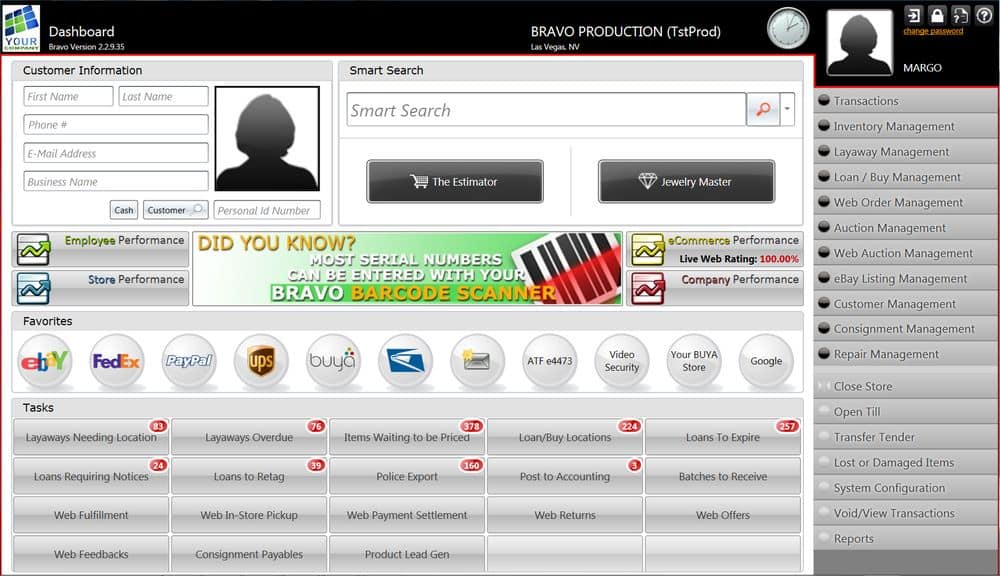 With the Bravo Pawn System software, you will have an easy time processing and managing transactions in your pawnshop. The register on the system features an intuitive user interface and is loaded with an assortment of capabilities to make business easier for pawnbrokers. 
To begin with, it will allow you to keep an accurate track of all transactions by employee account used to process them. This is particularly beneficial when you have several staff members the same Workstation You will also be able to monitor aged inventory and bulk discount by age, category or both to lift inventory turnover rate.
From this register, you can also split commissions among several employees, and payment into two or more payment types within a single transaction. You may also sell gift cards or issue them for refunds redeemable at any of your Bravo locations and create custom services and fees on the fly for cleaning, repairs, or layaway restocking. 
Operations Management Tools 
These are meant to simplify and streamline operations in your pawnshop. As a result, you will spend less time managing operations and lore time interacting with the customers. Following installation, Bravo will be sending you reminders on what needs to be done for the day. It will also keep track of administrative and operational duties with its Task Manager tool. 
It features an in-built store calendar that may be used to visualize what days your store is open and whether you charge interest on days when your store is closed. You may use this solution to transfer items between your locations without having to relabel them. 
Other operations management tools you will come to like about this system include:
Customizable Location Names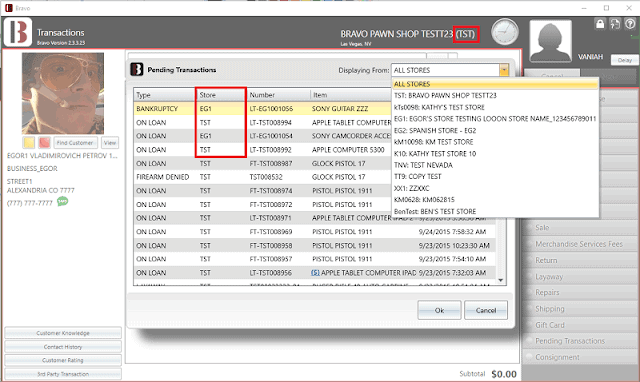 Bravo Pawn System allows you to create custom location names for your sales floor and back storage by function. This allows you to keep track of where items are located. Additionally, you will also be able to transfer items from one location to another with ease. 
In such a case, the Bravo Pawn software will handle the required item verification, shortages, and overages according to during such batch transfers.
Detailed Transaction Histories
With this pawn-specific POS system, you will be able t view detailed payment and item histories in your various pawnshop outlets. You can see the complete history, ranging from when an item entered your store up to the moment it was sold. 
Again, the customers will be able to conveniently view their loans online and save you a considerable amount of time.
An organized store is easier to manage. The Bravo POS system for pawnshops will help you achieve just that in your store. The system features free and seamless accounting spreadsheet exporting capabilities. 
With this capability, you can export important data to such services as QuickBooks, Great Plains, or MAS90. Again, you can also copy, paste and even store images of customers, merchandise, IDs, and employees. You may also capture such details using a webcam. 
Bravo Pawn Tools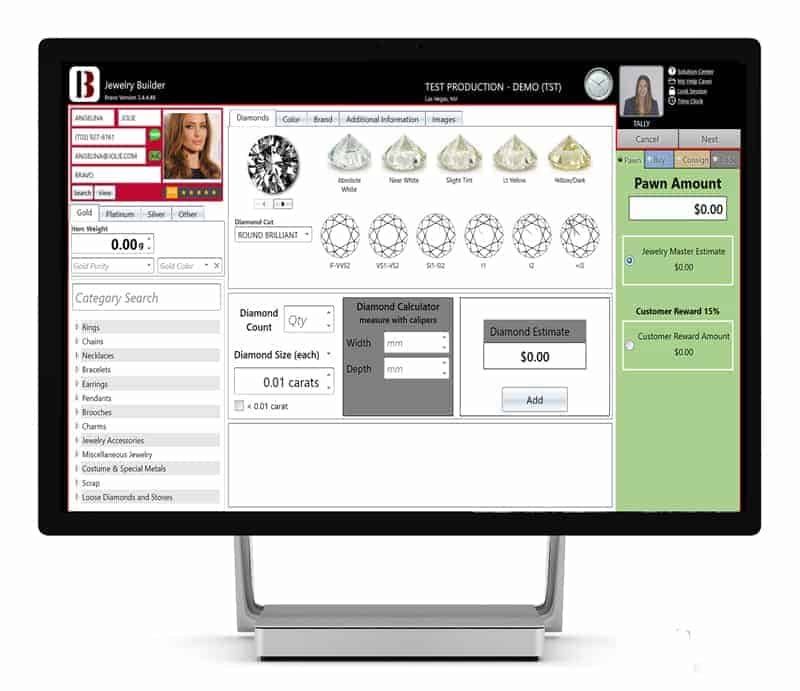 The system is packed with an assortment of pawn tools, allowing you to track and research your pawnshop inventory with ease. Such tools will also help you protect your profit margins as well as manage the entire inventory on one convenient screen. 
For instance, the Estimator feature will help you access and determine the items that are worth stocking in your store based on their condition. With this system, pawnbrokers can easily work out loan amounts, average price sold, margin, return rate, shrink rate, and more for every product
Some of the Pawn tools pawnbrokers have come to love about this solution include:
Jewelry Master 
This feature makes it easier for you to accurately subtract the gravity weight of stones from their mounting weight. This has allowed many pawnbrokers to get a precise price breakdown for every jewelry piece in their stores. 
The system will also ensure that every penny is accounted for when the jewelry is refined. This capability has been proven to boost scrap profit margins by about seven percent. 
Smart Search 
Searching for items on the POS register has never been easier than it is with the Bravo Pawn Smart Search functionality. This capability allows you to search for items using UPC codes, receipts, loan tickets, make or model. In total, it has about 9 different Smart Search functions.
InstaPawn Mobile App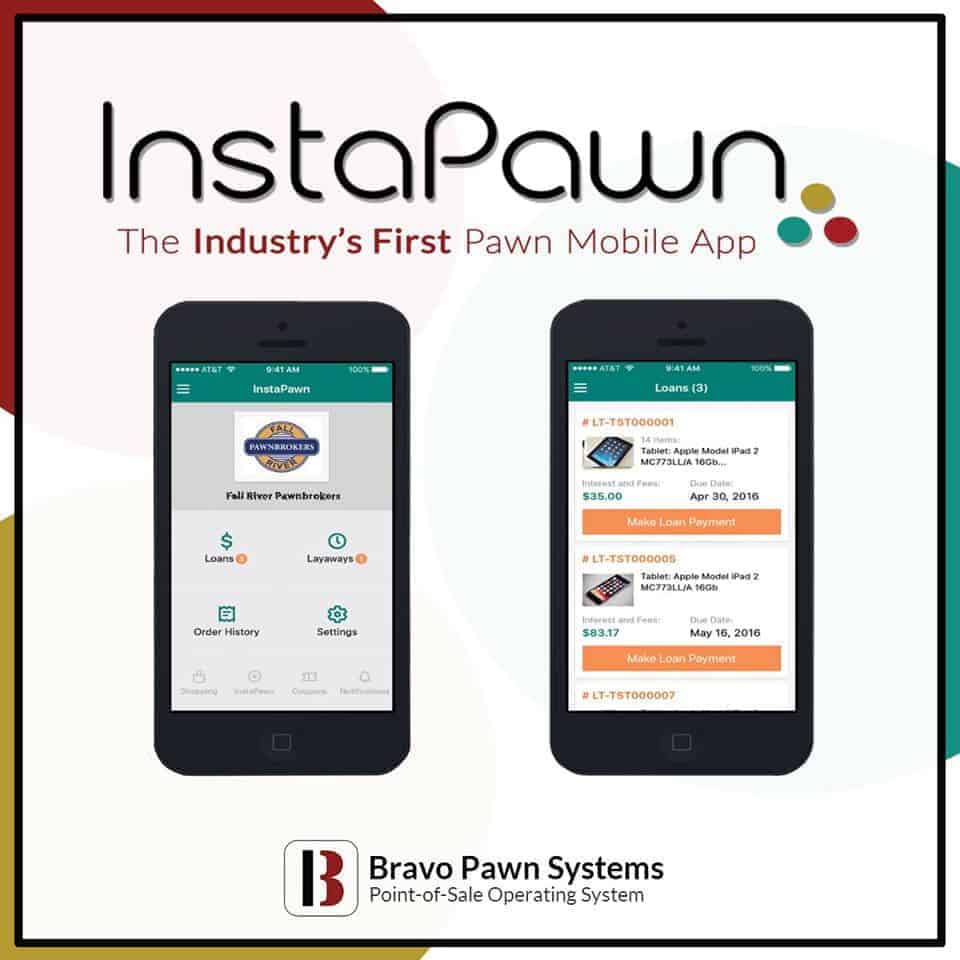 This is the very first and, probably the only, mobile POS application that is specifically designed for pawnshops today. The app integrates with the Bravo Pawn System seamlessly, allowing your customers to shop your inventory via the app. This will, in turn, extend your store hours significantly. 
From this app, customers can also make loans and layaway payments. The MobilePawn solution is designed to show users a list of their pawns, complete with loan number, a photo of a loan item, number of items on loan, a short description, interest and fees due, and due date. 
It offers your customers the flexibility of managing their pawns as they desire and from anywhere. It offers them optional payment features like extensions, renewals, partial payments. Other benefits associated with this application include: 
Improved Bottom Line 
The application will increase the percentage of payments processed, thus freeing up employees to focus on securing new pawns in-store. Your employees will no longer waste valuable time handling loans and layaway payments from existing customers.
The application will also reduce your forfeiture rate and increase the pawn service charges in your Pawnshop. It also makes it more convenient for your customers to transact with you, allowing them to handle these payments from home. 
Online Store Integration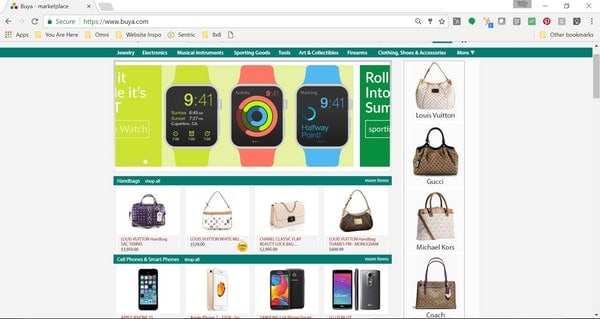 The Bravo Pawn systems POS solutions allow you to build an online presence for your pawnshop. This is achieved by integrating the system into Buya.com. This solution makes it possible for you to reach millions of online shoppers. 
The provider will ensure that your pawnshop inventory is seen by feeding product listings into Google, Yahoo, and Bing, purchasing Google AdWords product listings. Additionally, Buya will geo-tag your inventory to show in mobile search. All these will be provided at no additional cost to your business. 
Bravo Pawn System Alternatives 
POS System
Software Subscription Cost
Customer Support Options
Bravo Pawn Systems
Quote-Based
24/7 (Live Rep)

Business Hours

Online
Lightspeed POS
Starting from $69.00/month
24/7 (Live Rep)

Business Hours

Online
Shopify POS 
Starting from $29.00/month
24/7 (Live Rep)
Booker 
Starting from $129.00/month
Business Hours

Online
Our Final Verdict
As compared to other retail POS systems, pawnshop-specific tend to have unique requirements as far as POS systems are concerned. This being the case, only industry-specific solutions like Bravo Pawn Systems are suited for use in such businesses. 
The solution is suited for use in single, multi-store as well as in Enterprise pawnshop businesses. In an effort to extend your expectations, the provider offers an affordable POS solution. Even so, it is known to offer innovative software features and integrated e-commerce capabilities. 
Additionally, the provider offers a powerful mobile application for your customers and reliable customer support service. It is such features and capabilities that make Bravo one of the best pawn shop POS systems. 
Reader Interactions