Whether you have a full-service restaurant or a food truck business, you still need a means of running transactions, taking orders, and keeping track of inventory. That means a robust point of sale system that is built for the foodservice industry. Consider AB POS as a great place to start your research. Here are a few things to know about the product:
AB POS System Review  – Company Overview

AB POS Solutions works to value every merchant they serve. The brand is full of restaurant experts who are passionate about improving the experience for everyone involved—from staff to customers. The desire to do what they love is contagious.
AB POS focuses on building strong relationships that are characterized by trust, teamwork, and respect. They feel that great communication is critical for the success and quality of their people. They work with honesty, integrity, and a strong sense of ownership.
AB POS Benefits
Flexible menu creation and ongoing upkeep.
Different pricing plans defined by business needs and size.
Tableside management with a floor plan in the POS/
Effective customer relationship management (CRM)
Payment flexibility from magnetic stripe to contactless and EMV.
AB POS Pricing
Software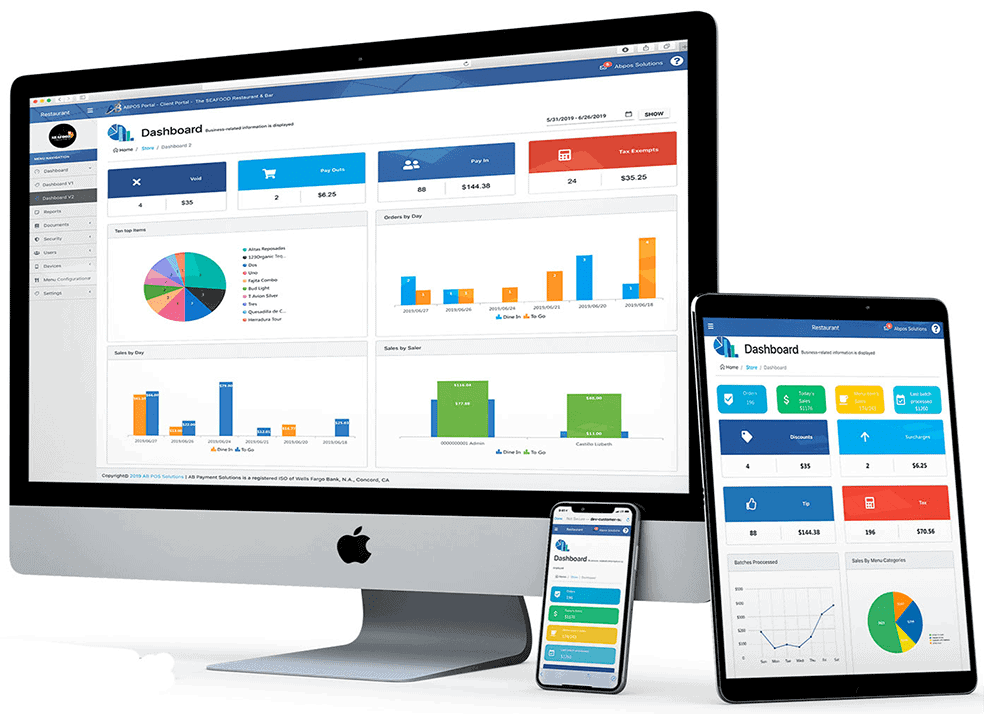 AB POS offers pricing plans to fit the needs of every unique venue. It is simple to find the plan that is right for your business. All POS software pricing includes tableside ordering, reporting and analytics, payment processing integrations and other features like:
Menu and staff management
Unlimited user logins for staff
Customer relationship management (CRM)
Easy product updates
Free 24/7/365 support
All hardware is sold separately. The pricing plans include:
Basic – 1 License – Starts at $69.99
Starter – 2 License – Starts at $199.99
Unlimited – 6+ License – Starts at $349.99
You should call for a custom quote basic on specific business needs.
Hardware
AB POS sells commercial-grade hardware that is designed to withstand the rigors of foodservice.
POS Terminals A10-CW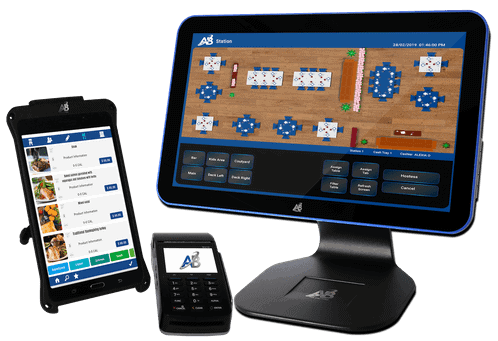 This is the most popular hardware setup and starts at $1,099.99. It includes a 10.1" terminal, receive printer, flip stand, cash drawer, and magnetic card reader. It has fitted stretch hems and a slouch-fit trim. This setup comes with a two-year warranty as well. This terminal is white in color.
POS Terminals A10B
This package starts at $1,299.99 and comes with the following:
1" terminal
Flip stand
Receive printer
Cash drawer
Magnetic card reader
Unlike the A10 (which comes in white) this terminal is a sleek black color. It also comes with a two-year warranty. It has a top-of-the-line processor and memory so a business can fire off orders fast. That can make a big difference when you are running a busy kitchen and want to turn tables fast.
POS Terminals A10W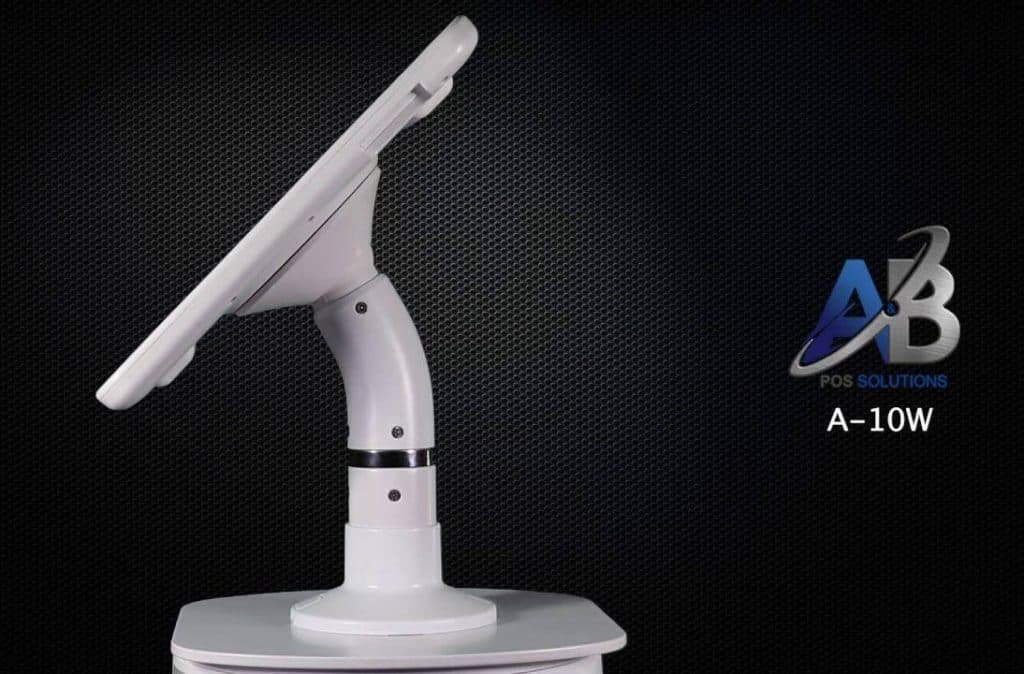 This package starts at $1,399.99 and includes a 10.1″ terminal, receive printer, flip stand, cash drawer, and magnetic card reader. It also comes with a two-year warranty.
Handheld POS
For mobile management, the handheld POS is $699.99. The terminal is a mere 8.5" and comes with a two-year warranty.
Cash Drawer
Only $95, the cash drawer has a large storage area under the insert's coin section. The drawer has steel rails for extra durability with adjustable weights and coin dividers.
Thermal Printer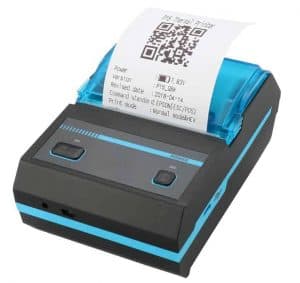 Triple interface standard printers that function on the following:
It prints fast at 250 mm per second print speed. The design is compact for extra space-saving. These go for $210 each.
Kitchen Printers
Kitchen printers need to be durable to withstand high-pressure and busy restaurant environments. They must be designed to be fast and loud so they can be heard in a busy kitchen. Orders will be constantly flowing from these printers, which go for $395.
AB POS System Requirements and Capabilities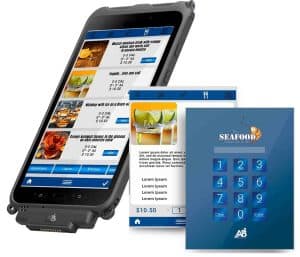 The AB POS software must be used in conjunction with either the POS Terminal A-10B, POS Terminal A-10W, POS Terminal A-10CW, or the Handheld POS unit.
The handheld has a 40% longer battery life than a regular iPad and is built to withstand restaurant environments. It weighs less than a pound and easily fits in an apron pocket.
Printers
When it comes to the printers used, there are limitations. AB POS is compatible with the following:
Thermal Printer BTP S80
Thermal Printer BTP S80 B
Thermal Printer Epson TM-T20II
Thermal Printer BTP R180 II
Impact Printer BTP-M300
Impact Printer Epson TM-U220
EMV Hardware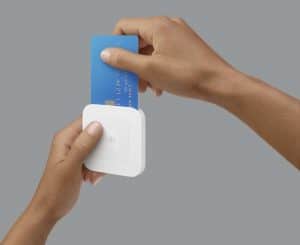 The latest in integrated retail payment solutions for multi-lane merchants is the PAX S300. It offers high levels of transactional security as well as a magnetic stripe, chip and pin, and contactless payment options.
Another option is the PAX PX7 which has multi-media touchscreen management with a high-resolution color screen.
Barcode Scanner
The Honeywell – Orbit 7120 – Black USB is the only barcode scanner compatible with the AB POS system. It features "sweet spot scanning" to optimize performance and a first-pass read rate.
Internet Connection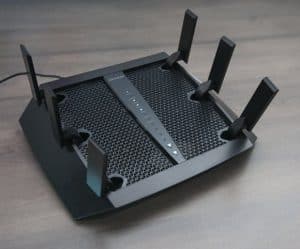 The AB POS platform works with several different types of routers. The most popular is the NETGear Nighthawk X6. It has breakthrough tri-band wi-fi for multiple wireless devices.
Cisco Aironet 1830 is used for small to medium-sized networks. It features industry-leading network performance and supports the latest wi-fi standard. Hawking Hi-Gain is the last type of technology to work with AB POS. It is a weather-proof outdoor unit that makes for a highly-efficient access point.
Charging
AB POS also offers a scalable magnetic base for charging multiple devices at once. It has an adjustable height to accommodate a variety of devices and Pogo pin contacts. This eliminates the need to plug in cables or deal with messy wiring.
Features
AB POS offers customers a variety of features and solutions to meet the needs of a business of any size or style. Here are some of the best benefits of this product:
Product Management and Menu Building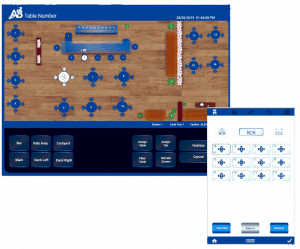 The software offers architecture built just for your business. AB POS has flexible menu templates with categories, subcategories, and products for uber customization. You can add, clone, and organize menu items with a simple touch.
Orders can be routed to kitchen printers and displays by menu item or category. The system also allows for custom modifiers to help servers upsell and answer customer questions.
Table Management
A business can replicate the restaurant floor plan straight through the POS. Meal distribution is effortless when orders can be assigned to seats. The benefits of this feature include:
Streamline operations
Monitor your sections
Reduce human error
Improve service
It also helps to identify slow-turning or high-value tables at a glance.
Analytics and Reporting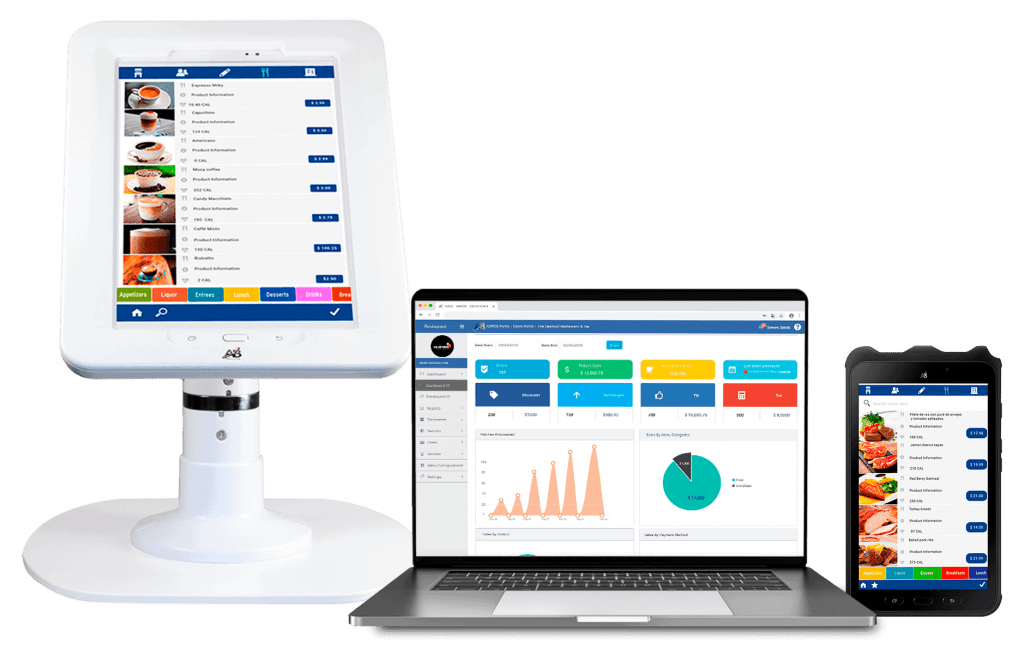 AB POS gives you quick access to a full range of reports. No more number crunching to know exactly how well the business is doing. Benefits of this feature include:
Data warehousing
Store reporting
Cloud-based data management
Remote store setup
Intelligent dashboards
They also offer effortless offsite POS database backup for any disaster recovery.
Staff Management and Scheduling
Whether it is the back or front of the house, you can manage all staff right within the AB POS system. View clock-ins and outs and create more effective communication with in-app messaging.
You can also maintain payroll details and personalize accounts with employee-specific settings. Reduce theft with comprehensive security controls and adjustable settings.
Payment Flexibility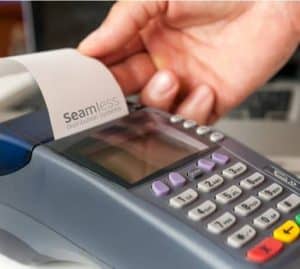 When catering to customers, payment flexibility is key. Be prepared to perform actions like:
Split bills
Run bar tabs
Store credit
And more…
AB POS is EMV ready using cards equipped with chips. Integrated payments helps to eliminate double entry and reduce errors. You can even take payments tableside to turn tables faster.
AB POS Customer Service and Support
AB POS offers tech support 24/7/365 in North America. They are headquartered on the east coast in Maryland and are open M-F from 9 a.m. to 6 p.m. EST. All customer service calls are handled on-site by trained, multi-lingual reps.
They strive to maintain the best in class for service levels and are committed to providing immediate and effective support. Since they are experts in the industry, the brand understands how important a quick response can be to a restaurant. Especially during a rush.
The Final Say
When a brand is developing niche software for a certain industry, you want them to have experience in it as well. That is how AB POS approaches the product. From the mindset of a restauranteur.
From robust staff and menu management to tableside ordering, AB POS provides a hardware and software combination that can revolutionize your business, streamline operations, and drive serious revenue.
The following two tabs change content below.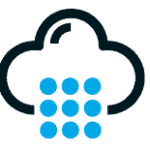 POS Quote Team
The staff at POSQuote.com is composed of industry professionals, experts, and current business owners. Through extensive research, we compile buyer's guides and review the best POS systems in the industry.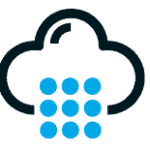 Latest posts by POS Quote Team (see all)
Reader Interactions