Consumers would prefer to do things themselves. It's empowering. That's why grocery stores now have self-checkout lines. Its why ATMs were invented, and why e-commerce is soaring. In other words, a smart business will always provide one or two channels for the customer to help themselves.
As digital signage becomes more prevalent, companies are turning to touchscreen kiosks (also called interactive kiosks) to energize consumers into self-help.
What is a Touchscreen Kiosk?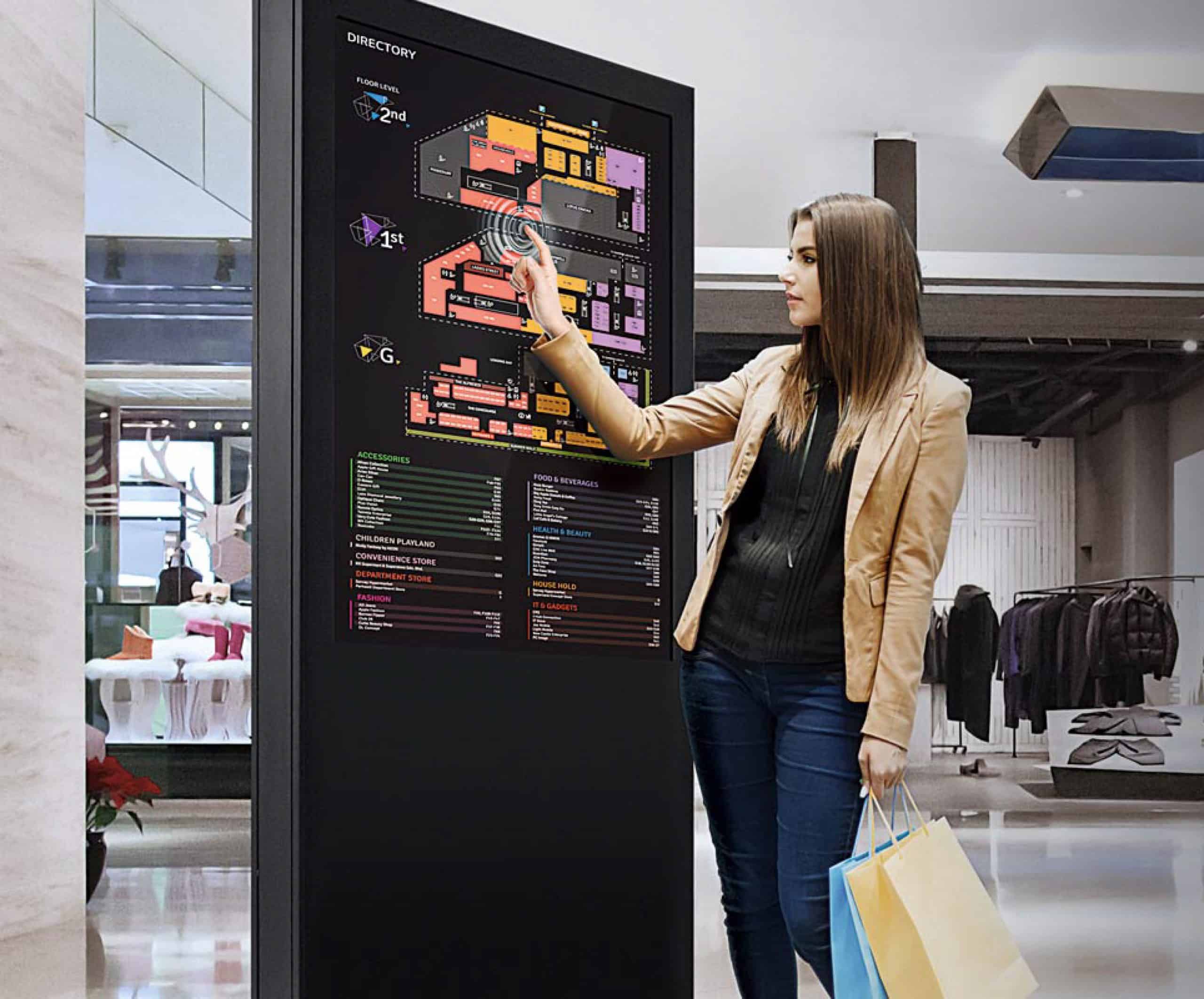 A touchscreen kiosk is typically a standalone or wall-mounted computer terminal with specialized software and interactive hardware. In other words, people can walk up and touch the screen to begin using the equipment. The system is then prompted and guided by their decisions.
Early kiosks were rather clunky and resembled phone booths. These days, touchscreen kiosks can be as small as a tablet. As long as you're placing the hardware in places with high foot traffic, the touchscreen kiosk will get used. This includes pathways, lobbies, shops, and airports.
Typical uses for an interactive kiosk include:
Commerce
Education
Communication
Entertainment
Anytime a business can install a touchscreen kiosk, they save valuable time and money.
How Does a Touchscreen Kiosk Work?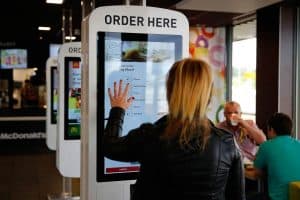 This depends on the industry and what the machine is intended to do. Touchscreen kiosks can perform a wide range of functions. For example, an interactive kiosk can enable a shopper to order from an online catalog when items are not in the store.
A kiosk can also help someone look up information, scan a product, check out a library book, buy groceries, and issue a hotel key card. You can even pay utility bills at some. The options are limitless as developers are designing new kiosks every day to meet the needs of emerging markets.
A touchscreen kiosk can also have other customized components to do its job. This includes equipment like:
Thermal printer
Coin hopper
Bill acceptor
Card reader
Whatever is required to perform the main job the kiosk is there to do.
Benefits of a Touchscreen Kiosk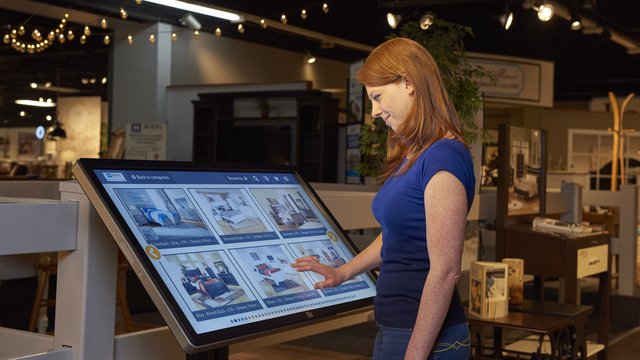 It's rather apparent that a touchscreen kiosk has a multitude of benefits when you install one. They reduce business costs by providing a personalized service run by the consumer. They can access all the information they need about a product from a single screen in your store.
This also helps to improve business efficiency as a digital kiosk never gets tired or needs a break. The machines can run 24/7/365 save for repair downtime. They don't require a paycheck or overtime either. Other advantages are:
Enhances customer service
Drives conversions and increase sales
Improves the overall buying experience
Delivers faster return on investment
Helps to understand consumer behavior
These machines also accomplish things a business owner might not expect. Kiosks boost employee satisfaction because it frees staff from remedial tasks the touchscreen can handle. They have more time to focus on parts of the job that are rewarding instead of monotonous labor.
Who Uses a Touchscreen Kiosk?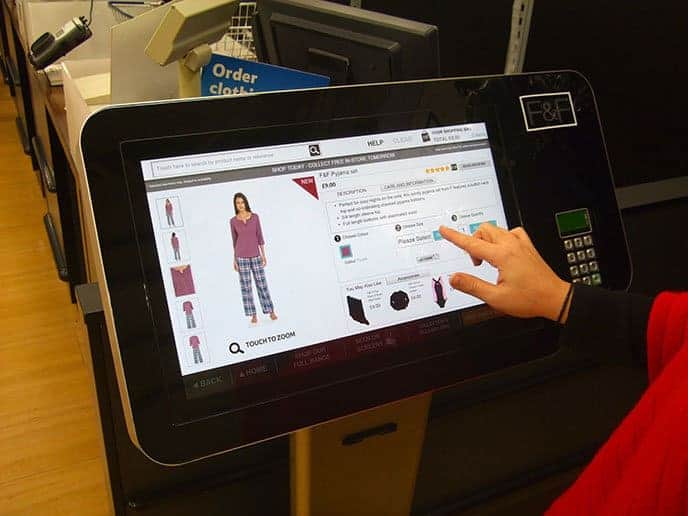 Who doesn't? It is estimated that over 1,200,000 kiosk terminals exist in the U.S. and Canada alone.
As technology evolves, every business sector, market, and industry has found a use for an interactive kiosk. The equipment has been embraced from retail to foodservice, hospitality, finance, and transportation.
The government in the UK uses touchscreen kiosks to help decrease the unemployment rate. Users can job hunt in the terminals and actively find work. The United States Department of Homeland Security has kiosks in immigration for people entering the country. The Postal Service uses them in HR for employee training and to monitor benefits.
The Rockwell Museum in New York City uses touchscreen tablet kiosks to provide visitors with easily accessible data on each exhibit. Penn State does the same in their museum to display current and past facts about their athletes.
In healthcare, facilities are using touchscreen kiosks for patient check-in and electronic signatures. The technology helps to reduce paperwork and workload. Pharmacies provide them to patients who want to know more about their medication.
Corporations who heavily rely on kiosks in their business environment include Wal-Mart, Home Depot, JetBlue Airways, Delta Airlines, Future Shop, United Airlines, and GTAA.
How Much Does a Touchscreen Kiosk Cost?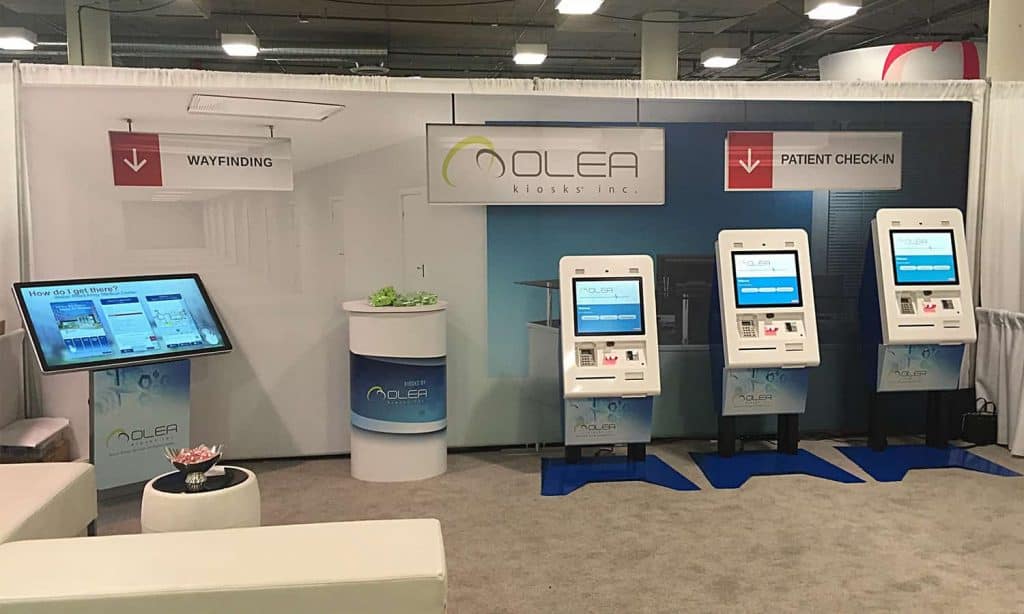 It depends on the size of the touchscreen kiosk and what you intend to do. A tablet or portable customer-facing touchscreen can costs anywhere from just $200 to a few thousand. These types of kiosks are most often seen in retail and restaurant environments.
Table and wall-mounted interactive kiosks cost a little more than a mobile device. The price starts at about $2,000 and goes up from there. The amount increases with software functionality and added equipment.
A standalone touchscreen kiosk starts at $3,000 and goes up from there. This is your most expensive option and doesn't bode well in cramped spaces. These types of machines do best in open areas like lobbies or walkways.
Types of Touchscreen Kiosks
There are hundreds of types of touchscreen kiosks, all with different purposes and functions. Here are just a few:
Way Finding
Visitor management and security
Information terminals
Maps
Interactive navigation
Entertainment
Internet café
Gaming
DVD kiosk
Photo (digital order station or instant print)
Ticketing (movies, amusement parks, cruises, etc)
Government
Immigration
Social services
Department of Motor Vehicles
Hospitality
Room key printer
Locker
Hoteling
Charging station
Finance
POS terminals
ATM
Coin kiosks
Check cashing
Bill payment
Transportation
Airline check-in
Parking kiosks
Car rental
Food Service
Food order
Vending machine
Healthcare
Patient check-in
Pharmacy kiosk
Retail
Gift card
Catalogs
Item location
Barcode scanner (pricing)
Business
The kiosk industry is divided into three segments: hardware, software, and application. Since reliability is an important consideration, many developers solely design for these environments.
No matter the type of touchscreen kiosk you choose, the advantages far outweigh the cost. When you enable people to help themselves, they spend less time waiting and more time buying.
Interactive kiosks empower consumers to make their own choices and guide their way through your product/service. Ultimately, it's about trust, convenience, and engagement. All key factors in keeping customers happy.
The following two tabs change content below.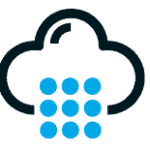 The staff at POSQuote.com is composed of industry professionals, experts, and current business owners. Through extensive research, we compile buyer's guides and review the best POS systems in the industry.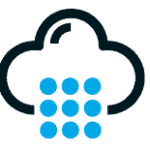 Latest posts by POS Quote Team (see all)