If you own or operate a retail store or any other business that captures customer signatures, you will benefit from using an electronic signature pad.
Point of sale (POS) signature pads can be used to capture signatures in many contexts, by a broad spectrum of businesses.
From retail stores to dentist offices, signature pads can be employed to capture signatures securely and more reliably than when using a paper process.
Below we'll discuss how signature pads work and types of signature pads available. Then we will shift gears and touch on the types of businesses that can benefit from using signature pads, as well as what those benefits are.
Finally, we will review our top picks for signature pads to provide you with added insight when shopping around for your own signature pad.
How Does a Signature Pad Work?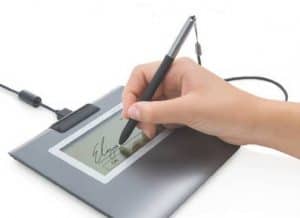 The way that a signature pad functions is very simple. First, your signature pad must be integrated and connected to a larger system, such as a POS system or customer relationship management (CRM) system.
When you need to obtain a signature from a customer, partner, or anyone else, they physically sign the pad with a pen-like device and the signature is captured by the connected system.
It is then attached to the document that requires a signature when using a credit card and paying in person for a product or service.
They are very easy to use, and you can customize them to capture signatures for various reasons, which we will dig deeper into below.
Types of Electronic Signature Pads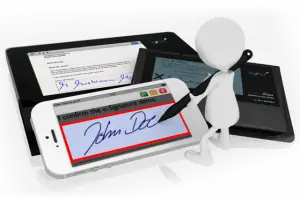 There are two main types of electronic signature pads: those that have a built-in credit and debit card reader, and those that do not.
If you run a business where you receive payment in person for a product or service, you will need a signature pad with a built-in card reader to complete credit and debit card-based transactions.
In other instances, you don't need a card reader built into your signature pad. An example of this is when a parcel delivery service delivers a package to you that requires a signature upon receipt.
This provides evidence that the parcel was delivered and can be used in case the receiving party disputes the delivery of that item.
Some signature pads are stationary and connect via a USB cord to the overarching system you are using to process that data. This is the case with most signature pads used by retail and other stores that collect payment in person.
Other signature pads are wireless and can be carried around and used when needed. This would apply to the scenario above in which a delivery driver needs a signature to hand over the package they have come to deliver.
Which Businesses Can Use Signature Pads?
We already touched a bit on this above, but now we will dig deeper into the types of businesses that have a need for a signature pad and how they are used in each respective scenario.
Retail Stores
Any retail store that accepts credit or debit card payments needs a signature pad so the customer can sign their receipt.
If you use paper receipts, it is easy to lose one, especially during a long, busy shift. Once the customer signs the signature pad to complete the transaction, their signature is automatically appended to that sale and saved along with other information about that sale.
Essentially, this way of using a signature pad is ideal for not only retail businesses, but, as mentioned above, any type of business that processes payments in person. Those could include:
Supermarkets, grocery stores, and gourmet food stores
Cinemas, theaters, museums, sports venues, and other entertainment-related businesses
Hotels, spas, salons, and other hospitality-oriented businesses
Car wash centers, electronic repair shops, and other service-focused businesses
All of the above would benefit from using a signature pad with a built-in card reader and the process of using it would be the same. You ring up the customer's purchase, swipe their card, then capture their signature on the pad rather than on a printed receipt.
Businesses that Need Signature Pads for other purposes
As mentioned above, businesses such as parcel delivery companies, don't need to read a credit card before obtaining a signature.
In general, the signatures captured by these businesses serve to verify that information or physical goods were received. They are also used to sign disclosure and agreement documents.
Banks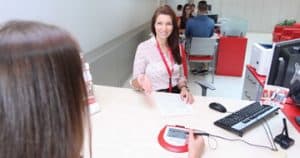 When someone opens a new bank account, there are many parts of the process that must be completed and many documents that need to be signed.
Bank customers must sign a series of legal documents confirming that they have read terms and conditions, provide permission to use the customer's personal data for banking services such as wire transfers, and so on.
Rather than the bank employee needing to print out every document and obtain handwritten signatures on paper, they can instead pull up each document that needs to be signed on the computer monitor.
Once each document is on the bank employee's screen, they ask the customer to sign the signature pad again. And that signature gets automatically attached to that document so the bank employee can move to the next.
The amount of time this saves makes banks more productive. Using an electronic signature pad also saves loads of paper and printer ink because everything is done digitally.
Plus, banks no longer need to keep thousands of physical, paper documents in filing cabinets. This makes it easier to access the customer's information.
Electronic signature pads also save the space needed for those old school filing cabinets, and generally streamline and automate entire processes for banks, saving loads of time that employees can spend on higher-value tasks.
Doctors' and Dentists' Offices and Gyms
The last time you went to visit your dentist or doctor, did you have to sign in manually, on their sign-in sheet? Or did they ask you to sign an electronic signature pad?
Many doctors' and dentists' offices are now moving to electronic signature pads to save time and ensure more accurate data.
These offices can also use signature pads to gain authorization from patients to perform procedures that require patients' permission beforehand.
These signed disclaimers are then automatically attached to the patient's digital record in the doctor or dentist's system for later reference.
Gyms use signature pads in much the same way. When a member shows up for their afternoon workout, they are often required to sign in upon arrival. Electronic signature pads make this process a breeze.
Delivery Services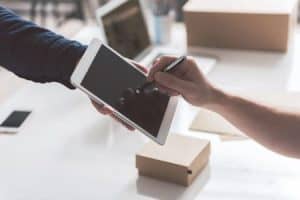 Parcel delivery services—such as UPS or FedEx—have been using electronic signature pads for quite some time. Odds are that you have signed for a package using one in the past.
We laid out the use case and the need for delivery services to use electronic signature pads above. But they are not the only delivery business type that can benefit from using an electronic signature pad.
Many businesses are popping up lately that will deliver you anything from your favorite dish at a local restaurant to groceries. And it's quite often that deliver persons need to obtain a signature upon delivery. Signature pads make doing so much easier.
Benefits of Using Signature Pads
We have already touched on a handful of the major benefits that varying types of businesses receive from using electronic signature pad technology. Here are a few more that augment those mentioned above:
An expedited checkout process when someone purchases a product or service and pays on site
A quicker check in and check out process at places like dentists' and doctors' offices, and gyms
Increased customer satisfaction by reducing the effort it takes the customer to complete a transaction
Money saved that you previously spent on receipt paper rolls and ink ribbons for paper signatures
Easier access to signatures and the data saved with them in customer profile records
Elimination of document loss that can easily happen with signed paper receipts
Improved brand reputation when your business is seen as progressive and an early technology adopter
Growing your presence as an environmentally conscious business that relies on digital processes, not paper-based processes
A Few Options to Help in Your Purchase Decision
There are loads of signature pads out there and the one you choose for your business depends on your business type and needs. Here are a few best-sellers to give you an idea of what's out there:
Ambir ImageSign Pro 110 Electronic Signature Capture Pad ۞ [TOP PICK]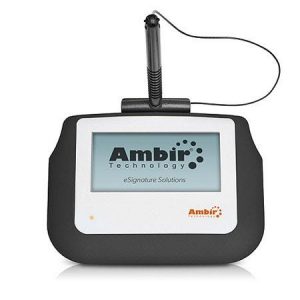 The Ambir nSign SP110 eSignature Solution features a sleek, compact design and is among the highest-rated signature pads available. It is a hit with businesses mostly due to its very high level of reliability.
Wacom STU-540 5″ High-res Color Screen Signature Pad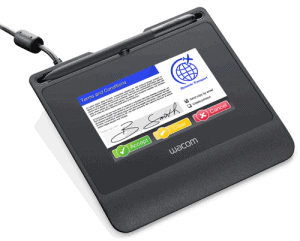 Wacom delivers a signature pad with super crisp resolution and the ability to present information on the signature screen, such as the terms and conditions to which a customer is agreeing.
Evolis Sig200 Ergonomic Signature Capture Pad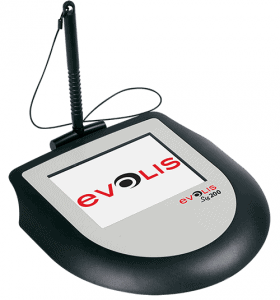 The Evolis Sig2000 is also among the most popular options because of its high level of programmability. It also features a very crisp representation of the captured signature, leaving no room for dispute that the signature belongs to the person signing the pad.
Ready to Acquire Your Own Signature Pad?
With the information presented above, you hopefully now have a better understanding of what electronic signature pads are, how and when they are used, and by which types of businesses.
We hope you also learned some benefits of using a signature pad that you were not already aware of.
With this insight, you are now better prepared to dig deeper with your own research and identify the signature pad that is the best fit for your unique business and its unique needs.
The following two tabs change content below.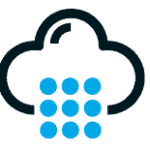 The staff at POSQuote.com is composed of industry professionals, experts, and current business owners. Through extensive research, we compile buyer's guides and review the best POS systems in the industry.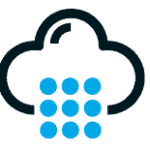 Latest posts by POS Quote Team (see all)